Media War in the Gulf: the People vs. Goliath
Jan. 13, 2012 04:28PM EST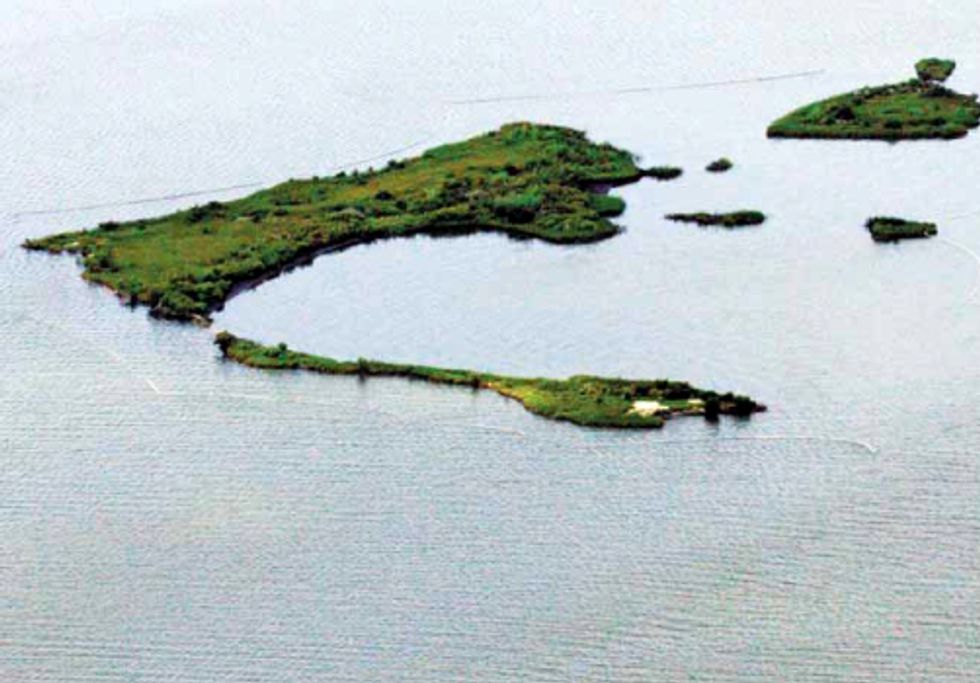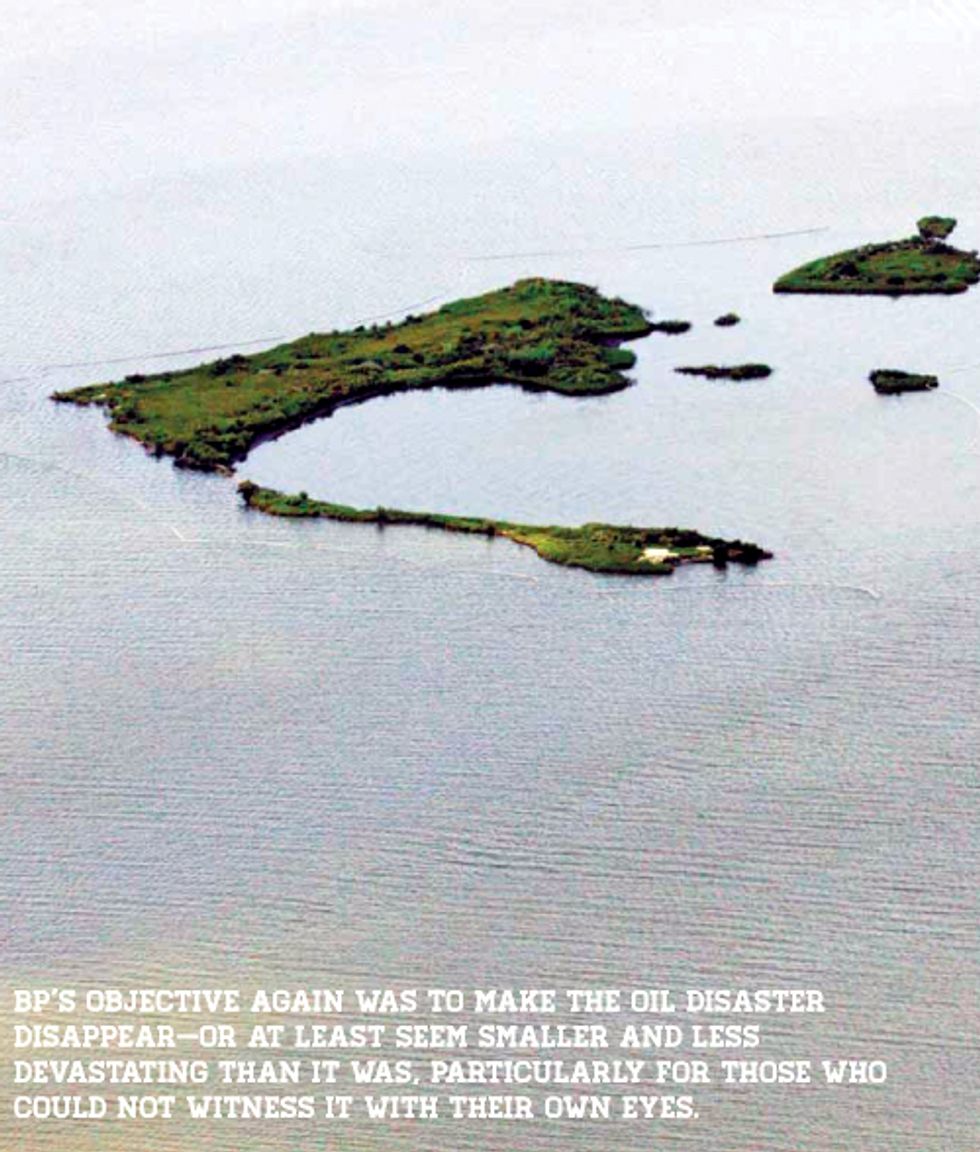 By Renee Blanchard
Wherever big polluters degrade America's environment—and it is still a common occurrence all across the country—they take similar steps to win the public's trust and limit their legal liability. They attempt to control the media's coverage of the damage that they have caused. They work to recreate the narrative of events, producing catchphrases and polished advertisements. And they waste precious time by creating divisions within the affected communities.
I have become all too familiar with these tactics. Since last spring, I have been based in New Orleans as the coordinator of the seven Waterkeeper organizations located along the Gulf Coast. The seven groups came together as the Save Our Gulf Initiative in the wake of the BP oil disaster in the Gulf of Mexico to lead the fight to restore and protect local watersheds, coastal communities and the greater Gulf. I am a Louisiana native. After watching the catastrophe from afar, I returned to my home state to be part of the struggle to ensure full restoration.
Since April 2010, when the drilling-rig Deepwater Horizon exploded and sank and began spewing millions of gallons of toxic crude oil into one of the country's most important fisheries, BP has consistently attempted to play down the disaster, focusing more of its financial resources on running a public relations-campaign than a recovery effort. And in fact, at this point, some 18 months since the drilling-rig exploded, BP has succeeded in making most of the country believe that all the oil they spilled in the Gulf of Mexico has disappeared and the disaster they caused wasn't nearly as damaging as it had been reported to be.
The truth is that the BP blowout last year led to the nation's worst oil spill and probably its worst environmental disaster. It will be years before we can fully assess the effects of releasing 250 million gallons of crude oil and 1.8 million gallons of dispersants into a major body of water. It was four years after the Exxon Valdez oil disaster in Alaska's Prince William Sound, for example, that herring stocks crashed.
BP is facing financial liability from three sources: Clean Water Act fines, the Oil Spill Claims Fund and funding for Natural Resource Damage Assessment restoration projects. The Clean Water Act states that a company illegally discharging oil into a water body is required to pay either $1,100 or $1,400 per barrel, depending on the degree of negligence. The company's total fine, therefore, could exceed $6 billion. The Oil Spill Claims Fund is the vehicle set up by BP and the Obama Administration to compensate individuals and businesses harmed by the BP event. The Natural Resource Damage Assessment is a legal process through which the federal government collects scientific evidence and determines damage done to the ecosystem by the offending companies. Both parties (the federal government and BP) have hired scientists to assess the extent of ecosystem damage. But since their evidence will not be released to the public until the legal process is over, many citizen groups, journalists and scientific institutions not under contract have begun conducting their own environmental monitoring.
One example of citizen monitoring is the Save Our Gulf Initiative. Between August 2010 and June 2011, Gulf Coast Waterkeepers tested sediment, water samples and over 100 aquatic organisms for oil contamination and found significant levels of total petroleum hydrocarbons (TPH) and polycyclic aromatic hydrocarbons (PAH). TPH represent all detectable hydrocarbons that occur in crude oil, including PAH, a specific kind of hydrocarbon that can be dangerous to human health.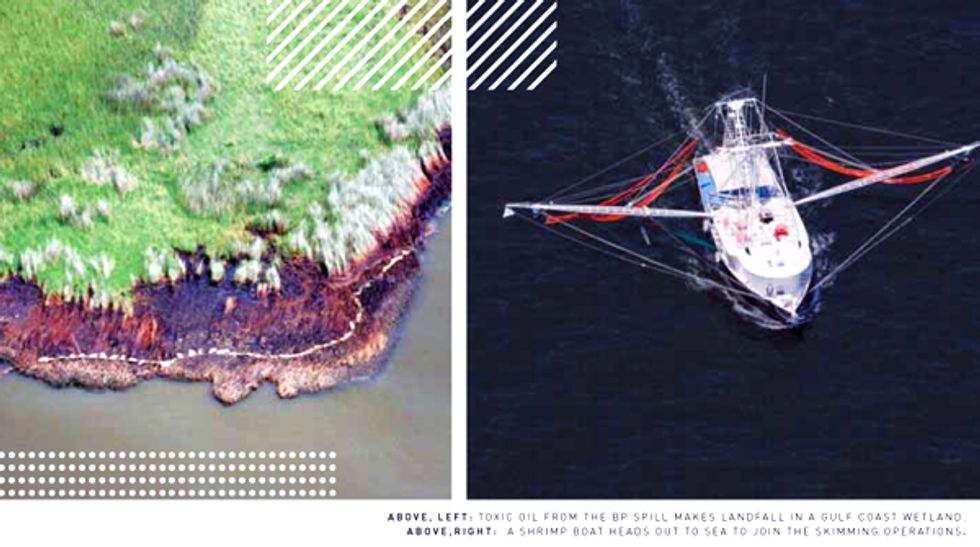 Downplaying ecosystem impacts is business as usual for the oil industry. In the summer of 2010, stories of BP's hiring security guards to prevent journalists and residents from taking photos and videos of oil washing ashore and clean-up workers without protective gear were commonplace, and similar reports are heard to this day. The media covered BP's response plan extensively in May and June of 2010 as the oil flowed out of the Macundo well, but coverage slowed afterward. Meanwhile, between April and July, BP, intending to shape the story of the disaster on its own terms, more than tripled the amount spent on public relations in the same period of the previous year, and it consistently minimized the amount of oil discharging into the Gulf of Mexico. This strategy created doubt in the minds of political leaders and the public about the true magnitude of the damage that the company had caused, and it masked the glaring mistakes in BP's response plan.
There is now little uncertainty about the missteps that led to the BP oil disaster or the company's lack of preparedness for a spill of that size. One ludicrous example was BP's identifying the walrus as a species that would potentially be impacted, although the walrus is an animal found no nearer to the Gulf than the coasts of Canada, Alaska or Greenland. In June 2011, fourteen months after the explosion at the Deepwater Horizon, BP introduced a number of new safety measures, but a new blowout-preventer device was not among them. The blowout-preventer is the last technological barrier for preventing an oil-spill. Its importance is underlined by the fact that spills happen every day in the Gulf of Mexico. In fact, there were more than 3,000 incidents of crude-oil discharge there between September 2010 and September 2011. Given BP's unpreparedness, residents on the frontlines, whose livelihoods depend on the health of these waters, fear that it is just a matter of time before another oil spill of this size devastates the Gulf. So citizen and environmental groups are attempting to spur the media to put additional pressure on the industry to fix the systemic problems that led to the BP disaster.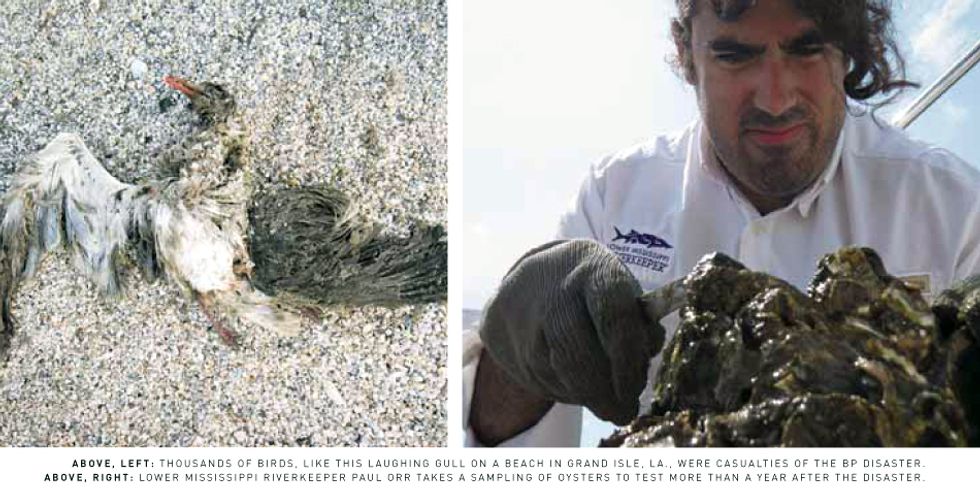 As a consequence of the Gulf catastrophe, there has been increased public scrutiny of response plans and environmental action at other locations. For example, in June 2011, the executive director of Greenpeace International, Kumi Naidoo, climbed onto a Cairn Energy arctic oil-rig, demanded to see its oil-spill-response plan, and was arrested by Greenland Coast Guard officials. Shortly afterwards Cairn Energy released its plan, which it had previously refused to reveal. But, like BP, the company's plan lacked information on how to deal effectively with an oil spill in the difficult conditions of deepwater drilling. And it too continually downplays the potential size of any spill in that fragile environment. Greenpeace International took bold steps to gain media coverage of the lack of transparency on the company's oil spill preparedness. The organization supported more than 20 individuals as they conducted civil dissilience against the company over a three-month period.
The tactic of civil disobedience has a proven record of effectiveness for community members who feel they have no other avenue for help, and the bold steps it involves are becoming widely accepted along the Gulf Coast as a valuable means to focus media attention on the environmental, health and economic impacts of irresponsible oil-exploration. At several community meetings I have attended there have been calls for such activism.
But BP has been active in its own fashion. Besides saturating traditional media sources with its version of events, the company was quick to deploy a sophisticated social-networking strategy. On popular Internet search-engines, such as Google and Yahoo, BP purchased common search-terms related to the oil disaster, so that it's sponsored websites would rise to the top of search lists. Legitimate news stories therefore were less likely to reach the public looking for unbiased information. This effective tactic is commonly used by corporations and nonprofits alike, but it is particularly pernicious when used in the midst of a disaster affecting millions of people in need of accurate reporting.
Corporate public relations tactics such as those seen during the height of the BP oil disaster serve the purpose of "re-creating" the disaster narrative. BP's objective again was to make the oil disaster disappear—or at least seem smaller and less devastating than it was, particularly for those who could not witness it with their own eyes. .
While socializing in New Orleans, I am often asked what my occupation is. When I describe my work with Waterkeepers and many of the coastal communities most affected by the oil disaster, and I share stories of the most recent oil-slick sightings and abnormal shrimp- and crab-catches, I am often met with shocked disbelief. Time and again I have found that, to my listeners, the BP disaster is over. The oil is gone. Their responses have stopped surprising me.
To counteract BP's deluge of public-relations money, individuals and organizations located on the Gulf Coast have set up blogs, Facebook pages and Twitter accounts to release up-to-the-minute updates and post photos and videos of oil-contamination locations, community responses, clean-up efforts, along with BP's activities. But resources of money and experienced personnel are inadequate, and their efforts don't attract much notice. The lack of continued attention to their message is frustrating to many who spend much of their days attempting to spread the word about the continuing impacts of this environmental crime.
Because the disaster has largely been wiped from the minds of many who live on the Gulf Coast, there have been rifts among communities. When the Gulf Coast Waterkeepers released a report sharply critical of BP's role in the recovery effort in October 2011, the Alabama Press Register editorial board expressed concern that the report was unnecessarily alarming citizens about continuing oil-contamination. Newspapers, politicians and oil companies cause divisions within already stressed communities when they single out community members who address continued ecosystem and health impacts and the need for long-term environmental monitoring. Their contentions take much-needed resources and time away from the quest for solutions, and provide the polluters with even more impetus for touting their version of the story.
In early July 2011, the American Petroleum Institute released a report detailing a decline in the number of offshore-related jobs since the BP event and criticizing the slowed pace at which deepwater-drilling permits were being issued to energy companies. The institute's push for business as usual is not surprising in an industry in which irresponsibility goes hand in hand with profitability. That energy-business analysts have forecast expenditures of more than $330 billion over the next five years for offshore operations and maintenance is a strong incentive for distracting people away from the very real dangers of deepwater oil extraction. Reports of this kind make headlines. And they are part of an organized effort to deflect the attention of elected officials and the public from systemic problems that have not been rectified since the oil disaster began. Once again, these are tactics that are frequently employed by polluting industries when their interests are at odds with nearby communities.
Recovering from a disaster of the magnitude of the BP disaster in the Gulf of Mexico can seem overwhelming at times. And those feelings are only further complicated by the push and pull between political leaders, community members and a polluter facing billions of dollars in fines. This tug of war on the Gulf Coast is creating tensions never seen before in an area whose residents are used to picking themselves up by their bootstraps and going to work rebuilding their lives and their communities. I feel privileged to be part of that struggle, and to share the lessons of how an oil company works to wash away its responsibility and how community members are standing up and defending the place they call home.
For more information, click here.
Reprinted with permission from Waterkeeper Magazine. To read the winter issue of the Waterkeeper Magazine, click here.
EcoWatch Daily Newsletter