This website uses cookies to ensure you get the best experience while browsing it. By clicking 'Got It' you're accepting these terms.
Meat Consumption in China Now Double that in the U.S.
Apr. 24, 2012 11:27AM EST
By Janet Larsen
More than a quarter of all the meat produced worldwide is now eaten in China, and the country's 1.35 billion people are hungry for more. In 1978, China's meat consumption of 8 million tons was one third the U.S. consumption of 24 million tons. But by 1992, China had overtaken the U.S. as the world's leading meat consumer—and it has not looked back since. Now China's annual meat consumption of 71 million tons is more than double that in the U.S. With U.S. meat consumption falling and China's consumption still rising, the trajectories of these two countries are determining the shape of agriculture around the planet.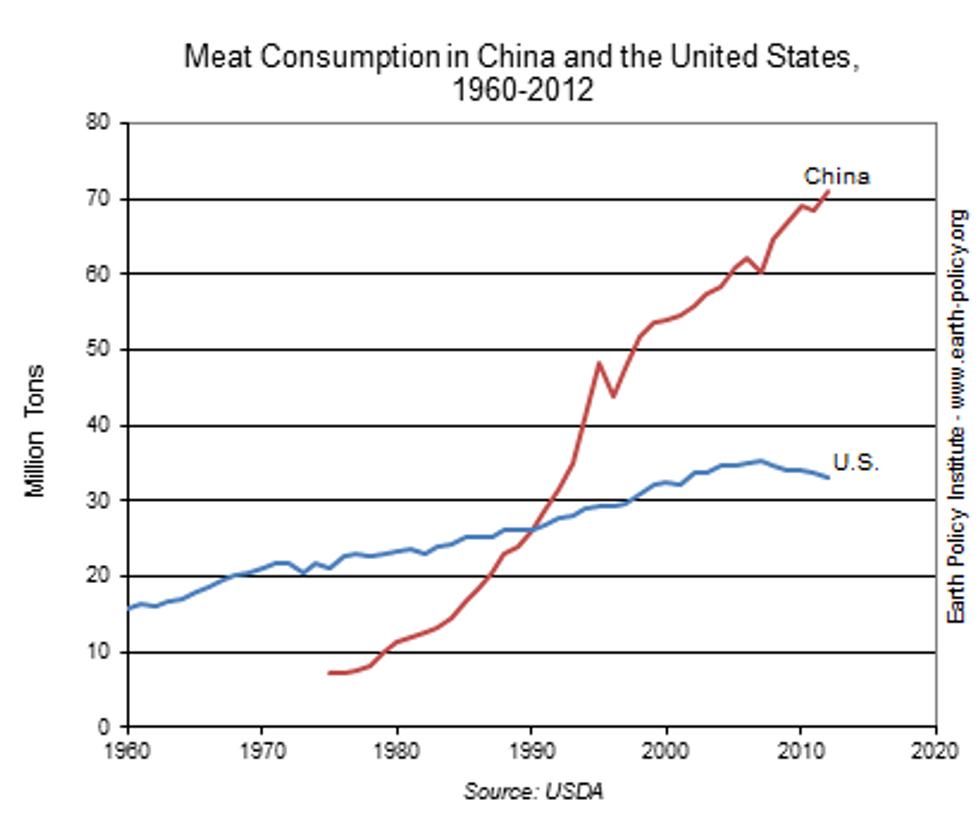 Pork is China's meat of choice, accounting for nearly three fourths of its meat consumption. Half the world's pigs—some 476 million of them—live in China. This meat is so central to the Chinese diet that in 2007 the government, hoping to cushion against price spikes, created a strategic pork reserve (albeit a relatively small one) to accompany its more typical stockpiles of grain and petroleum. Many a Chinese banquet table is graced with a portion of sticky sweet braised pork belly, touted to be the favorite dish of Chairman Mao. With its pork consumption projected to reach 52 million tons in 2012, China is far ahead of the 8 million tons eaten in the U.S., where chicken and beef are more popular. (See data.)
On a per person basis, Americans ate more pork than the Chinese until 1997, when the lines crossed and China pushed ahead. Over the past five years, per capita pork consumption in the U.S. has fallen on average 2 percent a year, while that in China has grown by over 3 percent a year despite price increases. Now the Chinese each eat an average of 84 pounds (38 kilograms) of pork in a year, while Americans average 59 pounds.
Traditionally China's pigs were raised in small numbers by households feeding them crop waste and table scraps. As many American kitchens today have a garbage disposal, Chinese kitchens had a pig. Indeed, the written Mandarin Chinese character for "home" depicts a pig under a roof, signifying the animal's longtime domestic importance. But now the ramped-up demands of a richer and increasingly urbanized society have taken more pigs out of the backyard and into specialized livestock operations, where they are fed grain and soybeans.
Poultry production in China—virtually non-existent prior to 1978—is also becoming more industrialized. While chicken flocks in the U.S. began to multiply rapidly following World War II, flocks in China started their expansion some 20 years later and have grown twice as fast. Chinese chicken consumption is set to exceed 13 million tons in 2012, marking the first time that more chicken will be eaten in China than in the U.S.. Still, on average, Americans eat four times more chicken per person.
For beef, China's 6-million-ton consumption compares with 11 million tons in the U.S.. Americans, with their stereotypical burgers and steaks, each eat an average of 79 pounds of beef a year, nearly nine times more than the Chinese average. Beef production has not taken off as quickly in China as other meats have, in part due to its higher cost and to competing claims on grazing land.
The other prime reason that beef has not become as popular in China is that cattle in feedlots gobble up about 7 pounds of grain for each pound of weight gain. For pigs, the feeding ratio is 3 to 1, and for chickens it is 2 to 1. With one fifth of the world's population and limited land and water supplies, China has had to rely heavily on the more-efficient forms of animal protein. This has led to China's huge farmed fish output of 37 million tons, which accounts for over 60 percent of the world total. For comparison, U.S. aquacultural output is less than half a million tons. Farmed fish in ponds, particularly the herbivorous species like carp that are popular in China, require even less feed than chickens do.
While rice is an essential component of many a Chinese meal, China's largest grain crop actually is corn, with 192 million tons harvested in 2011. Corn is so prominent because it dominates feed rations for livestock, poultry and fish. The 140-million-ton rice harvest, largely from the southern part of the country, and most of the 118-million-ton wheat crop from the north are eaten directly by people or cooked into noodles, buns, dumplings and other foods.
Altogether, China harvested the largest grain crop of any country in history in 2011. A full one third of that harvest is going to feed animals to meet the growing demand for meat, milk, eggs and farmed fish. Since the agricultural policy reforms of 1978, China's feedgrain use has shot up more than ninefold. In 2010, China replaced the U.S. as the world's number one feedgrain user.
Along with grain, the other component in typical livestock rations is the soybean. China overtook the U.S. in the amount of soybean meal fed to animals in 2008, but it was not able to do so without help from the outside world. In 1995 China produced some 14 million tons of soybeans and also consumed 14 million tons. By 2011 China still produced 14 million tons of soybeans—but it consumed 70 million tons.
Now more than 60 percent of world soybean exports, nearly all from the U.S., Brazil, and Argentina, go to China. China's incredible appetite for meat has altered the landscape of the western hemisphere, where the land planted in soybeans now exceeds that in either wheat or corn. Rainforest and savanna have been cleared to make way for a vast soybean monoculture.
The Chinese government has had to look overseas to meet its burgeoning demand for soy because of its policy of maintaining grain self-sufficiency. When global grain prices spiked in 2007–08, many people pointed to China, saying that its growing meat consumption must have raised demand enough to cause the jump. But because China was almost entirely self-sufficient in grain, other culprits had to be found. (The big one turned out to be the U.S. ethanol industry, which now devours 30 percent of the U.S. grain crop.)
Since then, however, China has started to turn to the world market for grain, importing a net 7 million tons in 2011. If Chinese meat consumption continues to rise fast, its feed imports will soar higher, taking international food prices up with them. Already the U.S. Grains Council is saying that China could soon supplant Japan as the world's top corn importer.
Per person meat consumption in China now is half the amount in the U.S.. For China to reach American per capita levels with beef would take more than three fourths of current world beef output. For chicken it would require 80 percent of the world's broiler chickens. And China is not the only country trying to move up the food chain. Yet even as billions of people across the developing world with little meat in their diets are trying to eat more, Americans are starting to cut back. Total U.S. meat consumption dropped 6 percent between 2007 and 2012. Ultimately, feeding the global population of 7 billion and counting will require meeting somewhere in the middle.
For more information, click here.
EcoWatch Daily Newsletter
A view of a washed out road near Utuado, Puerto Rico, after a Coast Guard Air Station Borinquen MH-65 Dolphin helicopter crew dropped relief supplies to residents Tuesday, Oct. 3, 2017. The locals were stranded after Hurricane Maria by washed out roads and mudslides. U.S. Coast Guard photo by Petty Officer 3rd Class Eric D. Woodall /
CC BY-NC-ND 2.0
By Coral Natalie Negrón Almodóvar
The Earth began to shake as Tamar Hernández drove to visit her mother in Yauco, Puerto Rico, on Dec. 28, 2019. She did not feel that first tremor — she felt only the ensuing aftershocks — but she worried because her mother had an ankle injury and could not walk. Then Hernández thought, "What if something worse is coming our way?"
Flooded battery park tunnel is seen after Hurricane Sandy in 2012.
CC BY 2.0
President Trump has long touted the efficacy of walls, funneling billions of Defense Department dollars to build a wall on the southern border. However, when the U.S. Army Corps of Engineers (USACE) released a study that included plans for a sea wall to protect New Yorkers from sea-level rise and catastrophic storms like Hurricane Sandy, Trump mocked it as ineffective and unsightly.
A general view of fire damaged country in the The Greater Blue Mountains World Heritage Area near the town of Blackheath on Feb. 21, 2020 in Blackheath, Australia. Brook Mitchell / Getty Images
In a post-mortem of the Australian bushfires, which raged for five months, scientists have concluded that their intensity and duration far surpassed what climate models had predicted, according to a study published yesterday in Nature Climate Change.
Sea level rise causes water to spill over from the Lafayette River onto Llewellyn Ave in Norfolk, Virginia just after high tide on Aug. 5, 2017. This road floods often, even when there is no rain.
Skyler Ballard / Chesapeake Bay Program
By Tim Radford
The Texan city of Houston is about to grow in unexpected ways, thanks to the rising tides. So will Dallas. Real estate agents in Atlanta, Georgia; Denver, Colorado; and Las Vegas, Nevada could expect to do roaring business.
Malala Yousafzai (left) and Greta Thunberg (right) met in Oxford University Tuesday. Wikimedia Commons /
CC BY 2.0
What happens when a famous school striker meets a renowned campaigner for education rights?