This website uses cookies to ensure you get the best experience while browsing it. By clicking 'Got It' you're accepting these terms.
Measuring Fugitive Methane Emissions from Fracking
Jan. 04, 2013 01:18PM EST
Climate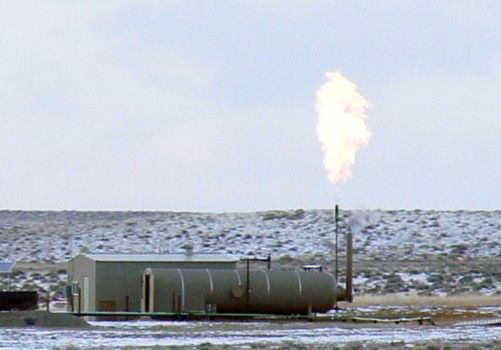 A Cornell study released last year, lead by Professor of Ecology and Environmental Biology Robert Howarth, was the first of its kind to study the global warming impact of natural gas extraction from shale deposits. The conclusion was that fracking releases up to 8 percent of the extracted methane directly into the atmosphere, and reports that all methane will contribute to 44 percent of global warming. Photo Andrew Michler
In recent days, news reports and blog posts have highlighted the problem of fugitive methane emissions from natural gas production—leakage of a potent greenhouse gas with the potential to undermine the carbon advantage that natural gas, when combusted, holds over other fossil fuels. These news accounts, based on studies in the Denver-Julesburg Basin of Colorado and the Uinta Basin of Utah by scientists affiliated with the National Oceanic and Atmospheric Administration (NOAA) and the University of Colorado at Boulder, have reported leakage rates of 4 percent and 9 percent of total production, respectively—higher than the current U.S. Environment Protection Agency (EPA) leakage estimate of 2.3 percent.
While the Colorado and Utah studies offer valuable snapshots of a specific place on a specific day, neither is a systematic measurement across geographies and extended time periods  and that is what's necessary to accurately scope the dimensions of the fugitive methane problem. For this reason, conclusions should not be drawn about total leakage based on these preliminary, localized reports. Drawing conclusions from such results would be like trying to draw an elephant after touching two small sections of the animal's skin: the picture is unlikely to be accurate. In the coming months, ongoing work by the NOAA/UC team, as well as by Environmental Defense Fund (EDF) and other academic and industry partners, will provide a far more systematic view that will greatly increase our understanding of the fugitive methane issue, though additional studies will still be needed to fully resolve the picture. What follows is a briefing on the fugitive methane issue, including the range of measurements currently underway and the need for rigorous data collection along the entire natural gas supply chain.
Why methane leakage matters. Natural gas, which is mostly methane, burns with fewer carbon dioxide emissions than other fossil fuels. However, when uncombusted methane leaks into the atmosphere from wells, pipelines and storage facilities, it acts as a powerful greenhouse gas with enormous implications for global climate change due to its short-term potency: Over a 20-year time frame, each pound of methane is 72 times more powerful at increasing the retention of heat in the atmosphere than a pound of carbon dioxide. Based on EPA's projections, if we could drastically reduce global emissions of short-term climate forcers such as methane and fluorinated gases over the next 20 years, we could slow the increase in net radiative forcing (heating of the atmosphere) by one third or more.
Fugitive methane emissions from natural gas production, transportation and distribution are the single largest U.S. source of short-term climate forcing gases. The EPA estimates that 2.3 percent of total natural gas production is lost to leakage, but this estimate, based on early 1990's data, is sorely in need of updating. The industry claims a leakage rate of about 1.6 percent. Cornell University professor Robert Howarth has estimated that total fugitive emissions of 3.6 to 7.9 percent over the lifetime of a well.
To determine the true parameters of the problem, EDF is working with diverse academic partners including the University of Texas at Austin, NOAA/UC scientists and dozens of industry partners on direct measurements of fugitive emissions from the U.S. natural gas supply chain. The initiative is comprised of a series of more than ten studies that will analyze emissions from the production, gathering, processing, long-distance transmission and local distribution of natural gas, and will gather data on the use of natural gas in the transportation sector. In addition to analyzing industry data, the participants are collecting field measurements at facilities across the country. The researchers leading these studies expect to submit the first of these studies for publication in February 2012, with the others to be submitted over the course of the year.
The systemic leakage rate will determine whether or not natural gas provides a net climate benefit, with implications for assessing the relative environmental benefits of fuel switching from coal or diesel to natural gas.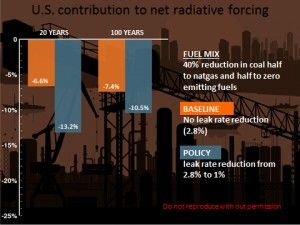 Note: EDF's model disaggregates the leak rate of 2.8 percent as follows: 2.0 percent is leakage from well to city gate (this applies to power plants); 2.3 percent is leakage from well-to-end user (applies to homes and industrial users); the additional 0.5 percent accounts for leakage from natural gas vehicle refueling and use. 
As this chart illustrates, lowering the methane leakage and venting rate to 1 percent of total production would double the climate benefit derived from coal-to-natural gas fuel switching over the next 20 years—producing as much climate benefit in that time as closing one-third of the nation's coal plants. (This assumes that 1 percent is the amount of natural gas produced at well sites lost to the atmosphere, in comparison to a baseline of 2.8 percent, and that the retired coal-fired generation is replaced with equal parts high efficiency natural gas fired generation and zero-emissions electric generation, such as renewables.)
Preliminary studies. Recently, a series of studies has emerged, each providing a snapshot of leakage from a specific region and a specific segment of the natural gas system at a specific point in time:
2010; Fort-Worth, TX: Analysis of reported routine emissions from more than 250 well sites with no compressor engines in Barnett Shale gas well sites in the City of Fort Worth revealed a highly-skewed distribution of emissions, with 10 percent of well sites accounting for nearly 70 percent of total emissions. Natural gas leak rates calculated based on operator-reported, daily gas production data at these well sites ranged from 0 percent to 5 percent, with 6 sites out of 203 showing leak rates of 2.6 percent or greater due to routine emissions alone.
February 2012; Denver-Julesburg, CO: Tower study by NOAA/UC scientists suggested that up to 4 percent of the methane produced at a field near Denver was escaping into the atmosphere.
December 2012: At an American Geophysical Union meeting in San Francisco, the NOAA/UC team described the unpublished results of a study in the Uinta Basin, Utah, suggesting even higher rates of methane leakage, 9 percent of total production.
Forthcoming studies include: March 2013 (est.) reporting by University of Texas at Austin (in collaboration with nine corporate partners and EDF) of a study about emissions from gas production; subsequent 2013/early 2014 studies will address gathering, processing, long-distance transmission and local distribution.
Some of these studies have revealed or are likely to reveal relatively high levels of fugitive methane emissions, while others are likely to reveal lower levels. None of them, taken alone or in tandem, can yet provide an accurate picture of system-wide leakage. As a news story in the journal Nature concluded, "Whether the high leakage rates claimed in Colorado and Utah are typical across the U.S. natural-gas industry remains unclear. The NOAA data represent a 'small snapshot' of a much larger picture that the broader scientific community is now assembling."
Great care should be taken to avoid drawing conclusions based on the partial data these studies provide. This will be a particular challenge given that advocates for natural gas production are likely to call attention to the low-leakage results, while opponents of natural gas production are likely to call attention to the high-leakage results, with each side claiming that the latest study "proves" its argument. Neither claim will be reliably accurate.
In other words, anyone who wants to get this important story right will need to be patient and wait for the more comprehensive results to come in later this year. Until then, no accurate conclusion can be drawn about the full scope of this critical issue. Please proceed with caution.
Visit EcoWatch's FRACKING page for more related news on this topic.
——–
Click here to sign a petition to tell the Bureau of Land Management to issue strong rules for federal fracking leases on public lands.

EcoWatch Daily Newsletter
EPA Administrator Andrew Wheeler signs the so-called Affordable Clean Energy rule on June 19, replacing the Obama-era Clean Power Plan that would have reduced coal-fired plant carbon emissions. U.S. Environmental Protection Agency / Twitter
By Elliott Negin
On July 8, President Trump hosted a White House event to unabashedly tout his truly abysmal environmental record. The following day, coincidentally, marked the one-year anniversary of Andrew Wheeler at the helm of the U.S. Environmental Protection Agency (EPA), first as acting administrator and then as administrator after the Senate confirmed him in late February.
A timber sale in the Kaibab National Forest. Dyan Bone / Forest Service / Southwestern Region / Kaibab National Forest
By Tara Lohan
If you're a lover of wilderness, wildlife, the American West and the public lands on which they all depend, then journalist Christopher Ketcham's new book is required — if depressing — reading.
Golde Wallingford submitted this photo of "Pure Joy" to EcoWatch's first photo contest. Golde Wallingford
EcoWatch is pleased to announce our third photo contest!

Somalians fight against hunger and lack of water due to drought as Turkish Ambassador to Somalia, Olgan Bekar (not seen) visits the a camp near the Mogadishu's rural side in Somalia on March 25, 2017. Sadak Mohamed / Anadolu Agency / Getty Images
World hunger is on the rise for the third consecutive year after decades of decline, a new United Nations (UN) report says. The climate crisis ranks alongside conflict as the top cause of food shortages that force more than 821 million people worldwide to experience chronic hunger. That number includes more than 150 million children whose growth is stunted due to a lack of food.
Eduardo Velev cools off in the spray of a fire hydrant during a heatwave on July 1, 2018 in Philadelphia. Jessica Kourkounis / Getty Images
By Adrienne L. Hollis
Because extreme heat is one of the deadliest weather hazards we currently face, Union of Concerned Scientist's Killer Heat Report for the U.S. is the most important document I have read. It is a veritable wake up call for all of us. It is timely, eye-opening, transparent and factual and it deals with the stark reality of our future if we do not make changes quickly (think yesterday). It is important to ensure that we all understand it. Here are 10 terms that really help drive home the messages in the heat report and help us understand the ramifications of inaction.
Senator Graham returns after playing a round of golf with Trump on Oct. 14, 2017 in Washington, DC. Ron Sachs – Pool / Getty Images
Lindsey Graham, the South Carolina Senate Republican who has been a close ally of Donald Trump, did not mince words last week on the climate crisis and what he thinks the president needs to do about it.
A small Bermuda cedar tree sits atop a rock overlooking the Atlantic Ocean. todaycouldbe / iStock / Getty Images Plus
By Marlene Cimons
Kyle Rosenblad was hiking a steep mountain on the island of Maui in the summer of 2015 when he noticed a ruggedly beautiful tree species scattered around the landscape. Curious, and wondering what they were, he took some photographs and showed them to a friend. They were Bermuda cedars, a species native to the island of Bermuda, first planted on Maui in the early 1900s.
krisanapong detraphiphat / Moment / Getty Images
By Grace Francese
You may know that many conventional oat cereals contain troubling amounts of the carcinogenic pesticide glyphosate. But another toxic pesticide may be contaminating your kids' breakfast. A new study by the Organic Center shows that almost 60 percent of the non-organic milk sampled contains residues of chlorpyrifos, a pesticide scientists say is unsafe at any concentration.