McDonald's Palm Oil Policy: Not 'Lovin' It'
Dec. 02, 2014 12:54PM EST
Climate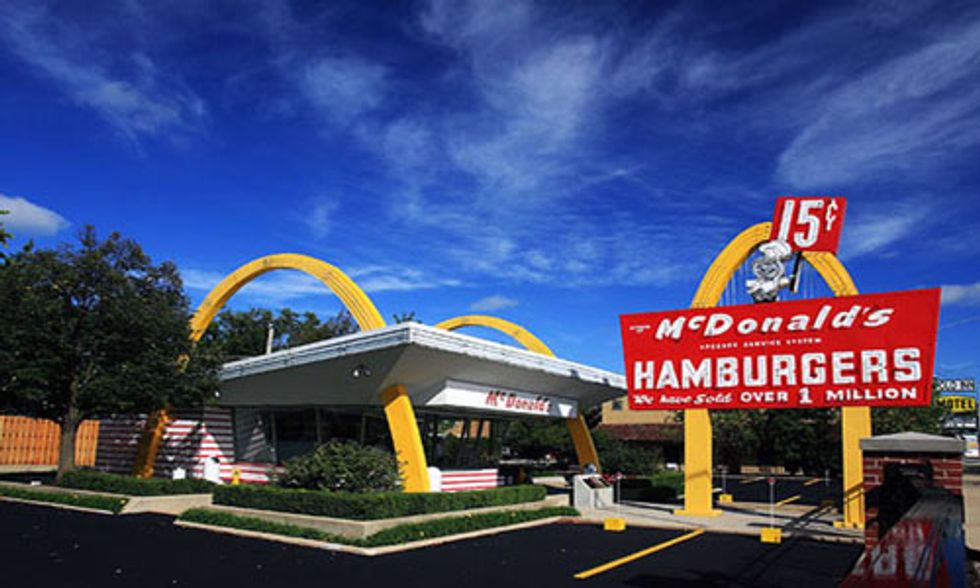 In the fall of 1960, my parents took my little brother and me to the first McDonald's in the Cleveland area. It looked like a spaceship, with bright yellow arches on either side of a gleaming white building adorned with red, horizontal stripes. In front was the chain's signature sign topped by Speedee the Chef—Ronald McDonald's predecessor—holding a neon placard emblazoned with "15¢," the price of a hamburger.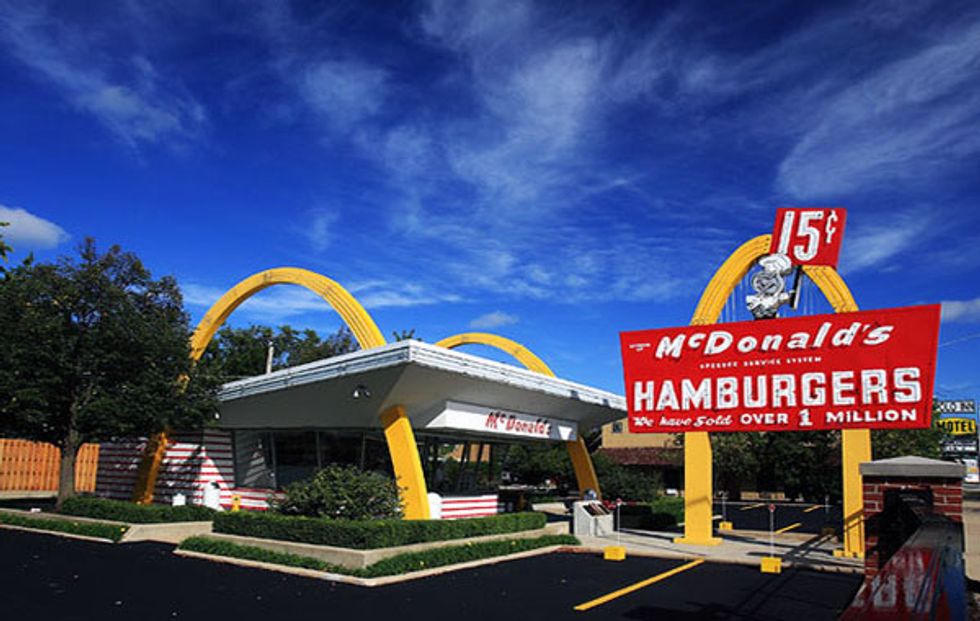 Needless to say, my brother and I were very excited. Sure, we'd been to Royal Castle and Manners Big Boy, but McDonald's seemed a lot cooler.
After sampling one of those flash-frozen, 15-cent burgers, however, I wasn't lovin' it. On the way out of the parking lot, I distinctly remember saying to my parents, "That place is never going to make it."
Boy, was I wrong.
A half century and untold billions of burgers later, McDonald's is the world's most profitable fast-food chain. In 2012, its 12,600 U.S.-based restaurants alone boasted $35.6 billion in sales—nearly three times more than its nearest competitor, Subway, which has twice the number of U.S. outlets. Meanwhile, McDonald's 18,700 restaurants in more than 100 other countries grossed nearly $45 billion. The chain now serves more than 70 million people every day.
It's no secret that McDonald's global reach has had a huge impact on diet, prompting more than 3,000 health professionals and institutions worldwide to sign on to a letter urging the company to stop marketing junk food to children. Less known, however, is Mickey D's super-sized impact on the environment, especially when it comes to global warming. Besides the fact that the chain sells a lot of beef, which is by far the worst meat for the climate, it's one of the top 10 largest users of palm oil, the world's most popular vegetable oil—and a major source of carbon emissions.
Palm Oil Plantations Are Destroying Tropical Forests
Americans are likely more familiar with canola, olive and other vegetable oils, but palm oil—which comes from the flesh of the oil palm tree's fruit—is ubiquitous. Along with palm kernel oil—which comes from the fruit's seeds—it turns up in baked goods, packaged foods, personal care products and cleansing agents. In addition, it's a common cooking oil in developing countries, and used to make biodiesel fuel worldwide.
In and of itself, palm oil is not a bad choice. It's cheap, largely because growers can produce five to 10 times more vegetable oil per acre than from any other commercial oil seed. It is also one of the few naturally saturated vegetable oils, which makes it solid at room temperature and affords it a long shelf life. And it contains no trans fats, which have been linked to heart disease.
That's the good news. The bad news is oil palm trees only grow in the wet tropics and, all too often, producers destroy tropical forests to plant them. Most of these plantations—about 85 percent—are in Indonesia and Malaysia. Clearing tropical forests, which contain enormous amounts of carbon, releases carbon dioxide into the atmosphere. Some Southeast Asian palm oil plantations also devastate critical habitat for elephants, orangutans, rhinoceros and tigers. Still others grab land from local communities or exploit child labor.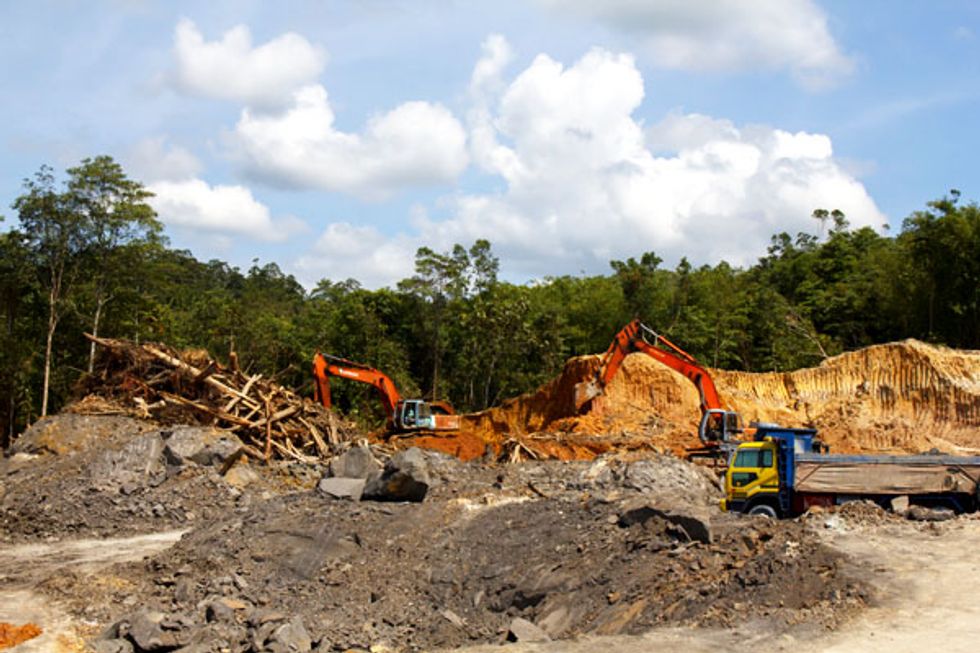 study
.
Photo credit: Shutterstock
And if that weren't bad enough, some palm oil plantations wipe out peatlands, which are wetlands topped with a thick water-logged layer of dead and decaying plant material. Peat soils store 18 to 28 times more carbon than tropical forests, and they can be as much as 60 feet deep. Dry peat is extremely flammable, and one of the ways producers clear land is by burning it, which sends tons of carbon dioxide and toxic pollutants into the atmosphere.
International Efforts Are Beginning to Pay Off
In 2004, palm growers, processors, traders, consumer goods manufacturers, retailers, investors, and environmental and social justice organizations established the Roundtable on Sustainable Palm Oil (RSPO) to develop voluntary standards to protect tropical forests. The organization now has more than 1,600 members, which represent 40 percent of the palm oil industry.
RSPO standards address a number of key issues, such as pesticide use and labor conditions, but don't go far enough to protect the climate. RSPO certification, for example, still allows producers to clear forests and peatland to create or expand plantations. Only pristine, or "primary," forests are off-limits. The standards also don't restrict carbon emissions from plantation development. They only offer guidelines for reporting emissions from forest conversion.
Equally problematic, RSPO standards allow companies to buy inexpensive credits, called "GreenPalm" certificates, in lieu of buying RSPO-certified oil. The proceeds from the sale of those credits go to RSPO-certified palm oil producers, but the revenue generated doesn't remotely cover the true cost of ensuring that the palm oil is produced responsibly. In other words, GreenPalm certificates—which may have made sense 10 years ago—allow companies to claim they're doing something when they're still buying palm oil that may very well come from plantations that destroyed forests.
Over the last decade, Amnesty International, Greenpeace, Rainforest Action Network, the Union of Concerned Scientists (UCS), World Wildlife Fund and others have been shining a light on unethical palm oil production and pressuring producers and consumers—which include some of the world's largest food and cosmetic companies—to commit to ending forest destruction and social abuses.
In November 2012, scientists from leading academic and research institutions worldwide weighed in, issuing a statement calling on the RSPO to strengthen its standards. Ultimately signed by more than 200 scientists, the statement urged the organization to completely ban palm oil development on peatland and "high carbon stock forests," including "secondary forests," which are forests that have recovered after being logged.
A year later, four RSPO producers—Agropalma in Brazil, Daabon in Colombia, New Britain Palm Oil in Papua New Guinea, and Golden Agri-Resources, Indonesia's largest palm oil producer—joined with a handful of environmental and social justice groups to launch the Palm Oil Innovation Group to promote "ambitious standards that stretch" RSPO guidelines. "We are building a strong case that palm oil does not need to be linked to forest destruction and exploitation," POIG said in a Nov. 13, 2013 statement. "From producers and traders, through to palm oil consumers, we are creating an approach that can be replicated across the industry, and which will increase demand for responsible palm oil."
These efforts, coupled with pressure from millions of people around the world, have spurred a dramatic turnaround. Last December, the world's largest palm oil trader, the Singapore-based Wilmar International, pledged to stop selling palm oil linked to deforestation or peatland development. Following Wilmar's announcement, vegetable oil giants Bunge and Cargill fell in line. Add Golden Agri-Resources, and they represent more than half of the global palm oil trade. Public pressure also has prompted L'Oréal, Nestlé, Unilever and other major corporate palm oil consumers to commit to completely eliminating deforestation from their supply chains. And in September of this year, 34 corporations joined national governments, indigenous peoples and nonprofit advocacy organizations to sign the non-binding New York Declaration on Forests at the UN Climate Summit, vowing to cut deforestation in half by 2020 and ending it in 2030.
McDonald's Do-Nothing Palm Oil Policy
This rush to embrace climate-friendly principles was hastened by a March 2014 Union of Concerned Scientists report analyzing top U.S. brands' palm oil policies. UCS rated the 30 largest companies in the packaged-food, personal-care and fast-food sectors on their commitments to use deforestation-free, peat-destruction-free palm oil that is traceably and transparently sourced. Packaged-food companies had the strongest commitments. Fast-food companies, on the other hand, had the weakest.
And that brings us back to McDonald's.
McDonald's, an RSPO member and a signatory to the New York Declaration on Forests, received the second highest score among the 10 fast-food chains in UCS's survey, just behind Subway. But that's not saying much. McDonald's earned only 21 points out of a possible 100, a failing grade no matter how you slice it. The other eight, including Burger King, Wendy's and Yum! Brands—parent company of KFC, Pizza Hut and Taco Bell—all rated a zero.
According to the most recent report McDonald's filed with the RSPO, the company used 103,336 metric tons of palm oil in 2012. Less than 13 percent of that oil --13,000 metric tons—was RSPO-certified, and the company claimed nearly a quarter of that oil—3,000 metric tons—by purchasing GreenPalm certificates.
McDonald's goal, as the company explains on its U.S. website, is for 100 percent of its palm oil to be "verified as supporting sustainable production by 2020." How does it plan to do that? By buying more RSPO-certified palm oil, which is not guaranteed to be deforestation-free, or purchasing more GreenPalm certificates, which at most provide a fig leaf for continuing to buy palm oil associated with deforestation.
Contrast McDonald's do-nothing policy with that of Dunkin' Brands, the parent company of Dunkin' Donuts and Baskin-Robbins. The company was one of the eight fast-food chains that scored zero in UCS's review of U.S. corporate palm oil commitments, but since then it has taken a 180-degree turn.
In September, Dunkin' Brands announced it would buy only 100 percent deforestation-free palm oil by 2016, which goes way beyond McDonald's support for inadequate, outdated RSPO standards. Among other things, Dunkin' said it would ensure that its suppliers protect forests and peatland as well as cut carbon emissions from existing plantations.
"Sourcing even limited amounts of palm oil irresponsibly can contribute to deforestation, loss of natural habitats, and other environmental and human rights concerns," said Christine Riley Miller, Dunkin' Brands' senior director for corporate social responsibility, in a September 16 press release. "Therefore, Dunkin' Brands has created clear guidelines for our suppliers, and to ensure independent verification that our principles are being met, so that by 2016 we can meet our targets of sourcing only responsibly produced palm oil."
Besides Dunkin' Brands, eight other companies—ConAgra, Colgate-Palmolive, Danone, General Mills, Kao, Kellogg's, PepsiCo and Procter & Gamble—either initiated or strengthened their palm oil policies after UCS called them out in its scorecard. Those conversions, however, wouldn't have happened without a great deal of nudging. Take Dunkin' Brands' change of heart, for example. UCS and other groups, including Forest Heroes and SumOfUs, inspired tens of thousands of people to contact the company, and Forest Heroes even staged a demonstration outside of its annual shareholder meeting in May. Dunkin' Brands took note, and just a day after its mid-September announcement, one of its main competitors, Krispy Kreme, announced it also would upgrade its palm oil policy.
If those corporate Goliaths can make the switch, surely public pressure can persuade McDonald's—as well as Burger King and Yum! Brands—to do the right thing, too. Want to help? You can join UCS's campaign by sending a message to McDonald's and other fast-food laggards by clicking here. Tell McDonald's the climate deserves a break today.
YOU MIGHT ALSO LIKE
Enjoy Seafood While You Can: Commercial Fisheries Likely to Collapse by 2048
Eva Longoria and Eric Schlosser Expose the Real Cost of Our Food
Stunning Aerial Photos Show How Factory Farms Ravage the Earth
Google Earth's latest feature allows you to watch the climate change in four dimensions.
EcoWatch Daily Newsletter
Researchers say there's a growing epidemic of tap water distrust and disuse in the U.S. Teresa Short / Moment Open / Getty Images
By Asher Rosinger
Imagine seeing a news report about lead contamination in drinking water in a community that looks like yours. It might make you think twice about whether to drink your tap water or serve it to your kids – especially if you also have experienced tap water problems in the past.
Why tap wins every time.
Asher Rosinger is an assistant professor of biobehavioral health, anthropology, and demography and director of the Water, Health, and Nutrition Laboratory at Penn State University.

Disclosure statement: Asher Rosinger receives funding from the National Science Foundation on an unrelated project. This work was supported by the Ann Atherton Hertzler Early Career Professorship funds, and the Penn State Population Research Institute (NICHD P2CHD041025). The funders had no role in the research or interpretation of results.
Reposted with permission from The Conversation.
A new report urges immediate climate action to control global warming. John W Banagan / Getty Images
A new report promoting urgent climate action in Australia has stirred debate for claiming that global temperatures will rise past 1.5 degrees Celsius in the next decade.
Winegrowers check vines during the burning of anti-frost candles in the Luneau-Papin wine vineyard in Le Landreau, near Nantes, western France, on April 12, 2021. SEBASTIEN SALOM-GOMIS / AFP via Getty Images
French winemakers are facing devastating grape loss from the worst frost in decades, preceded by unusually warm temperatures, highlighting the dangers to the sector posed by climate change.
"An important share of the harvest has been lost. It's too early to give a percentage estimate, but in any case it's a tragedy for the winegrowers who have been hit," said Christophe Chateau, director of communications at the Bordeaux Wine Council, told CNN.
Climate change, caused by the extraction and combustion of fossil fuels, has pushed winegrowing seasons earlier, putting crops at higher risk of cold — and wildfires supercharged by climate change also threaten American vignerons and farmworkers as well.
"I think it's good for people to understand that this is nature, climate change is real, and to be conscious of the effort that goes into making wine and the heartbreak that is the loss of a crop," Jeremy Seysses of Domaine Dujac in Burgundy's Côte de Nuits told Wine Enthusiast.
As reported by Wine Enthusiast:
Last week, images of candlelit French vineyards flooded social media. Across the country, winemakers installed bougies, or large wax-filled metal pots, among the vines to prevent cold air from settling in during an especially late frost.

With temperatures in early April as low as 22°F, and following an unseasonably warm March, this year's frost damage may be the worst in history for French winegrowers. Every corner of France reports considerable losses, from Champagne to Provence, and Côtes de Gascogne to Alsace. As a result, there will likely be very little French wine from the 2021 vintage reaching U.S. shores.
For a deeper dive:

CNN, Wine Enthusiast, France24, Eater
For more climate change and clean energy news, you can follow Climate Nexus on Twitter and Facebook, sign up for daily Hot News, and visit their news site, Nexus Media News.
From Your Site Articles
Related Articles Around the Web
A recent study focused on regions in Ethiopia, Africa's largest coffee-producing nation. Edwin Remsberg / Getty Images
Climate change could make it harder to find a good cup of coffee, new research finds. A changing climate might shrink suitable areas for specialty coffee production without adaptation, making coffee taste blander and impacting the livelihoods of small farms in the Global South.