Mayors Voice Concern on Keystone XL Pipeline
Nov. 17, 2011 11:28AM EST
Energy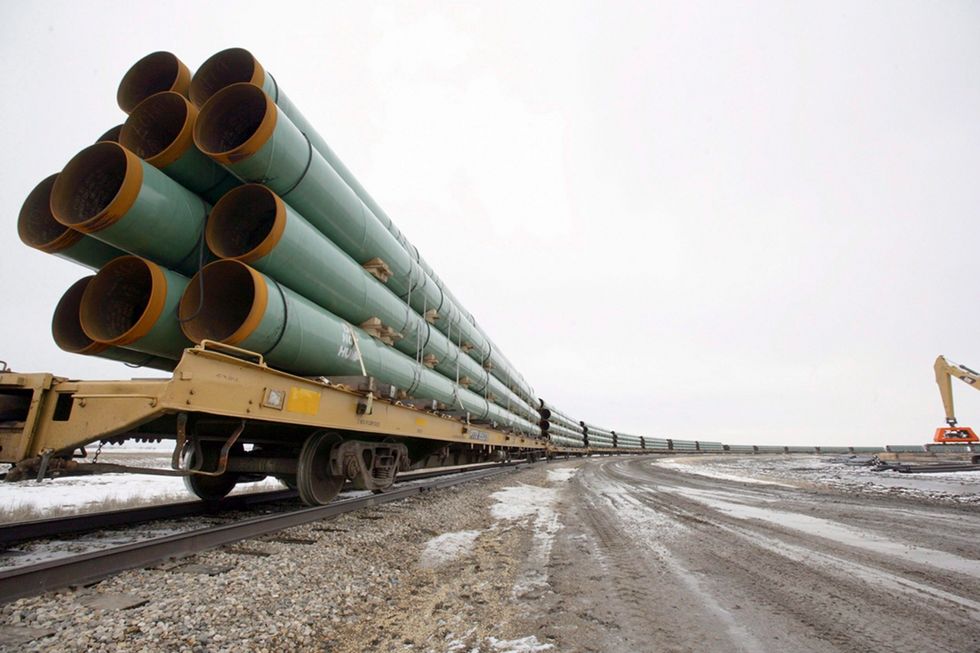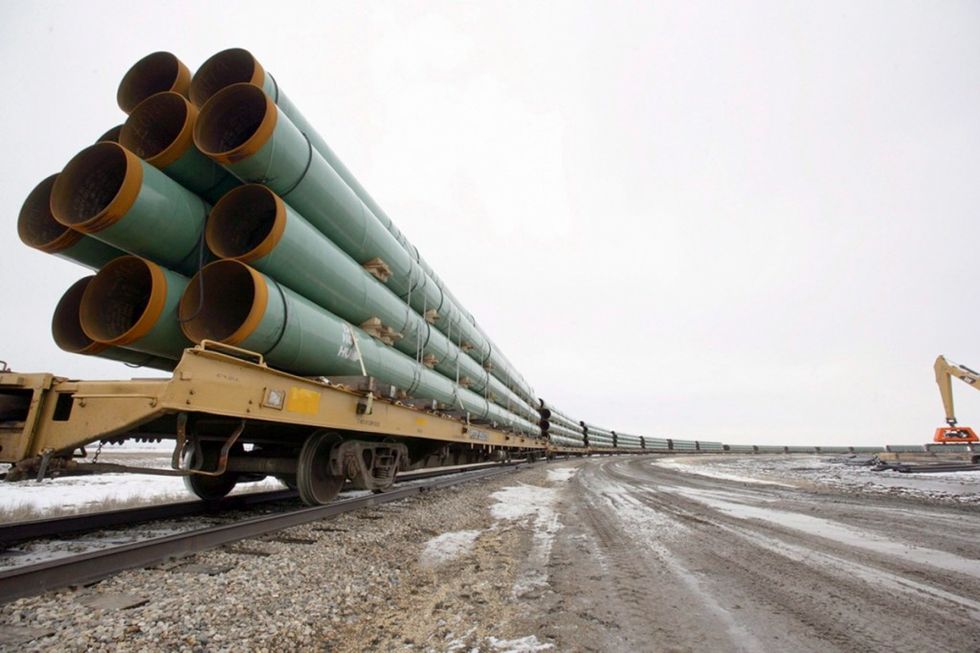 In the wake of an Obama administration decision to conduct a new review of the Keystone XL tar sands pipeline, 103 American mayors sent a letter expressing concerns about the pipeline's impacts on communities to President Barack Obama.
The mayors' letter demonstrates the widespread support that exists in communities across the country for rejecting the proposed Keystone XL tar sands pipeline. It also underscores the importance of carrying out a new, in-depth review of the project that includes a careful look at the project's impact on our nation's climate change goals. The mayors thank the president for the new review, but remain convinced that a full, fair review can yield only one answer—this pipeline is not in the nation's best interest.
The letter, signed by mayors from 28 states, 10 state capitals, and serving a combined population of more than 9 million Americans, states: "Expansion of high carbon fuels such as tar sands undermine hard work by local communities everywhere to fight climate change, reduce dependence on oil and create a clean energy future."
"President Obama is listening to concerns from all across America about the proposed Keystone XL tar sands pipeline, and now mayors from coast to coast are weighing in," said Susan Casey-Lefkowitz, director of the International Program for the Natural Resources Defense Council. "Mayors are at the frontlines of reducing our dependence on oil and have been working to create a more efficient system because they take climate change seriously."
The mayors' concerns with carbon impacts from high carbon fuels like tar sands oil are well founded. Just one day before President Obama announced his decision to conduct a new review of the Keystone XL pipeline last week, the International Energy Association announced in its annual report that the planet is already on pace to produce enough CO2 to lock-in to catastrophic levels (2°C) of climate change in just five years. Carbon emissions from new tar sands oil production would exacerbate the situation.
The letter:
Underscores the president's recognition of important gaps and problems with the environmental review of the Keystone XL project to date.
Asks for a comprehensive review of the greenhouse gas impacts from this high carbon project, and a general evaluation of how the project will affect local community efforts to reduce reliance on fossil fuels, ratchet down carbon emissions and fight climate change.
Expresses deep concerns about pipeline leaks, recalling that the first Keystone pipeline experienced some 30 leaks in the U.S. and Canada in its first year.
Declares that the proposed Keystone XL tar sands pipeline is not in the national interest and should therefore not be granted a Presidential permit.
Invites the administration to work with local communities on creating a clean energy future that will provide solid and lasting energy and economic security by lessening our dependence on oil.
Mayors signing the letter include Frank Cownie (Des Moines IA), John Dickert (Racine WI), Jennifer Hosterman (Pleasanton CA), Kitty Piercy (Eugene OR), Marie Gilmore (Alameda, CA), Gerald D. Jennings (Albany, NY), William Euille (Alexandria, VA), Ed Pawlowski (Allentown, PA), Susan Ornelas (Arcata, CA), William R. Stokes (Augusta, ME), Denny Doyle (Beaverton, OR), Dan Pike (Bellingham, WA), Tom Bates (Berkeley, CA), Joanne Twomey (Biddeford, ME), Mark Kruzan (Bloomington, IN), Roger C. Claar (Bolingbrook, IL), Bob Kiss (Burlington, VT), Jim Pedelty (Carroll, IA), Don Gerard (Champaign, IL), Mark Kleinschmidt (Chapel Hill, NC), Ann Schwab (Chico, CA), Julie Manning (Corvallis, OR), Bill Gluba (Davenport, IA), Roy D. Buol (Dubuque, IA), William "Bill" Bell (Durham, NC), Antonia Ricigliano (Edison, NJ), Philip Miller (Essex, CT), Ed Malloy (Fairfield, IA), Lioneld Jordan (Fayetteville, AR), Bob Wasserman (Fremont, CA), Craig Lowe (Gainesville, FL), Chase Palmer (Gallatin, TX), Laura Friedman (Glendale, CA), Jacob Smith (Golden, CO), George Heartwell (Grand Rapids, MI), David Doonan (Greenwich, NY), Joy Cooper, (Hallandale Beach, FL), Michael Sweeney (Hayward, CA), William D. McLeod (Hoffman Estates, IL), Carolyn K. Peterson (Ithaca, NY), Eugene J. Rosin (Kaukauna, WI), P. Dale Pregent (Keene, NH), Art Madrid (La Mesa, CA), Virg Bernero (Lansing, MI), Aron Cromwell (Lawrence, KS), Laurent F. Gilbert (Lewiston, ME), Paul R. Soglin (Madison, WI), Bruce Delgado (Marina, CA), Robert Harbick (Marinette, WI), Matti Bower (Miami Beach, FL), Lori Moseley (Miramar, FL), R.T. Rybak (Minneapolis, MN), Mary C. Hooper (Montpelier, VT), George D. Scherck (Neenah, WI), Scott Lang (New Bedford, MA), Jack Chiovatero (New Berlin, WI), John DeStefano, Jr. (New Haven, CT), Jason West (New Paltz, NY), Paul Dyster (Niagara Falls, NY), Chris Koos (Normal, IL), Patrick Henry Hays (North Little Rock, AR), David Pope (Oak Park, IL), Dana Williams (Park City, UT), Bill Bogaard (Pasadena, CA), Frank C. Ortis (Pembroke Pines, FL), David Glass (Petaluma, CA), David Malone (Portsmouth, OH), Gayle McLaughlin (Richmond, CA), Don Richards (River Falls, WI), Ardell F. Brede (Rochester, MN), Roland L. Michaud (Saco, ME), Kevin Johnson (Sacramento, CA), Ralph Becker (Salt Lake City, UT), Jan Marx (San Louis Obispo, CA), Helene Schneider (Santa Barbara, CA), David Coss (Santa Fe, NM), Richard Bloom (Santa Monica, CA), Ernesto Olivares (Santa Rosa, CA), Chris Doherty (Scranton, PA), Mike McGinn (Seattle, WA), Earl M. Leiken (Shaker Heights, OH), Joseph A. Curtatone (Somerville, MA), Brenda Lawrence (Southfield, MI), Elizabeth A. Goreham (State College, PA), Ann Johnston (Stockton, CA), Stephanie Miner (Syracuse, NY), John Marks III (Tallahassee, FL), Darren Cordova (Taos, NM), Jeffrey Lamarand (Taylor, MI), Tony F. Mack (Trenton, NJ), Shelley Welsch (University City, MO), Laurel Prussing (Urbana, IL), Jim Sullivan (Victory, NY), Michael J. O'Brien (Warren, OH), Buck Clark, (Waterloo, IA), William F. Peard (Waukee, IA), Jeri Muoio (West Palm Beach, FL), William Wild (Westland, MI), Christopher Cabaldon (West Sacramento, CA), Jerry Sullivan (Windsor Heights, IA), Joseph C. O'Brien (Worcester, MA), Former Mayor Heidi Davison (Athens, GA), Former Mayor Genoveva Garcia Calloway (San Pablo, CA).
Quotes from some of the signers follow:
Mayor Frank Cownie – Des Moines, Iowa
"We are heartened by President Obama's move to give the Keystone XL project a sober second thought. We encourage him to use this opportunity to take a closer, critical look at what is really driving this project—a business strategy to increase profits and expand access to export markets, as the proponents explained in hearings when they sought approval for the Canadian portion of the line. By diverting tar sands crude from Midwest refineries where it currently goes, to the Gulf, Keystone XL opens the door for it to be sold at higher prices to the Gulf and export markets. This will likely raise Midwest fuel prices. Keystone XL adds insult to injury by having Americans bear the brunt of environmental risks of transporting this crude across our heartlands and then having to likely pay higher prices for fuel, all while huge amounts of this oil leaves our ports for lucrative export markets."
Mayor John Dickert – Racine, Wisconsin
"What this country needs to focus on is reducing our reliance on fossil fuels! Simply replacing foreign oil with a process like the tar sands brings unacceptable risks to important water resources everywhere. Fresh water is priceless and we need to start treating it as such."
Mayor Jennifer Hosterman – Pleasanton, California
"When the President said recently that he thought "folks in Nebraska like all across the country" aren't going to trade putting our kids' health at risk from contaminated drinking water, or potentially harming agriculture in our heartlands all for "a few thousand jobs," he hit the nail on the head. In fact, we don't need to make the trade at all—jobs that are actually good for the environment can employ people across the country, whereas the Keystone XL pipeline will create jobs only for a small number of people in a few states, and not necessarily where jobs are needed most."
Mayor Kitty Piercy – Eugene, Oregon
"Mayors work hard to reduce their carbon footprints and our dependence on oil at the local level, because their citizens are worried about climate change. People are seeing changes in the climate already, and frankly don't much care what naysayers and skeptics say anymore. The people we serve expect us to take action now, help slow down climate change, and preserve the Earth for their children and grandchildren. Avoiding further tar sands pipelines, like the Keystone XL, is a critical step in making that happen."
Mayor Bob Kiss – Burlington, Vermont
"Keystone XL is not a simple contest between the environment and the economy, as some have suggested. When we take local actions that help our climate, people see additional benefits to their wallets and health and say, "Wait—you mean we can help the climate, be healthier and save money in the process? What are we waiting for!" Use less oil, have more money in your pockets, breathe better air, preserve water quality—it has really evolved into a no brainer for many people everywhere."
Mayor Dan Pike – Bellingham, Washington
"As the mayor of a community near several refineries, I know there are always risks with pipelines and refineries, even with conventional oil. Add to this the increased environmental downsides of tar sands crude, and the costs too clearly outweigh the benefits to make sense. It was this calculus that prompted our City Council to adopt a resolution that would help keep tar sands oil out of Bellingham."
A copy of the letter and a backgrounder on mayoral concerns over the Keystone XL project can be found on Susan Casey-Lefkowitz's blog.
For more information, click here.
—————
The Natural Resources Defense Council (NRDC) is an international nonprofit environmental organization with more than 1.3 million members and online activists. Since 1970, our lawyers, scientists, and other environmental specialists have worked to protect the world's natural resources, public health, and the environment. NRDC has offices in New York City, Washington, D.C., Los Angeles, San Francisco, Chicago, Livingston, Montana, and Beijing. Visit us at www.nrdc.org
EcoWatch Daily Newsletter