Matt Damon Slams Michigan Governor Over Flint Water Crisis: 'At the Very Least He Should Resign!'
Matt Damon has joined the escalating outrage over Gov. Rick Snyder's handling of the water crisis in Flint, Michigan and has called on embattled governor to step down from his post.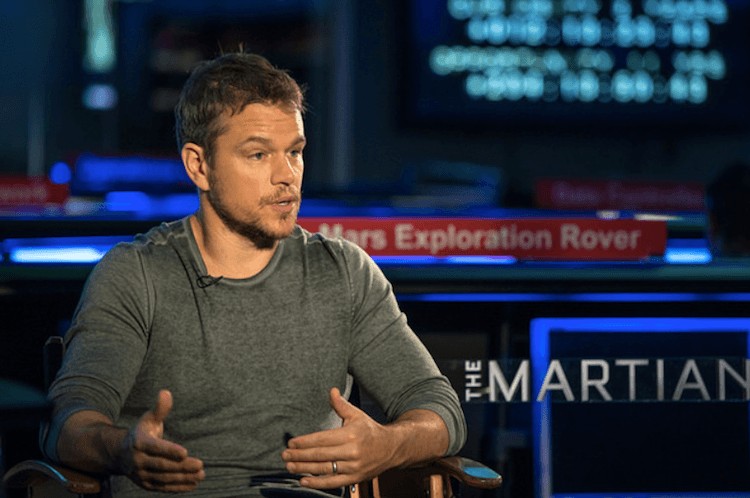 Flickr
"At the very least he should resign! At the very least," the Hollywood actor and co-founder of the nonprofit Water.org told The Daily Beast at the Sundance Film Festival on Saturday.
"Listen, everybody's entitled to a fair trial in the United States of America, but that man should get one. And soon. That's just my personal opinion."
Flint's water disaster started back in April 2014, when an unelected state official switched the city's main water supply from Lake Huron to the Flint River to save money. This ill-fated move has corroded Flint's aging pipelines and exposed the city's 102,000 residents—especially children—to the potentially crippling effects of lead poisoning and led to two outbreaks of Legionnaires Disease that has killed 10 people.
To make matters worse, emails released last week revealed that Gov. Snyder and his administration knew about Flint's water quality issues as early as February 2015 but his administration said the problems would eventually "fade in the rearview."
Gov. Snyder did not acknowledge the unsafe condition of the city's water until Sept. 30, 2015. The governor apologized to the city in December. President Barack Obama has since declared a state of emergency and is allocating $80 million in new funding to Michigan to bolster its cities' water infrastructures.
The Martian star co-founded his water advocacy nonprofit with Gary White to advocate for safe and clean water to citizens worldwide.
"In terms of the work that we do, to see it happening in Flint, every parent in America feels it on a visceral, deep level, because we ask the question, 'What if that was my child?'" Damon, a father of four daughters, told The Daily Beast.
"It's unconscionable in Flint, and it's unconscionable that 663 million people around the world are dealing with that every day in the developing world," he continued. "Those are the communities we interact with, and that's the mission of Water.org: to end that suffering for those children, and those parents."
Damon also pointed out that race and poverty are linked to Flint's water troubles as well as in developing countries.
"My sincere hope for our country and our world is that this greater connectivity is going to lead to a greater empathy and an awakening to the plight of our fellow citizens," Damon told The Daily Beast. "These are huge systemic injustices we're talking about that hopefully everybody is waking up to. The question then is, what do we do about it? It will be interesting to see where we go from here."
Democratic presidential candidates Hillary Clinton and Bernie Sanders have both demanded action in Flint and called on Gov. Snyder to resign.
"There are no excuses. The governor long ago knew about the lead in Flint's water. He did nothing. As a result, hundreds of children were poisoned. Thousands may have been exposed to potential brain damage from lead. Gov. Snyder should resign," Sanders said in a Jan. 16 press release. "Because of the conduct by Gov. Snyder's administration and his refusal to take responsibility, families will suffer from lead poisoning for the rest of their lives. Children in Flint will be plagued with brain damage and other health problems. The people of Flint deserve more than an apology."
According to Bloomberg Politics, Clinton said in Iowa on Sunday that she views Flint's water crisis as "not just as an environmental disaster and a health crisis," but that "(t)his is a civil rights issue."
"If it had been a rich white suburb where the water was brown and smelly, people would have come immediately to the rescue of those families," Clinton said.
Meanwhile, outspoken filmmaker and Flint native Michael Moore, has gone a step further than the growing chorus, and urged for the arrest of Gov. Snyder.
Moore posted a petition on his website and wrote a letter to the disgraced politician:
Dear Governor Snyder:
Thanks to you, sir, and the premeditated actions of your administrators, you have effectively poisoned, not just some, but apparently ALL of the children in my hometown of Flint, Michigan.
And for that, you have to go to jail.
To poison all the children in an historic American city is no small feat. Even international terrorist organizations haven't figured out yet how to do something on a magnitude like this.
You can read the rest of Moore's letter here.
YOU MIGHT ALSO LIKE
Michael Moore: 10 People in Flint Have Now Been Killed by These Premeditated Actions of the Governor of Michigan
5 Disturbing Things Porter Ranch Methane Leak and Flint Water Crisis Have in Common
Why Are Flint Residents Being Forced to Pay for Their Toxic Water?
Dow CEO Andrew Liveris and President Donald Trump in February.
U.S. Environmental Protection Agency (EPA) administrator Scott Pruitt met with Dow Chemical CEO Andrew Liveris before deciding to reverse an earlier EPA decision to ban the company's toxic and widely used pesticide, chlorpyrifos.
According to records obtained by the Associated Press, the EPA boss met with Liveris for about 30 minutes at a Houston hotel on March 9. Later that month, Pruitt announced that he would no longer pursue a ban on chlorpyrifos from being used on food, ignoring his agency's own review that even small amounts of the pesticide could impact fetus and infant brain development.
Keep reading...
Show less
www.facebook.com
Native communities and environmental justice advocates in Louisiana opened a new resistance camp Saturday to oppose the proposed Bayou Bridge Pipeline project. Called L'eau Est La Vie, or Water is Life, the camp will consist of floating indigenous art structures on rafts and constant prayer ceremonies during its first two weeks.
Keep reading...
Show less
Continuing its march toward elimination of key Clean Water Act protections, the U.S. Environmental Protection Agency (EPA) on Tuesday issued a formal notice of withdrawal of the Obama administration's rule defining which waters can be protected against pollution and destruction under federal law.
Keep reading...
Show less
The U.S. Environmental Protection Agency (EPA) is not doing enough to prevent weed resistance to the herbicide glyphosate (Roundup) says a new report from the EPA's Inspector General's Office, which draws in part on a report from the agbiotech company, Pioneer: Weed Management in the Era of Glyphosate Resistance.
Keep reading...
Show less
SUMR
When it comes to the latest wind turbine technologies, size matters. A group of six institutions and universities is designing an offshore wind turbine that will stand 500 meters in height. That's taller than the Eiffel Tower and the Empire State Building.
The research team, led by researchers at the University of Virginia, believes that its wind turbine concept will produce 50 megawatts of peak power, or about 10 times more powerful than conventional wind turbines.
Keep reading...
Show less
www.facebook.com
Natural gas is often considered the cleanest fossil fuel, but could it actually be dirtier than coal?
Watch as New York Times reporter Mark Bittman, in the above Year's of Living Dangerously video, investigates how much methane is leaking at fracking wells. Find out how the natural gas industry's claims compare to what scientists are reporting.
See what happens when Gaby Petron, an atmospheric scientist with NOAA, converts her van into a mobile methane detector and sets out across northeastern Colorado for two years, taking thousands of readings to uncover the truth.
www.youtube.com
Adrian Grenier was named UN Goodwill Ambassador earlier this month. The Hollywood actor, best known for his iconic role of A-list movie star Vincent Chase in the HBO smash hit and film Entourage, will advocate for drastically reducing single-use plastic and protection of marine species, and encourage his followers to make conscious consumer choices to reduce their environmental footprint, according to the UN Environment announcement.
"Together we must usher in a new era of compassion and carefulness through forward thinking environmental programs to drive measurable change," Grenier said. "I am personally committed to creating ways in which the global community can come together to help solve our most critical climate crises through routine, collective action.
"The more we connect to nature in our daily lives, the more dedicated we will become to our individual commitments. Together, I believe we can go further, faster in our race to achieve the UN Sustainable Development Goals by 2030."
Watch the video above to learn more.
The last week has seen a flood of stories on clean energy's prospects—stories that make your head spin with their conflicting tales of renewable energy's prospects of ending our dangerous addiction to fossil fuel power from coal and gas.
Keep reading...
Show less