This website uses cookies to ensure you get the best experience while browsing it. By clicking 'Got It' you're accepting these terms.
Massive Victory for 7 Kids in Climate Change Lawsuit in Washington State
Apr. 29, 2016 01:30PM EST
Climate
Today, in a surprise ruling from the bench in the critical climate case brought by youths against the State of Washington's Department of Ecology, King County Superior Court Judge Hollis Hill ordered the Department of Ecology to promulgate an emissions reduction rule by the end of 2016 and make recommendations to the state legislature on science-based greenhouse gas reductions in the 2017 legislative session.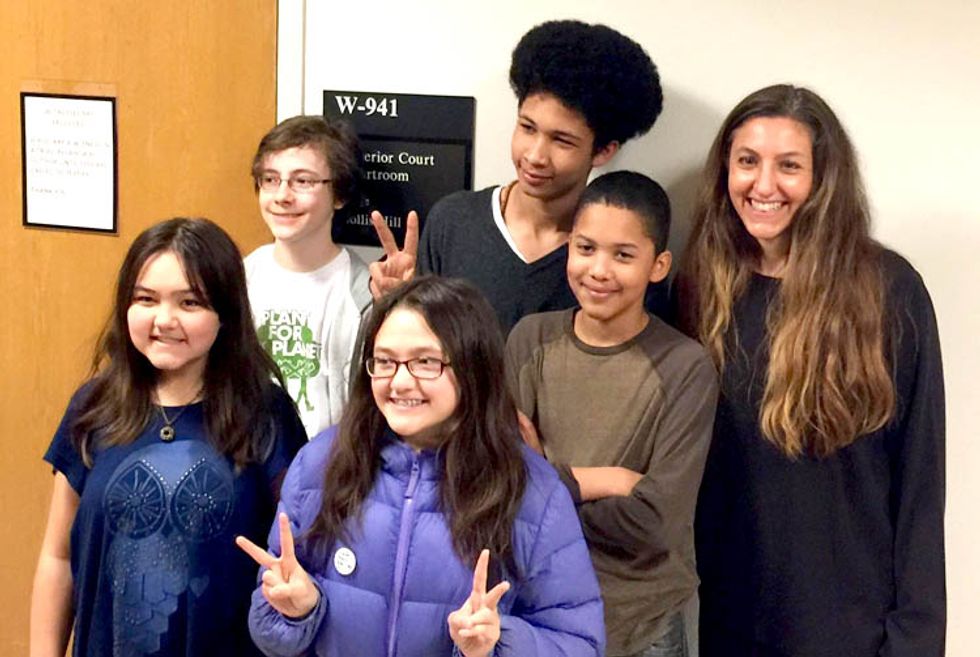 Judge Hill also ordered the Department of Ecology to consult with the youth petitioners in advance of that recommendation. The youths were forced back to court after the Department of Ecology unexpectedly withdrew the very rulemaking efforts to reduce carbon emissions the agency told the judge it had underway. This case is one of several similar state, federal and international cases, all supported by Our Children's Trust, seeking the legal right to a healthy atmosphere and stable climate.
"For the first time, a U.S. court not only recognized the extraordinary harms young people are facing due to climate change, but ordered an agency to do something about it," Andrea Rodgers, the Western Environmental Law Center attorney representing the seven youths, said. "Ecology is now court-ordered to issue a rule that fulfills its constitutional and public trust duty to ensure Washington does its part to reduce greenhouse gas emissions and protect the planet."
In granting the youth a remedy, Judge Hill noted the extraordinary circumstances of the climate crisis, saying, "This is an urgent situation … these kids can't wait." The court discussed the catastrophic impacts of climate destabilization globally, including the impending loss of polar bears and low-lying countries like Bangladesh. The court explained that while it had no jurisdiction outside of Washington state, it did have jurisdiction over the Department of Ecology and would order the agency to comply with the law and do its part to address the crisis.
"It was absurd for Ecology to withdraw its proposed rule to reduce carbon emissions," petitioner Aji Piper, who is also a plaintiff on the federal constitutional climate lawsuit, supported by Our Children's Trust, said. "Especially after Judge Hill declared last fall that our 'very survival depends upon the will of [our] elders to act now … to stem the tide of global warming.' I think Ecology should be ashamed by its reversal of potentially powerful action and today, Judge Hill issued a significant ruling that should go down in history books. Our government must act to protect our climate for benefit of us and future generations."
After a landmark November, 2015 decision, in which Judge Hill found that the state has a "mandatory duty" to "preserve, protect and enhance the air quality for the current and future generations" and found the state's current standards to fail that standard dramatically, the Department of Ecology nonetheless unilaterally withdrew its proposed rule to reduce carbon emissions in the state in February, just months after Judge Hill specifically underscored the urgency of the climate crisis.
"This case explains why youth around this country and in several other countries, are forced to bring their governments to court to secure a healthy atmosphere and stable climate," Julia Olson, executive director and chief legal counsel at Our Children's Trust, said. "Despite clear scientific evidence and judicial recognition of the urgency of the climate crisis, Washington and most governments across the U.S. and other countries are failing to take correspondingly urgent, science-based action. That failure unfairly consigns youth to a disproportionately bleak future against which they can only reasonably ask the courts to step in to address this most time sensitive issue of our time."
Related cases brought by youth to protect the atmosphere are pending before other U.S. courts in the federal district court in Oregon and in the state courts of North Carolina, Pennsylvania, Colorado, Massachusetts and Oregon.
"This is a massive victory," petitioner Gabe Mandell said.
YOU MIGHT ALSO LIKE
Neil Young's New Album EARTH Breaks All the Rules
Watch Susan Sarandon Share on Colbert Why She Broke Up With Hillary Clinton
Cousteau to SeaWorld: Captive Orcas 'Need to Be Released'
New Report Shows 'Natural Gas Increasingly Becoming an Unnecessary Bridge to Nowhere'
EcoWatch Daily Newsletter
European Commission President Ursula von der Leyen delivers a press statement on the European Green Deal at the EU headquarters in Brussels, Belgium on Dec. 11, 2019. Xinhua / Zheng Huansong via Getty Images
The European Commission introduced a plan to overhaul the bloc's economy to more sustainable, climate-conscious policies and infrastructure, with the goal of being carbon-neutral by 2050, according to CNBC.
Young activists shout slogans on stage after Greta Thunberg (not in the picture) took part in the plenary session during the COP25 Climate Conference on Dec. 11 in Madrid, Spain. Pablo Blazquez Dominguez / Getty Images
By Andrea Germanos
Young activists took over and occupied the main stage at the COP25 climate conference in Madrid, Spain Wednesday and demanded world leaders commit to far more ambitious action to address the ecological emergency.
A NASA image showing the ozone hole at its maximum extent for 2015. NASA Goddard Space Flight Center
The Montreal Protocol, a 1987 international treaty prohibiting the production of chlorofluorocarbons (CFCs) to save the ozone layer, was the first successful multilateral agreement to successfully slow the rate of global warming, according to new research. Now, experts argue that similar measures may lend hope to the climate crisis.
Police in Wales are in the midst of an unusual investigation: the sudden death of more than 200 starlings.
Donald Trump Jr. killed an argali sheep like this one on a hunting trip in Mongolia. powerofforever/ iStock / Getty Images Plus
During a hunting trip in Mongolia this August, Donald Trump Jr. shot and killed an endangered argali sheep, and received a permit only after the fact.