This website uses cookies to ensure you get the best experience while browsing it. By clicking 'Got It' you're accepting these terms.
Massive Victory for 7 Kids in Climate Change Lawsuit in Washington State
Apr. 29, 2016 01:30PM EST
Climate
Today, in a surprise ruling from the bench in the critical climate case brought by youths against the State of Washington's Department of Ecology, King County Superior Court Judge Hollis Hill ordered the Department of Ecology to promulgate an emissions reduction rule by the end of 2016 and make recommendations to the state legislature on science-based greenhouse gas reductions in the 2017 legislative session.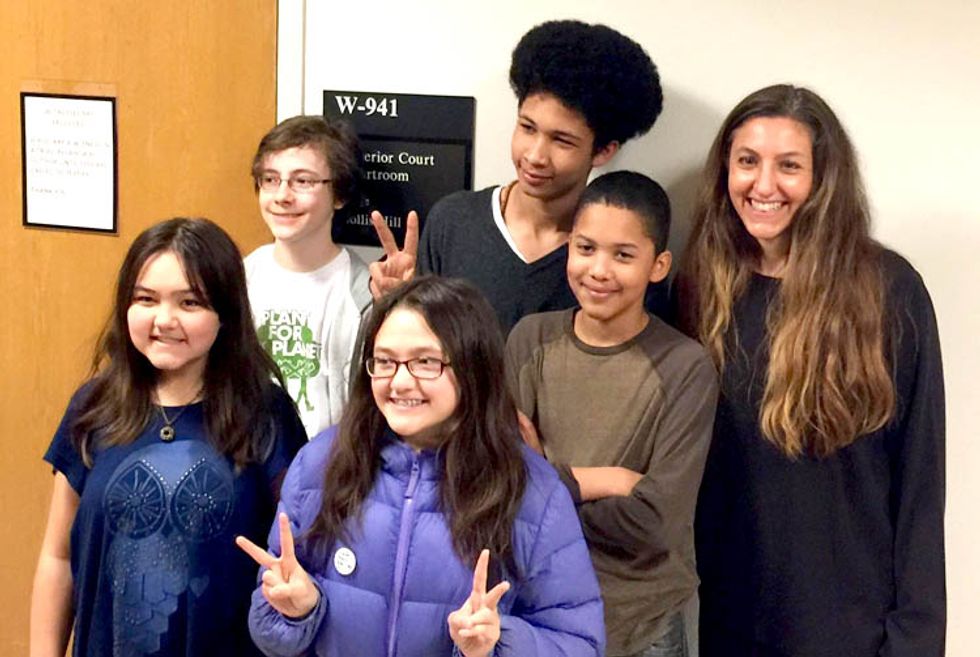 Judge Hill also ordered the Department of Ecology to consult with the youth petitioners in advance of that recommendation. The youths were forced back to court after the Department of Ecology unexpectedly withdrew the very rulemaking efforts to reduce carbon emissions the agency told the judge it had underway. This case is one of several similar state, federal and international cases, all supported by Our Children's Trust, seeking the legal right to a healthy atmosphere and stable climate.
"For the first time, a U.S. court not only recognized the extraordinary harms young people are facing due to climate change, but ordered an agency to do something about it," Andrea Rodgers, the Western Environmental Law Center attorney representing the seven youths, said. "Ecology is now court-ordered to issue a rule that fulfills its constitutional and public trust duty to ensure Washington does its part to reduce greenhouse gas emissions and protect the planet."
In granting the youth a remedy, Judge Hill noted the extraordinary circumstances of the climate crisis, saying, "This is an urgent situation … these kids can't wait." The court discussed the catastrophic impacts of climate destabilization globally, including the impending loss of polar bears and low-lying countries like Bangladesh. The court explained that while it had no jurisdiction outside of Washington state, it did have jurisdiction over the Department of Ecology and would order the agency to comply with the law and do its part to address the crisis.
"It was absurd for Ecology to withdraw its proposed rule to reduce carbon emissions," petitioner Aji Piper, who is also a plaintiff on the federal constitutional climate lawsuit, supported by Our Children's Trust, said. "Especially after Judge Hill declared last fall that our 'very survival depends upon the will of [our] elders to act now … to stem the tide of global warming.' I think Ecology should be ashamed by its reversal of potentially powerful action and today, Judge Hill issued a significant ruling that should go down in history books. Our government must act to protect our climate for benefit of us and future generations."
After a landmark November, 2015 decision, in which Judge Hill found that the state has a "mandatory duty" to "preserve, protect and enhance the air quality for the current and future generations" and found the state's current standards to fail that standard dramatically, the Department of Ecology nonetheless unilaterally withdrew its proposed rule to reduce carbon emissions in the state in February, just months after Judge Hill specifically underscored the urgency of the climate crisis.
"This case explains why youth around this country and in several other countries, are forced to bring their governments to court to secure a healthy atmosphere and stable climate," Julia Olson, executive director and chief legal counsel at Our Children's Trust, said. "Despite clear scientific evidence and judicial recognition of the urgency of the climate crisis, Washington and most governments across the U.S. and other countries are failing to take correspondingly urgent, science-based action. That failure unfairly consigns youth to a disproportionately bleak future against which they can only reasonably ask the courts to step in to address this most time sensitive issue of our time."
Related cases brought by youth to protect the atmosphere are pending before other U.S. courts in the federal district court in Oregon and in the state courts of North Carolina, Pennsylvania, Colorado, Massachusetts and Oregon.
"This is a massive victory," petitioner Gabe Mandell said.
YOU MIGHT ALSO LIKE
Neil Young's New Album EARTH Breaks All the Rules
Watch Susan Sarandon Share on Colbert Why She Broke Up With Hillary Clinton
Cousteau to SeaWorld: Captive Orcas 'Need to Be Released'
New Report Shows 'Natural Gas Increasingly Becoming an Unnecessary Bridge to Nowhere'
EcoWatch Daily Newsletter
The Opera House is seen with smoke haze which enveloped Sydney Harbor on Dec. 10 in Sydney, Australia. Smoke haze hangs over the city as the New South Wales fire danger risk is raised from 'very high' to 'severe'. James D. Morgan / Getty Images
The brushfires raging through New South Wales have shrouded Australia's largest city in a blanket of smoke that pushed the air quality index 12 times worse than the hazardous threshold, according to the Australia Broadcast Corporation (ABC).
People walk across the bridge near Little Raven Court in downtown Denver. Younger Americans increasingly prefer to live in walkable neighborhoods. Helen H. Richardson / The Denver Post via Getty Images
By David B. Goldstein
Energy efficiency is the cornerstone of any country's plan to fight the climate crisis. It is the cheapest option available, and one that as often as not comes along with other benefits, such as job creation, comfort and compatibility with other key solutions such as renewable energy. This has been recognized by the International Energy Agency (IEA) for at least a decade.
Activists from Extinction Rebellion New York City engaged in nonviolent direct action to confront climate change outside City Hall on April 17, 2019. Erik McGregor / Pacific Press / LightRocket via Getty Images
By Andrea Germanos

Over 500 groups on Monday rolled out an an action plan for the next president's first days of office to address the climate emergency and set the nation on a transformative path towards zero emissions and a just transition in their first days in office.

The Ladakh region of India, pictured above, is a part of the Himalayan mountain region of the upper Indus Valley which is the most vulnerable water tower, according to researchers. Suttipong Sutiratanachai / Moment / Getty Images
Jet stream triggered heat waves could threaten food production in several important breadbaskets, including central North America.
Carl Wycoff /
CC BY 2.0
Researchers have pinpointed a previously underexamined threat to global food production, and they warn it will only get worse as the climate crisis intensifies.