Massive Space Junk Crashes Into Earth's Atmosphere
Nov. 13, 2015 11:06AM EST
Science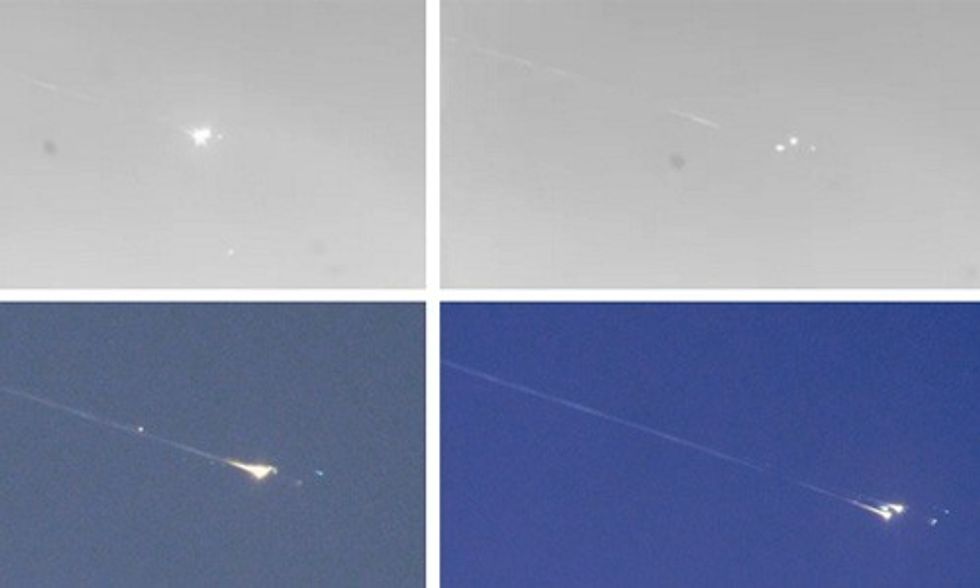 Today is Friday the 13th, so it's fitting that a giant chunk of space junk hurtled towards Earth. "An object the size of a car slammed into Earth's atmosphere early this morning," Paul Cox, host of Slooh, said. The international organization of robotic telescopes. But don't go crawling into your doomsday bunker just yet. The object, called WT1190F (or as the Internet is calling it, WTF) was projected to burn up over the Indian Ocean about 62 miles off the coast of Sri Lanka.
WT1190F reentry on Nov. 13, 2015 https://t.co/7B63BLXlxa #WT1190F #spacejunk https://t.co/Almrubq3JI

— Observing Space (@Observing Space) 1447420335.0
The International Astronomical Center and the United Arab Emirates Space Agency hosted a team of veteran U.S. and German observers of spacecraft re-entries to take a Gulfstream business jet up into the air to study the piece of space debris and capture some images. They appear to be the only one to have captured images of the object as it made its way through the atmosphere. They posted their images to Twitter and shot this video:
http://video.businessinsider.com/be13828e-078f-4b21-9c32-b7e2391804f9.mp4
And, there's this YouTube video from the Astronomy Center:
Those hoping to catch a glimpse of the object from ground-level appear to have struck out:
Where are you #wt1190f https://t.co/nrOFyuRkjr

— Shalika Galawala (@Shalika Galawala) 1447395963.0
Damn it. It's just not our lucky day. #fridaythe13th No one saw #spacejunk #wt1190f anywhere in Sri Lanka =\

— Abraham (@Abraham) 1447396018.0
Much ado about nothing? #WT1190F was like #lka #yahapalanaya: Over-hyped, eagerly awaited - but turns out to be damp squib #අයියෝයහපාලනය

— Nalaka Gunawardene (@Nalaka Gunawardene) 1447396907.0
Fake videos already started spreading #WT1190F

— Rovin Shanila (@Rovin Shanila) 1447396796.0
Harvard-Smithsonian astronomer Jonathan McDowell said the loud sound people reported hearing could have been a sonic boom from WT1190F:
. @Anuruddhawaru @isuranirmal If the loud noise was heard from widely separated locations at the same time, could be sonic boom from WT1190F

— Jonathan McDowell (@Jonathan McDowell) 1447398402.0
@isuranirmal @planet4589 @Anuruddhawaru seconded!! must have been the sound of disintegration. Didn't hear any more thunder after the event.

— Kushan Fernando (@Kushan Fernando) 1447400468.0
Scientists are not exactly sure of the origins of the object, but the European Space Agency said it could have been a piece of a rocket. Since the object was first spotted in 2013, Slooh had been using its global network of telescopes to track when and where the object would make impact.
Good candidates for WT1190F's identity are the TLI Stage for Lunar Prospector, and the final stage rocket for Japan's Nozomi probe

— Jonathan McDowell (@Jonathan McDowell) 1447387581.0
Today marks the first time that experts had "calculated the exact time and location a piece of space junk would re-enter Earth's atmosphere," Business Insider said. Because of its very elongated orbit, it is "one of the very few space objects whose impacts can be accurately predicted," the team of researchers who published their findings in Nature said. "The event not only offers a scientific opportunity to watch something plunge through the atmosphere, but also tests the plans that astronomers have put in place to coordinate their efforts when a potentially dangerous space object shows up."
It's not entirely surprising or uncommon that a space object is re-entering Earth's atmosphere. "Four million pounds of space junk has survived the trip through Earth's atmosphere to hit the surface," Slooh host Paul Cox said. This is just the first time the object has been tracked ahead of time. "Considering the first satellite launched into space occurred less than 60 years, we've left a lot of our trash up there," IFLScience said. "NASA estimates there are around 13,000 pieces of space debris above Earth that are larger than 10 centimeters (3.9 inches) in diameter—some of which are traveling up to 8 kilometers (5 miles) per second."
YOU MIGHT ALSO LIKE
What's Going on in Antarctica? Is the Ice Melting or Growing?
Stunning Images of Earth, Delivered Daily by NASA
Breathtaking NASA Video Shows the Sun Like You've Never Seen It Before
EcoWatch Daily Newsletter
Related Articles from EcoWatch
Recent Stories from EcoWatch