This website uses cookies to ensure you get the best experience while browsing it. By clicking 'Got It' you're accepting these terms.


The best of EcoWatch, right in your inbox. Sign up for our email newsletter!
Maryland to Become First State to Ban Bee-Killing Pesticides for Consumer Use
Mar. 25, 2016 11:02AM EST
In an effort to curb its plummeting honeybee population, Maryland is about to become the first state in the nation to pass strict restrictions on neonicotinoids for consumer use.
Neonicotinoids are a potent class of pesticides used on many crops in the U.S. that have been linked to the widespread decline of pollinator species. As EcoWatch mentioned previously, 29 independent scientists conducted a global review of 1,121 independent studies and found overwhelming evidence of pesticides linked to bee declines.
Republican Gov. Larry Hogan is poised to sign a combined set of bills passed in both the state's upper and lower chambers (SB 198 and HB 211), the The Washington Post reported.
According to the Post, the bipartisan legislation would take neonicotinoids away from everyday consumers who spray their home gardens and trees with these harmful pesticides. They would not be able to buy neonic-products such as Knockout Ready-to-Use Grub Killer, Ortho Bug B Gon, All-In-One Rose & Flower Care, Lesco Bandit Insecticide from the thousands of hardware stores, garden centers, nurseries in the state that sell such products. Farmers and professional gardeners, who better understand how to apply the chemicals, are exempt from the law which will come into effect in the year 2018.
The news comes as much-needed reprieve for the Maryland's dwindling honeybees. Compared to the national average of 42.1 percent, Maryland's beekeepers lost more than 60 percent of their colonies on average in the past year, one of the highest in U.S., according to a U.S. Department of Agriculture (USDA) survey.
Del. Anne Healey, D-Prince George's County, who authored the House version of the bill, told the Washington Post that the new law would "be a landmark, and it would set a standard that maybe other states would follow."
Healey pointed out in a June 2015 editorial in The Baltimore Sun that more actions must be taken to protect our pollinators, which serve a critical role in our food supply:
Our honey bees are in serious trouble, and if we lose our bees, and other pollinators, one-third of our food supply is in danger. As The Sun's editorial noted, "it will take more than good intentions to preserve and protect" bees and other pollinators.
ThinkProgess reported that while California, Alaska, New York, and Massachusetts have made attempts to ban or limit neonicotinoids, no piece of legislation has made it as far as Maryland. Only Oregon has a bill that bans neonics on a certain species of a tree.
Counter to the aggravatingly slow action from the USDA—which has taken more than 20 years to admit that neonicotinoids kill bees—a growing list of individual cities and jurisdictions such as Portland and Eugene in Oregon, Seattle and Spokane in Washington and many more have banned neonics.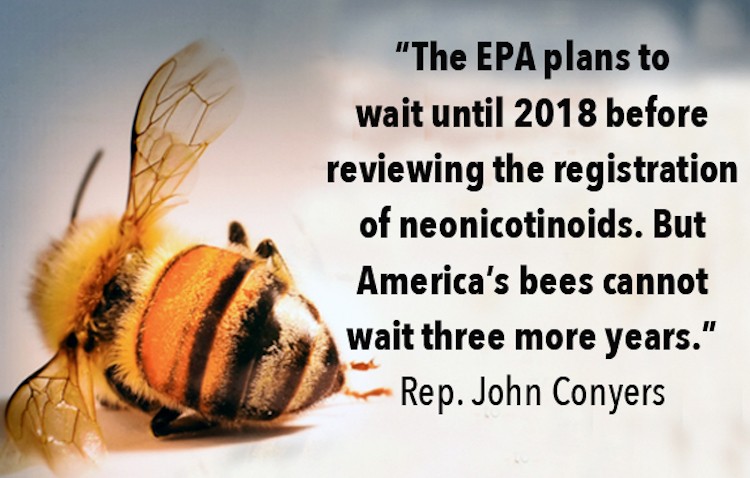 Additionally, in recent years a number of nurseries, landscaping companies and retailers—including Lowe's, Home Depot, Whole Foods and BJ's Wholesale Club have taken steps to eliminate bee-killing pesticides from their stores.
France is moving towards a total ban on bee-harming neonics, a move that goes beyond European Union restrictions, Reuters reported last week.
However, Maryland's Department of Agriculture has denied evidence linking the decline of bees to neonicotinoids. The agency said in a statement that it "has not documented any cases of neonicotinoid pesticides negatively impacting honeybees in Maryland," citing a USDA National Honeybee Survey saying "no neonicotinoids were found in Maryland pollen samples, and fewer pesticides overall were detected when compared to the national average."
The Washington Post also noted that the state department is concerned that the $200,000 allocated in the House bill to implement and enforce the new law would be inadequate, arguing that it would likely cost more than $1 million a year instead. Additionally, Maryland's amateur gardeners are still able to buy the pesticides from out of state or the internet making enforcement all the more difficult.
YOU MIGHT ALSO LIKE
Japan Kills 333 Minke Whales Including 200 Pregnant Females
Photo Ark: One Man's Journey to Save the World's Most Endangered Species
Eastern Monarch Butterflies at Risk of Extinction
Dramatic Images Show Worst Coral Bleaching Event to Ever Hit Most Pristine Part of Great Barrier Reef
EcoWatch Daily Newsletter
A metal fence marked with the U.S. Border Patrol sign prevents people to get close to the barbed/concertina wire covering the U.S./Mexico border fence, in Nogales, Arizona, on Feb. 9. ARIANA DREHSLER / AFP / Getty Images
D'Bone Collector Museum head Darrell Blatchley shows plastic found inside the stomach of a Cuvier's beaked whale in the Philippines this weekend. - / AFP / Getty Images
Yet another whale has died after ingesting plastic bags. A young male Cuvier's beaked whale was found washed up in Mabini, Compostela Valley in the Philippines Friday, CNN reported. When scientists from the D' Bone Collector Museum in Davao investigated the dead whale, they found it had died of "dehydration and starvation" after swallowing plastic bags―40 kilograms (approximately 88 pounds) worth of them!
Pexels
By Jeff Turrentine
"Be careful what you wish for; you just might get it." This is something that everybody has to learn at some point. Lately, the lesson has hit home for a group of American automakers.
Art direction: Georgie Johnson. Illustrations: Freya Morgan
By Joe Sandler Clarke
"Don't expect us to continue buying European products," Malaysia's former plantations minister Mah Siew Keong told reporters in January last year. His comments came just after he had accused the EU of "practising a form of crop apartheid."

A few months later Luhut Pandjaitan, an Indonesian government minister close to President Joko 'Jokowi' Widodo, warned his country would retaliate if it was "cornered" by the EU.
Torres and his parents walk along the Rio Grande. Luis Torres / Earthjustice
By Luis Torres
For some people who live along the U.S.-Mexico border, President Trump's attempt to declare a national emergency and extend the border wall is worse than a wasteful, unconstitutional stunt. It's an attack on their way of life that threatens to desecrate their loved ones' graves.
Flooding caused by last week's bomb cyclone storm has broken records in 17 places across the state of Nebraska, CNN reported Sunday. Around nine million people in 14 states along the Mississippi and Missouri Rivers were under a flood watch, CNN meteorologist Karen Maginnis said.
A car destroyed by Cyclone Idai in Beira, Mozambique. ADRIEN BARBIER / AFP / Getty Images
At least 150 people have died in a cyclone that devastated parts of Mozambique, Zimbabwe and Malawi over the weekend, The Associated Press reported Sunday. Cyclone Idai has affected more than 1.5 million people since it hit Mozambique's port city of Beira late Thursday, then traveled west to Zimbabwe and Malawi. Hundreds are still missing and tens of thousands are without access to roads or telephones.
"I think this is the biggest natural disaster Mozambique has ever faced. Everything is destroyed. Our priority now is to save human lives," Mozambique's Environment Minister Celso Correia said, as AFP reported.