Maryland to Become First State to Ban Bee-Killing Pesticides for Consumer Use
In an effort to curb its plummeting honeybee population, Maryland is about to become the first state in the nation to pass strict restrictions on neonicotinoids for consumer use.
Neonicotinoids are a potent class of pesticides used on many crops in the U.S. that have been linked to the widespread decline of pollinator species. As EcoWatch mentioned previously, 29 independent scientists conducted a global review of 1,121 independent studies and found overwhelming evidence of pesticides linked to bee declines.
Republican Gov. Larry Hogan is poised to sign a combined set of bills passed in both the state's upper and lower chambers (SB 198 and HB 211), the The Washington Post reported.
According to the Post, the bipartisan legislation would take neonicotinoids away from everyday consumers who spray their home gardens and trees with these harmful pesticides. They would not be able to buy neonic-products such as Knockout Ready-to-Use Grub Killer, Ortho Bug B Gon, All-In-One Rose & Flower Care, Lesco Bandit Insecticide from the thousands of hardware stores, garden centers, nurseries in the state that sell such products. Farmers and professional gardeners, who better understand how to apply the chemicals, are exempt from the law which will come into effect in the year 2018.
The news comes as much-needed reprieve for the Maryland's dwindling honeybees. Compared to the national average of 42.1 percent, Maryland's beekeepers lost more than 60 percent of their colonies on average in the past year, one of the highest in U.S., according to a U.S. Department of Agriculture (USDA) survey.
Del. Anne Healey, D-Prince George's County, who authored the House version of the bill, told the Washington Post that the new law would "be a landmark, and it would set a standard that maybe other states would follow."
Healey pointed out in a June 2015 editorial in The Baltimore Sun that more actions must be taken to protect our pollinators, which serve a critical role in our food supply:
Our honey bees are in serious trouble, and if we lose our bees, and other pollinators, one-third of our food supply is in danger. As The Sun's editorial noted, "it will take more than good intentions to preserve and protect" bees and other pollinators.
ThinkProgess reported that while California, Alaska, New York, and Massachusetts have made attempts to ban or limit neonicotinoids, no piece of legislation has made it as far as Maryland. Only Oregon has a bill that bans neonics on a certain species of a tree.
Counter to the aggravatingly slow action from the USDA—which has taken more than 20 years to admit that neonicotinoids kill bees—a growing list of individual cities and jurisdictions such as Portland and Eugene in Oregon, Seattle and Spokane in Washington and many more have banned neonics.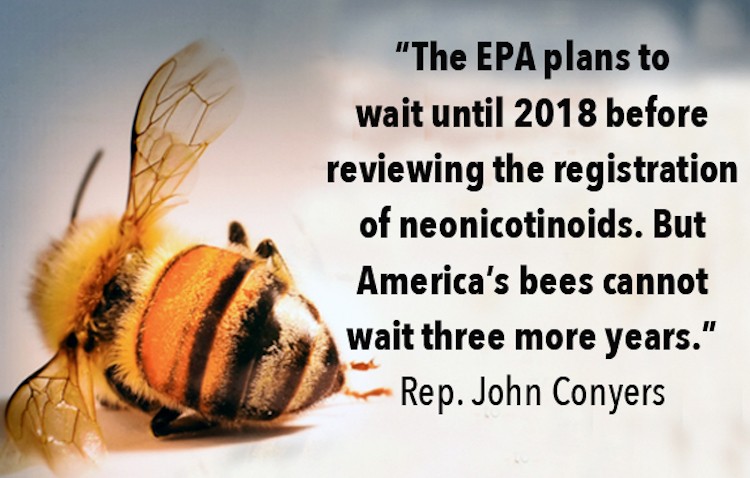 Additionally, in recent years a number of nurseries, landscaping companies and retailers—including Lowe's, Home Depot, Whole Foods and BJ's Wholesale Club have taken steps to eliminate bee-killing pesticides from their stores.
France is moving towards a total ban on bee-harming neonics, a move that goes beyond European Union restrictions, Reuters reported last week.
However, Maryland's Department of Agriculture has denied evidence linking the decline of bees to neonicotinoids. The agency said in a statement that it "has not documented any cases of neonicotinoid pesticides negatively impacting honeybees in Maryland," citing a USDA National Honeybee Survey saying "no neonicotinoids were found in Maryland pollen samples, and fewer pesticides overall were detected when compared to the national average."
The Washington Post also noted that the state department is concerned that the $200,000 allocated in the House bill to implement and enforce the new law would be inadequate, arguing that it would likely cost more than $1 million a year instead. Additionally, Maryland's amateur gardeners are still able to buy the pesticides from out of state or the internet making enforcement all the more difficult.
YOU MIGHT ALSO LIKE
Japan Kills 333 Minke Whales Including 200 Pregnant Females
Photo Ark: One Man's Journey to Save the World's Most Endangered Species
Eastern Monarch Butterflies at Risk of Extinction
Dramatic Images Show Worst Coral Bleaching Event to Ever Hit Most Pristine Part of Great Barrier Reef
www.facebook.com
Keep reading...
Show less
Keep reading...
Show less
www.elysee.fr
By Andy Rowell
There is a growing feeling within European capitals that a quiet, but deeply positive, revolution is happening under Emmanuel Macron in France.
Macron's opinion poll rating is high, especially boosted in how the young French president has reacted to Donald Trump on the international stage.
Keep reading...
Show less
Hawaii Renewable Energy Alliance
The latest issue of the U.S. Energy Information's "Electric Power Monthly" (with data through April 30) reveals that—for the first time since the beginning of the nuclear era—renewable energy sources (i.e., biomass, geothermal, hydropower, solar—inc. small-scale PV, wind) are now providing a greater share of the nation's electrical generation than nuclear power.
Keep reading...
Show less
www.youtube.com
Check out this great 360° virtual reality video by NowThis on the world's largest indoor vertical farm, AeroFarms. Located in Newark, New Jersey, AeroFarms grows more than 2 million pounds of greens a year without sunlight, soil or pesticides.
As reported by EcoWatch in July 2105, the $30 million, 70,000-square-foot AeroFarms headquarters dwarfs Japan's (already impressive) 25,000-square-foot vertical indoor farm, which had been the world's largest until now.
www.youtube.com
According to Bloomberg, "SeaWorld Entertainment Inc. received a subpoena earlier this month from regulators investigating disclosures and public statements by executives, including comments about the Blackfish documentary that caused a public backlash against the confinement of orcas.
Keep reading...
Show less
Wikipedia
By Franziska Spritzler, RD, CDE
Boosting your metabolic rate can help you lose body fat. However, most "fat-burning" supplements on the market are either unsafe, ineffective or both.
Fortunately, several natural foods and beverages have been shown to increase your metabolism and promote fat loss.
Keep reading...
Show less
Jun. 25, 2017 04:50PM EST
Monsanto, the maker of the glyphosate-based herbicide Roundup, filed a motion June 16 in U.S. District Court, Northern District of California to reconsider the chemical's addition to California's Proposition 65 list of agents known to cause cancer.
The agrochemical giant made this move based on a June 14 Reuters investigation of Dr. Aaron Blair, a lead researcher on the World Health Organization's International Agency for Research on Cancer (IARC) committee, that classified glyphosate as a "2A probable human carcinogen" in March 2015.
Keep reading...
Show less
Jun. 25, 2017 04:40PM EST
By Avery Friedman
Algae is often considered a nuisance, but for Sweden, the rapidly growing sea plant is now an asset.
As the Scandinavian country works to cut all of its greenhouse gas emissions by 2045, it's using algae to sop up the carbon emissions from cement.
Keep reading...
Show less