Mark Ruffalo to David Cameron: Fracking Push Is 'Enormous Mistake'
Feb. 08, 2016 11:21AM EST
Energy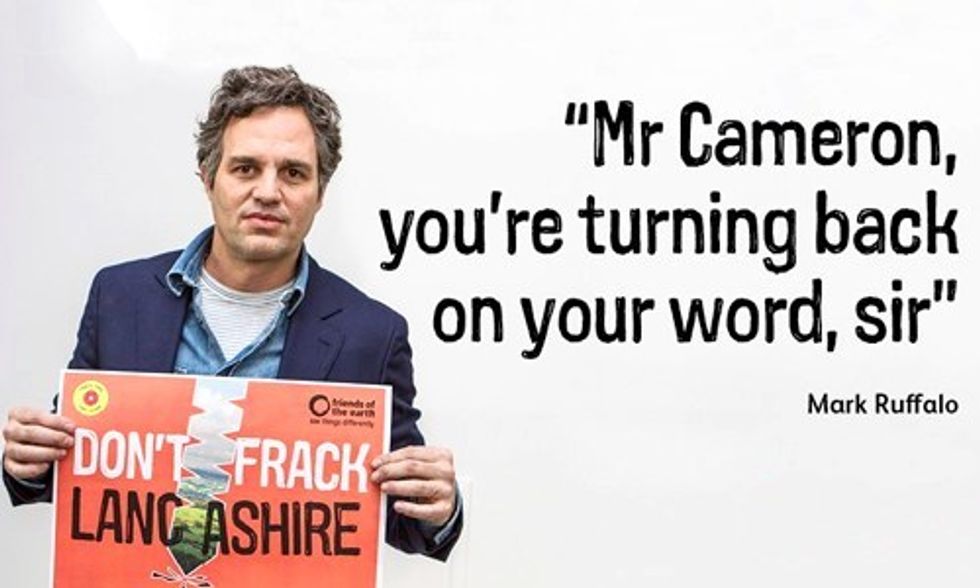 Actor and environmental activist Mark Ruffalo warned in a video message to UK Prime Minister David Cameron that he was making an "enormous mistake" by "going all out" for fracking.
Join Hollywood star @MarkRuffalo in telling David Cameron #dontfracklancs. Share & sign: https://t.co/wjhajAWYl9 https://t.co/Rzqtgmwt3M

— Friends of the Earth (@Friends of the Earth)1454924941.0
Last summer, the Lancashire County Council rejected two applications from energy company Cuadrilla to frack in Lancashire. In response to the rejected application, the federal government promised to step in if local councils didn't "fast track" fracking applications. On Tuesday, a planning inspector will hear Cuadrilla's appeal, The Guardian reported.
"Mr Cameron, you're making an enormous mistake, and it's a legacy mistake. Because there's no fracking that can be done safely," Ruffalo said in a filmed interview with the environmental group Friends of the Earth.
He accused Cameron of going back on his word. "You have already told them once before that if they didn't want it you wouldn't push them to take it. And you're turning back on your word, sir," Ruffalo said. "What is a politician if he is not credible?
"So I would say to you, this is a wonderful opportunity for you to honor your people, to honor their will but also to take them into the renewable energy future of the world.
"Today we are at the precipice of a renewable energy revolution. This is the new economy. We had 200 countries from around the world all agree that it's time to leave fossil fuels in the ground."
The acclaimed actor helped successfully campaign for New York's fracking ban and he serves on the board of The Solutions Project, whose mission is to accelerate the transition to 100 percent clean, renewable energy for all people and purposes.
A leaked letter last week revealed UK ministers wanted the secretary of state to have the final say on fracking decisions, Friends of the Earth said. "This would take away the voices of local people and force fracking on communities that don't want it," the group added. "David Cameron said that local people's voices would be listened to, and now he's breaking that promise."
But the central government is insistent on its plans. "We are backing shale because it's good for our energy security and will help create jobs and growth," a spokeswoman for the Department of Energy and Climate Change told The Guardian.
"There is no question that we need natural gas in the UK and if just 10 percent of the estimated gas in shale rock could be recovered, it would be enough to meet our energy demand for almost 40 years," the spokeswoman said. "We are encouraging safe exploration so we can know for certain how much is there and how much we can get out of the ground."
Watch Mark Ruffalo's video message to Prime Minister David Cameron:
YOU MIGHT ALSO LIKE
Erin Brockovich: Porter Ranch Gas Leak Is 'the BP Oil Spill on Land'
EcoWatch Daily Newsletter
Related Articles from EcoWatch
Recent Stories from EcoWatch