This website uses cookies to ensure you get the best experience while browsing it. By clicking 'Got It' you're accepting these terms.
Mark Ruffalo: There's No Fracking That Can Be Done Safely
Feb. 13, 2016 10:22AM EST
Energy
This weekend I have the pleasure and honor of coming to London for the British Academy of Film and Television Arts awards for Spotlight, a film honoring the victims of a terrible injustice and celebrating exceptional journalism that brought the story to light.
I'm also taking this opportunity to lend my voice to residents of Lancashire who are fighting to prevent another kind of injustice, drilling and fracking in their neighborhoods. Fracking is an extreme form of oil and gas extraction that leads to water contamination, air pollution, earthquakes, illness, exacerbates climate change and turns communities upside down.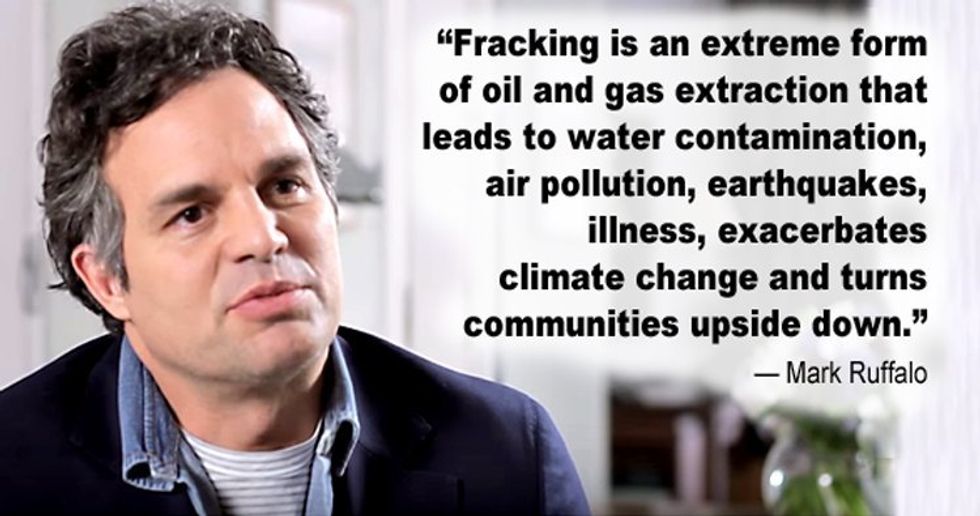 I've seen it firsthand in the state of Pennsylvania, where hundreds and of families have had their water turn brown and toxic. Nosebleeds are common. So are persistent rashes, trouble breathing, headaches, vomiting, hair loss and much more.
At first in 2008 and 2009 when I first visited affected residents these symptoms were anecdotal; now more than five-hundred scientific studies confirm the harms of drilling and fracking.
The United Kingdom has only tried fracking once—in Lancashire back in April 2011. That one well suffered structural failures—a common problem that leads to water contamination—and caused two earthquakes.
Lancashire County Council has since rejected two fracking applications, through long democratic processes that included many public consultations and expert testimony. As is common, the more people learn about fracking, the more they're against it, and now the people of Lancashire decisively oppose fracking.
Unfortunately prime minister, David Cameron, supports fracking. Yet he vowed that "local people would not be cut out or ignored" and that fracking "decisions must be made by local authorities in the proper way." In June 2015, Lancashire County did just that and decided: No fracking!
Then in November, Cameron indicated he would break his promise, announcing that the central UK government would make the final decision about whether fracking should go ahead in Lancashire. Instead of listening to local voices as promised, his ministers in London will have the final say, and will likely make a decision about Lancashire in the next month or two.
When this was announced, more than 30,000 people quickly signed Friends of the Earth's petition calling on Cameron not to overturn Lancashire's decision to reject fracking.
This week, I joined them, issuing a short video calling on him to respect Lancashire's decision, and saying that supporting fracking is an enormous mistake.
The British people agree. Polls show significant opposition to fracking and once again find that the more people know about fracking, the more they are against it.
That held true in my home state of New York, where the Department of Health performed the first public health review of fracking, along with an environmental study, and concluded that fracking poses serious public health and environmental risks. New York Gov. Andrew Cuomo rightly banned fracking, and has turned the state into a national leader on clean energy solutions that will create long-term jobs and prosperity.
Today we are at the precipice of a renewable energy revolution, the cusp of a new economy that not only promises wealth and jobs but is also crucial to addressing climate change. The time for the UK to seize the clean energy future is now, not to develop dirty fossil fuels.
Along with New York and the states of Maryland and Vermont, France, Bulgaria, Germany, Netherlands, Ireland, and parts of Canada, Spain and Switzerland, Scotland and Wales have all banned or suspended fracking while the risks are examined.
The only way fracking could go forward in Lancashire now is against the wishes of the people who live there, a terrible injustice. I urge Cameron to keep his word and let their decision to reject fracking stand. And I invite you, prime minister, to join the anti-fracking majority and join us in building the renewable energy future.
This op-ed originally appeared in The Guardian.
YOU MIGHT ALSO LIKE
Fighting Fracking in Brazil: Images From an Ongoing Struggle
California Farmers Irrigate Crops With Chevron's Oil Wastewater in Drought-Stricken Central Valley
Pennsylvania Fracking Water Contamination Much Higher Than Reported
Gov. Brown's Cozy Ties to Oil & Gas Is a Threat to California's Coast and Democracy
EcoWatch Daily Newsletter
Penguins are seen near the Great Wall station in Antarctica, Feb. 9, days after the continent measured its hottest temperature on record at nearly 65 degrees Fahrenheit. Xinhua / Liu Shiping / Getty Images
By Richard Connor
Scientists have recorded Antarctica's first documented heat wave, warning that animal and plant life on the isolated continent could be drastically affected by climate change.
The Athos I tanker was carrying crude oil from Venezuela when a collision caused oil to begin gushing into the Delaware River.
U.S. Department of the Interior
A case that has bounced around the lower courts for 13 years was finally settled yesterday when the U.S. Supreme Court upheld a lower court decision, finding oil giant Citgo liable for a clean up of a 2004 oil spill in the Delaware River, according to Reuters.
The buildings of downtown Los Angeles are partially obscured in the late afternoon on Nov. 5, 2019, as seen from Pasadena, California, a day when air quality for Los Angeles was predicted to be "unhealthy for sensitive groups." Mario Tama / Getty Images
The evidence continues to build that breathing dirty air is bad for your brain.
Wave power in Portugal. The oceans' energy potential is immense. Luis Ascenso, via Wikimedia Commons
By Paul Brown
The amount of energy generated by tides and waves in the last decade has increased tenfold. Now governments around the world are planning to scale up these ventures to tap into the oceans' vast store of blue energy.
Yellowstone National Park closed to visitors on March 24, 2020 because of the Covid-19 virus threat. William Campbell-Corbis via Getty Images
When the novel coronavirus started to sweep across the country, the National Park Service started to waive entrance fees. The idea was that as we started to practice social distancing, Americans should have unfettered access to the outdoors. Then the parking lots and the visitor centers started to fill up, worrying park employees.