Mark Ruffalo: The Renewable Energy Race Is On

The climate agreement reached in Paris is provoking a flurry of caveats, criticisms and cautions. Many of those criticisms are warranted and there's a lot of work ahead to make sure countries live up to their promises. But we should not miss a chance to celebrate a historic turning point.
World leaders finally made commitments to clean, renewable energy that will help to ensure a safer, healthier and more prosperous future for us all. The agreement signals that the age of fossil fuels is coming to a close and the age of renewable energy is dawning.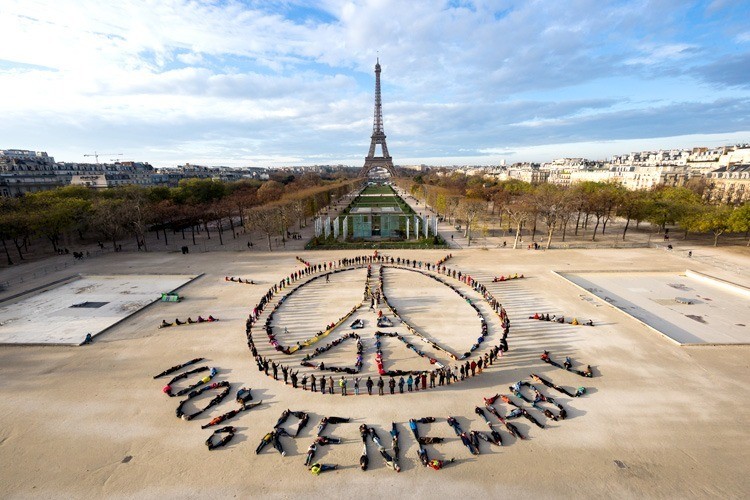 In many ways, the Paris deal is the mother of all market signals. To deliver on the promises world leaders made, we will need to leave coal and oil in the ground and move toward a complete reliance on clean energy. Let's not miss the writing on the wall: fossil fuels are a losing bet, while renewables offer economic opportunity.
This is true for all segments of society—from energy investors to individual households that can save money on their energy bills by switching to rooftop solar power.
The Paris pact ratifies an ongoing renewable energy revolution spreading across the globe. Each year since 2013, the world has added more power-generating capacity fueled by renewable sources than from coal, natural gas and oil combined. Global investment in renewable energy hit $310bn last year, according to Bloomberg New Energy Finance. And major companies are pledging to go 100 percent renewable, too.
Much of that growth in clean, renewable energy has come from the subnational movement, in which cities, states and regions are banding together and leading even if their national governments are lagging. This bottom-up approach—one that so many people around the world are already part of—is what was most alive about Paris.
It is what drove so many people to COP21 this year and is the driving force that makes so many hopeful. In my home state of New York, for example, we have a robust movement to ban fracking, courageously embraced by Gov. Andrew Cuomo and we support his leadership on renewable energy. We have found a new way of approaching this problem. Whole towns, communities and cities are racing to a full reliance on renewable energy, despite the gridlock in Washington, DC. This is where so many sense real hope coming out of Paris.
Meanwhile, cities from London to Los Angeles, from Jakarta to Rotterdam, are pioneering innovative approaches to cutting their own carbon footprints. Momentum is growing, too: following the meeting, Republicans and Democrats in San Diego, America's eighth largest city, unanimously agreed to transition to 100 percent clean energy.
What cities are doing, countries can do, too. As my co-founder at The Solutions Project, Stanford professor, Mark Jacobson, told the U.S. Congress last month, transitioning to 100 percent clean energy is not only good for the environment, human health and the economy, it is doable. His team has developed roadmaps showing exactly how 139 countries can each completely transition to renewable energy by 2050 using technology we have right now.
The Paris climate agreement brings that vision—of a world where all people have access to 100 percent clean energy—closer to reality. Much more has to go right if nations are to fulfill their promises over the coming years. But finally, the wind is at our backs.
The voices of people gathered in Paris—from big-city mayors intent on making urban life better, to indigenous people and small island countries fighting for their right to live in some of Earth's most unspoiled places—echoed hundreds of millions of voices, all around the world, demanding action.
In response to those demands, world leaders have finally agreed to steer us away from a climate disaster. This is a moment of real hope. It is a recognition, at long last, that we're all in this together.
And as negotiators in Paris acknowledged, some countries will need financial help to move to renewable energy. But the payoff for investing in them—through mechanisms such as the UN's Green Climate Fund—will be tremendous. Just as poorer nations skipped landline phones for mobile telephones, they can skip generations of coal-fired power plants for clean, renewable power.
In wealthy nations we benefit from the switch to renewables, too. The U.S. has tripled wind and solar capacity since 2008 and last year, we installed as much solar-generating capacity every three weeks as we did in all of 2008. That translates into job growth—the solar industry already employs more people than the coal industry, by some measures—as well as cleaner and healthier air.
Critics of the Paris deal are right to point out that it cannot "solve" climate change on its own. Countries will have to work hard to fulfill the promises they made last week and set even more ambitious targets in the future. And the people of the world must stay engaged, doing their part to tackle climate change while holding political and economic leaders accountable.
There is much to be done. But after years of walking in circles, Paris was a giant step in the right direction. Now the renewable energy race is on and we need to run—not walk—to the finish line.
YOU MIGHT ALSO LIKE 
Interactive Map of the Paris Climate Agreement
High-Powered Public-Private Partnerships Essential to Expediting Renewable Energy
400 Businesses, 120 Investors, 150 Cities Launch Paris Pledge for Climate Action
3 Communities Transition Away From Fossil Fuels to Run on 100% Renewables
Bill Maher is sick of billionaires' obsession with Mars, more like "Mars-a-Lago," he said.
In a new animation produced by ATTN:, the popular talk show host of Real Time, discusses the perils of our planet, including how "climate change is killing us."
Keep reading...
Show less
Dr. Benjamin D. Santer, research scientist
A group of prominent climate scientists have written a study explicitly refuting statements made by the U.S. Environmental Protection Agency Administrator Scott Pruitt on climate data. During his Senate confirmation hearing, Pruitt claimed in a written response that satellite data shows a "leveling off" of warming over the past two decades.
Keep reading...
Show less
By David Pomerantz
The Nevada Assembly passed a bill Wednesday that would dramatically increase the growth of renewable energy in the state, but Sheldon Adelson, the casino magnate and major donor to Donald Trump, is attempting to prevent the bill from becoming law.
Keep reading...
Show less
Matt Crossick
By Yosola Olorunshola
Whether it's through fashion or protest, Vivienne Westwood is not a woman afraid of making a statement.
On May 23, she rocked up to the residence of the Archbishop of Canterbury in London with a special guest—the Grim Reaper—to issue a strong statement on the Church of England's position on fracking.
Keep reading...
Show less
By Paul Brown
The food industry and big agricultural concerns are driving climate change and at the same time threatening to undermine efforts to feed the world's growing population, according to GRAIN, an organization that supports small farmers.
Particularly singled out for criticism are the large chemical fertilizer producers that have gained access to the United Nations talks on climate change. GRAIN accuses them of behaving like the fossil fuel companies did in the 1990s, pushing false information in the hope of delaying real action on climate change.
Keep reading...
Show less
May. 24, 2017 06:55PM EST
By Sydney Robinson
President Trump has no doubt been given a long list of extravagant, elaborate gifts in his lifetime, but the gift given to him today by Pope Francis may not make it on his most favorite list.
Keep reading...
Show less
May. 24, 2017 07:17PM EST
By John Rogers
Maybe it's because I first started working on clean energy while serving in the Peace Corps he founded, or maybe it's my years of working on these issues from his home state. But I can't help thinking about the 100th anniversary of John F. Kennedy's birth, and connecting his stirring rhetoric to the energy challenges of our times.
Here's what our 35th president might have said about the challenges of energy transition and the opportunities in clean energy:
"Change is the law of life. And those who look only to the past or present are certain to miss the future."
Keep reading...
Show less
May. 24, 2017 01:47PM EST
Keep reading...
Show less


Get EcoWatch in your inbox