This website uses cookies to ensure you get the best experience while browsing it. By clicking 'Got It' you're accepting these terms.
Mark Ruffalo: The Renewable Energy Race Is On
Dec. 21, 2015 10:46AM EST
Insights + Opinion

The climate agreement reached in Paris is provoking a flurry of caveats, criticisms and cautions. Many of those criticisms are warranted and there's a lot of work ahead to make sure countries live up to their promises. But we should not miss a chance to celebrate a historic turning point.
World leaders finally made commitments to clean, renewable energy that will help to ensure a safer, healthier and more prosperous future for us all. The agreement signals that the age of fossil fuels is coming to a close and the age of renewable energy is dawning.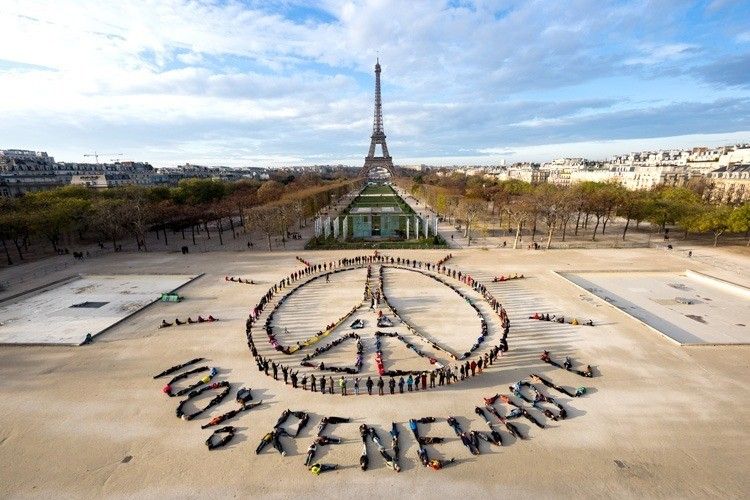 In many ways, the Paris deal is the mother of all market signals. To deliver on the promises world leaders made, we will need to leave coal and oil in the ground and move toward a complete reliance on clean energy. Let's not miss the writing on the wall: fossil fuels are a losing bet, while renewables offer economic opportunity.
This is true for all segments of society—from energy investors to individual households that can save money on their energy bills by switching to rooftop solar power.
The Paris pact ratifies an ongoing renewable energy revolution spreading across the globe. Each year since 2013, the world has added more power-generating capacity fueled by renewable sources than from coal, natural gas and oil combined. Global investment in renewable energy hit $310bn last year, according to Bloomberg New Energy Finance. And major companies are pledging to go 100 percent renewable, too.
Much of that growth in clean, renewable energy has come from the subnational movement, in which cities, states and regions are banding together and leading even if their national governments are lagging. This bottom-up approach—one that so many people around the world are already part of—is what was most alive about Paris.
It is what drove so many people to COP21 this year and is the driving force that makes so many hopeful. In my home state of New York, for example, we have a robust movement to ban fracking, courageously embraced by Gov. Andrew Cuomo and we support his leadership on renewable energy. We have found a new way of approaching this problem. Whole towns, communities and cities are racing to a full reliance on renewable energy, despite the gridlock in Washington, DC. This is where so many sense real hope coming out of Paris.
Meanwhile, cities from London to Los Angeles, from Jakarta to Rotterdam, are pioneering innovative approaches to cutting their own carbon footprints. Momentum is growing, too: following the meeting, Republicans and Democrats in San Diego, America's eighth largest city, unanimously agreed to transition to 100 percent clean energy.
What cities are doing, countries can do, too. As my co-founder at The Solutions Project, Stanford professor, Mark Jacobson, told the U.S. Congress last month, transitioning to 100 percent clean energy is not only good for the environment, human health and the economy, it is doable. His team has developed roadmaps showing exactly how 139 countries can each completely transition to renewable energy by 2050 using technology we have right now.
The Paris climate agreement brings that vision—of a world where all people have access to 100 percent clean energy—closer to reality. Much more has to go right if nations are to fulfill their promises over the coming years. But finally, the wind is at our backs.
The voices of people gathered in Paris—from big-city mayors intent on making urban life better, to indigenous people and small island countries fighting for their right to live in some of Earth's most unspoiled places—echoed hundreds of millions of voices, all around the world, demanding action.
In response to those demands, world leaders have finally agreed to steer us away from a climate disaster. This is a moment of real hope. It is a recognition, at long last, that we're all in this together.
And as negotiators in Paris acknowledged, some countries will need financial help to move to renewable energy. But the payoff for investing in them—through mechanisms such as the UN's Green Climate Fund—will be tremendous. Just as poorer nations skipped landline phones for mobile telephones, they can skip generations of coal-fired power plants for clean, renewable power.
In wealthy nations we benefit from the switch to renewables, too. The U.S. has tripled wind and solar capacity since 2008 and last year, we installed as much solar-generating capacity every three weeks as we did in all of 2008. That translates into job growth—the solar industry already employs more people than the coal industry, by some measures—as well as cleaner and healthier air.
Critics of the Paris deal are right to point out that it cannot "solve" climate change on its own. Countries will have to work hard to fulfill the promises they made last week and set even more ambitious targets in the future. And the people of the world must stay engaged, doing their part to tackle climate change while holding political and economic leaders accountable.
There is much to be done. But after years of walking in circles, Paris was a giant step in the right direction. Now the renewable energy race is on and we need to run—not walk—to the finish line.
YOU MIGHT ALSO LIKE 
Interactive Map of the Paris Climate Agreement
High-Powered Public-Private Partnerships Essential to Expediting Renewable Energy
400 Businesses, 120 Investors, 150 Cities Launch Paris Pledge for Climate Action
3 Communities Transition Away From Fossil Fuels to Run on 100% Renewables
EcoWatch Daily Newsletter
A Boeing 737-800 BCF (Boeing Converted Freighter) is marked "Prime Air" as part of Amazon Prime's freight aircraft during the 53rd International Paris Air Show at Le Bourget Airport near Paris, France on June 22. Mustafa Yalcin / Anadolu Agency / Getty Images
It's Prime Day! The day when thousands of increasingly absurd items are discounted so deeply that you suddenly need items you never knew existed. Yes, I do need a hotdog shaped toaster next to me while I watch this Fast & Furious seven movie box set! And I need it in my house today!
By Peter Sinclair
The weather in many areas across the U.S. has been – and certainly throughout America's heartland was for much of the past winter and spring – frightful.
Golde Wallingford submitted this photo of "Pure Joy" to EcoWatch's first photo contest. Golde Wallingford
EcoWatch is pleased to announce our third photo contest!

There's a short window between when a tick bites and when it passes on bacteria or virus.
MSU Ag Communications, Courtesy Dr. Tina Nations, CC BY-ND
By Jerome Goddard
When it comes to problems caused by ticks, Lyme disease hogs a lot of the limelight. But various tick species carry and transmit a collection of other pathogens, some of which cause serious, even fatal, conditions.

tomosang / Moment / Getty Images
By Jessica A. Knoblauch
Say goodbye to one of the dreamiest things about childhood. In the Midwest, fireflies are dying off.
A new Climate Emergency Fund contains more than $625,000 which will go to grassroots climate action groups like Extinction Rebellion and students who have organized weekly climate strikes all over the world. @ExtinctionR / Twitter
By Julia Conley
Heeding the call of grassroots campaigners, several wealthy philanthropists announced Friday a new fund that will raise money for climate action groups around the world.
Skyhobo / iStock / Getty Images
The Trump administration is preparing to roll out a proposal that would remove communities' ability to officially contest decisions regarding how much pollution can be released by local power plants and factories, the New York Times reports.
In this May 10 photo oil flows at a Chevron oil field in Kern County, California. California Department of Fish and Wildlife's Office of Spill Prevention and Response
California officials ordered Chevron Friday "to take all measures" to stop a release that has spilled around 800,000 gallons of water and crude oil into a dry creek bed in Kern County, KQED reported.