This website uses cookies to ensure you get the best experience while browsing it. By clicking 'Got It' you're accepting these terms.


The best of EcoWatch, right in your inbox. Sign up for our email newsletter!
Mark Ruffalo: 'Monsanto Chief is Horrible'
Dec. 04, 2015 11:12AM EST
GMO

Monsanto chief is horrible ... And I got to tell him that to his face after his interview on CBS This Morning.
Approaching someone like this isn't really my thing. But being so well behaved all the time doesn't seem to be helping people. It made me really uncomfortable to do it. But that's how we change. We must become uncomfortable. We must act out of our comfort zones for things to change. We must call out the people who are doing horrible things when they do them.
Hugh Grant (Monsanto CEO not the actor) must be made to feel uncomfortable for what he allows his company to do in the world. That is why I told him what I did and why I am sharing it with you.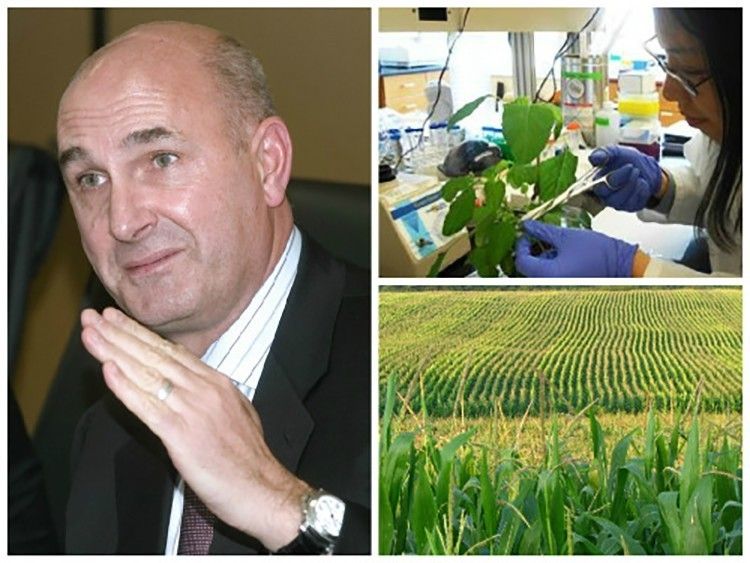 Before a segment I was doing for the movie Spotlight with Mike Rezendes on Dec. 2, I was waiting in the green room watching Grant worm his way through the strong questions he was getting from the CBS team. His handlers clearly have been working very hard with him to give him every slippery non-answer to every question he was asked. I was beside myself watching this guy who is responsible for so much misery and sickness throughout the world slime his way through his interview. I could not hold my tongue. He came through the Green Room door ready to do high fives with his press agent and I simply told him this:
"You are wrong. You are engaged in monopolizing food. You are poisoning people. You are killing small farms. You are killing bees. What you are doing is dead wrong."
A bead of sweat broke out on his head. "Well, what I think we are doing is good," Grant replied.
"I am sure you do," I told him.
When people get paid the kind of money he gets paid their thinking becomes incredibly clouded and the first thing to go is their morality.
He says Monsanto needs to do a better job with their messaging.
Hugh, it's not your messaging that makes you and your company horrible. It's the horrible stuff you guys do that makes you and your company horrible. People don't walk around making horrible stories up about good companies because they got nothing else better to do with their time. People like you and your company are horrible because … you are horrible. No matter how much jumping around you do on morning shows (where no one can really nail you down for the horrible stuff you do), you will still always be horrible and people will always greet you the way I did, when you go around trying to cover up the fact that you are horrible.
Want to know more about the real Monsanto and Hugh Grant? Watch this:
There is a lot more horrible stuff to look at here:
Monsanto's greatest hit jobs.
In 2003, Monsanto settled a lawsuit for $700 million with 20,000 Anniston, Alabama residents who claimed that a Monsanto plant contaminated local rivers, lakes, soil and air with polychlorinated biphenyls (PCBs). Plaintiffs reported a range of health issues including cancer, birth defects and neurological disorders.
New York Times: $700 Million Settlement in Alabama PCB Lawsuit
CBS News: Toxic Secret: Alabama Town Never Warned of Contamination
In 2012, Monsanto settled a lawsuit with tens of thousands of plaintiffs in West Virginia for $93 million. Residents of Nitro, West Virginia claimed they had been poisoned by decades of contamination from cancer-causing chemicals used in the manufacturing of Agent Orange produced in a Monsanto plant.
The Guardian: Monsanto Settles 'Agent Orange' Case with US Victims
In March 2015, the International Agency for Research on Cancer (IARC), an arm of the World Health Organization, concluded in a study that glyphosate, the active ingredient in Monsanto's widely used weedkilling product Roundup, was "probably carcinogenic to humans."
Shortly after the IARC's study was made public, France took steps to limit the sale of Roundup. France has also banned the cultivation of genetically modified crops.
Reuters: Frances Bolsters Ban on Genetically Modified Crops
Newsweek: Frances Bans Sale of Monsanto's Roundup in Garden Centers After UN Names it Probable Carcinogen
In September 2015, a French appeals court in Lyon upheld a decision that held Monsanto liable for poisoning a French farmer. The grain farmer, Paul Francois, developed neurological damage after inhaling Monsanto's weedkilling product Lasso.
Reuters: French Court Confirms Monsanto Liable in Chemical Poisoning Case
Le Monde: Monsanto Condamné pour L'Intoxicite d'un Agriculteur Francais
In September 2015, two U.S. farm workers filed suit against Monsanto claiming that exposure to Roundup caused them to develop cancer.
Reuters: U.S. Workers Sue Monsanto Claiming Herbicide Caused Cancer
You can find reports of Monsanto products being linked to cancer and other health issues all over the world, for example:
Argentina is the world's third largest soy-producing country.
According to Mother Jones, nearly 100 percent of the soy crop is genetically altered and Monsanto's Roundup is very widely used. As the use of pesticides and herbicides in Argentina has increased, cancer clusters have begun to develop around farming communities. A 2010 study at the University of Buenos Aires also found that injecting glyphosate (the active ingredient in Roundup) into chicken and frog embryos caused the same sort of spinal defects that doctors have found to be increasingly prevalent in communities where farm chemicals are used.
Mother Jones: Argentina is Using More Pesticides than Ever. And Now It Has Cancer Clusters
On Monsanto suing small farmers:
The Guardian: Monsanto Sued Small Farmers to Protect Seed Patents
Vanity Fair: Monsanto's Harvest of Fear
YOU MIGHT ALSO LIKE
China to Clone 1 Million Cows a Year to Meet Country's Rising Demand for Beef
90% of American Moms Want Labels on GMO Food
27 Examples of Journalists Failing to Disclose Sources as Funded by Monsanto
EPA Asks Court to Revoke Approval of New Weed Killer for Genetically Engineered Crops
EcoWatch Daily Newsletter
People crossing the Brooklyn Bridge on July 20, 2017 in New York City sought to shield themselves from the sun as the temperature reached 93 degrees. Drew Angerer / Getty Images
by Jordan Davidson

Taking action to stop the mercury from rising is a matter of life and death in the U.S., according to a new study published in the journal Science Advances.
Salmon fry before being released just outside San Francisco Bay. Jim Wilson / The New York Times / Redux
By Alisa Opar
For Chinook salmon, the urge to return home and spawn isn't just strong — it's imperative. And for the first time in more than 65 years, at least 23 fish that migrated as juveniles from California's San Joaquin River and into the Pacific Ocean have heeded that call and returned as adults during the annual spring run.
Protesters hold a banner and a placard while blocking off the road during a protest against Air pollution in London. Ryan Ashcroft / SOPA Images / LightRocket / Getty Images
By Jessica Corbett
Dozens of students, parents, teachers and professionals joined a Friday protest organized by Extinction Rebellion that temporarily stalled morning rush-hour traffic in London's southeasten borough of Lewisham to push politicians to more boldly address dangerous air pollution across the city.

Jose A. Bernat Bacete / Moment / Getty Images
By Bridget Shirvell
On a farm in upstate New York, a cheese brand is turning millions of pounds of food scraps into electricity needed to power its on-site businesses. Founded by eight families, each with their own dairy farms, Craigs Creamery doesn't just produce various types of cheddar, mozzarella, Swiss and Muenster cheeses, sold in chunks, slices, shreds and snack bars; they're also committed to becoming a zero-waste operation.

By Jessica A. Knoblauch
Summers in the Midwest are great for outdoor activities like growing your garden or cooling off in one of the area's many lakes and streams. But some waters aren't as clean as they should be.
That's in part because coal companies have long buried toxic waste known as coal ash near many of the Midwest's iconic waterways, including Lake Michigan. Though coal ash dumps can leak harmful chemicals like arsenic and cadmium into nearby waters, regulators have done little to address these toxic sites. As a result, the Midwest is now littered with coal ash dumps, with Illinois containing the most leaking sites in the country.

picture-alliance / AP Photo / NOAA Pacific Islands Fisheries Science Center
The Group of 20 major economies agreed a deal to reduce marine pollution at a meeting of their environment ministers on Sunday in Karuizawa, Japan.
Pope Francis holds his General Weekly Audience in St. Peter's Square on Aug. 29, 2018 in Vatican City, Vatican. Giulio Origlia / Getty Images
Pope Francis declared a climate emergency Friday as he met with oil industry executives and some of their biggest investors to urge them to act on the climate crisis.