Food
Dec. 04, 2015 11:12AM EST
Mark Ruffalo: 'Monsanto Chief is Horrible'

Monsanto chief is horrible ... And I got to tell him that to his face after his interview on CBS This Morning.
Approaching someone like this isn't really my thing. But being so well behaved all the time doesn't seem to be helping people. It made me really uncomfortable to do it. But that's how we change. We must become uncomfortable. We must act out of our comfort zones for things to change. We must call out the people who are doing horrible things when they do them.
Hugh Grant (Monsanto CEO not the actor) must be made to feel uncomfortable for what he allows his company to do in the world. That is why I told him what I did and why I am sharing it with you.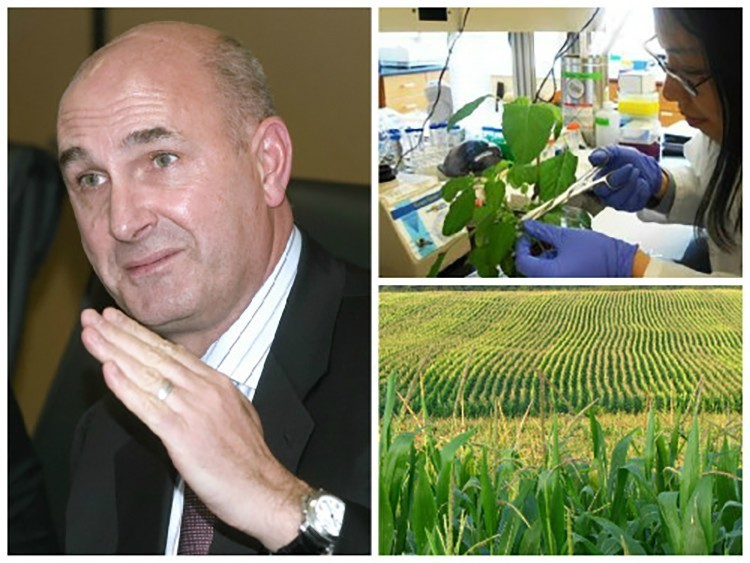 Before a segment I was doing for the movie Spotlight with Mike Rezendes on Dec. 2, I was waiting in the green room watching Grant worm his way through the strong questions he was getting from the CBS team. His handlers clearly have been working very hard with him to give him every slippery non-answer to every question he was asked. I was beside myself watching this guy who is responsible for so much misery and sickness throughout the world slime his way through his interview. I could not hold my tongue. He came through the Green Room door ready to do high fives with his press agent and I simply told him this:
"You are wrong. You are engaged in monopolizing food. You are poisoning people. You are killing small farms. You are killing bees. What you are doing is dead wrong."
A bead of sweat broke out on his head. "Well, what I think we are doing is good," Grant replied.
"I am sure you do," I told him.
When people get paid the kind of money he gets paid their thinking becomes incredibly clouded and the first thing to go is their morality.
He says Monsanto needs to do a better job with their messaging.
Hugh, it's not your messaging that makes you and your company horrible. It's the horrible stuff you guys do that makes you and your company horrible. People don't walk around making horrible stories up about good companies because they got nothing else better to do with their time. People like you and your company are horrible because … you are horrible. No matter how much jumping around you do on morning shows (where no one can really nail you down for the horrible stuff you do), you will still always be horrible and people will always greet you the way I did, when you go around trying to cover up the fact that you are horrible.
Want to know more about the real Monsanto and Hugh Grant? Watch this:
There is a lot more horrible stuff to look at here:
Monsanto's greatest hit jobs.
In 2003, Monsanto settled a lawsuit for $700 million with 20,000 Anniston, Alabama residents who claimed that a Monsanto plant contaminated local rivers, lakes, soil and air with polychlorinated biphenyls (PCBs). Plaintiffs reported a range of health issues including cancer, birth defects and neurological disorders.
New York Times: $700 Million Settlement in Alabama PCB Lawsuit
CBS News: Toxic Secret: Alabama Town Never Warned of Contamination
In 2012, Monsanto settled a lawsuit with tens of thousands of plaintiffs in West Virginia for $93 million. Residents of Nitro, West Virginia claimed they had been poisoned by decades of contamination from cancer-causing chemicals used in the manufacturing of Agent Orange produced in a Monsanto plant.
The Guardian: Monsanto Settles 'Agent Orange' Case with US Victims
In March 2015, the International Agency for Research on Cancer (IARC), an arm of the World Health Organization, concluded in a study that glyphosate, the active ingredient in Monsanto's widely used weedkilling product Roundup, was "probably carcinogenic to humans."
Shortly after the IARC's study was made public, France took steps to limit the sale of Roundup. France has also banned the cultivation of genetically modified crops.
Reuters: Frances Bolsters Ban on Genetically Modified Crops
Newsweek: Frances Bans Sale of Monsanto's Roundup in Garden Centers After UN Names it Probable Carcinogen
In September 2015, a French appeals court in Lyon upheld a decision that held Monsanto liable for poisoning a French farmer. The grain farmer, Paul Francois, developed neurological damage after inhaling Monsanto's weedkilling product Lasso.
Reuters: French Court Confirms Monsanto Liable in Chemical Poisoning Case
Le Monde: Monsanto Condamné pour L'Intoxicite d'un Agriculteur Francais
In September 2015, two U.S. farm workers filed suit against Monsanto claiming that exposure to Roundup caused them to develop cancer.
Reuters: U.S. Workers Sue Monsanto Claiming Herbicide Caused Cancer
You can find reports of Monsanto products being linked to cancer and other health issues all over the world, for example:
Argentina is the world's third largest soy-producing country.
According to Mother Jones, nearly 100 percent of the soy crop is genetically altered and Monsanto's Roundup is very widely used. As the use of pesticides and herbicides in Argentina has increased, cancer clusters have begun to develop around farming communities. A 2010 study at the University of Buenos Aires also found that injecting glyphosate (the active ingredient in Roundup) into chicken and frog embryos caused the same sort of spinal defects that doctors have found to be increasingly prevalent in communities where farm chemicals are used.
Mother Jones: Argentina is Using More Pesticides than Ever. And Now It Has Cancer Clusters
On Monsanto suing small farmers:
The Guardian: Monsanto Sued Small Farmers to Protect Seed Patents
Vanity Fair: Monsanto's Harvest of Fear
YOU MIGHT ALSO LIKE
China to Clone 1 Million Cows a Year to Meet Country's Rising Demand for Beef
90% of American Moms Want Labels on GMO Food
27 Examples of Journalists Failing to Disclose Sources as Funded by Monsanto
EPA Asks Court to Revoke Approval of New Weed Killer for Genetically Engineered Crops
Jul. 21, 2017 01:50PM EST
Will Rose / Greenpeace
Eleven peaceful activists from the Greenpeace ship Arctic Sunrise have taken to the water in inflatable boats with handheld banners to oppose the Statoil Songa Enabler oil rig, 275 km North off the Norwegian coast, in the Arctic Barents sea.
The banners say: "People Vs. Arctic Oil" and are directed at Statoil and the Norwegian government, which has opened a new, aggressive search for oil in the waters of the Barents Sea.
Keep reading...
Show less
Jul. 21, 2017 10:34AM EST
Dominion Pipeline Monitoring Coalition
The Federal Energy Regulatory Commission (FERC) paved the way Friday for the 600-mile, 42-inch fracked gas Atlantic Coast Pipeline to proceed when it issued the final environmental impact statement (FEIS). A joint project of utility giants Duke Energy and Dominion Energy, the Atlantic Coast Pipeline would move fracked gas from West Virginia into Virginia and North Carolina.
In April, the Sierra Club submitted more than 500 pages of legal and technical comments on FERC's draft EIS, which were joined by more than 18,000 individual comments detailing opposition to the project. The pipeline has been met with widespread opposition, with more than 1,000 people participating in public hearings across the three affected states. The Sierra Club recently requested that FERC issue a new environmental review document analyzing information that came in after or late in, the public comment process.
Keep reading...
Show less
Jul. 21, 2017 08:25AM EST
Greenpeace / PolluterWatch
By Jessica Corbett
"It's time Rex Tillerson step down or be removed," said Gigi Kellett of Corporate Accountability International, following an announcement on Thursday that ExxonMobil will pay $2 million for violating U.S. sanctions against Russian officials while the now-secretary of state was the company's CEO.
"ExxonMobil demonstrated reckless disregard for U.S. sanction requirements," according to enforcement filing released by the Treasury Department's Office of Foreign Assets Control (OFAC), which issued the penalty. Though the fine is reportedly the maximum penalty allowed, it's pittance to one of the world's most profitable and powerful corporations, which last year reported a profit of $7.8 billion.
Keep reading...
Show less
Jul. 21, 2017 11:15AM EST
New analysis from Amory B. Lovins debunks the notion that highly unprofitable, economically distressed nuclear plants should be further subsi­dized to meet financial, security, reliability and climate goals. The analysis, which will appear shortly in The Electricity Journal, shows that closing costly-to-run nuclear plants and reinvesting their saved operating costs in energy efficiency provides cheaper elec­tricity, increases grid reliability and security, reduces more carbon, and preserves (not distorts) market integrity—all without subsidies.

Keep reading...
Show less
Jul. 21, 2017 08:44AM EST
Oil Change International / Twitter
By Christian Detisch and Seth Gladstone
In the wake of Senate Republicans' ever-deepening debacle over their flailing attempts to strip health insurance from 22 million people, Majority Leader Mitch McConnell is desperate to do something—anything—to show that he can get legislation passed. To this end, he's bypassing the standard committee review process to push a complex 850+ page energy bill straight to the full Senate floor. Perhaps not surprisingly, this legislation, the Energy and Natural Resources Act of 2017, would be a disaster for public health and our climate.
Keep reading...
Show less
Jul. 21, 2017 08:11AM EST
Rooftop solar panels on a beach house in southern Florida. TAI VIINIKKA / CC BY-NC-ND 2.0
A new law passed this week in South Miami will require all new homes built in the city to install solar panels. The measure, which was inspired by a proposal from a teenage climate activist, will go into effect in September.
The text of the ordinance details the climate impacts facing South Miami.
Keep reading...
Show less
Jul. 21, 2017 10:27AM EST
www.youtube.com
Keep reading...
Show less
Jul. 21, 2017 08:49AM EST
iStock
By Katherine Paul and Ronnie Cummins
A recent series of articles by a Washington Post reporter could have some consumers questioning the value of the U.S. Department of Agriculture's (USDA) organic seal. But are a few bad eggs representative of an entire industry?
Consumers are all for cracking down on the fraudulent few who, with the help of Big Food, big retail chains and questionable certifiers give organics a bad name. But they also want stronger standards, and better enforcement—not a plan to weaken standards to accommodate "Factory Farm Organic."
Keep reading...
Show less


Get EcoWatch in your inbox