Mark Ruffalo: Entire GOP Has 'Turned Their Back on Science'
Oct. 06, 2015 01:30PM EST
Politics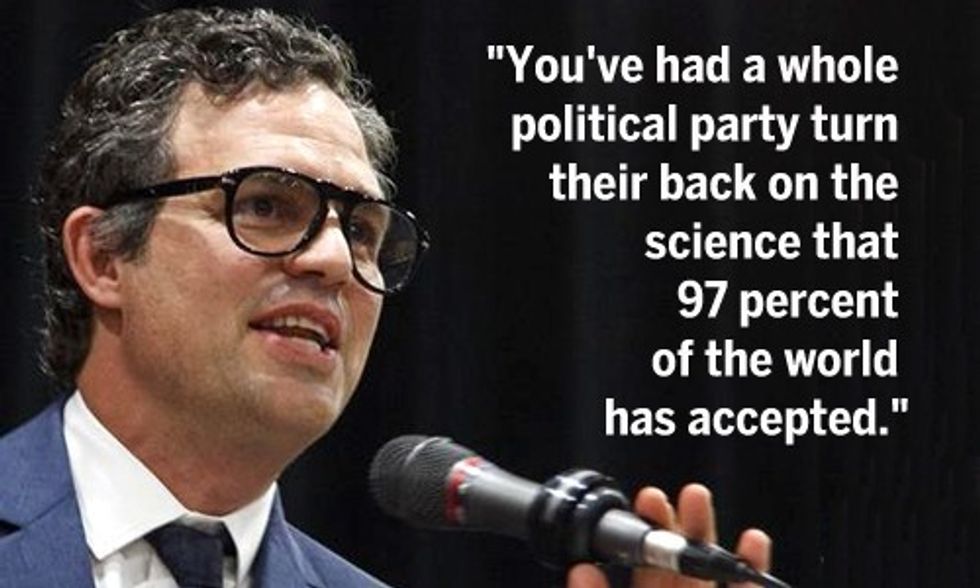 Mark Ruffalo spoke yesterday at Dickinson College in Carlisle, Pennsylvania as part of a campus residency. He was awarded the 2015 Rose-Walters Prize for Environmental Activism by the college in May. He was on campus yesterday to "educate students on activism and the importance of water quality awareness," according to PennLive. Ruffalo, who describes himself as "an actor and accidental environmentalist," told the group of students that he was very troubled by the top Republican presidential candidates' stances on climate change.
When asked by a student how he felt about the fact that both Donald Trump and Ben Carson deny human-caused climate change, Ruffalo turned the question back to the students. "How do you guys feel about it?" he asked the group of students.
He then said, "You've had a whole political party turn their back on the science that 97 percent of the world has accepted." Ruffalo blamed the corrupting influence of money and industry lobbyists for the current state of American politics.
"It's a phenomenon unlike anything ever seen in American history," he said, then considered, "maybe slavery. Money blinds people. It's all about money."
"To see the top two candidates ignoring [the issue of climate change], I can see how it could be very discouraging," he concluded.
Ruffalo also spoke of "extreme energy," such as fracking and mountaintop removal, which he's worked tirelessly to stop. He called it an issue of "social justice," wherein those most economically and socially disadvantaged in our society are those most affected by the negative consequences of dirty energy extraction. "It's an attitude about exploitation and violence," he said. "There is a sort of cynicism that if we dump on these people, we can get away with it."
Ruffalo is founder of the non-profit Water Defense, a board member of Americans Against Fracking and a board member of The Solutions Project, an organization dedicated to transitioning to 100 percent renewable energy. Using research from professors at Stanford University, the organization has laid out a 50-state plan to power the U.S. entirely on renewables by 2050. Ruffalo has used his celebrity status to broadcast his message on popular shows such as the Daily Show with Jon Stewart.
"I'm an actor—what do I know?" he said. "But I can stand next to people so that their stories get heard. I would say that the most powerful narrative came from the people living in those places. Those stories catch people's attention."
YOU MIGHT ALSO LIKE
The Hydropower Methane Bomb No One Wants to Talk About
Honeybees Face Global Threat: If They Die, So Do We
Fracking Boom Goes Bust as Companies File for Bankruptcy
Watch Colbert Mock 'Cage-Free' Whole Foods for Getting Caught Using Prison Labor
EcoWatch Daily Newsletter