This website uses cookies to ensure you get the best experience while browsing it. By clicking 'Got It' you're accepting these terms.
Mark Ruffalo and Annie Leonard: We Must Rebuild Our Democracy
Mar. 25, 2016 07:23AM EST
Politics
It started with the founding fathers. In America's very first election, in 1788, the government officially barred all women, all people of color and any man without land from voting.
This was American democracy in the 18th century.
Almost 90 years later, the 15th amendment officially removed "race, color or history of servitude" as a barrier to the vote, but women remained wholly disenfranchised.
This was American democracy in the 19th century.
Then, 50 years after that, the 19th amendment gave women the right to vote, but poll taxes, literacy tests and other calculated means kept the unofficially disenfranchised from exercising their rights as citizens.
This was American democracy in the 20th century.
And now, what is American democracy in the 21st century?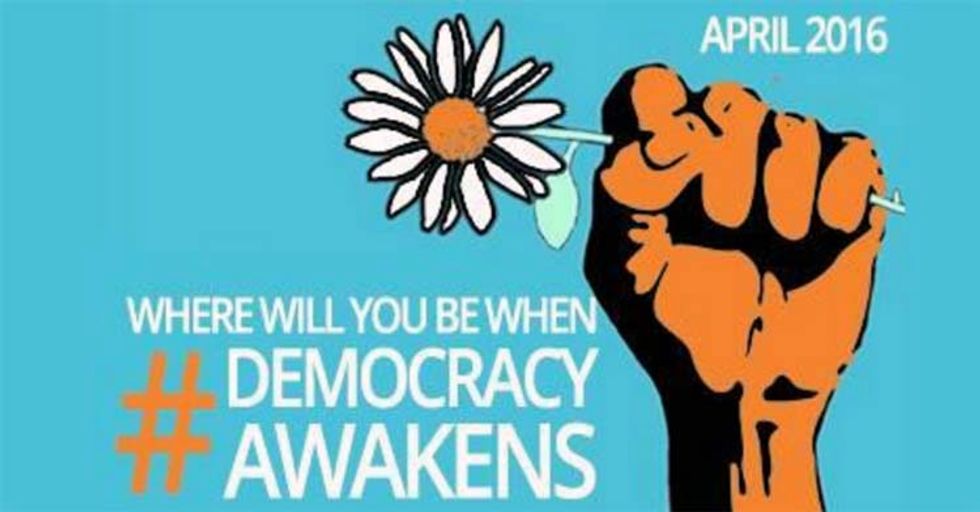 2016 will be the first American presidential election since 1965 with major new voting restrictions—photo identification requirements, cuts to early voting and the elimination of same day voting registration are just a few of the roadblocks thrown up by special interests in 15 states. Not only that, but once voters overcome these obstacles to actually vote, the candidates they have to choose from will be largely self-selected from the economic elites, looking out for banks like Goldman Sachs instead of everyday people. Rather than a government of the people, by the people and for the people, we have a government of super-PACs and dark money, by the 1% and for corporate interests.
From the Flint water crisis to inaction on climate change, from gun control to massive student loan debt, we see the will of the people distorted by a government that does not represent us. And in a year when so many Americans—especially people of color, the LGBTQ community, immigrants and women—face urgent issues that need governmental action, it's shockingly even harder to vote for some groups than it was 50 years ago.
This is not progress. This is not democracy. It's no wonder that Princeton scholars who studied more than 1,800 different policy initiatives from 1981 to 2002 found that the United States can no longer plausibly be called a democracy. "Elites prevail." Oligarchy.
But once again in American history, an incredible movement is rising across the country to overcome this corruption, to demand a fair and just system for everyone. We have in 2016 a chance to begin building a truly representative government. But it's going to take commitment.
We know what democracy looks like—residents rising up in Flint to demand accountability, kayaktivists in the Pacific Northwest saying no to fossil fuels, moms and dads and cousins and brothers standing up across the country to say black lives matter. We can see the future of democracy. Now, we just have to work together to make it happen.
Next month, thousands of people and more than 170 organizations will join together in Washington, DC, to demand that our lawmakers and political leaders take action to fix our democracy. Called the Democracy Awakening, this event reflects an unprecedented movement to demand a democracy that works for all Americans, one in which everyone has an equal voice and elected officials are accountable to the people, not corporate interests or the wealthy.
The Democracy Awakening will use the tools of nonviolent direct action that so many who have fought for social, economic and environmental justice have used before us from Civil Rights leaders to the women's suffrage movement to the fight for marriage equality.
The challenge to build a better democracy has always been there. This isn't hearkening back to some better age; this is a new beginning, and your voice is crucial. Now is the time to claim our democracy from the 1% and corporate power, and finally make American democracy in the 21st century a reality.
This op-ed was originally published in TIME.
YOU MIGHT ALSO LIKE
7 Arrested at 'Pancakes Not Pipelines' Protest at FERC
Rockefeller Fund Divests From Fossil Fuels, Slams Exxon
Bill McKibben: Fracking Has Turned Out to Be a Costly Detour
James Hansen: Dangerous Sea Level Rise Will Occur in Decades, Not Centuries
EcoWatch Daily Newsletter
The Opera House is seen with smoke haze which enveloped Sydney Harbor on Dec. 10 in Sydney, Australia. Smoke haze hangs over the city as the New South Wales fire danger risk is raised from 'very high' to 'severe'. James D. Morgan / Getty Images
The brushfires raging through New South Wales have shrouded Australia's largest city in a blanket of smoke that pushed the air quality index 12 times worse than the hazardous threshold, according to the Australia Broadcast Corporation (ABC).
People walk across the bridge near Little Raven Court in downtown Denver. Younger Americans increasingly prefer to live in walkable neighborhoods. Helen H. Richardson / The Denver Post via Getty Images
By David B. Goldstein
Energy efficiency is the cornerstone of any country's plan to fight the climate crisis. It is the cheapest option available, and one that as often as not comes along with other benefits, such as job creation, comfort and compatibility with other key solutions such as renewable energy. This has been recognized by the International Energy Agency (IEA) for at least a decade.
Activists from Extinction Rebellion New York City engaged in nonviolent direct action to confront climate change outside City Hall on April 17, 2019. Erik McGregor / Pacific Press / LightRocket via Getty Images
By Andrea Germanos

Over 500 groups on Monday rolled out an an action plan for the next president's first days of office to address the climate emergency and set the nation on a transformative path towards zero emissions and a just transition in their first days in office.

The Ladakh region of India, pictured above, is a part of the Himalayan mountain region of the upper Indus Valley which is the most vulnerable water tower, according to researchers. Suttipong Sutiratanachai / Moment / Getty Images
Jet stream triggered heat waves could threaten food production in several important breadbaskets, including central North America.
Carl Wycoff /
CC BY 2.0
Researchers have pinpointed a previously underexamined threat to global food production, and they warn it will only get worse as the climate crisis intensifies.