This website uses cookies to ensure you get the best experience while browsing it. By clicking 'Got It' you're accepting these terms.
Marion Nestle: 8 Books on Farming and Food That Deserve More Attention
May. 10, 2016 10:30AM EST
Food
I'm overwhelmed by the avalanche of outstanding books that I run across or that get sent to me. But when forced to choose, I settle on these eight as some of the best writing and original research in the bunch. They deserve much more attention than they've received.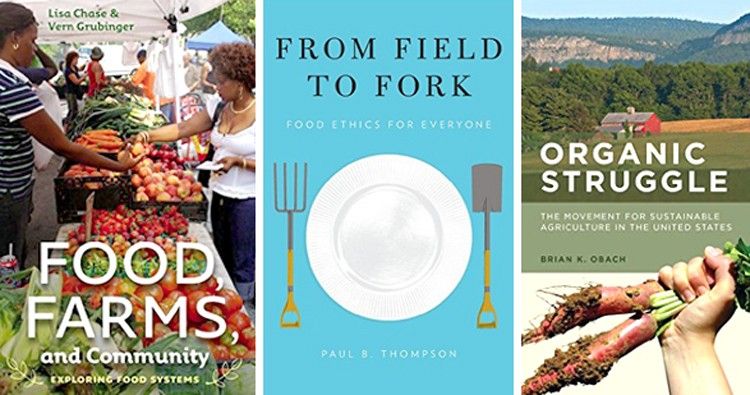 1. Food, Farms and Community: Exploring Food Systems by Lisa Chase and Vern Grubinger
Many people don't understand what food systems are and it's very hard to explain, so this book is a terrific introduction. The authors take a big-picture approach to explain how our food gets from production to consumption. They also focus on how we can create food and farming systems that promote the health of people and planet. It's very readable.
2. The End of Plenty: The Race to Feed a Crowded World by Joel K. Bourne, Jr.
This book takes a look at industrial farming and discusses how food production must change to meet the world's demands. But if you think the title sounds depressing, you shouldn't. The food situation is so much better than it was 20 years ago. There's so much more organic, local and seasonal growing. Students are interested in these issues and that's inspiring to me. You can make progress without overturning the whole system. My personal measure is that when we started food studies at NYU in 1996, we were the only program like that in the country. Now every university offers food studies and has an organic garden.
3. From Field to Fork: Food Ethics for Everyone by Paul Thompson
Ethical dilemmas impact the way we shop for food. Should we buy organic or local? Should we care how farm animals are raised? For people who aren't trained in ethics, it's sometimes hard to think about these things and this book can help you delve into them.
4. Organic Struggle: The Movement for Sustainable Agriculture in the United States by Brian K. Obach
For me, the discussion of the development of the organic standards is the most interesting part of this book. It explains why it's so important to maintain strict organic standards and why there's such intense conflict about them. In fact, the biggest issue facing the organic industry is confidence in the standards.
5. Afro-Vegan: Farm-Fresh African, Caribbean & Southern Flavors Remixed by Bryant Terry
Terry is an extraordinary cook. He's really concerned about the health of African Americans, who tend to have much higher levels of chronic disease, so he sets out to demonstrate that it's possible to cook a healthier, vegan diet using the ingredients of traditional African cuisine, like collards, grits and okra. I've never seen a book like this before.
6. Lentil Underground: Renegade Farmers and the Future of Food in America by Liz Carlisle
Carlisle is an incredible author (and Michael Pollan's protégé). To write the book, she simply went to talk to farmers in Montana to find out what they were doing. It's very lively. I attended her book tour and she actually brought the farmers with her—it was clear she was really passionate. Everyone is always talking about how farmers are failing, but this is a success story. It's inspiring.
7. Breadlines Knee-Deep in Wheat: Food Assistance in the Great Depression by Janet Poppendieck
I have special interest in this one—I wrote the foreword. The author is fabulous and this book is particularly well done. Anyone who wants to really understand the Farm Bill and the fight about food stamps needs to read this book. We're seeing enormous congressional fighting over SNAP right now and those same issues were there from the very beginning.
8. Lethal but Legal: Corporations, Consumption and Protecting Public Health by Nick Freudenberg
This book is compelling because it draws out the parallels between food issues and things like cigarettes, guns and alcohol. Food producers use the same corporate strategies as these other industries to enrich themselves at the expense of public health. I believe advocacy is the only way to beat the system and Freudenberg writes about ways for organizing against corporate power to create a healthier environment, organize against corporate power for a healthier, more sustainable environment.
YOU MIGHT ALSO LIKE
'Mistaken' Release of Glyphosate Report Raises Questions Over EPA's Ties to Monsanto
Big Ag Forces Firing of Long-Time Farm News Cartoonist
Michael Pollan's 'Cooked': A Recipe for Change
Quaker Oats Accused of Being 'Deceptive and Misleading' After Glyphosate Detected in Oatmeal
EcoWatch Daily Newsletter
By Anita Desikan
The Trump administration is routinely undermining your ability — and mine, and everyone else's in this country — to exercise our democratic rights to provide input on the administration's proposed actions through the public comment process. Public comments are just what they sound like: an opportunity for anyone in the public, both individuals and organizations, to submit a comment on a proposed rule that federal agencies are required by law to read and take into account. Public comments can raise the profile of an issue, can help amplify the voices of affected communities, and can show policymakers whether a proposal has broad support or is wildly unpopular.
Alena Gamm / EyeEm / Getty Images
Picture this: a world where chocolate is as rare as gold. No more five-dollar bags of candy on Halloween. No more boxes of truffles on Valentine's day. No more roasting s'mores by the campfire. No more hot chocolate on a cold winter's day.
Who wants to live in a world like that?
Fabian Krause / EyeEm / Getty Images
Water protectors of all persuasions gathered in talking circles at Borderland Ranch in Pe'Sla, the heart of the sacred Black Hills, during the first Sovereign Sisters Gathering. At the center are Cheryl Angel in red and white and on her left, Lyla June. Tracy Barnett
By Tracy L. Barnett
Sources reviewed this article for accuracy.
For Sicangu Lakota water protector Cheryl Angel, Standing Rock helped her define what she stands against: an economy rooted in extraction of resources and exploitation of people and planet. It wasn't until she'd had some distance that the vision of what she stands for came into focus.
Hedges, 2019 © Hugh Hayden. All photos courtesy of Lisson Gallery
By Patrick Rogers
"I'm really into trees," said the sculptor Hugh Hayden. "I'm drawn to plants."
BruceBlock / iStock / Getty Images
Thanks to their high concentration of powerful plant compounds, foods with a natural purple hue offer a wide array of health benefits.