This website uses cookies to ensure you get the best experience while browsing it. By clicking 'Got It' you're accepting these terms.
Marine Mammals on the Menu in Many Parts of World
Jan. 25, 2012 11:21AM EST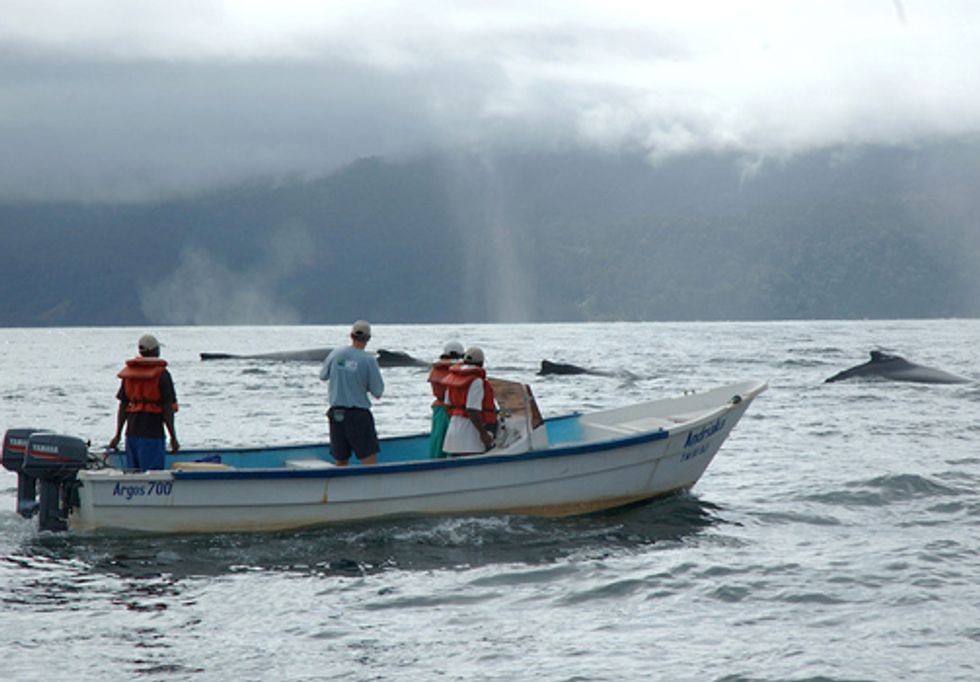 The fate of the world's great whale species commands global attention as a result of heated debate between pro and anti-whaling advocates, but the fate of smaller marine mammals is less understood, specifically because the deliberate and accidental harvesting of dolphins, porpoises, manatees and other warm-blooded aquatic denizens is rarely studied or monitored.
To shed more light on the issue, researchers from the Wildlife Conservation Society (WCS) and Okapi Wildlife Associates have conducted an exhaustive global study of human consumption of marine mammals using approximately 900 sources of information. The main finding—since 1990, people in at least 114 countries have consumed one or more of at least 87 marine mammal species. In addition to this global review, Wildlife Conservation Society scientists work in remote countries around the world to assess and actively address the threat to dolphin populations with localized, applied conservation efforts.
The new global study appears in the most recent edition of Biological Conservation. The authors include Dr. Martin D. Robards of the Wildlife Conservation Society, and Dr. Randall R. Reeves of Okapi Wildlife Associates.
"International bodies such as the International Whaling Commission were formed specifically to gauge the status of whale populations and regulate the hunting of these giants," said Robards, lead author of the new study. "These species, however, represent only a fraction of the world's diversity of marine mammals, many of which are being accidentally netted, trapped, and—in some instances—directly hunted without any means of tracking as to whether these harvests are sustainable."
In order to build a statistically robust picture of human consumption rates of marine mammals around the world, Robards and Reeves started with records on small fisheries focused on small whales (i.e. pilot whales), dolphins, and porpoises from 1975 and records of global marine mammal catches between 1966 and 1975. From there, the authors consulted some 900 other sources and consulted with numerous researchers and environmental managers, an exhaustive investigation that took three years to complete. The team only counted information with actual evidence of human consumption of marine mammals, omitting instances where marine mammals were caught (either intentionally or not) for fishing bait, feed for other animals, medicines, and other uses.
The list of marine mammals killed for human consumption includes obscure species such as the pygmy beaked whale, the South Asian river dolphin, the narwhal, the Chilean dolphin, the long-finned pilot whale, and Burmeister's porpoise. Seals and sea lions are on the list as well, including species such as the California sea lion and lesser known species such as the Baikal seal. The polar bear (a bear that is considered a marine mammal) also makes the list. Three species of manatee and its close relative the dugong, considered a delicacy in some parts of the world, are also widespread targets of human consumption.
Overall, the historical review reveals an escalation in the utilization of smaller cetaceans, particularly coastal and estuarine species since 1970, often caught as accidental "bycatch" in nets meant for fish and other species. Once caught, however, small cetaceans are being increasingly utilized as food in areas of food insecurity and/or poverty, what the authors call "fishing up the food chain."
"Obviously, there is a need for improved monitoring of species such as the Atlantic and Indo-Pacific humpback dolphins and other species," said Dr. Howard Rosenbaum, director of WCS's Ocean Giants Program. "In more remote areas and a number of countries, a greater immediate need is to understand the motivations behind the consumption of marine mammals and use these insights to develop solutions to protect these iconic species that lead to more effective management and conservation."
WCS's Ocean Giants Program works in a number of seascapes of critical importance to small cetaceans in particular. These efforts are focused on the local level to address local impacts on coastal dolphin populations, providing on-the-ground practical conservation actions to compliment the global investigative work highlighted above.
In Congo, Gabon, and Madagascar, WCS conservation scientists Dr. Salvatore Cerchio and Tim Collins are conducting scientific studies to assess the status of impacted dolphin populations, and work with local communities of traditional fishermen to reduce accidental bycatch and deliberate hunting of dolphins. In these regions, the scientists are documenting a worrying trend in increased captures and use of dolphins for food, and they are sometimes also being sold in markets better known for their association with terrestrial bushmeat.
In response, Cerchio and the WCS Madagascar team have worked with local communities to establish a local conservation association composed of fishermen, local traditional laws protecting dolphins, and development of community-based whale and dolphin watching as an alternative livelihood. On the other side of the African continent, the coasts of Gabon and Congo represent one of the last strongholds for the rare Atlantic humpback dolphin. Catches by fishermen in Gabon are extremely rare, but groups of dolphins that cross the border (a finding of recent WCS work) risk capture in coastal gillnets set by artisanal fisherman. "The Atlantic humpback dolphin may well be the rarest mammal in the Congo basin region," said Tim Collins. "Unfortunately, few have ever heard of it, least of all the fisherman eating them out of existence."
For more information, click here.
EcoWatch Daily Newsletter
Pope Francis celebrates an opening Mass for the Amazon synod, in St. Peter's Basilica, at the Vatican, Sunday, Oct. 6, 2019. Massimo Valicchia / NurPhoto / Getty Images
Pope Francis, in an effort to reignite his influence as a global environmental leader, released an impassioned document Feb. 12 entitled Dear Amazon — a response to the historic Vatican meeting last autumn regarding the fate of the Amazon biome and its indigenous people.

A flooded motorhome dealership is seen following Storm Dennis on Feb. 18 at Symonds Yat, Herefordshire, England. Storm Dennis is the second named storm to bring extreme weather in a week and follows in the aftermath of Storm Ciara. Although water is residing in many places flood warnings are still in place.
Christopher Furlong
/ Getty Images
Britain has been battered by back-to-back major storms in consecutive weekends, which flooded streets, submerged rail lines, and canceled flights. The most recent storm, Dennis, forced a group of young climate activists to cancel their first ever national conference, as CBS News reported.
A group of Fulani women and their daughters walk towards their houses in Hapandu village, Zinder Region, Niger on July 31, 2019. In the African Sahel the climate has long been inhospitable. But now rising temperatures have caused prolonged drought and unpredictable weather patterns, exacerbating food shortages, prompting migration and contributing to instability in countries already beset by crisis. LUIS TATO / AFP / Getty Images
At the 56th Munich Security Conference in Germany, world powers turned to international defense issues with a focus on "Westlessness" — the idea that Western countries are uncertain of their values and their strategic orientation. Officials also discussed the implications of the coronavirus outbreak, the Middle East and the Libya crisis.
Polar bears on Barter Island on the north slope of Alaska wait for the winter sea ice to arrive so they can leave to hunt seals, on Sept. 28, 2015.
cheryl strahl / Flickr
The climate crisis wreaks havoc on animals and plants that have trouble adapting to global heating and extreme weather. Some of the most obvious examples are at the far reaches of the planet, as bees disappear from Canada, penguin populations plummet in the Antarctic, and now polar bears in the Arctic are struggling from sea ice loss, according to a new study, as CNN reported.
By Petros Kusmu, George Patrick Richard Benson
We can all take steps to reduce the environmental impact of our work-related travels.
Individual actions — like the six described here — can cumulatively help prompt more collective changes, but it helps to prioritize by impact.
As the saying goes: be the change you want to see in the world.