Mapping the Waters We Love
Jan. 29, 2012 08:24PM EST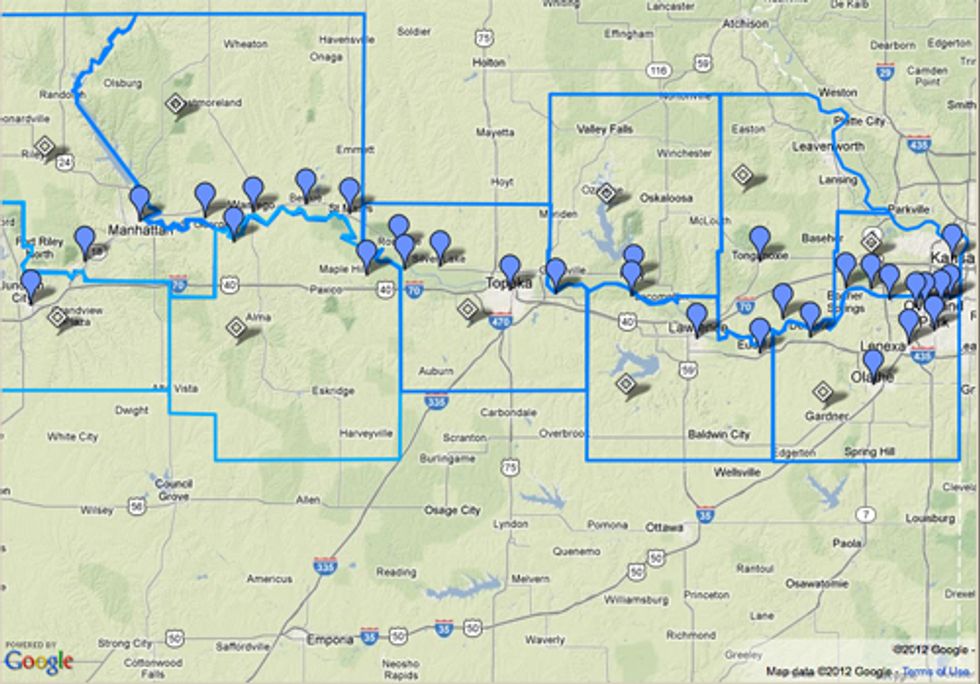 Web Technology Gives Waterkeepers an Opportunity to Show What They're About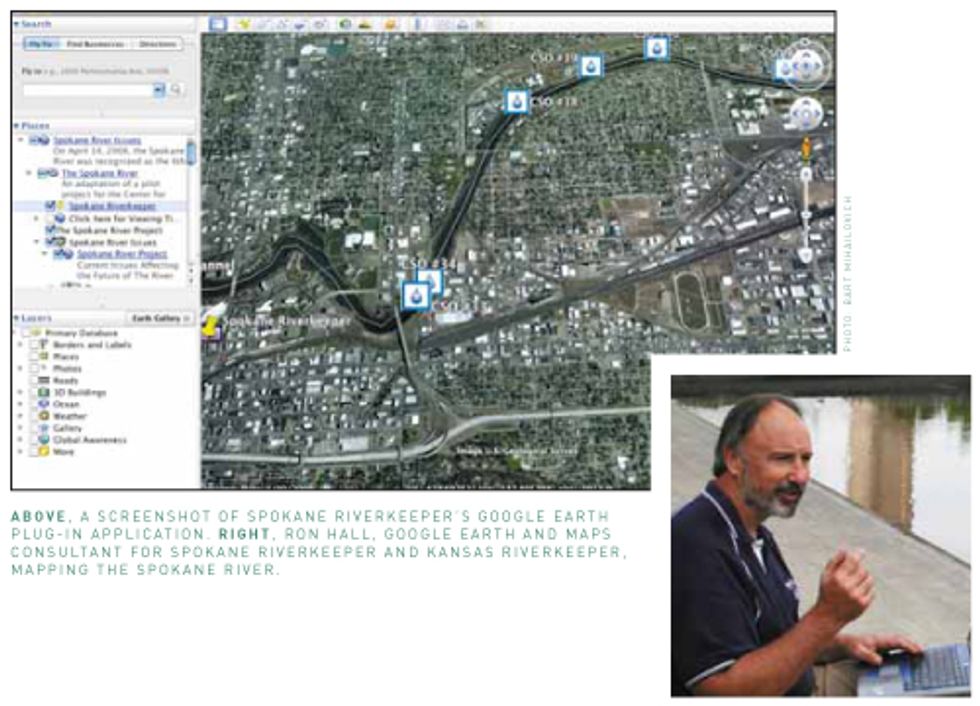 By Bart Mihailovich, Spokane Riverkeeper
Although I've long been impressed with the Kansas Riverkeeper website, I was a little slow to get the message it was sending me. No other site throughout Waterkeeper Alliance features such a thorough array of map resources. But the question I didn't ask was, why not? In fact, why did many sites present no maps at all?
The light went on for me after Spokane Riverkeeper's technical advisor Ron Hall and I met, over Skype, in early 2011 with Kansas Riverkeeper Laura Calwell and Dr. Cynthia Annett, the Kansas program's science advisor. Annett told me that day of an informal study that she'd made of Waterkeeper websites. One night she stayed up till dawn visiting every site to determine how hard it was to find maps of the Waterkeepers' watersheds. To her surprise, and very much to my surprise as I heard this, very few members offered maps of their watersheds either on or within a click or two of their homepages. I thought, how could that be?  Here we are, stewards of watersheds around the world, ever wiling and able to speak for hours about them, yet generally failing to perform the simple act of showing the world where we are and what we represent.   
So, naturally, I re-examined my Spokane Riverkeeper website, and realized it was one of the laggards. It was then and there I became a "citizen mapper."
Basically defined, a citizen mapper is someone who uses available information and technology to enhance current maps for the benefit of our environment and culture. An example would be to add markers to an existing Google map of a river to show the locations of outfall pipes that may be sources pollution. Now the term has lent itself to "The Citizen Mapper Project," a pilot program created by the Spokane and Kansas Riverkeepers. Ron Hall, who is a certified Google Earth modeler and trainer, is the technical advisor for the project, which not only develops maps for Spokane Riverkeeper and advances the mapping program of Kansas Riverkeeper, but also educates about mapping technology. Our hope is that a template program can be developed for use by other Waterkeeper organizations, as well as other community groups and schools.
Kansas Riverkeeper's existing collection of maps provides a model and an inspiration for the new program. 
"Maps have always been an important advocacy tool" says Riverkeeper Calwell, who has held that position since 2003, after serving as secretary and president of its parent organization, Friends of the Kaw—an alternate name for the Kansas. "Folks are more likely to take action if they know where a specific site or stretch of the river is being polluted or endangered." 
She explains that, between 2003 and 2007, Friends of the Kaw paid thousands of dollars, mostly acquired from grants, to build interactive maps on its website that were intended for specific uses such as location of access ramps, in-river dredges and historical sites.
"Around 2007 we figured out how to use and tailor Google maps for our purposes for free—that was the 'aha' moment." 
When they redesigned their website in 2010 they embedded many Google maps, and Annett figured out how to embed global-positioning-system photos into those maps, county by county. With the aid of Google's Picasa Album software for organizing photos, visitors were able to take virtual tours down the river.
In addition to the countless possibilities offered by Google Maps and Google Earth, a Waterkeeper organization further from Kansas than the Land of Oz has applied a newer product for data input and sharing that is designed to be very compatible with mobile technology and social networks. China's Qiantang River Waterkeeper uses Crowdmap, developed by Nairobi-based Ushahidi Inc., to display citizen reports of pollution on their website maps. This effort is at an early stage, but has already attracted an impressive amount of citizen participation. 
"I got praise from our local environmental bureau when I reported our observations to them" Qiantang's Hao Xin reported via email in late August. "Also, mass media, including newspapers and television, have reported a lot on the efforts of our mapping platform, especially after [we were accepted into] the United Nations Environment Program's Eco-Peace Leadership Program during the summer." 
Hao and the developer of the Crowdmap platform have also been recruited to be supervisors in the Zhejiang Provincial Environmental Protection Bureau.
Hao stressed the educational value of the Qintang program: "Citizens may not realize there are such large numbers of pollution sites around us. This disclosure will hopefully stimulate their interest to participate in water protection."
At the 2011 Waterkeeper Alliance Conference in Chicago, Ron Hall (via Skype), Cynthia Annett, Laura Calwell, Hao Xin, his associate, Chia-Rung Yang and I addressed a packed room on the benefits of mapping our watersheds and the relative ease of doing so with current and developing free technology. The presenters suggested ways for those attending to get started in creating watershed maps ranging from the basic to the advanced. 
Ron Hall, a lynchpin holding together this collective effort, has worked with the Spokane Riverkeeper since its inception, and before that for the Spokane River Project of the Center for Justice. He has been advisor and mentor since my first day as Riverkeeper. When I arrived, he had begun his expert work, in collaboration with Tim Connor, the Center for Justice's Communications Director, and first Spokane Riverkeeper Rick Eichsteadt, to develop a Google Earth plug-in application to highlight the features of and threats to the Spokane River. It has become an extensive resource with hundreds of pieces of media, links, data and narrative. 
"Creating the maps has been a personal journey of education and awareness about the Spokane River, the issues surrounding its health and future, the people that love the river, and the public who need to know more about it," Ron says.  "Watching people use and critique the maps had made me aware that they can be powerful tools for both education and awareness. They can tell a story even when the Riverkeeper is not there to explain it. "
Besides being a powerful educational and outreach tool, citizen mapping is a means of enforcement.  And, as technology continues to evolve, applying it will continue to become easier. I'm often reminded by Ron Hall that Google Earth is the fifth most popular web-browser in the world, which tells us that if we want to place our information and reveal our vision where people are looking, we need to do so on Google Earth. The mapping world is where Waterkeepers need to be. 
Invoking the proverb "a long journey begins with a single step," Ron offers a little advice to those hoping to get started: "Use GPS units to collect data in mass. Use Google Earth/Google Maps to generate maps on your desktop. Look for existing geographic-information-system data from government, corporate, non-profit and educational sources. Use Google Map Maker."
Laura Calwell recommends that Keepers "look for a trustworthy, techie volunteer who enjoys and has the time to fiddle around with this type of technology. I really only have very basic skills when it comes to web sites but I have learned how to make and manipulate simple Google maps – if I can do it, almost anyone can."
That said, I'll add, speaking for all of the citizen mappers out there, that, although there is no substitute for viewing a river or lake or bay in person, we are fortunate to have a great alternative.  I encourage all Keepers and all citizens interested in clean water and healthy communities to use the available and improving technology to show the world what we care for and what needs to be done.
——–
Reprinted with permission from Waterkeeper Magazine. To read the winter issue of the Waterkeeper Magazine, click here.
EcoWatch Daily Newsletter