Maple Syrup Farmers vs. the Constitution Pipeline
The civil disobedience movement of which I'm a part, We Are Seneca Lake, opposes the transformation of a beautiful upstate New York lakeshore into a giant storage depot for natural gas from out-of-state fracking operations.
To that end, whenever possible, we like to lend a hand to those who are also fighting out-of-state fracking operations, including pipelines.
So on Friday, six Seneca Lake defenders drove across the border to stand with our brothers and sisters in Susquehanna County, Pennsylvania who oppose the seizure, via eminent domain, of the Holleran-Zeffer maple grove and its transformation into a 120-foot-wide right-of-way for the proposed 128-mile-long Constitution Pipeline.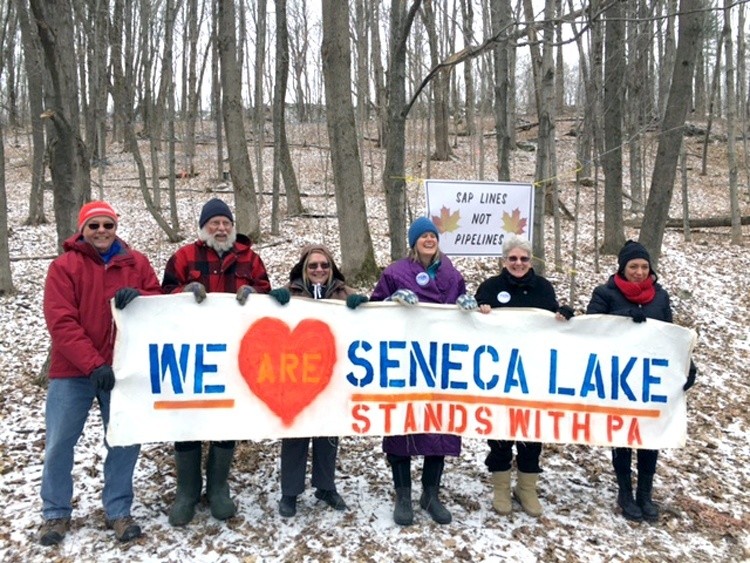 We Are Seneca Lake defenders joined two dozen other protesters in the Holleran-Zeffer maple grove. Photo credit: Colleen Boland
This pilgrimage is one that many others have made before us ever since Jan. 29 when the Federal Energy Regulatory Commission (FERC) issued a partial Notice to Proceed with tree-cutting along the Pennsylvania portion of the pipeline, which will carry natural gas from the fracking fields of northeastern Pennsylvania into Schoharie County, New York—and, from there, throughout New England, Canada and possibly to overseas markets.
After visiting the maple grove, we attended the court hearing where Judge Malachy Mannion of the U.S. District Court in Scranton was ruling on whether the five defendants were guilty of contempt of court for obstructing tree cutting on their property and whether his previous order allowing the tree-cutting to make way for a shale gas pipeline could be challenged in court.
Accompanying us on yesterday's road trip was our beloved videographer, Bob Nilsson.
Nilsson had a particularly dramatic day. First, en route to the maple farm, while filming a chainsaw-wielding group of tree cutters on a nearby property, he was charged by one of them and nearly punched out.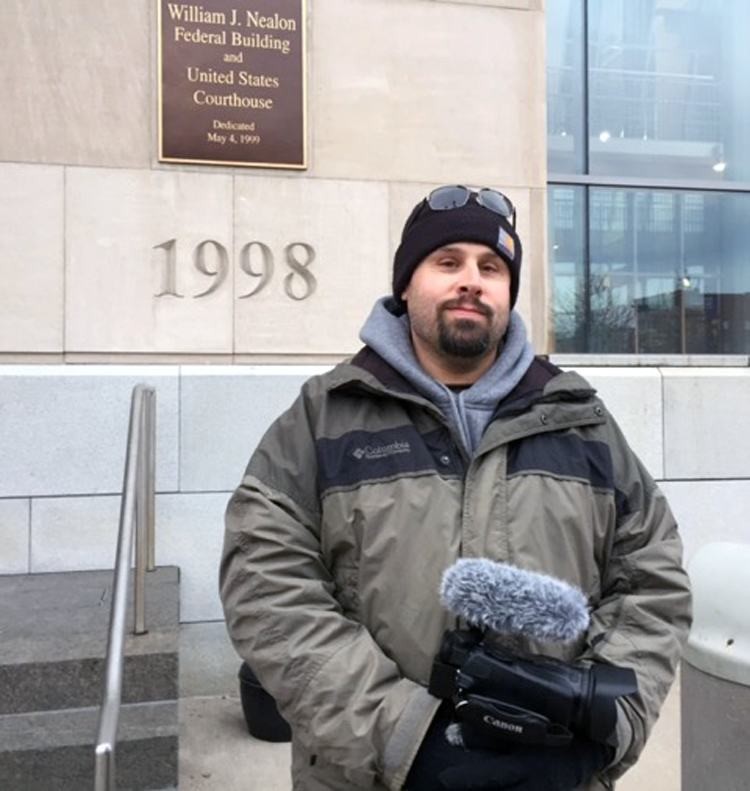 This is Bob Nilsson, videographer for We Are Seneca Lake. Note: his name is Bob. Not "Jeff." Photo credit: Colleen Boland
Then, later that afternoon, while Nilsson was seated in the back of the courtroom in Scranton, a witness under oath wrongly fingered him as "Jeff," an individual who was alleged to have participated in obstructing a tree-cutting crew in the Holleran-Zeffer maple grove on Feb. 10.
The witness—retired state trooper Monty Morgan who now works security for the pipeline company—claimed that he recognized the gray sweatshirt and goatee.
From up on his bench, Judge Mannion sized up our videographer's clothing and facial hair.
"Is your name Jeff? What is your name, sir?"
"My name is Bob Nilsson."
But that single case of mistaken identity may ultimately have helped to play a role in the final verdict of that hearing. The lawyer who argued the case for the defense, Mike Ewall of Energy Justice Network, went on to demonstrate that Morgan could identify none of the defendants among those who were said to have prevented workers from cutting trees in recent weeks. (Energy Justice Network is the only staffed organization in northeast Pennsylvania supporting landowners facing eminent domain).
Ruling that the lawyers for pipeline company, Oklahoma-based Williams Partners, had inadequate proof of identity, the judge dismissed the contempt of court citation against the five defendants. The five had stood accused of flaunting the judge's previous order to allow the tree cutting—which itself upheld the decision of FERC when it denied a stay on cutting the family's maple trees earlier this month. The pipeline right-of-way requires the destruction of 200 maples on this farm alone—roughly 80 percent of the family's sugaring trees.
"We consider this a victory because the judge found insufficient proof of contempt," Ewall told me after the hearing ended. "Constitution Pipeline Company is threatening this family's livelihood for a pipeline that may never be built. They still don't have FERC's permission to construct, yet they bully and intimidate landowners while offering paltry compensation for taking their land."
Megan Holleran, 29, a family spokeswoman, agreed: "This is the best outcome that we could have hoped for." She seemed visibly relieved at the ruling, noting that her mother was one of the defendants. "We still have hope that the Constitution pipeline company will wait to cut trees until they have construction permission. We will continue to ask for that."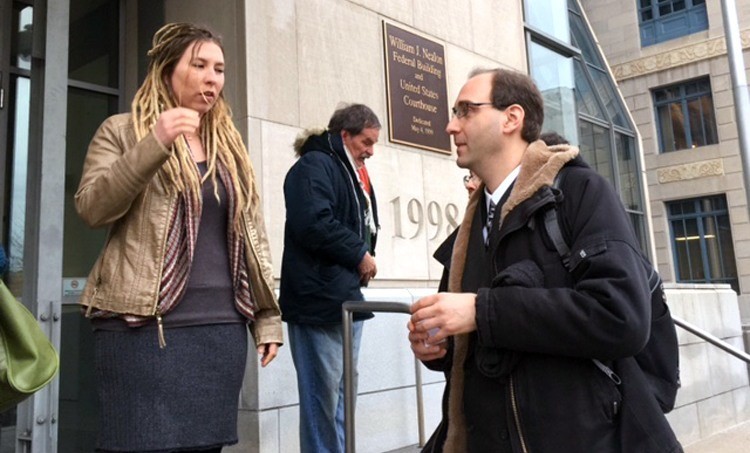 At the U.S. District Court in Scranton, family spokeswoman Megan Holleran speaks with the landowners. attorney, Michael Ewall after the hearing that found insufficient evidence to charge five of her family members with contempt. Photo credit: Colleen Boland
But, for those who support maple sap lines over gas pipelines, the Holleran family's triumph over the contempt charge was the only good news of the day—and could prove a Pyrrhic victory in the end.
The maple trees themselves were put on the literal chopping block.
Judge Mannion reaffirmed his earlier decision to grant eminent domain status to the pipeline company and made clear in his ruling that, from here on out, he will direct U.S. marshals to "arrest and detain people interfering with tree cutting" and that "violations of this order may result in other penalties," including the costs of additional security and the costs to the pipeline company for delays.
Further, he warned the landowners that they have "an affirmative duty" to remove people from their land who intend to obstruct the tree cutting—or they themselves will be compelled to pay such costs.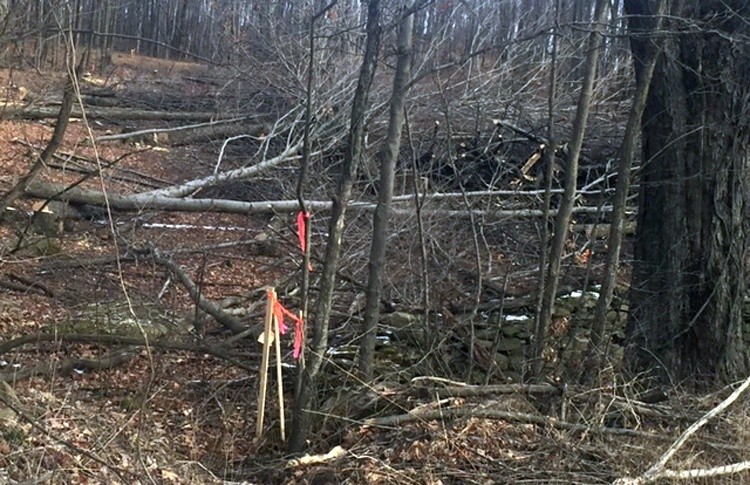 Survey stakes mark the path of the proposed Constitution pipeline as it cuts through the Holleran-Zeffer family's maple grove near New Milford, Pennsylvania. Photo credit: Colleen Boland
In other words, the property owners cannot stop their trees from falling and have no right to tell the FERC-approved tree cutters to get off their land even if ...
those trees are the basis of the family business.
the owners do not consent to the seizing of their property by eminent domain to serve the needs of a pipeline company hellbent on fossil fuel expansion.
the sap is already running in the sap-gathering lines, and e

ven if the maple sugar season is heartbreakingly early this year and the emergency of fossil-fuel induced climate change hangs over us all, and any hope of survival depends on many more trees pulling carbon dioxide out of the atmosphere and much less natural gas heading to burner tips.
As the federal judge in a federal courthouse made clear yesterday, with me and an ill-treated videographer bearing witness, the rule of law dictates that the trees must fall.
YOU MIGHT ALSO LIKE
Mark Ruffalo: There's No Fracking That Can Be Done Safely
Harvard Study: U.S. 'Likely Culprit' of Global Spike in Methane Emissions
Lawsuit Filed Over Oklahoma's 'Fracking' Earthquakes as Its Third Largest Quake Is Felt in 7 Other States
Second Review of EPA's Fracking Study Urges Revisions to Major Statements in Executive Summary
Dow CEO Andrew Liveris and President Donald Trump in February.
U.S. Environmental Protection Agency (EPA) administrator Scott Pruitt met with Dow Chemical CEO Andrew Liveris before deciding to reverse an earlier EPA decision to ban the company's toxic and widely used pesticide, chlorpyrifos.
According to records obtained by the Associated Press, the EPA boss met with Liveris for about 30 minutes at a Houston hotel on March 9. Later that month, Pruitt announced that he would no longer pursue a ban on chlorpyrifos from being used on food, ignoring his agency's own review that even small amounts of the pesticide could impact fetus and infant brain development.
Keep reading...
Show less
www.facebook.com
Native communities and environmental justice advocates in Louisiana opened a new resistance camp Saturday to oppose the proposed Bayou Bridge Pipeline project. Called L'eau Est La Vie, or Water is Life, the camp will consist of floating indigenous art structures on rafts and constant prayer ceremonies during its first two weeks.
Keep reading...
Show less
Continuing its march toward elimination of key Clean Water Act protections, the U.S. Environmental Protection Agency (EPA) on Tuesday issued a formal notice of withdrawal of the Obama administration's rule defining which waters can be protected against pollution and destruction under federal law.
Keep reading...
Show less
The U.S. Environmental Protection Agency (EPA) is not doing enough to prevent weed resistance to the herbicide glyphosate (Roundup) says a new report from the EPA's Inspector General's Office, which draws in part on a report from the agbiotech company, Pioneer: Weed Management in the Era of Glyphosate Resistance.
Keep reading...
Show less
SUMR
When it comes to the latest wind turbine technologies, size matters. A group of six institutions and universities is designing an offshore wind turbine that will stand 500 meters in height. That's taller than the Eiffel Tower and the Empire State Building.
The research team, led by researchers at the University of Virginia, believes that its wind turbine concept will produce 50 megawatts of peak power, or about 10 times more powerful than conventional wind turbines.
Keep reading...
Show less
www.facebook.com
Natural gas is often considered the cleanest fossil fuel, but could it actually be dirtier than coal?
Watch as New York Times reporter Mark Bittman, in the above Year's of Living Dangerously video, investigates how much methane is leaking at fracking wells. Find out how the natural gas industry's claims compare to what scientists are reporting.
See what happens when Gaby Petron, an atmospheric scientist with NOAA, converts her van into a mobile methane detector and sets out across northeastern Colorado for two years, taking thousands of readings to uncover the truth.
www.youtube.com
Adrian Grenier was named UN Goodwill Ambassador earlier this month. The Hollywood actor, best known for his iconic role of A-list movie star Vincent Chase in the HBO smash hit and film Entourage, will advocate for drastically reducing single-use plastic and protection of marine species, and encourage his followers to make conscious consumer choices to reduce their environmental footprint, according to the UN Environment announcement.
"Together we must usher in a new era of compassion and carefulness through forward thinking environmental programs to drive measurable change," Grenier said. "I am personally committed to creating ways in which the global community can come together to help solve our most critical climate crises through routine, collective action.
"The more we connect to nature in our daily lives, the more dedicated we will become to our individual commitments. Together, I believe we can go further, faster in our race to achieve the UN Sustainable Development Goals by 2030."
Watch the video above to learn more.
The last week has seen a flood of stories on clean energy's prospects—stories that make your head spin with their conflicting tales of renewable energy's prospects of ending our dangerous addiction to fossil fuel power from coal and gas.
Keep reading...
Show less