This website uses cookies to ensure you get the best experience while browsing it. By clicking 'Got It' you're accepting these terms.
Man Quits Job to Travel in Solar-Powered Home on Wheels
Mar. 04, 2015 08:49AM EST
Eco-friendly lifestyle is one thing, but eco-friendly travel is another when everything from taking planes to buying souvenirs can leave a mark on the planet. But an intrepid young man and his van proves that we can see the world and tread lightly at the same time.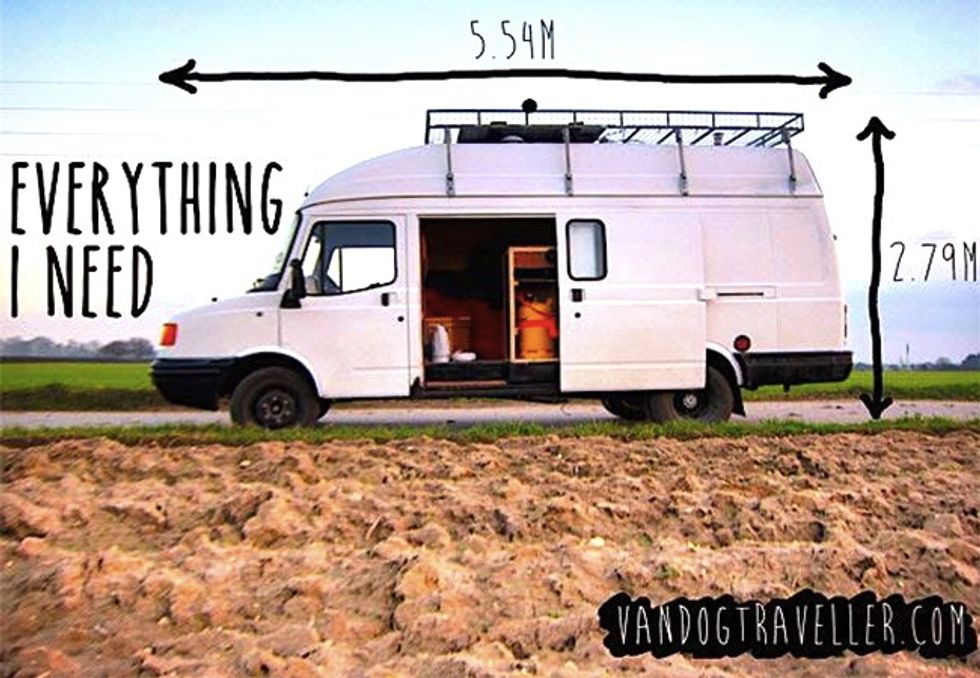 After quitting his engineering job in October 2013 to live his dream of traveling, 26-year old Mike Hudson of Hull, England, got rid of his possessions and purchased a 10-year-old LDV Convoy van off eBay. Before setting off, Hudson and his friends spent five months renovating the rusty camper van into a tiny home on wheels.

The entire operation—buying the van, fixing the engine, installing a stove, a 70-liter (18.5-gallon) water tank, a shower and toilet, heater, desk space and even solar panels—cost Hudson only £5,000 (about $7,700). The van also has a refrigerator, speakers and storage space.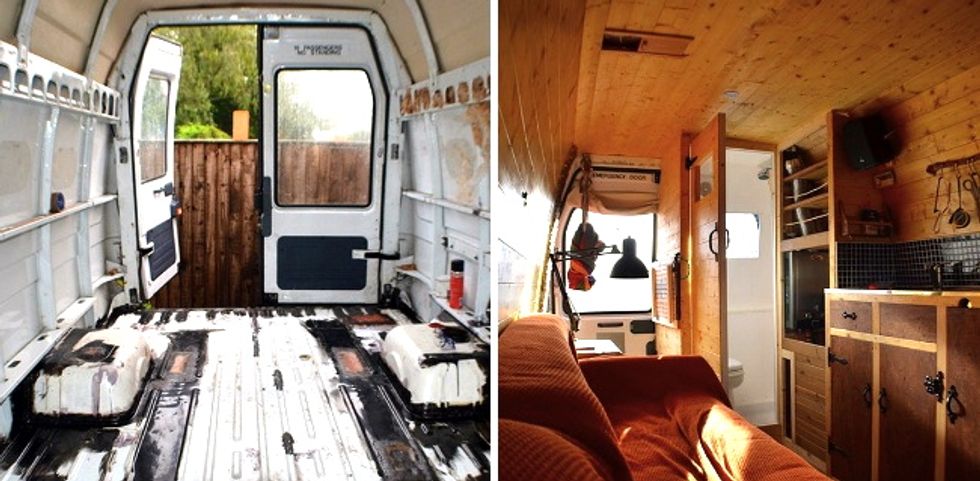 Hudson and his two buddies set off officially on March 2014, ferrying from England to France and driving south to Spain and hasn't stopped since. For the past year, Hudson has gallivanted around Portugal, Switzerland, Germany, Hungary, Austria and more, attending music festivals and camping under starry skies. The 26-year-old documents his travels around Europe on his blog, Vandog Traveller.
Ever the minimalists, the travelers sleep on hammocks or a foldaway sofa-bed. They've also washed their clothes by a lake near Bucharest, and dived in a dumpster for homemade jam ingredients in Budapest.
Washing clothes by a lake near #Bucharest pic.twitter.com/LdsCjj45YX

— Mike Hudson (VdT) (@Hudsontek) October 18, 2014
Thanks to his two 100 watt solar panels and two large 200 amp hour batteries, Hudson and his buddies can have enough juice to power their electronics for three weeks. "After some tweaks, the solar powered electrical system is completely self sufficient and almost maintenance free," he wrote. "I'm not exactly frugal with the electricity either and there have been three of us living in here for more than half the time."
As far as water, Hudson says the van has enough running water to last for 12 days, or probably more than a month if they are near a spring or a well. For fuel, Hudson said his van's refillable cylinder can store 11 kilograms (or 24 pounds) of petroleum, which is enough to power the stove, kettle and heater for three people for two weeks. Finding a stable internet connection, he says, is one of the hardest parts of off-grid travel.
Getting internet off-grid is proving a lot harder than I thought pic.twitter.com/1PLsPG6ntz

— Mike Hudson (VdT) (@Hudsontek) April 2, 2014
Hudson didn't intentionally plan to live off the grid, but realized he was heading into this territory without even knowing it. "Being off-grid probably isn't the easiest way to live but it does seem to offer choice and much freedom with no white lines or boundaries," he wrote.
In Greece, Hudson and his friends stayed for a few weeks at a wind-and-solar powered eco-community 40 miles from Athens, where they picked their own salad from an herb garden and cooked in a clay oven. "I'm not really a serious environmentalist kind of person, but I do think there is something hugely satisfying about being responsible for generating your own electricity, dealing with your own waste and growing your own food," he wrote. "Doing this in a communal environment with a dynamic pool of talent and knowledge is a pretty powerful setup."
The best road in the world? – driving the Transfagarasan mountain pass in Romania http://t.co/VqBRfKO1Im pic.twitter.com/uhqJmFm1ag

— Mike Hudson (VdT) (@Hudsontek) October 9, 2014
Hudson logs his miles on a shoestring budget ("I can eat three very good meals a day for €3 [about $3.36].") and stretches out his euros by busking, baking his own bread and avoiding tourist traps. Click here for more of his frugal travel tips.
"I am doing my dream; I can comfortably live wherever I want. I am temporarily free and in control," he wrote. "The next thing I need to figure out is how to make this last for as long as I like."
In the video below, watch Hudson and his pals convert an old van into an apartment on wheels.
YOU MIGHT ALSO LIKE
GoSun Portable Stove Reinvents Solar Cooking
Solar Is Cheaper Than Electricity From the Grid in 42 of 50 Largest U.S. Cities
EcoWatch Daily Newsletter
A new study shows that half of all Arctic warming and corresponding sea-loss during the late 20th century was caused by ozone-depleting substances. Here, icebergs discharged from Greenland's Jakobshavn Glacier. Kevin Krajick / Earth Institute /
EurekAlert!
The world awakened to the hole in the ozone layer in 1985, which scientists attributed it to ozone depleting substances. Two years later, in Montreal, the world agreed to ban the halogen compounds causing the massive hole over Antarctica. Research now shows that those chemicals didn't just cut a hole in the ozone layer, they also warmed up the Arctic.
Diane Wilson holds up a bag full of nurdles she collected from one of Formosa's outfall areas on Jan. 15. Julie Dermansky / DeSmogBlog
On the afternoon of Jan. 15, activist Diane Wilson kicked off a San Antonio Estuary Waterkeeper meeting on the side of the road across from a Formosa plastics manufacturing plant in Point Comfort, Texas.
After Wilson and the waterkeeper successfully sued Formosa, the company agreed to no longer release even one of the tiny plastic pellets known as nurdles into the region's waterways. The group of volunteers had assembled that day to check whether the plant was still discharging these raw materials of plastics manufacturing.
Malaysian Environment Minister Yeo Bee Yin (front 2nd L) and officials inspect a container containing plastic waste shipment on Jan. 20, 2020 before sending back to the countries of origin. AFP via Getty Images
The Southeast Asian country Malaysia has sent 150 shipping containers packed with plastic waste back to 13 wealthy countries, putting the world on notice that it will not be the world's garbage dump, as CNN reported. The countries receiving their trash back include the United States, the United Kingdom, France and Canada.
Trump leaves after delivering a speech at the Congress Centre during the World Economic Forum annual meeting in Davos on Jan. 21, 2020. JIM WATSON / AFP via Getty Images