Man Pays $350K to Kill a Rhino
Jan. 17, 2014 12:53PM EST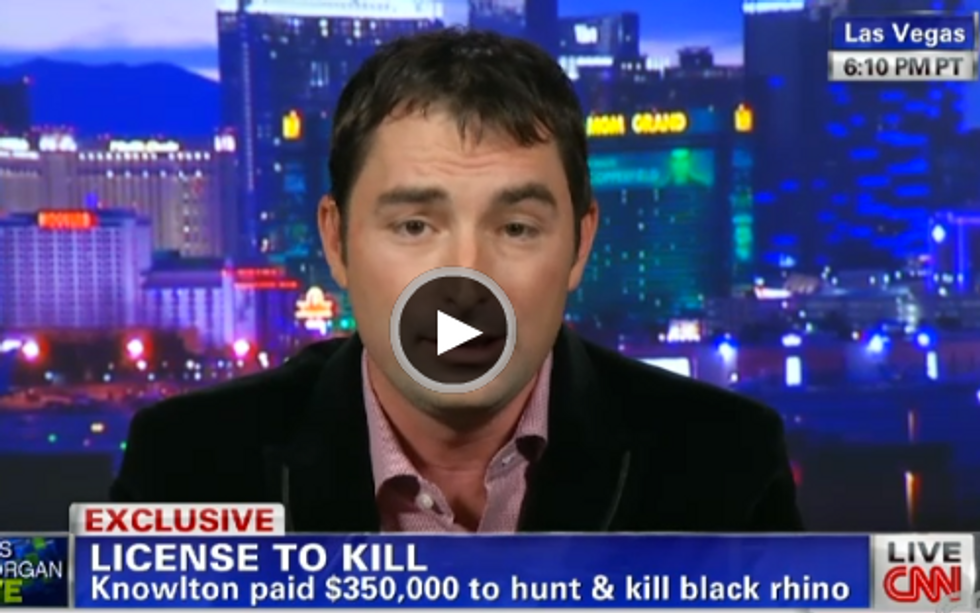 Should the opportunity to kill an animal be sold for six figures or for any amount of money at all?
That's what happened at an auction in Texas a week ago, and now the winner bidder is left reading death threats directed at his children. As dozens of protesters looked on, the Dallas Safari Club's auctioned a permit to hunt a black rhino in Namibia for $350,000. The club says it sold the permit to hunter Corey Knowlton to protect the endangered species, particularly the young rhinos who are sometimes killed by their older counterparts.
"A lot of people say, 'Do you feel like a bigger man?' or 'Is this a thrill for you?" Corey Knowlton told CNN. "The thrill is knowing that we are preserving wildlife resources, not for the next generation, but for eons."
Despite running a website and business that offers "ultimate hunting packages," Knowlton has supporters in organizations like the The International Union for Conservation of Nature. His money will benefit the Namibian Ministry of Environment and Tourism for anti-poaching patrols, habitat protection, research and other measures crucial for protecting populations of endangered black rhinos, the club said.
There are just 4,000 to 5,000 black rhinos living in the wild, according to the Dallas Safari Club. The Rhino in question could no longer breed.
The club may have been disappointed with the auction—club executive Ben Carter told NPR that he thought the permit could garner up to $1 million.
Bob Barker, the 90-year-old animal advocate former host of the popular game show, The Price is Right, wrote in a letter that "this seems like a rather harsh way of dealing with senior citizens." Do you agree?
Is sacrificing one animal's life worth the potential of saving many more? Or should we be doing everything we can to preserve each and every creature on our planet?
Share your thoughts in the comments below.
Visit EcoWatch's BIODIVERSITY page for more related news on this topic.

EcoWatch Daily Newsletter
Related Articles from EcoWatch