This website uses cookies to ensure you get the best experience while browsing it. By clicking 'Got It' you're accepting these terms.
Makers of d-CON Sue California Over Regulations on Super-Toxic Rat Poison
Apr. 01, 2014 09:13AM EST
Health + Wellness
The makers of d-CON products have filed a lawsuit challenging a California effort to limit the sale of super-toxic rat poisons to licensed specialists. The state's new restriction on retail sales of second-generation anticoagulant rodenticides, due to take effect July 1, seeks to protect wildlife and pets from accidental poisoning. Poisonings have been documented in at least 25 species of wild animals in California, including mountain lions, hawks, endangered San Joaquin kit foxes and northern spotted owls, as well as numerous cats and dogs.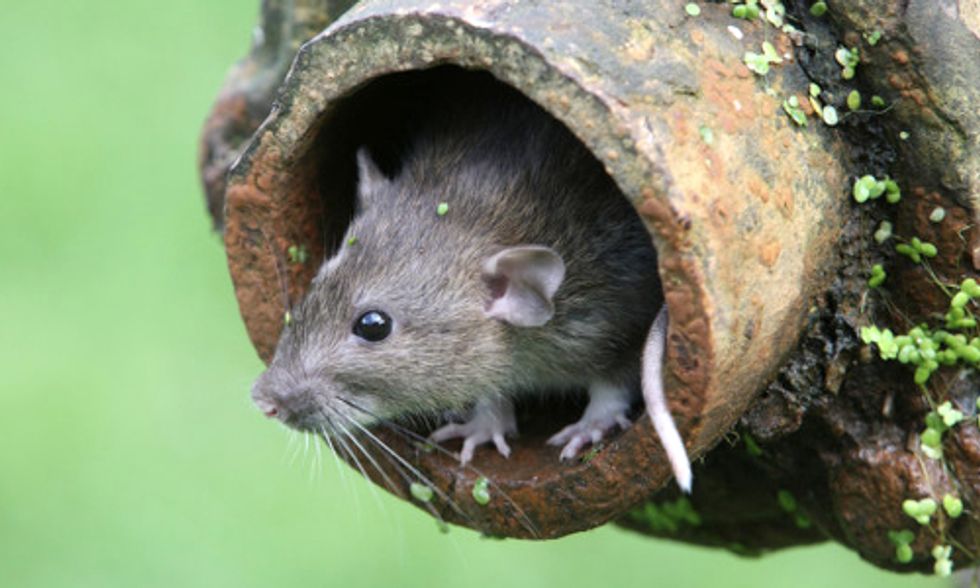 "It's disgusting that d-CON continues to challenge common-sense controls for protecting wildlife, children and pets," said Jonathan Evans, toxics and endangered species campaign director at the Center for Biological Diversity. "It's time to put public safety before corporate profits."
Anticoagulant rodenticides interfere with blood clotting, resulting in uncontrollable bleeding that leads to death. Second-generation anticoagulants—including the compounds brodifacoum, bromadiolone, difethialone and difenacoum—are especially hazardous and persist for a long time in body tissues. These slow-acting poisons are often eaten for several days by rats and mice, causing the toxins to accumulate at many times the lethal dose in their tissues, poisoning predators that eat the weakened rodents.
The regulations from the California Department of Pesticide Regulation target products sold to the general public in retail outlets and limits super-toxic rodenticide use beyond 50 feet of manmade structures. These super-toxic poisons—called second-generation anticoagulant rodenticides—will still be available for widespread use by licensed commercial and agricultural pest-control operators.
"Reckitt Benckiser knows that California's bold decision to take d-CON off the shelves is a preview of things to come in other states," said Greg Loarie, an attorney with Earthjustice. "Reckitt is fighting hard to hold on to the past, but the corporation should know that we're prepared to do whatever it takes to make sure d-CON does not become the DDT of our time."
Reckitt Benckiser is the parent company of d-CON and is also currently challenging a decision by the U.S. Environmental Protection Agency (EPA) to limit the sale of super-toxic rat poison without tamper-resistant packaging to avoid unintentional poisonings of children.
Studies have documented second-generation anticoagulants in more than 70 percent of wildlife tested, including eagles, hawks, owls, foxes, bobcats and mountain lions. Over a 10-year period rodenticides caused, on average, more than 160 severe poisonings of pets annually. According to data from the EPA, each year up to 10,000 children are accidentally exposed to rat poison in their homes.
"So much for corporate responsibility," said Jason Rylander, senior attorney with Defenders of Wildlife. "Now that both EPA and the state of California have moved to curb the use of d-Con and other risky poisons, Reckitt Benckiser needs to do the right thing and stop fighting measures that could save kids and protect wildlife."
Conservation groups have called on retailers to stop selling d-CON products that the EPA has labeled too hazardous for public use. Reckitt Benckiser is the parent company for a range of other consumer products including French's mustard, Clearasil, Durex, Woolite and Lysol.
"We urge people to boycott all Reckitt-Benckiser products," said Lisa Owens Viani, director of Raptors Are the Solution. "This company couldn't care less about children, pets and wildlife and we urge the public to let them know that this is unacceptable."
Along with its recent challenge of the EPA's proposal to require tamper-resistant packaging to protect children, Reckitt Benckiser has repeatedly fought attempts by regulators to limit unintentional poisonings. The Environmental Protection Agency initially proposed protections for children and pets from rat poisons as early as 1998, but withdrew that proposal in the face of industry opposition. Ten years later, in 2008, the EPA moved forward with restrictions that have been repeatedly challenged by Reckitt Benckiser.
"The lingering effects of the rat poison wreak havoc up the food chain, impacting endangered species such as the San Joaquin Kit Fox, and Reckitt Benckiser's intransigence is calculated to make its environmentally devastating product linger on the market," said Andrew Christie, director of the Sierra Club's Santa Lucia Chapter.
"There are many effective and less harmful rodent control methods still available to consumers," said Medha Chandra, campaign coordinator at the Pesticide Action Network North America. "Reckitt Benckiser shouldn't be allowed to continue selling their super toxic rat poisons in California."
Safe alternatives to rat poison can be used to address rodent outbreaks in homes and rural areas. Effective measures include rodent-proofing of homes and farms by sealing cracks and crevices and eliminating food sources; providing owl boxes to encourage natural predation; and utilizing traps that don't involve these highly toxic chemicals. For more information visit SafeRodentControl.org.
--------
YOU MIGHT ALSO LIKE
EPA Sued Over Toxic Pesticides in Pet Flea Collars 
You Are a Guinea Pig in the Greatest Uncontrolled Experiment Ever Launched
--------
EcoWatch Daily Newsletter
By Fino Menezes
Everyone adores dolphins. Intelligent, inquisitive and playful, these special creatures have captivated humans since the dawn of time. But dolphins didn't get to where they are by accident — they needed to develop some pretty amazing superpowers to cope with their environment.
Protesters face off against security during the Dakota Access Pipeline protests. ROBYN BECK / AFP / Getty Images
In just two weeks, three states have passed laws criminalizing protests against fossil fuel infrastructure.
Donald Trump and Anthony Fauci, director of the National Institute of Allergy and Infectious Diseases, listen to White House coronavirus response coordinator Deborah Birx speak in the Rose Garden for the daily coronavirus briefing at the White House on March 29, 2020 in Washington, DC. Tasos Katopodis / Getty Images
President Donald Trump has bowed to the advice of public health experts and extended social distancing measures designed to slow the spread of the new coronavirus till at least April 30.
Pexels
By Charli Shield
At unsettling times like the coronavirus outbreak, it might feel like things are very much out of your control. Most routines have been thrown into disarray and the future, as far as the experts tell us, is far from certain.
Pie Ranch in San Mateo, California, is a highly diverse farm that has both organic and food justice certification. Katie Greaney
By Elizabeth Henderson
Farmworkers, farmers and their organizations around the country have been singing the same tune for years on the urgent need for immigration reform. That harmony turns to discord as soon as you get down to details on how to get it done, what to include and what compromises you are willing to make. Case in point: the Farm Workforce Modernization Act (H.R. 5038), which passed in the House of Representatives on Dec. 11, 2019, by a vote of 260-165. The Senate received the bill the next day and referred it to the Committee on the Judiciary, where it remains. Two hundred and fifty agriculture and labor groups signed on to the United Farm Workers' (UFW) call for support for H.R. 5038. UFW President Arturo Rodriguez rejoiced: