This website uses cookies to ensure you get the best experience while browsing it. By clicking 'Got It' you're accepting these terms.
Majority of Catholics Are Worried About Climate Change and Support Immediate Action
Mar. 16, 2015 02:22PM EST
Climate
Today marks the day of fast for Catholics in the U.S. as part of the "Lenten Fast for Climate Justice," a global campaign launched by the Global Catholic Climate Movement in partnership with Fast for Climate Change, Green Anglican Carbon Fast and others to encourage Pope Francis and the 1.2 billion Catholics around the world to take meaningful action in addressing climate change.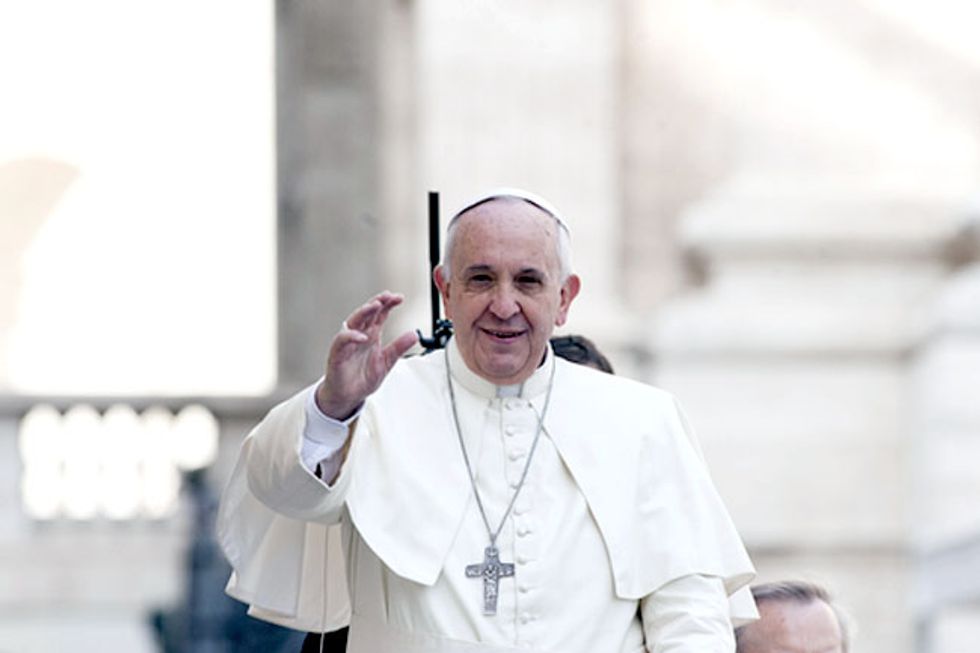 giulio napolitano
/
Shutterstock.com
During this Lenten season, Catholics from more than 50 countries have signed up to fast for one day during the 40 days of Lent and today is the U.S.'s designated day. The goal of the fast is to "raise awareness on climate change" and to challenge Catholics to confront what Pope Francis has called "a globalization of indifference," according to the National Catholic Reporter.
But are that many U.S. Catholics concerned about climate change? There's now data that says yes, according to a special analysis conducted by the Yale Project on Climate Change Communication. Overall, the organization found that Catholics, who make up 24 percent of all American adults, "are more convinced that global warming is happening, are more worried, and are more supportive of policy action than other Christians."
"We find that a solid majority of Catholics think global warming is happening (70 percent)," said Yale Project on Climate Change Communication. "By contrast, 57 percent of non-Catholic Christians think global warming is happening. Moreover, among those who think global warming is happening, Catholics are more likely than other Christians to think it is mostly human caused (48 percent versus 35 percent, respectively)."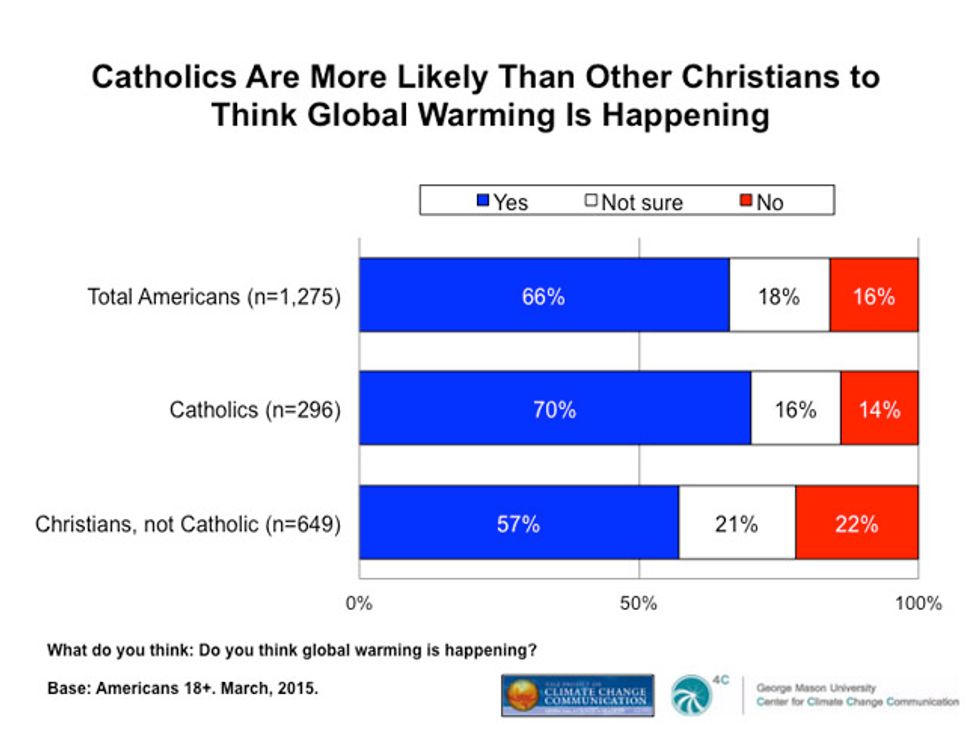 Not only do they believe climate change is happening, but they are also more likely to be concerned about its impacts. "A majority of Catholics (64 percent) say they are very or somewhat worried about global warming—18 percentage points higher than all other Christians (46 percent)," said Yale Project on Climate Change Communication.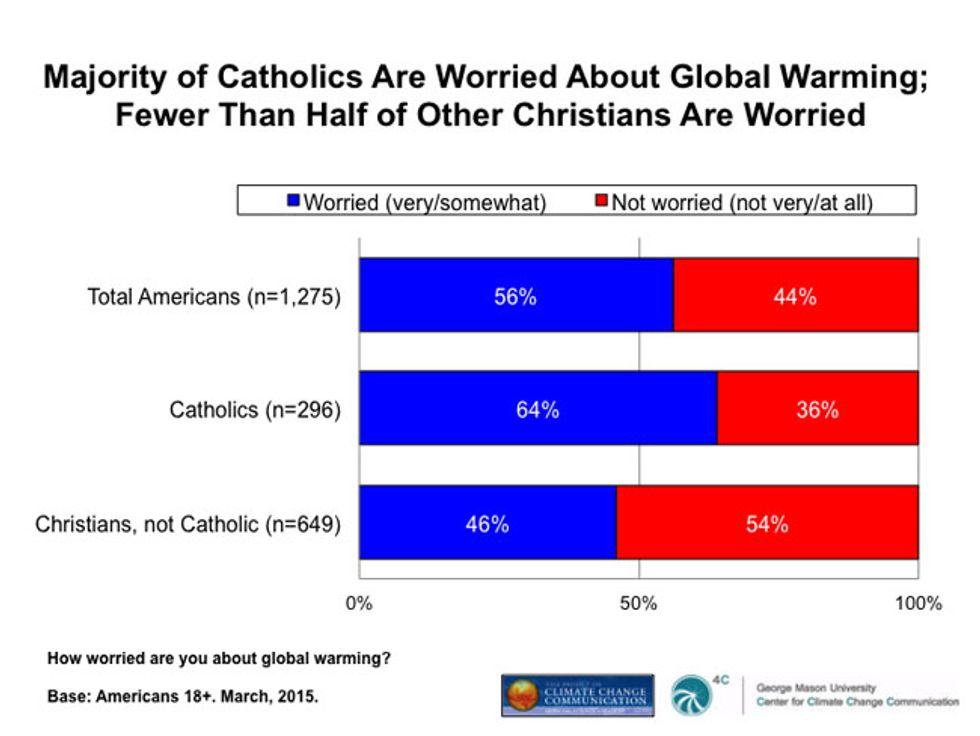 It makes sense then, that more Catholics also express higher support for climate change policies than other Christians. "Catholics expressed the highest levels of support for funding more research into renewable energy sources, such as solar and wind power (81 percent) and providing tax rebates for people who purchase energy-efficient vehicles or solar panels (81 percent)," according to Yale Project on Climate Change Communication.
Why more U.S. Catholics believe in climate change than other Christians is probably a complicated answer, but it certainly helps that their current leader, Pope Francis, who is extremely popular in the U.S. and globally, is an outspoken advocate for action on climate change.
Pope Francis celebrated his second anniversary as supreme pontiff on Friday, "Riding a wave of popularity that has reinvigorated the Catholic Church in ways not seen since the days of St. John Paul II," according to the Chicago Tribune. A recent poll from the Pew Research Center shows that nine out of 10 U.S. Catholics have a favorable view of Pope Francis, including six in 10 who have a "very favorable" view. The Pope is also viewed favorably by non-Catholics, including those with no religious affiliation. In a pew poll, 70 percent of all Americans and even 68 percent of religious "nones" view the so-called "people's Pope" favorably.
He's already more popular with U.S. Catholics than his immediate predecessor, Pope Benedict XVI, and almost as popular as Pope John Paul II, who has already been made a saint by the Catholic Church and is "widely considered one of the most charismatic and impactful pontiffs of the modern era," according to Pew.
In the last few months, the Pope has made headlines time and time again for his bold statements—saying that acting on climate change is "essential to faith," blasting "unbridled consumerism" for destroying the planet in a letter to G20 leaders before their annual summit, and calling the destruction of nature a "sin of modern times." Many Catholics around the world used the Pope's visit to the Philippines in January as an opportunity to urge the holy leader to take strong action on climate change.
His encyclical on the environment, which is expected to be released in June or July, is highly anticipated. The Pope has said he hopes the encyclical will spur negotiators at the Paris climate talks in December to make "courageous" decisions, according to the Chicago Tribune. He is also scheduled to visit the U.S. in September with a special visit to Congress, 30 percent of whose members identify as Catholic.
Cardinal Peter Turkson, the Vatican official who helped draft the encyclical said at a Lenten lecture at St. Patrick's Pontifical University in Maynooth, Ireland that 2015 is "a critical year for humanity," according to the National Catholic Reporter. In addition to the Paris climate talks, Turkson cited the Third International Conference on Financing for Development in July in Addis Ababa, Ethiopia and the U.N. General Assembly's meeting in September as two crucial global conferences to address climate change.
"The coming 10 months are crucial, then, for decisions about international development, human flourishing and care for the common home we call planet Earth," said Turkson.
YOU MIGHT ALSO LIKE
Catholics Fast for Lent in Support of Pope Francis' Call for Climate Action
Climate Change to Blame for Devastating Cyclone, Says President of Vanuatu
Jon Stewart Hammers Gov. Christie Over Staggering Exxon Spill Settlement
EcoWatch Daily Newsletter
Baby orangutan and mother orang utan seen walking in Jakarta, Indonesia. Aprison Photography / Moment / Getty Images
By Tara Lohan
To be a good wildlife photographer, you need an expertly trained eye. But good ears help, too.
Worker spraying toxic pesticides or insecticides on corn plantation. D-Keine / E+ / Getty Images
Poor people in developing countries are far more likely to suffer from exposure to pesticides classified as having high hazard to human health or the environment, according to new data that Unearthed analyzed.
Power to heat, to cool, to drive the world's industries. Renewables can supply it all.
Jason Blackeye / Unsplash
By Paul Brown
Virtually all the world's demand for electricity to run transport and to heat and cool homes and offices, as well as to provide the power demanded by industry, could be met by renewable energy by mid-century.

Phthalates, a group of chemicals used to make plastics more flexible and harder to break, affect health in many ways. Tatyana Tomsickova Photography / Moment / Getty Images
By George Citroner
Exposure to phthalates was associated with autism traits in boys (but not girls) between ages 3 and 4 years, according to a new study.
However, the risk was diminished in women who took folic acid during their pregnancy.
This study is the first to find that folic acid supplements provide a protective effect from phthalates.
Exposure in the womb to a group of endocrine-disrupting chemicals called phthalates was associated with autism traits in boys (but not girls) between ages 3 and 4 years, according to a new study.
A coral and fish community at the Great Barrier Reef, northeast of Port Douglas, Queensland, Australia, on Aug. 28, 2018. Francois Gohier / VWPics / Universal Images Group via Getty Images
Researchers released a sobering study this week showing that all of the world's coral reefs may be lost to the climate crisis by 2100.