'Major Victory for Nebraska Landowners' as TransCanada Drops Lawsuit, Switches Course
Sep. 30, 2015 11:30AM EST
Energy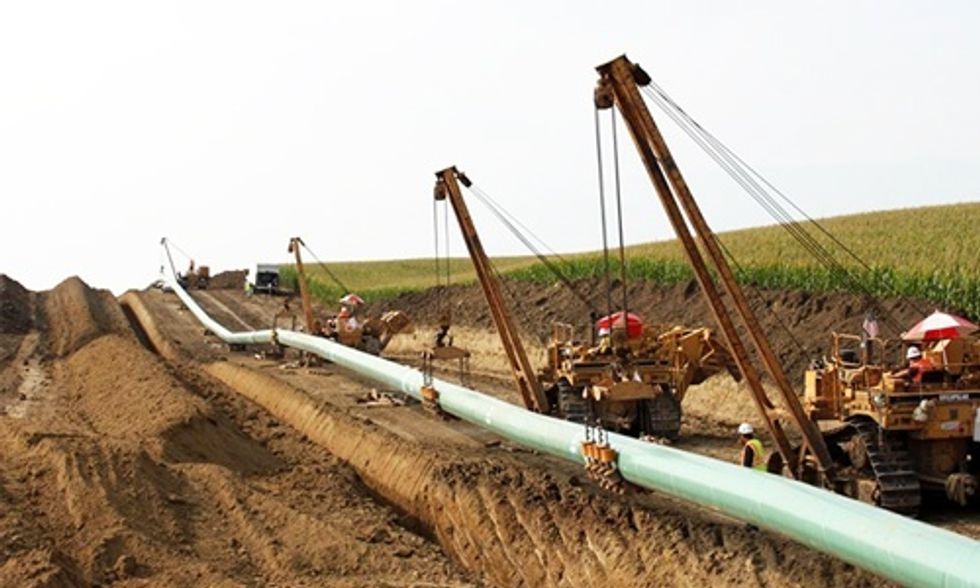 In a move that environmental activists and local landowners hope puts another nail in the Keystone XL coffin, pipeline giant TransCanada announced Tuesday it will withdraw lawsuits seeking to gain access to the property of landowners who oppose the project.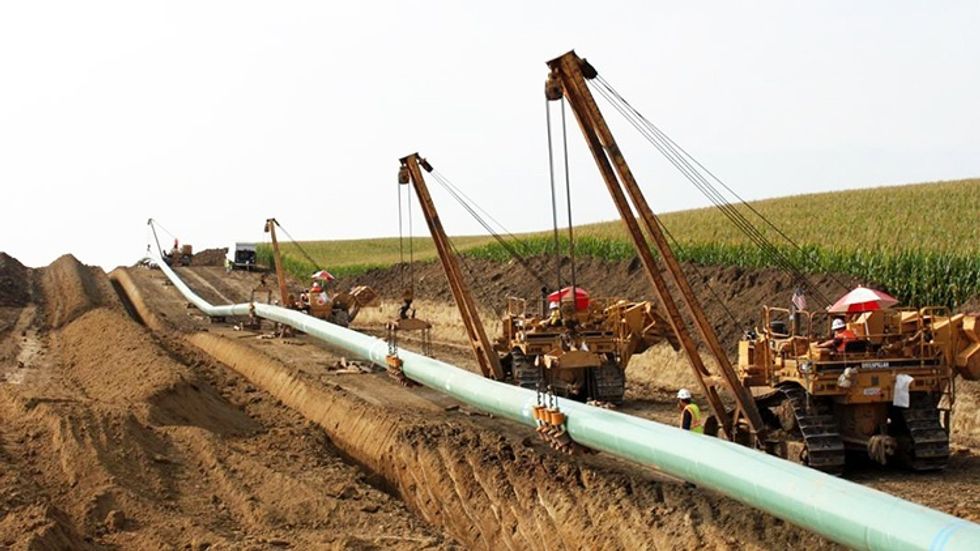 The pipeline giant said it was switching course and would file an application with the Nebraska Public Service Commission (PSC) to seek approval for the Keystone XL route through the state—an approach it previously tried to avoid. Photo credit: netnebraska.org
Jane Kleeb, director of the advocacy group Bold Nebraska, called the decision "a major victory for Nebraska landowners who refused to back down in the face of bullying by a foreign oil company."
In a press statement on Wednesday, the pipeline giant said it was switching course and would file an application with the Nebraska Public Service Commission (PSC) to seek approval for the Keystone XL route through the state—an approach it previously tried to avoid. The company said it is withdrawing its current eminent domain actions and is taking steps to terminate constitutional court proceedings in Holt County, Nebraska.
"After careful review, we believe that going through the PSC process is the clearest path to achieving route certainty for the Keystone XL Project in Nebraska," stated Russ Girling, TransCanada's president and chief executive officer. "It ultimately saves time, reduces conflict with those who oppose the project and sets clear rules for approval of the route."
But others said the development spells doom for the controversial pipeline project.
As Canada's Globe and Mail reports:
"The Canadian pipeline company that has been seeking U.S. approvals for the $8-billion pipeline for the past seven years said the new strategy is about avoiding a lengthy legal process in the Midwest state. However, opponents of the project said it was a clear signal the company—now laying off staff—needs to reduce its legal costs and is acting 'desperately' as it becomes less likely the pipeline will be approved while Barack Obama remains U.S. President."

"Last week TransCanada announced it will cut a fifth of its senior leadership positions and will soon begin laying off some of its rank-and-file employees. It cited low oil prices and regulatory delays stemming from environmental opposition to some of its projects as factors."
And the Wall Street Journal wrote that TransCanada is "trying to tap the brakes on the review process, hoping that by 2017 a potential Republican administration would approve the project or opposition to it would simmer down."
All Democratic presidential candidates oppose the pipeline.
On Twitter, Bold Nebraska's Kleeb put it another way:
TC knows they are about to get handed full rejection at federal level so didn't want to keep throwing money out the window with this lawsuit

— Jane Fleming Kleeb (@Jane Fleming Kleeb) 1443564104.0
"It has long been clear that TransCanada has no legal route through the state of Nebraska and no legal right to use eminent domain against landowners," she added in a statement. "Now they've recognized that they've lost in Nebraska and are desperately trying another tactic to see their risky pipeline built through our state. We are happy to continue this fight in the Nebraska PSC, but we are confident that it will never come to that."
"We know President Obama understands that this pipeline is all risk and no reward for Americans," Kleeb added. "We call on him to do the right thing now and fully reject the permit once and for all."
And Kleeb told the Omaha World-Herald that no matter where the fight takes place, "We have a hundred landowners who will continue to refuse to give up their land through eminent domain."
According to the Associated Press:
"[A spokesman] said TransCanada could apply to the Public Service Commission as early as Friday. Reviews by the commission generally take seven months to a year to complete and its decisions can be appealed in the state's district court system."

"Art Tanderup, a farmer and pipeline opponent whose land is on the proposed route, said he's confident the commission will not allow the pipeline to cross the Sandhills—a region of fragile, grass-covered sand dunes—or the Ogallala Aquifer, a major groundwater supply that lies beneath Nebraska and parts of seven other states."
In addition to trusting the commission's authority, Tanderup added that he is "confident President Obama will reject the pipeline before the PSC even has a chance to conduct a review."
Of course, the Keystone XL fight has implications beyond just one pipeline. As journalist Nick Cunningham wrote earlier this month at OilPrice.com, Canadian tar sands oil will be trapped without more pipeline capacity. "[W]ith the U.S. potentially closing the door on Keystone XL, the industry will have to find another way," he wrote. "Otherwise, less oil will be flowing from Canada's oil sands."
YOU MIGHT ALSO LIKE
New Report Exposes Hidden Fracking Subsidy on Public and Tribal Lands
It's Official: Republicans Want Climate Action and Support Accelerating Renewable Energy
7 Signs Renewable Energy Is Here to Stay
Shell Abandons Arctic Drilling Following 'Disappointing' Results
EcoWatch Daily Newsletter
Recent Stories from EcoWatch