This website uses cookies to ensure you get the best experience while browsing it. By clicking 'Got It' you're accepting these terms.
Major Scientific Document Shows Why NY Fracking Moratorium Is Imperative
Jul. 10, 2014 03:25PM EST
Fracking
Less than two weeks ago, local communities triumphed over the fracking industry in a precedent-setting case decided by the New York Court of Appeals. The court ruled that the towns of Dryden and Middlefield can use local zoning laws to ban heavy industry, including oil and gas production within municipal borders.
While the court decision is a victory for the two towns, many New Yorkers continue to rally and push for a statewide fracking moratorium. In this vein, Concerned Health Professionals of New York (CHPNY) today released a major resource to the public, including public officials, researchers and journalists—the Compendium of Scientific, Medical and Media Findings Demonstrating Risks and Harms of Fracking.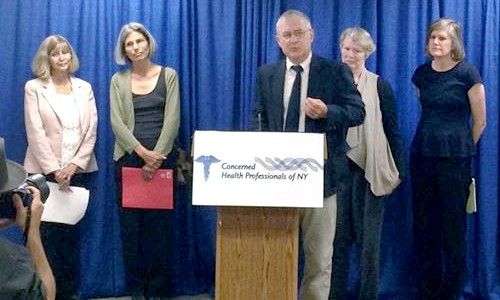 Sandra joins with colleagues (L to R) Sheila Bushkin-Bedient, MD, MPH, Michelle Bamberger, MS, DVM, Robert Oswald, PhD and Kathleen Nolan, MD, MSL, in presenting a major new compilation—a Compendium—of the scientific, medical and media findings demonstrating risks and harms of fracking.
"This compilation of findings brings together data from many fields of study and reveals the diversity of the problems with fracking—from increased flood risks to increased crime risks, from earthquakes to methane leaks," said Sandra Steingraber, PhD, at a press conference held today. "What this multitude of threats all has in common is the ability to harm public health. That's our message to Governor Cuomo and Acting Health Commissioner Zucker."
As mounting evidence continues to find more costs than benefits to fracking, the compendium explains the motivation for compiling and making public the scientific, medical and media findings:
Despite this emerging body of knowledge, industry secrecy and government inaction continue to thwart scientific inquiry, leaving many potential problems—especially cumulative, long-term risks—unidentified, unmonitored and largely unexplored. This problem is compounded by non-disclosure agreements, sealed court records and legal settlements that prevent families (and their doctors) from discussing injuries. As a result, no comprehensive inventory of human hazards yet exists.
The compendium covers in detail the following 15 dangers, risks and associated trends created by the fracking process:
Air pollution

Water contamination

Inherent engineering problems that worsen with time

Radioactive releases

Occupational health and safety hazards

Noise pollution, light pollution and stress

Earthquake and seismic activity

Abandoned and active oil and natural gas wells (as pathways for gas and fluid migration)

Flood risks

Threats to agriculture and soil quality

Threats to the climate system

Inaccurate jobs claims, increased crime rates and threats to property value and mortgages

Inflated estimates of oil and gas reserves and profitability

Disclosure of serious risks to investors

Medical and scientific calls for more study and more transparency
In light of these findings, referenced with more than 300 citations, and remaining fundamental data gaps, CHPNY considers a fracking moratorium "the only appropriate and ethical course of action while scientific and medical knowledge on the impacts of fracking continues to emerge."
CHPNY sent the compendium to Gov. Cuomo (D), Department of Environmental Conservation Commissioner Martens and Acting Department of Health Commissioner Zucker. The group also sent a letter to Acting Commissioner Zucker requesting a meeting.
The compendium of dangers, available on the group's website, is designed as a living document that will be updated every six months. The first edition is current through June 30.
EcoWatch Daily Newsletter
Lara Hata / iStock / Getty Images
By SaVanna Shoemaker, MS, RDN, LD
Rice is a staple in many people's diets. It's filling, inexpensive, and a great mild-tasting addition to flavorful dishes.
An image of the trans-alaskan oil pipeline that carries oil from the northern part of Alaska all the way to valdez. This shot is right near the arctic national wildlife refuge. kyletperry / iStock / Getty Images Plus
The Trump administration has initialized the final steps to open up nearly 1.6 million acres of the protected Alaskan National Wildlife Refuge to allow oil and gas drilling.
Kaboompics / Pexels
Tensions between lawmakers and several large manufacturing companies came to a head on Capitol Hill this week during a hearing on toxic fluorochemicals in U.S. drinking water.
A male african lion plays with his 4 month old cub at Big Marsh in Serengeti National Park, Tanzania. Nick Garbutt / Barcroft Media / Getty Images
A Florida man has been allowed to import a Tanzanian lion's skin, skull, claws and teeth, a first since the animal was listed as threatened under the Endangered Species Act, according to US Fish and Wildlife Service records uncovered by the Center for Biological Diversity through the Freedom of Information Act.
A fracked natural gas well in northwest Louisiana has been burning for two weeks after suffering a blowout. A state official said the fire will likely burn for the next month before the flames can be brought under control by drilling a relief well.
The universe is expanding much quicker than previously thought, according to researchers in Germany, leading scientists to suggest it may be more than 2 billion years younger than past estimates.