Major Milestone: More than 100,000 MW Worth of Coal-Fired Power Plants Retired
Dynegy, Inc., a Houston, Texas-based electric utility, announced Tuesday that it will phase out the use of coal at units one and three at the Baldwin Power Station in Baldwin, Illinois and unit two at the Newton Power Station in Newton, Illinois, marking the announced retirement of more than 100,000 megawatts (MW) worth of coal-fired power plants in the U.S. in 2010. This will prevent 100,792 asthma attacks, 9,420 heart attacks and 6,097 premature deaths annually as America continues to shift to a clean energy economy.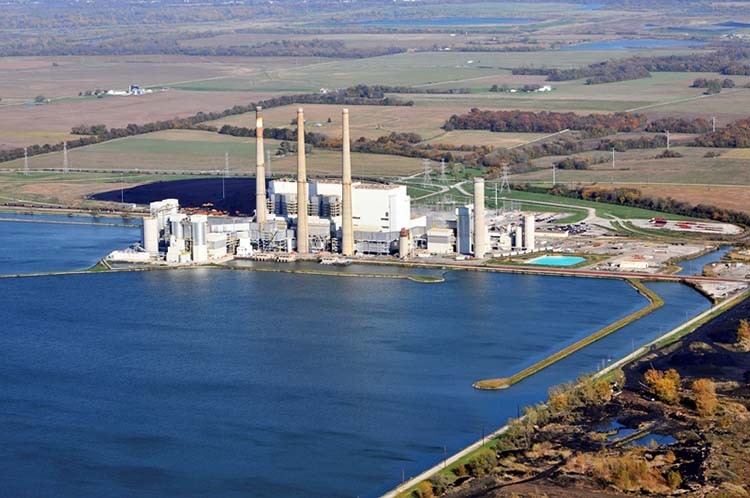 Dynegy's announcement, which retires 1,877 MW of coal capacity, is another example of the quickening speed which the U.S. is moving away from coal and investing in clean energy. Just this week, it was announced that the nation had more than one million solar installations in operation. Since 2008, the Department of Energy (DOE) estimates that U.S. solar installations have grown seventeen-fold, from 1,200 MW to an estimated 27,000 MW today—enough electricity to power 5.4 million homes. DOE has also estimated that U.S. wind energy capacity has increased nearly 16-fold between 2000 and 2010 and is projecting U.S. wind power generation to double in the next five years and power 100 million homes by 2050.
Yesterday's coal retirement milestone comes as a result of unrelenting advocacy by the Sierra Club's Beyond Coal campaign and more than 100 allied organizations to phase out coal and natural gas use in the electric sector over the the next fifteen years—and replace it with clean energy. Coal retirements thus far have already enabled the U.S. to lead the industrialized world in cutting carbon pollution,and have put the U.S. on firm footing to meet its 2020 and new 2025 climate commitments it made in Paris at the end of last year.
"All over the country, people who are sick and tired of having our health and our future threatened by dirty coal have stood up for their health and the future of their communities and won. Because of these victories, our air is cleaner, our families are safer and our clean energy economy is growing," Michael Brune, executive director of the Sierra Club, said. "The retirement of Illinois' Baldwin and Newton coal units are not only a great step forward for public health in the Prairie State, it's a clear sign that we are winning—coal plant by plant—in the effort to transition our communities away from dirty coal electricity. But we're not done—we're mobilizing nationwide because the fight for a fair and just transition from fossil fuels to clean energy is far from done."
Yesterday's announced retirement highlights the great progress of the Sierra Club's Beyond Coal campaign and its allies to phase out coal plants at a rate that has averaged one coal plant announced to retire every ten days since 2010. To date, this coalition has helped announce the retirement of 101,673 MW of coal electricity, which includes 232 coal plants and 662 coal units across the country. As coal plants are retiring at record rates nationwide, states are also making major investments in wind and solar power, fueling the transition to local clean energy economies. In Illinois, for example, there has been a massive build out of clean energy over the past decade, with more than 113,000 workers currently employed in Illinois' clean energy industry today.
"Dynegy's decision to phase out units at these Illinois coal-fired power plants is a signal of the profound shift that's happening right now in America's energy landscape from coal to clean energy," said Jack Darin, director of the Illinois Chapter of the Sierra Club. "As we transition to a clean energy economy, it is essential that we invest in the livelihoods of workers and communities historically dependent on coal and the Sierra Club is committed to working in solidarity to maximize opportunities for the skilled workforce at the plants impacted by Dynegy's announcement."
The three coal units announced to retire late yesterday at the Baldwin and Newton power plants, which total 1,877 MW of electricity, emitted nearly 13 million tons of CO2 in 2009—and enough pollution to cause 128 heart attacks, 1,404 asthma attacks and cost local residents nearly $39 million in healthcare bills annually according to plant-level 2010 estimates by Clean Air Task Force.
In 2010, the pollution from the 100,000 MW of coal capacity now retired or proposed for retirement nationwide caused 9,420 heart attacks, 100,792 asthma attacks and 6,097 deaths each year. The plants emitted more than 420 million metric tons of carbon dioxide pollution in 2009.
"Retiring enough coal to displace the pollution from 89 million cars is more than a major campaign milestone; it is an astonishing victory for public health and climate action," said Antha Williams, environmental program lead at Bloomberg Philanthropies, which has provided $80 million to the Beyond Coal campaign. "In Illinois and across the country, community after community has realized that transitioning to cleaner sources of energy saves consumers money and creates new jobs. No matter where you live, everyone has a right to breathe clean air, which is why the Beyond Coal campaign is continuing to work in communities across the country to transition to a clean energy economy that protects our health and helps tackle the climate crisis."
In the wake of the U.S. Supreme Court's temporary hold on the Clean Power Plan, the 100,000 MW milestone not only shows that the coal industry will continue to decline despite the Court's pause, but it also highlights the industry's responsibility to acknowledge and act on the world's changing energy landscape. As explained in an open letter released by Sierra Club to coal industry executives and energy analysts in late April, coal companies must accurately forecast their downward decline to their investors moving forward—pushing back against recent suggestions by industry leaders that coal was poised for a rebound after Peabody Energy's bankruptcy.
Equally important, coal companies have the additional responsibility of keeping the promises they've made to the workers and communities that have contributed heavily to the industry. As they decline, coal companies must make sure that they completely fund the contractual worker pension and healthcare benefits, as well as abandoned mine cleanup efforts.
As the transition away from coal and toward clean energy continues, the Sierra Club is committed to helping protect the livelihoods of workers and communities traditionally reliant on coal. The organization is working to advance these efforts through the Beyond Coal campaign, its Labor Program and federal policy advocacy—which focus on supporting legislation, like President Obama's Power+ Plan, which help transition coal communities to new opportunities and clean up the toxic legacy of abandoned coal mines.
YOU MIGHT ALSO LIKE
Koch Brothers Struggle to Block Climate Action in State Legislatures
Interactive Map Shows What Powers the World
New Record Set for World's Cheapest Solar, Knocks Coal and Gas Prices Out of the Park
The U.S. Fish and Wildlife Service removed grizzly bears in the Greater Yellowstone region on Thursday from the Endangered Species List. The decision comes despite serious concerns in the scientific community about a declining, isolated population with diminishing food resources and record-high mortalities, as well as strong opposition from an unprecedented number of Tribal Nations.
Keep reading...
Show less
ArborGen pine tree field test site in South Carolina. BJ McManama
By BJ McManama
ArborGen Corporation, a multinational conglomerate and leading supplier of seedlings for commercial forestry applications, has submitted an approval request to the U.S. Department of Agriculture, Animal and Plant Health Inspection Service to deregulate and widely distribute a eucalyptus tree genetically engineered (GE) to be freeze tolerant. This modification will allow this GE variety to be grown in the U.S. Southeast. The reason this non-native and highly invasive tree has been artificially created to grow outside of its tropical environment is to greatly expand production capacity for the highly controversial woody biomass industry.
Keep reading...
Show less
By Kari Hamerschlag
Many health conscious consumers are reducing their consumption of red meat in favor of chicken—especially products labeled and promoted as "100% natural"—believing they are a healthier option produced without routine antibiotics, artificial substances or other drugs.
Keep reading...
Show less
Stephen Hawking repeated his warning that humanity needs to leave Earth and colonize the moon, Mars or other planets in order for our species to survive the impending doom of climate change.
"We have given our planet the disastrous gift of climate change ... When we we have reached similar crises there has usually been somewhere else to colonize ... But there is no new world, no utopia around the corner," he said. "We are running out of space, and the only places to go to are other worlds."
Keep reading...
Show less
www.youtube.com
Keep reading...
Show less
It's so hot in the American Southwest that meteorologists are using unusual colors for their temperature maps.
As reported by MLive's Mark Torregrossa, with temperatures forecast to hit 120 degrees Fahrenheit in the Phoenix area, the folks at weatherbell.com had to use green for its Wednesday map because the other shades were already used.
Keep reading...
Show less
www.facebook.com
Former California Gov. Arnold Schwarzenegger has let the world know that Donald Trump does not represent America in his choice to drop out of the Paris climate agreement.
Despite the president's lack of support for the environment, the rest of America will continue to work towards a brighter and greener future, as Schwarzenegger makes clear in the video above.
An oil and gas drilling platform in Australian waters. CSIRO / Wikimedia Commons
By Paul Brown
Natural gas will have to be phased out along with coal if the world is to be kept safe from dangerous climate change. And that seems likely to have to happen far sooner than most official forecasts, according to a new report.
If countries want to reach their Paris climate agreement goals of limiting the long-term world temperature rise to 1.5°C, then many of the proposals to increase gas production and distribution will be unnecessary. New terminals and pipelines will never be fully used and will become stranded assets.
Keep reading...
Show less
The Dakota Access Pipeline being installed between farms in New Salem, North Dakota. Tony Webster /
Flickr
Keep reading...
Show less


Get EcoWatch in your inbox