This website uses cookies to ensure you get the best experience while browsing it. By clicking 'Got It' you're accepting these terms.
Mainstream Media's 'Disinformation Campaign' On Renewables
Aug. 01, 2013 11:13AM EST
Energy
According to Fox Business reporter Shibani Joshi, renewables are successful in Germany and not in the U.S. because Germany has "got a lot more sun than we do." Sure, California might get sun now and then, Joshi conceded during her now-infamous flub, "but here on the East Coast, it's just not going to work." (She recanted the next day while adding new errors.)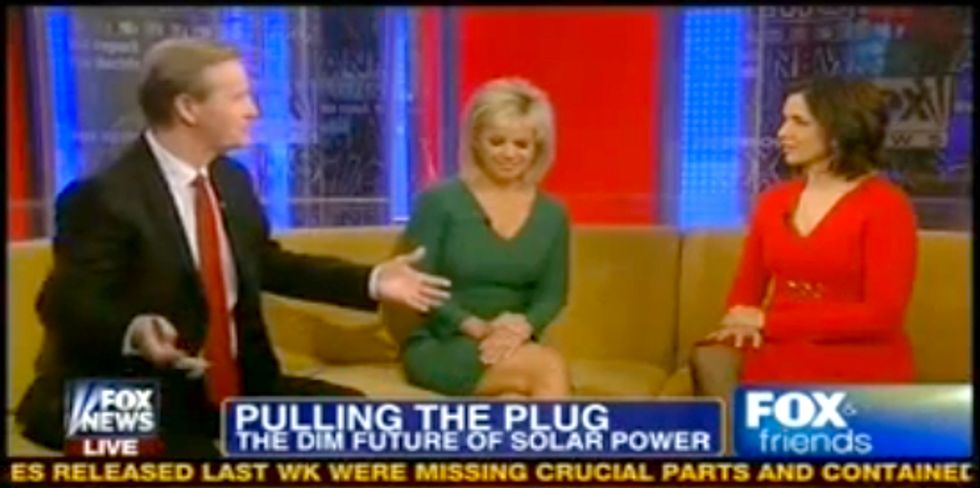 Actually, Germany gets only about as much annual sun as Seattle or Alaska; its sunniest region gets less sun than almost anywhere in the lower 48 states. This underscores an important point: solar power works and competes not only in the sunniest places, but in some pretty cloudy places, too.
A Pervasive Pattern
The Fox Business example is not a singular incident. Some mainstream media around the world have a tendency to publish misinformed or, worse, systematically and falsely negative stories about renewable energy. Some of those stories' misinformation looks innocent, due to careless reporting, sloppy fact checking and perpetuation of old myths.
But other coverage walks—or crosses—the dangerous line of a disinformation campaign: a persistent pattern of coverage meant to undermine renewables' strong market reality. This has become common enough in mainstream media that some researchers have focused their attention on this balance of accurate/positive coverage vs. inaccurate/negative coverage.
Tim Holmes, researcher for the U.K.'s Public Interest Research Centre (PIRC), points out press coverage is important because it can influence not only "what people perceive and believe" but also "what politicians think they believe."
PIRC's 2011 study of renewable energy media coverage surveyed how four of the highest-circulation British daily newspapers reported on renewables during July 2009. A newspaper's balance of positive and negative renewables coverage tended to align with its editorial ideology. The difference was astounding. In one instance, negative coverage of renewables was just 2.5 percent; in another, upwards of 75 percent.
A follow-up 2012 study by public relations consultancy CCGroup examined five of the most-read newspapers in the U.K. during July 2012. Researchers found more than 51 percent of the articles featuring renewables were negative, 21 percent positive.
In case that seems lopsided, the U.K.'s opinion climate is probably the most anti-renewables in any major country. That's largely due to a longstanding campaign by nuclear advocates fearing competition, especially from windpower, whose British resources are the best in Europe. Sir Bernard Ingham, former Chief Press Secretary to Prime Minister Thatcher and later Britain's leading spokesman for nuclear power, reportedly claimed to have personally stopped two-thirds of Britain's windpower projects. At over 80, he's still at it.
Such ideologically correlated bias, and a growing body of misinformed and dis-informational negative media coverage in other countries, prompted the American Council on Renewable Energy (ACORE) in 2012 to launch an Energy Fact Check website for journalists, policymakers and the general public.
Discrediting Job Creation
Charles Lane, a Washington Post opinion writer, proclaimed in October 2012 that "expensive electricity is bad for industry, as Germany is discovering. Fact is, subsidies for green energy do not so much create jobs as shift them around."
Yet a recent study commissioned by Germany's Federal Environment Ministry found that the renewable energy sector provided around 382,000 jobs in 2011, up four percent in a year, and more than doubled in seven years. More jobs have been created than lost in Germany's energy sector—plus any jobs gained as heavy industry moves to Germany for its competitive electricity.
Yet a myth persists that countries lose more jobs then they gain when they transition to renewables. This upside-down fantasy rests largely on a 2009 study from King Juan Carlos University in Spain, by an economist reportedly tied to ExxonMobil, the Heartland Institute and the Koch brothers. His study asserted that, on average, every renewable energy job in Spain destroys 2.2 jobs in the broader Spanish economy. This story was picked up by news media around the world and is still promoted by U.S. anti-renewables groups.
But its methodology and assumptions were promptly demolished by the National Renewable Energy Laboratory and the Spanish government, among others. A 2012 report for the International Labour Organization (ILO) even cites Spain, which built a renewable export industry, as a counterexample: "The green economy presents a good opportunity to increase competitiveness, promote the creation of quality employment and reduce the economy's environmental impact," says Joaquín Nieto, who heads the ILO Office in Madrid, especially "when Spain needs to kick-start its economy."
Sure enough, despite new electricity taxes and a halt to subsidies for new renewable projects, Spain's latest solar projects continue to be built to compete without subsidy.
The disinformation campaign about job creation is not limited to Europe. A Cato Institute article claimed that if people believe a commitment to renewables will fuel job growth "we're in a lot of trouble." Yet in 2012 alone, more than 110,000 new U.S. clean-energy direct jobs were created, and in 2010, the U.S. had more jobs in the "clean economy" than in the fossil-fuel industries.
The Bureau of Labor Statistics (BLS) reports that direct employment in May 2012 totaled 181,580 for oil and gas extraction, 87,520 for coal mining, and 93,200 for iron and steel production. BLS doesn't similarly classify solar or wind jobs, but reputable analysts have determined from bottom-up industry surveys that in September 2012, for example, the U.S. had 119,016 direct solar jobs (89 percent full-time, the rest at least half-time), up 27 percent in two years—more than in steel-making or coal-mining. Had you heard that before? Why not?
The Cost of Disinformation
The sad truth is that the debate on clean and renewable energy is unbalanced, and seldom by accident. The CCGroup's study showed that only 10 percent of articles focusing on renewables even contained comment from a spokesperson from the renewable energy industry.
This violates basic journalistic standards—renewables must be a part of their own conversation. Much of the conversation on renewables is misinformed and misrepresented. And when bad news does happen, says ACORE president and retired U.S. Navy Vice Admiral Dennis McGinn, opponents of renewables are pushing it "as if it's the only news. They are dominating the conversation through misrepresentation, exaggeration, distraction and millions of dollars in lobbying and advertising."
This misleading coverage fuels policy uncertainty and doubt, reducing investment security and industry development. Disinformation hurts the industry and retards its—and our nation's—progress. As Germany has shown, investing in renewables can grow economies and create jobs while cutting greenhouse gas emissions even in a climate as "sunny" as Seattle. We just have to get the facts right, and insist that our reporters and media tell us the truth, the whole truth, and nothing but the truth.
Visit EcoWatch's RENEWABLES page for more related news on this topic.
——–
EcoWatch Daily Newsletter
Coral restoration in Guam. U.S. Pacific Fleet / CC BY-NC 2.0
By Erica Cirino
Visit a coral reef off the coast of Miami or the Maldives and you may see fields of bleached white instead of a burst of colors.
Cracker Lake, Glacier National Park, Montana. Jacob W. Frank / NPS / Flickr
By Jason Bittel
High up in the mountains of Montana's Glacier National Park, there are two species of insect that only a fly fishermen or entomologist would probably recognize. Known as stoneflies, these aquatic bugs are similar to dragonflies and mayflies in that they spend part of their lives underwater before emerging onto the land, where they transform into winged adults less than a half inch long. However, unlike those other species, stoneflies do their thing only where cold, clean waters flow.
Augusta National / Getty Images
By Bob Curley
The new chicken sandwiches at McDonald's, Popeyes, and Chick-fil-A all contain the MSG flavor enhancement chemical.
Experts say MSG can enhance the so-called umami flavor of a food.
The ingredient is found in everything from Chinese food and pizza to prepackaged sandwiches and table sauces.
McDonald's wants to get in on the chicken sandwich war currently being waged between Popeyes and Chick-fil-A.
Protesters march during a "Friday for future" youth demonstration in a street of Davos on Jan. 24 on the sideline of the World Economic Forum annual meeting. FABRICE COFFRINI / AFP / Getty Images
By Andrea Germanos
Youth climate activists marched through the streets of Davos, Switzerland Friday as the World Economic Forum wrapped up in a Fridays for Future demonstration underscoring their demand that the global elite act swiftly to tackle the climate emergency.
chuchart duangdaw / Moment / Getty Images
By Tim Radford
The year is less than four weeks old, but scientists already know that carbon dioxide emissions will continue to head upwards — as they have every year since measurements began — leading to a continuation of the Earth's rising heat.