Mainstream Media Goes Big on Climate Change and Extreme Weather Coverage
By Thomas Bishop and Samantha Wyatt
This week, all four major broadcast networks covered extreme weather and climate change on their Sunday morning political talk shows. Those programs have largely ignored global warming in recent years, making their effort to address the issue unusual and laudable. But several of the segments also demonstrated the vulnerability inherent in treating science as a political debate where both sides receive a platform to air their positions.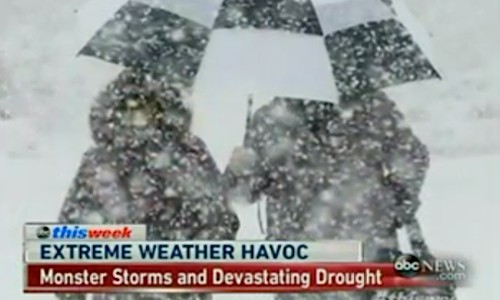 Major winter storms across the U.S. in the month of February, drought in California, and President Obama's call for a $1 billion climate change "resilience fund" sparked debates this week over the need for action against climate change. The science of global warming is settled: according to one survey, 97 percent of climate scientists agree that climate change is real and that "humans are causing global warming." But the Sunday shows, because they are built on a model of showing political conflicts, have difficulty putting that fact in context.
ABC's This Week and NBC's Meet the Press both featured debates between individuals who support and oppose the overwhelming scientific consensus on climate change, creating a false balance that could serve to confuse their viewers. Fox Broadcasting Co.'s Fox News Sunday, meanwhile, hosted a discussion in which no panelist stated that human-caused climate change is occurring while several claimed that it is not. CBS' Face the Nation, by contrast, featured an interview with a scientist who explained that "we know that climate change is happening and humans are contributing."
The broadcast Sunday shows devoted a paltry 27 minutes of coverage to climate change in 2013, according to a Media Matters study. Nearly 60 percent of that coverage came on Face the Nation—Meet the Press did not mention the issue all year. Face the Nation also featured the first interview of a scientist to discuss global warming by any of the programs in five years.
It's a good sign that the Sunday shows are addressing global warming, but treating it as just another political issue causes new complications.
Fox News Sunday: Panel Of Journalists Attack Climate Change Consensus
Fox did not depart from its usual treatment of climate change, as Fox News Sunday host Chris Wallace questioned the legitimacy of President Obama's proposal to establish a Climate Resilience Fund to help prepare communities for the consequences of extreme weather events. Wallace claimed that the president's "case may seem a bit hard to make when the eastern half of the country is in the grips of a brutal winter."
Wallace immediately turned to self-proclaimed climate change denier and Fox News contributor George Will, who said that he doesn't "buy" the president's focus on global warming because "the climate is always changing." Will went on to suggest that President Obama claiming that "the debate is over" on global warming simply proves that "the debate is raging and he's losing it."
Also during the segment, Fox News contributor Kirsten Powers described the importance of climate change as "an article of faith on the left"; The Wall Street Journal's Kimberley Strassel said that activists started referring to "climate change" "when you couldn't prove that there was much global warming anymore ... as the temperature didn't change"; and The Washington Post's Charles Lane referred to climate change as a "rich man's issue."
ABC's This Week: Politicians Debate Scientists On Impact Of Climate Change
ABC's This Week dedicated a panel discussion to extreme weather, which turned to a conversation about climate change after Los Angeles Mayor Eric Garcetti said that severe droughts "are becoming the status quo" in the state.
This Week provided a platform for climatologist Heidi Cullen, who attributed extreme weather events to climate change and specified that "this winter certainly doesn't disprove global warming." She also explained that "January is probably going to come in as one of the top three Januarys on record, and the ten warmest years have all happened since 1998."
However, ABC also offered climate change denier Gov. McCrory (R-NC) a platform to dispute the reality of global warming. When asked about his previous comments that "climate change is in God's hands," McCrory responded that "there is climate change, but I'm not sure you can call it climate warming anymore especially here in the Carolinas." McCrory added that "the big debate is how much of it is man-made and how much will just naturally happen as Earth evolves."
NBC's Meet the Press: Republican Representative Debates Bill Nye
NBC's Meet the Press also devoted a full segment to climate change, which featured science educator Bill Nye and Rep. Blackburn (R-TN), who denies the scientific consensus on global warming.
Host David Gregory opened the segment by stating that the consensus within the scientific community is that climate change is real and caused by humans, and repeatedly refuted Blackburn's claims to the contrary. But because NBC was hosting a climate change denier, the format of the discussion ensured that false claims would enter the debate. Blackburn claimed that "there is not agreement around the fact of exactly what is causing" climate change, said that any increase in carbon in the atmosphere is "very slight," and claimed that "there is not consensus" on climate change among the scientific community. Nye pushed back, citing "overwhelming evidence that the climate is changing. That you cannot tie any one event to that is not the same as doubt about the whole thing."
CBS' Face the Nation: Scientist Explains That "Climate Change Is Happening And Humans Are Contributing"
Unlike its counterparts, CBS did not create false balance during its climate change segment, which featured Dr. Marshall Shepherd, the former head of the American Meteorological Association, about the role of climate change in the winter storms. Shepherd explained to Face the Nation host Bob Schieffer that some evidence exists linking the effects of climate change to harsh winter storms and added that "we know that climate change is happening and humans are contributing":
SCHIEFFER: Well is this something that is happened naturally? Is this a result of things that are happening here on Earth? What's this all about?
DR. SHEPHERD: Yeah, yeah a couple of things. Let me say about that when we get winter weather, cold conditions, you know, you've got some that will say "well why are you guys worried about climate change or global warming, I mean it's cold and snowing?" And I'll say "you know it's winter—its January or February, we get snow storms." That's important—that's like saying because it's night time the sun doesn't exist anymore. On the other hand though, there is evidence, there's some scientific literature that suggests that Jetstream patterns can be affected by the amplified warming that we're seeing up in the Arctic, because of climate change or global warming. Now that's real. We know that climate change is happening and humans are contributing. I'm not quite ready to say that this snow storm we saw this week or last week is caused by global warming or climate change. But one thing I will emphasize, I think that we have forgotten how to be cold or deal with snowstorms because we are seeing so few of these big storms like we've seen and that probably is because of climate warming.
Visit EcoWatch's CLIMATE CHANGE page for more related news on this topic.

Disturbing footage of a snake in Goa, India vomiting an empty soft drink bottle highlights the world's mounting plastic pollution crisis.
Keep reading...
Show less
By Melissa Hellmann
When her eldest son was in elementary school in the Oakland Unified School District, Ruth Woodruff became alarmed by the meals he was being served at school. A lot of it was frozen, processed foods, packed with preservatives. At home, she was feeding her children locally sourced, organic foods.
Keep reading...
Show less
May. 28, 2017 01:33PM EST
Laurie Woolever
By James O'Hare
There are 20 million people in the world facing famine in South Sudan, Somalia, Nigeria and Yemen. In developed nations, too, people go hungry. Venezuela, for instance, is enduring food insecurity on a national level as a result of economic crisis and political corruption. In the U.S., the land of supposed excess, 12.7 percent of households were food insecure in 2015, meaning they didn't know where their next meal would come from.
Keep reading...
Show less
May. 28, 2017 01:22PM EST
Melwater, Greenland ice sheet. Diane Tuft
Artists are taking the climate crisis into frame and the results are emotional, beautiful and stirring.
So you've seen the best climate change cartoons and shared them with your friends. You've showed your family the infographics on climate change and health, infographics on how the grid works and infographics about clean, renewable energy. You've even forwarded these official National Oceanic and Atmospheric Administration graphs that explain the 10 clear indicators of climate change to your colleagues at the office.
Keep reading...
Show less
May. 27, 2017 01:11PM EST
As the Trump administration moves full speed ahead on boosting the oil and fossil fuel industry, opposition to increased pipeline construction is cropping up in different communities around the country.
Keep reading...
Show less
May. 27, 2017 01:02PM EST
Minke whale stranding near Havergate Island in Suffolk. MCGA.
By Simon Evans
Last Saturday, two dead whales washed up on the coast of Suffolk, in eastern England, and a third was spotted floating at sea.
What happened next illustrates how news can spread and evolve into misinformation, when reported by journalists rushing to publish before confirming basic facts or sourcing their own quotes.
Keep reading...
Show less
May. 27, 2017 01:22PM EST
By Monica Amarelo and Paul Pestano
Sun safety is a crucial part of any outdoor activity for kids, and sunscreen can help protect children's skin from harmful ultraviolet rays. Kids often get sunburned when they're outside unprotected for longer than expected. Parents need to plan ahead and keep sun protection handy in their cars or bags.
Keep reading...
Show less
May. 27, 2017 01:02PM EST
By Joe McCarthy
A lot of people take part in community clean-up efforts—spending a Saturday morning picking up litter in a park, mowing an overgrown field or painting a fence.
Keep reading...
Show less