This website uses cookies to ensure you get the best experience while browsing it. By clicking 'Got It' you're accepting these terms.
Mainstream Media 'Balances' Climate Science With Fossil Fuel Funded Propaganda
Oct. 16, 2013 02:59PM EST
Climate
By Shauna Theel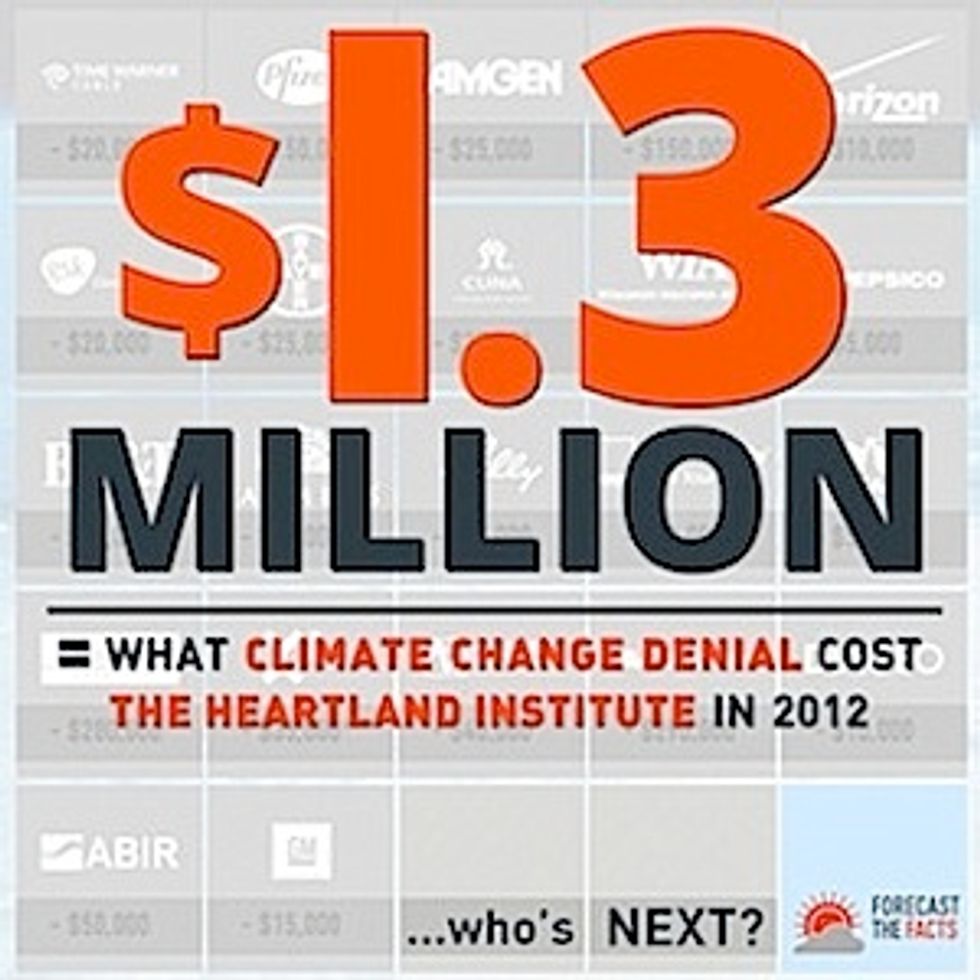 USA TODAY became the latest mainstream newspaper to incorrectly "balance" the views of the hundreds of scientists behind a major climate report with the Heartland Institute, a fossil-fuel-funded organization that once compared those who accept climate science to the Unabomber. In an op-ed published by the newspaper yesterday, the head of the organization portrayed outright falsehoods as simply "opinion" in order to dismiss the United Nations (U.N.) panel behind the report as a "discredited oracle."
The U.N. Intergovernmental Panel On Climate Change (IPCC), which convenes hundreds of top climate experts from around the world to assess the scientific understanding of climate change, stated in its most recent report that scientists are 95 percent certain that the majority of recent warming is manmade, or about as certain as they are that cigarettes kill. This is an increase from just over 50 percent certainty in 1995, and 66 percent certainty in 2001. Yet the head of the Heartland Institute, Joseph Bast, counterfactually suggested in USA TODAY that "we are no more certain about the impact of man-made greenhouse gases than we were in 1990, or even in 1979."
Bast also falsely claimed that the IPCC "admits, but does not explain, why no warming has occurred for the past 15 years." It would be one thing for Bast to claim that he is not convinced by the IPCC's explanation that that the slightly slower rate of atmospheric warming in the last 15 years was likely due to the ocean absorbing much of recent heat, along with other natural factors such as volcanic eruptions. But Bast simply pretended that this explanation does not exist so that he could cling to the myth that short-term variability rebuts the idea of a long-term greenhouse gas signal.
A recent study by Media Matters for America found that The Washington Post and Bloomberg News also turned to Bast, making him one of the most frequently quoted climate doubters in IPCC coverage. The New York Times quoted a report backed by the Heartland Institute. None of these newspapers disclosed that Heartland has recently received funding from the Charles Koch Foundation, backed by the CEO of a corporation with major oil interests, and received funding from ExxonMobil from 1998 to 2006. Nor did they mention factors that might help readers assess the credibility of the Heartland Institute, including that in 2012 the group launched a billboard campaign associating "belief" in global warming with murderers such as Ted Kaczynski, the Unabomber, which they discontinued after backlash from many of their own donors but refused to apologize for.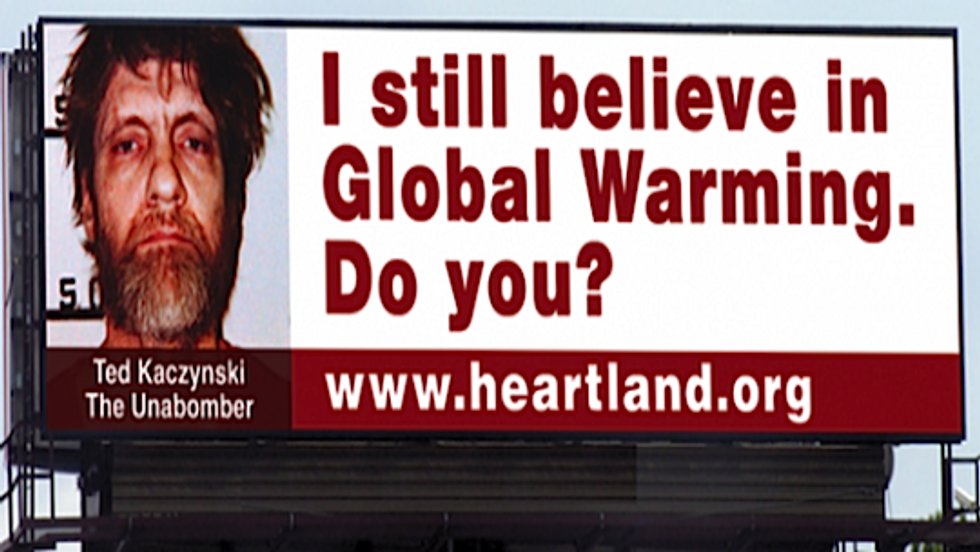 Heartland Institute's background is relevant, as much of the "evidence" that Bast cites in his op-ed came from his own organization—from non-climate scientists associated with Heartland, to a report published by the organization that includes authors that have been directly funded by the fossil fuel industry.
USA TODAY science reporter Dan Vergano suggested in a live chat about a climate change series that the newspaper would not cite organizations such as the Heartland Institute, stating it was mainly those who "know less about climate [who] still indulge in false balance." Perhaps USA TODAY's editorial page editors should meet with its own experts before doing just that.

EcoWatch Daily Newsletter
A new report spotlights a U.N. estimate that at least 275 million people rely on healthy coral reefs. A sea turtle near the Heron Island in the Great Barrier Reef is seen above. THE OCEAN AGENCY / XL CATLIN SEAVIEW SURVEY
In a new report about how the world's coral reefs face "the combined threats of climate change, pollution, and overfishing" — endangering the future of marine biodiversity — a London-based nonprofit calls for greater global efforts to end the climate crisis and ensure the survival of these vital underwater ecosystems.
Half of the extracted resources used were sand, clay, gravel and cement, seen above, for building, along with the other minerals that produce fertilizer. Cavan Images / Cavan / Getty Images
The world is using up more and more resources and global recycling is falling. That's the grim takeaway from a new report by the Circle Economy think tank, which found that the world used up more than 110 billion tons, or 100.6 billion metric tons, of natural resources, as Agence France-Presse (AFP) reported.
By Gero Rueter
Heating with coal, oil and natural gas accounts for around a quarter of global greenhouse gas emissions. But that's something we can change, says Wolfgang Feist, founder of the Passive House Institute in the western German city of Darmstadt.

By George Citroner
Recent research finds that official government figures may be underestimating drug deaths by half.
Researchers estimate that 142,000 people died due to drug use in 2016.
Drug use decreases life expectancy after age 15 by 1.4 years for men and by just under 1 year for women, on average.
Government records may be severely underreporting how many Americans die from drug use, according to a new study by researchers from the University of Pennsylvania and Georgetown University.
Water coolers in front of shut-off water fountains at Center School in Stow, MA on Sept. 4, 2019 after elevated levels of PFAS were found in the water. David L. Ryan / The Boston Globe via Getty Images
In a new nationwide assessment of drinking water systems, the Environmental Working Group found that toxic fluorinated chemicals known as PFAS are far more prevalent than previously thought.