This website uses cookies to ensure you get the best experience while browsing it. By clicking 'Got It' you're accepting these terms.
Lumber Liquidators Sentenced to $13.2 Million for Smuggling Illegal Wood Into the U.S.
Feb. 01, 2016 12:58PM EST
Virginia-based company Lumber Liquidators was sentenced today to $13.2 million in fines and forfeitures for importing illegal wood and submitting false declarations under the Lacey Act, a conservation law that makes it a crime to import plants and animals taken in violation of state and foreign law. In addition, the company has been placed on a five-year probation, during which it must implement a strict environmental compliance plan.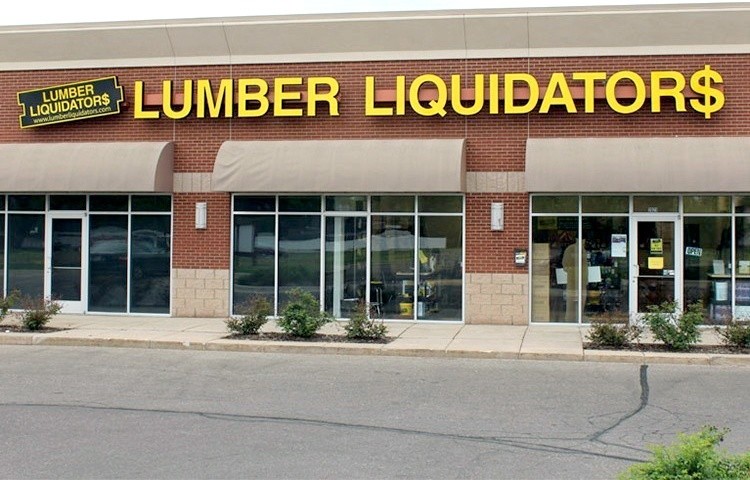 In October 2015, after a two-year investigation by the Department of Justice (DOJ) and U.S. Fish & Wildlife Service, the flooring retailer pleaded guilty to smuggling illegal wood, including one criminal felony of entry of goods by means of false statements and four misdemeanor counts of violating the Lacey Act.
Lumber Liquidators had imported flooring manufactured in China, made from wood that was illegally harvested in the forests of the Russian Far East, the habitat of the world's last remaining wild Siberian tigers.
Environmental Investigation Agency (EIA) first documented Lumber Liquidators' illegal activities in its 2013 report, Liquidating the Forests. Posing as timber buyers, EIA investigators went undercover to expose the illegal timber harvesting and trade in the Russian Far East and traced the wood through China to a company that admitted to illegal logging and paying bribes. The EIA investigation revealed that Lumber Liquidators was the single biggest trading partner of this Chinese company. The subsequent investigation by the DOJ found that Lumber Liquidators committed systemic fraud and sourced illegal timber not only from the Russian Far East but also from Burma.
"This historic criminal sentence against a major U.S. company in relation to the Lacey Act is setting an important precedent: Illegal wood is no longer tolerated in the U.S.," EIA Executive Director Alexander von Bismarck said. "U.S. consumers need to be protected from unknowingly supporting organized crime and the destruction of the world's last virgin forests."
The penalties for Lumber Liquidators' crimes include $7.8 million in criminal fines, $1.23 million Community Service payments, $969,175 in forfeited proceeds and more than $3.15 million in cash through a related civil forfeiture. In order to put in place the mandatory environmental compliance plan, under which all wood imports need to be verified back to the source of harvesting, the company will have to fundamentally transform its sourcing practices and submit itself to government-approved audits.
"The real cost to the company will come from having to forego cheap, stolen wood in its supply chain while the Department of Justice looks over its shoulder," von Bismarck said. "This case sets an important example for the rest of the industry, the business model of buying cheap wood from shady sources doesn't pay anymore."
YOU MIGHT ALSO LIKE
Huge Victory for Environmentalists: Offshore Fracking Moratorium Now in Effect Off California's Coast
The Inside Story of How a University Professor Quietly Collaborated With Monsanto
Michael Moore: 10 Things They Won't Tell You About the Flint Water Tragedy, But I Will
Judge Says Lawsuit Can Move Forward for Lucky the Elephant Who Was Captured From the Wild 53 Years Ago
EcoWatch Daily Newsletter
Offutt Air Force Base after flooding on March 17. U.S. Air Force / TSgt. Rachelle Blake
A regenerating stand of rainforest in northern Costa Rica. Matthew Fagan / CC BY-ND
By Matthew Fagan, Leighton Reid and Margaret Buck Holland
Tropical forests globally are being lost at a rate of 61,000 square miles a year. And despite conservation efforts, the global rate of loss is accelerating. In 2016 it reached a 15-year high, with 114,000 square miles cleared.
At the same time, many countries are pledging to restore large swaths of forests. The Bonn Challenge, a global initiative launched in 2011, calls for national commitments to restore 580,000 square miles of the world's deforested and degraded land by 2020. In 2014 the New York Declaration on Forests increased this goal to 1.35 million square miles, an area about twice the size of Alaska, by 2030.
Compassion Over Killing
By Cheryl Leahy
Do you think almond milk comes from a cow named Almond? Or that almonds lactate? The dairy industry thinks you do, and that's what it's telling the Food and Drug Administration (FDA).
For years, the dairy industry has been flexing its lobbying muscle, pressuring states and the federal government to restrict plant-based companies from using terms like "milk" on their labels, citing consumer confusion.
By Jeremy Deaton
A driver planning to make the trek from Denver to Salt Lake City can look forward to an eight-hour trip across some of the most beautiful parts of the country, long stretches with nary a town in sight. The fastest route would take her along I-80 through southern Wyoming. For 300 miles between Laramie and Evanston, she would see, according to a rough estimate, no fewer than 40 gas stations where she could fuel up her car. But if she were driving an electric vehicle, she would see just four charging stations where she could recharge her battery.
d3sign / Moment / Getty Images
Common sense should not be taken for granted when people are discussing nutrition.
A fire erupted Sunday at a petrochemical plant in Deer Park, Texas.
NowThis News / YouTube screenshot
By Andrea Germanos
A petrochemical plant near Houston continued to burn for a second day on Monday, raising questions about the quality and safety of the air.

The Deer Park facility is owned by Intercontinental Terminals Company (ITC), which said the fire broke out at roughly 10:30 a.m. Sunday. Seven tanks are involved, the company said, and they contain naptha, xylene, "gas blend stocks" and "base oil."
"It's going to have to burn out at the tank," Ray Russell, communications officer for Channel Industries Mutual Aid, which is aiding the response effort, said at a news conference. It could take "probably two days" for that to happen, he added.
The hillsides dyed orange with poppies may look like something out of a dream, but for the Southern California town of Lake Elsinore, that dream quickly turned into a nightmare.
The town of 66,000 people was inundated with around 50,000 tourists coming to snap pictures of the golden poppies growing in Walker Canyon as part of a superbloom of wildfires caused by an unusually wet winter, BBC News reported. The visitors trampled flowers and caused hours of traffic, The Guardian reported.
The Humane Society of the United States uncovered a one-year pesticide test on 36 beagles contracted by Dow AgroSciences at a Michigan lab.
The Humane Society of the United States / YouTube screenshot
A controversial pesticide test that would have resulted in the deaths of 36 beagles has been stopped, the Humane Society of the United States (HSUS) and the company behind the test announced Monday. The announcement comes less than a week after HSUS made the test public when it released the results of an investigation into animal testing at Charles River Laboratories in Michigan.
"We have immediately ended the study that was the subject of attention last week and will make every effort to rehome the animals that were part of the study," Corteva Agriscience, the agriculture division of DowDupont, said in a statement announcing its decision.