Louisiana Legislature Approves State's 2012 Coastal Master Plan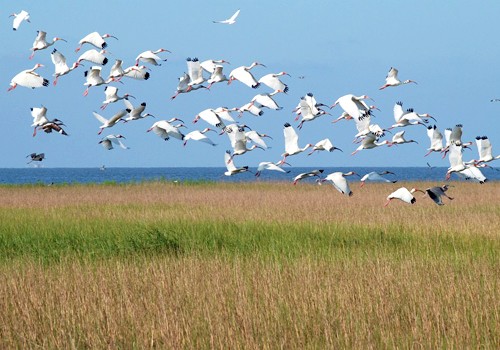 Local and national conservation groups praised the state legislature today for unanimously approving the 2012 Louisiana Coastal Master Plan, a 50-year blueprint for restoring Louisiana's rapidly disappearing coastal wetlands and protecting the state's natural resources and communities. The groups also commended the state's Coastal Protection and Restoration Authority for drafting the plan to reflect a comprehensive, science-based vision that realistically addresses the range of possibilities for restoring and protecting the coast.
"The 2012 Coastal Master Plan illustrates the type of bold, decisive action needed to build a more secure future for coastal Louisiana's communities, industries and wildlife," said a joint statement by Coalition to Restore Coastal Louisiana, Environmental Defense Fund, Lake Pontchartrain Basin Foundation, National Audubon Society and National Wildlife Federation. "We must restore the Mississippi River's ability to build and sustain our wetlands and barrier islands, which provide us with critical natural resources and a first line of defense against hurricanes."
"As we applaud the state Legislature for its leadership and commitment to restoration, we must also now begin the difficult task of funding critical elements of the plan," the groups continued. "The $50 billion necessary to achieve the state's vision of restoration is far from guaranteed, but it is vital for securing our future. Now more than ever, Louisiana is truly unified in addressing the coastal issues moving forward. Now it is time for Congress to pass the RESTORE Act, so that we can work toward not just recovery from the oil spill but also long-term coastal resiliency."
The RESTORE Act, currently making its way through Congress, would dedicate 80 percent of Clean Water Act penalties from the gulf oil disaster toward Gulf Coast environmental and economic restoration. These funds could be used to jump start the development of restoration projects in the Coastal Master Plan, which is expected to cost $50 billion over the next fifty years.
The suite of projects outlined in the plan has received widespread support from a diverse array of coastal advocates, stakeholders, parish officials and communities. Additionally, a recent poll conducted by Baton Rouge-based Southern Media & Opinion Research revealed that an overwhelming majority of Louisiana voters recognizes the value of our wetlands, natural resources and coastal infrastructure to the state's future.
For more information, click here.
www.youtube.com
President Trump visited Cedar Rapids, Iowa on June 21 to speak to a large crowd in the U.S. Cellular Center at a political rally organized by his campaign.
As Trevor Noah noted during The Daily Show episode last night (starts at 2:25), the real reason Trump has these rallies is to "get back in front of his loyal crowds and feed of their energy." Noah believes that "Trump supporters are so on board with their dude he can say anything and they'll come along for the ride."
Keep reading...
Show less
www.youtube.com
By Andy Rowell
Any day now we will truly witness climate change in action. Within days at worst, maybe weeks at best, scientists predict that a huge section of the Larsen C ice shelf in Antarctica will break off into the ocean, in what is called a major "carving" event.
Keep reading...
Show less
www.facebook.com
By Francine Kershaw
Seismic airguns exploding in the ocean in search for oil and gas have devastating impacts on zooplankton, which are critical food sources for marine mammals, according to a new study in Nature. The blasting decimates one of the ocean's most vital groups of organisms over huge areas and may disrupt entire ecosystems.
And this devastating news comes on the heels of the National Marine Fisheries Service's proposal to authorize more than 90,000 miles of active seismic blasting. Based on the results of this study, the affected area would be approximately 135,000 square miles.
Keep reading...
Show less
By Jill Richardson
Is coconut oil:
good for you
bad for you
neither good nor bad
scientists don't know
The subject of this question is the source of a disagreement. Initially, the question was thought to be settled decades ago, when scientist Ancel Keys declared all saturated fats unhealthy. Coconut oil, which is solid at room temperature, is a saturated fat.
Keep reading...
Show less
The U.S. Fish and Wildlife Service removed grizzly bears in the Greater Yellowstone region on Thursday from the Endangered Species List. The decision comes despite serious concerns in the scientific community about a declining, isolated population with diminishing food resources and record-high mortalities, as well as strong opposition from an unprecedented number of Tribal Nations.
Keep reading...
Show less
ArborGen pine tree field test site in South Carolina. BJ McManama
By BJ McManama
ArborGen Corporation, a multinational conglomerate and leading supplier of seedlings for commercial forestry applications, has submitted an approval request to the U.S. Department of Agriculture, Animal and Plant Health Inspection Service to deregulate and widely distribute a eucalyptus tree genetically engineered (GE) to be freeze tolerant. This modification will allow this GE variety to be grown in the U.S. Southeast. The reason this non-native and highly invasive tree has been artificially created to grow outside of its tropical environment is to greatly expand production capacity for the highly controversial woody biomass industry.
Keep reading...
Show less
By Kari Hamerschlag
Many health conscious consumers are reducing their consumption of red meat in favor of chicken—especially products labeled and promoted as "100% natural"—believing they are a healthier option produced without routine antibiotics, artificial substances or other drugs.
Keep reading...
Show less
Jun. 22, 2017 04:26PM EST
Stephen Hawking repeated his warning that humanity needs to leave Earth and colonize the moon, Mars or other planets in order for our species to survive the impending doom of climate change.
"We have given our planet the disastrous gift of climate change ... When we we have reached similar crises there has usually been somewhere else to colonize ... But there is no new world, no utopia around the corner," he said. "We are running out of space, and the only places to go to are other worlds."
Keep reading...
Show less
Jun. 22, 2017 02:28PM EST
www.youtube.com
Keep reading...
Show less


Get EcoWatch in your inbox