Loss of Large Carnivores Poses Global Conservation Problem
In ecosystems around the world, the decline of large predators such as lions, dingoes, wolves, otters and bears is changing the face of landscapes from the tropics to the Arctic—but an analysis of 31 carnivore species to be published today in the journal Science shows for the first time how threats such as habitat loss, persecution by humans and loss of prey combine to create global hotspots of carnivore decline.
More than 75 percent of the 31 large-carnivore species are declining, and 17 species now occupy less than half of their former ranges, the authors reported.
Southeast Asia, southern and east Africa and the Amazon are among areas in which multiple large carnivore species are declining. With some exceptions, large carnivores have already been exterminated from much of the developed world, including Western Europe and the eastern U.S.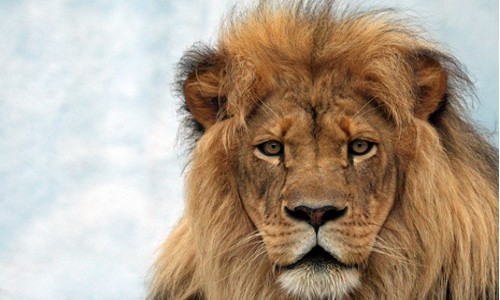 Photo courtesy of Shutterstock
"Globally, we are losing our large carnivores," said William Ripple, lead author of the paper and a professor in the department of Forest Ecosystems and Society at Oregon State University.
"Many of them are endangered," he said. "Their ranges are collapsing. Many of these animals are at risk of extinction, either locally or globally. And, ironically, they are vanishing just as we are learning about their important ecological effects."
Ripple and colleagues from the U.S., Australia, Italy and Sweden called for an international initiative to conserve large predators in coexistence with people. They suggested that such an effort be modeled on the Large Carnivore Initiative for Europe, a nonprofit scientific group affiliated with the International Union for the Conservation of Nature.
The researchers reviewed published scientific reports and singled out seven species that have been studied for their widespread ecological effects or "trophic cascades." This includes African lions, leopards, Eurasian lynx, cougars, gray wolves, sea otters and dingoes.
Ripple and his Oregon State co-author Robert Beschta have documented impacts of cougars and wolves on the regeneration of forest stands and riparian vegetation in Yellowstone and other national parks in North America. Fewer predators, they have found, lead to an increase in browsing animals such as deer and elk. More browsing disrupts vegetation, shifts birds and small mammals and changes other parts of the ecosystem in a widespread cascade of impacts.
Studies of Eurasian lynx, dingoes, lions and sea otters have found similar effects, the authors reported.
Lynx have been closely tied to the abundance of roe deer, red fox and hare. In Australia, the construction of a 3,400-mile dingo-proof fence has enabled scientists to study ecosystems with and without the animals, which are closely related to gray wolves. In some parts of Africa, the decrease of lions and leopards has coincided with a dramatic increase in olive baboons, which threaten farm crops and livestock. In the waters off southeast Alaska, a decline in sea otters through killer whale predation has led to a rise in sea urchins and loss of kelp beds.
The authors call for a deeper understanding of the impact of large carnivores on ecosystems, a view that they trace back to the work of landmark ecologist Aldo Leopold. The classic concept that predators are harmful and deplete fish and wildlife is outdated, they said. Scientists and wildlife managers need to recognize a growing body of evidence for the complex roles that carnivores play in ecosystems and for their social and economic benefits.
Leopold recognized such relationships between predators and ecosystems, Ripple said, but his observations on that point were largely ignored for decades after his death in 1948.
"Human tolerance of these species is a major issue for conservation," Ripple said. "We say these animals have an intrinsic right to exist, but they are also providing economic and ecological services that people value."
Among the services that have been documented in other studies are carbon sequestration, riparian restoration, biodiversity and disease control.
Where large carnivores have been restored—such as wolves in Yellowstone or Eurasian lynx in Finland—ecosystems have responded quickly, said Ripple. "I am impressed with how resilient the Yellowstone ecosystem is. It isn't happening quickly everywhere, but in some places, ecosystem restoration has started there."
In those cases, where loss of vegetation has led to soil erosion, for example, full restoration in the near term may not be possible, he said.
"Nature is highly interconnected," said Ripple. "The work at Yellowstone and other places shows how one species affects another and another through different pathways. It's humbling as a scientist to see the interconnectedness of nature."
Visit EcoWatch's BIODIVERSITY page for more related news on this topic.

Disturbing footage of a snake in Goa, India vomiting an empty soft drink bottle highlights the world's mounting plastic pollution crisis.
Keep reading...
Show less
By Melissa Hellmann
When her eldest son was in elementary school in the Oakland Unified School District, Ruth Woodruff became alarmed by the meals he was being served at school. A lot of it was frozen, processed foods, packed with preservatives. At home, she was feeding her children locally sourced, organic foods.
Keep reading...
Show less
May. 28, 2017 01:33PM EST
Laurie Woolever
By James O'Hare
There are 20 million people in the world facing famine in South Sudan, Somalia, Nigeria and Yemen. In developed nations, too, people go hungry. Venezuela, for instance, is enduring food insecurity on a national level as a result of economic crisis and political corruption. In the U.S., the land of supposed excess, 12.7 percent of households were food insecure in 2015, meaning they didn't know where their next meal would come from.
Keep reading...
Show less
May. 28, 2017 01:22PM EST
Melwater, Greenland ice sheet. Diane Tuft
Artists are taking the climate crisis into frame and the results are emotional, beautiful and stirring.
So you've seen the best climate change cartoons and shared them with your friends. You've showed your family the infographics on climate change and health, infographics on how the grid works and infographics about clean, renewable energy. You've even forwarded these official National Oceanic and Atmospheric Administration graphs that explain the 10 clear indicators of climate change to your colleagues at the office.
Keep reading...
Show less
May. 27, 2017 01:11PM EST
As the Trump administration moves full speed ahead on boosting the oil and fossil fuel industry, opposition to increased pipeline construction is cropping up in different communities around the country.
Keep reading...
Show less
May. 27, 2017 01:02PM EST
Minke whale stranding near Havergate Island in Suffolk. MCGA.
By Simon Evans
Last Saturday, two dead whales washed up on the coast of Suffolk, in eastern England, and a third was spotted floating at sea.
What happened next illustrates how news can spread and evolve into misinformation, when reported by journalists rushing to publish before confirming basic facts or sourcing their own quotes.
Keep reading...
Show less
May. 27, 2017 01:22PM EST
By Monica Amarelo and Paul Pestano
Sun safety is a crucial part of any outdoor activity for kids, and sunscreen can help protect children's skin from harmful ultraviolet rays. Kids often get sunburned when they're outside unprotected for longer than expected. Parents need to plan ahead and keep sun protection handy in their cars or bags.
Keep reading...
Show less
May. 27, 2017 01:02PM EST
By Joe McCarthy
A lot of people take part in community clean-up efforts—spending a Saturday morning picking up litter in a park, mowing an overgrown field or painting a fence.
Keep reading...
Show less