This website uses cookies to ensure you get the best experience while browsing it. By clicking 'Got It' you're accepting these terms.
Look Out Utility Companies: Tesla is Disrupting More Than Just the Auto Industry
Feb. 10, 2015 09:21AM EST
Business
Elon Musk, founder of Tesla Motors, has been leading the way in innovation in the auto industry for more than a decade. The Model S made waves at this year's International Auto Show. Last September, Tesla announced it will build the world's largest battery factory just outside of Reno, Nevada. The company is calling it a "gigafactory," which will produce batteries for cars making their all-electric cars more affordable. But the company also has plans for new products in solar and in-home energy storage.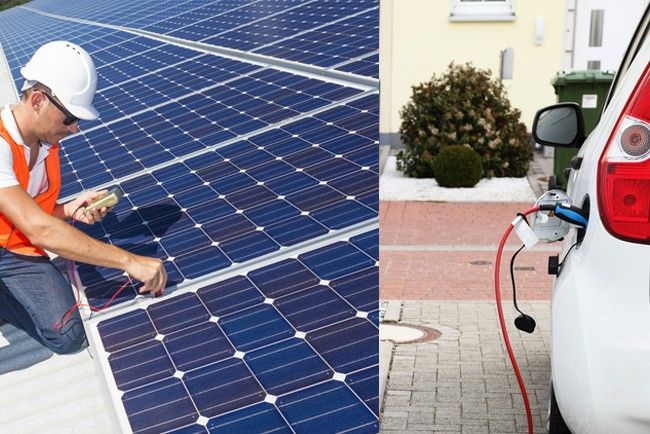 Photo credit: Shutterstock
Tesla will be the most significant competition utility companies have seen in 100 years, according to Adam Allington of Marketplace. Allington spoke with J.B. Straubel, Tesla's chief technology officer, who says, "In a single factory we're doubling the worldwide capacity to manufacture lithium-ion batteries." That will be huge for Tesla's all-electric fleet, but the company also plans to develop batteries for use with solar power generation.
In places such as California where solar is becoming commonplace, there is a huge demand for these batteries. "We sign up approximately one new customer every minute of the workday," Will Craven, director of public affairs at California-based SolarCity, told Allington. Much of the excess energy harnessed by solar panels is returned to the power grid, Cravens says. Homeowners have no control over where that excess energy goes.
But now, in a partnership with SolarCity, Tesla plans to use rooftop solar panels fitted with Tesla's batteries to allow customers to keep that energy in-house. That way, homeowners can use that energy when they want and how they want. It's what investors call a disruptive technology and it puts Tesla in direct competition with utility companies.
"Stationary storage, or backup storage, is really being considered the 'Holy Grail' of renewable electricity generation," Ben Kallo, an analyst with the Robert W. Baird financial services firm, told Marketplace. With the ability to store energy, renewable energy sources can compete head-to-head with utility companies for customers, according to Kallo.
Musk has never been afraid of the competition. Tesla released its patents in an unprecedented move to advance electric vehicles. When asked at the International Auto Show if he was worried that so many other car companies were going electric, he said no. The future is in electric vehicles. "Forward-minded utilities might look at Tesla's business model as an opportunity," says Kallo. "Energy-storage technology could be used to build capacity in their existing grids and also to build new infrastructure for battery-powered cars and homes."
YOU MIGHT ALSO LIKE
Tesla and Toyota Driving Innovation Far Beyond Electric Cars
World's Biggest Car Company Says No to Gasoline, Yes to Hydrogen
EcoWatch Daily Newsletter
People carry children on a flooded street in Almoradi, Spain on Sept. 13. JOSE JORDAN / AFP / Getty Images
Large food companies are following in the footsteps of fast-food restaurants such as Burger King and KFC by offering meat alternatives. Getty Images
By Elizabeth Pratt
Hormel, Kellogg's, and Kroger are among the large companies now planning to offer "fake meat" products at grocery stores.
Experts say the trend toward plant-based meats coincides with consumers' desires to eat less meat.
However, experts urge consumers to closely check package labels as a product isn't necessarily healthy just because it's described as plant-based.
In grocery stores and fast-food outlets around the U.S., a revolution is taking place.
Colombia rainforest. Marcel Oosterwijk / CC BY-SA 2.0
Many of us think of the Amazon as an untouched wilderness, but people have been thriving in these diverse environments for millennia. Due to this long history, the knowledge that Indigenous and forest communities pass between generations about plants, animals and forest ecology is incredibly rich and detailed and easily dwarfs that of any expert.
picture-alliance / Newscom / R. Ben Ari
By Wesley Rahn
Plastic byproducts were found in 97 percent of blood and urine samples from 2,500 children tested between 2014 and 2017, according to a study by the German Environment Ministry and the Robert Koch Institute.

Pexels
Medically reviewed by Daniel Bubnis, MS, NASM-CPT, NASE Level II-CSS
Hot yoga has become a popular exercise in recent years. It offers many of the same benefits as traditional yoga, such as stress reduction, improved strength, and flexibility.
Lara Hata / iStock / Getty Images
By SaVanna Shoemaker, MS, RDN, LD
Rice is a staple in many people's diets. It's filling, inexpensive, and a great mild-tasting addition to flavorful dishes.
An image of the trans-alaskan oil pipeline that carries oil from the northern part of Alaska all the way to valdez. This shot is right near the arctic national wildlife refuge. kyletperry / iStock / Getty Images Plus
The Trump administration has initialized the final steps to open up nearly 1.6 million acres of the protected Alaskan National Wildlife Refuge to allow oil and gas drilling.