This website uses cookies to ensure you get the best experience while browsing it. By clicking 'Got It' you're accepting these terms.
Long-Awaited EPA Study on Pebble Mine Finds Potentially Catastrophic Impacts to Bristol Bay Salmon Fisheries
Jan. 15, 2014 03:41PM EST
Completing a three -year scientific peer-reviewed process, the U.S. Environmental Protection Agency (EPA) issued its final Bristol Bay Watershed Assessment today, concluding that Pebble Mine would have "significant" and even "catastrophic" impacts—including the certain dewatering, destruction and pollution of the Bristol Bay watershed.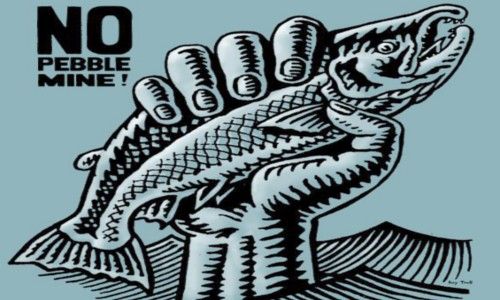 The proposed Pebble Mine would destroy up to 94 miles of streams, devastate up to 5.350 acres of wetlands, ponds and lakes, harm a native lifestyle dependent on subsistence fishing, and threaten a salmon industry that generates $480 million in direct economic expenditures in 2009 and supports 14,000 jobs. The mine faces more than 80 percent local opposition and lost its key funder, Anglo American, last year.
"This is a scientific indictment of the Pebble Mine—or any other large-scale mining in the Bristol Bay watershed," said Joel Reynolds, western director of the Natural Resources Defense Council. "The assessment documents what we've feared for years—Pebble Mine would destroy the world-class wild salmon fishery, cost jobs and endanger the communities and wildlife that depend on it." 
Proposed at the headwaters of the world's greatest wild salmon fishery, Pebble Mine would threaten the region's internationally renowned salmon runs. Every year, an average of 37.5 million wild sockeye salmon return to Bristol Bay, making up nearly half of the world's supply of sockeye salmon. Salmon are the economic, cultural and ecological linchpin of the region, supporting a wild salmon fishery that generates nearly $480 million in direct economic expenditures and employs 14,000 workers, a traditional native subsistence lifestyle, and vibrant wildlife.
The proposed mine would risk this economic, cultural and ecological powerhouse by gouging one of the world's largest gold and copper mines out of the headwaters of Bristol Bay. It would generate up to 10 billion tons of contaminated waste that would have to be stored in perpetuity at the headwaters of the region's famed salmon runs.
"The watershed assessment is objective, clear and grounded in sound science," said Reynolds. "It was conducted over several years and confirms what the residents of the region have long understood: that large scale mining in this place would pose an unacceptable risk."
The EPA's assessment is another hurdle facing the already beleaguered mine. The EPA has taken precaution to ensure that its assessment represents the most comprehensive science regarding large-scale mining in the Bristol Bay watershed. The agency's process has taken more than three years and has involved two rounds of review by independent scientists, numerous public hearings, and two public comment periods that generated more than 1.1 million comments. During the second comment period alone, more than 650,000 people supported the EPA's findings, including 84 percent of Alaskans and 98 percent of Bristol Bay residents who submitted written comments. 
"The time for study is over. It's now up to EPA to take regulatory action to stop the Pebble Mine," Reynolds concluded. "It's time for the EPA to protect American jobs and a vibrant salmon industry by taking action under Section 404(c) of the Clean Water Act to permanently protect the fishery and water resources of Bristol Bay—and the economic engine and environmental, social and cultural resources that they sustain."
Visit EcoWatch's BIODIVERSITY and WATER pages for more related news on this topic.
EcoWatch Daily Newsletter
Lara Hata / iStock / Getty Images
By SaVanna Shoemaker, MS, RDN, LD
Rice is a staple in many people's diets. It's filling, inexpensive, and a great mild-tasting addition to flavorful dishes.
An image of the trans-alaskan oil pipeline that carries oil from the northern part of Alaska all the way to valdez. This shot is right near the arctic national wildlife refuge. kyletperry / iStock / Getty Images Plus
The Trump administration has initialized the final steps to open up nearly 1.6 million acres of the protected Alaskan National Wildlife Refuge to allow oil and gas drilling.
Kaboompics / Pexels
Tensions between lawmakers and several large manufacturing companies came to a head on Capitol Hill this week during a hearing on toxic fluorochemicals in U.S. drinking water.
A male african lion plays with his 4 month old cub at Big Marsh in Serengeti National Park, Tanzania. Nick Garbutt / Barcroft Media / Getty Images
A Florida man has been allowed to import a Tanzanian lion's skin, skull, claws and teeth, a first since the animal was listed as threatened under the Endangered Species Act, according to US Fish and Wildlife Service records uncovered by the Center for Biological Diversity through the Freedom of Information Act.
A fracked natural gas well in northwest Louisiana has been burning for two weeks after suffering a blowout. A state official said the fire will likely burn for the next month before the flames can be brought under control by drilling a relief well.
The universe is expanding much quicker than previously thought, according to researchers in Germany, leading scientists to suggest it may be more than 2 billion years younger than past estimates.