This website uses cookies to ensure you get the best experience while browsing it. By clicking 'Got It' you're accepting these terms.
Local Food Receives Big Economic Boost from Federal Investments
Feb. 29, 2012 05:00PM EST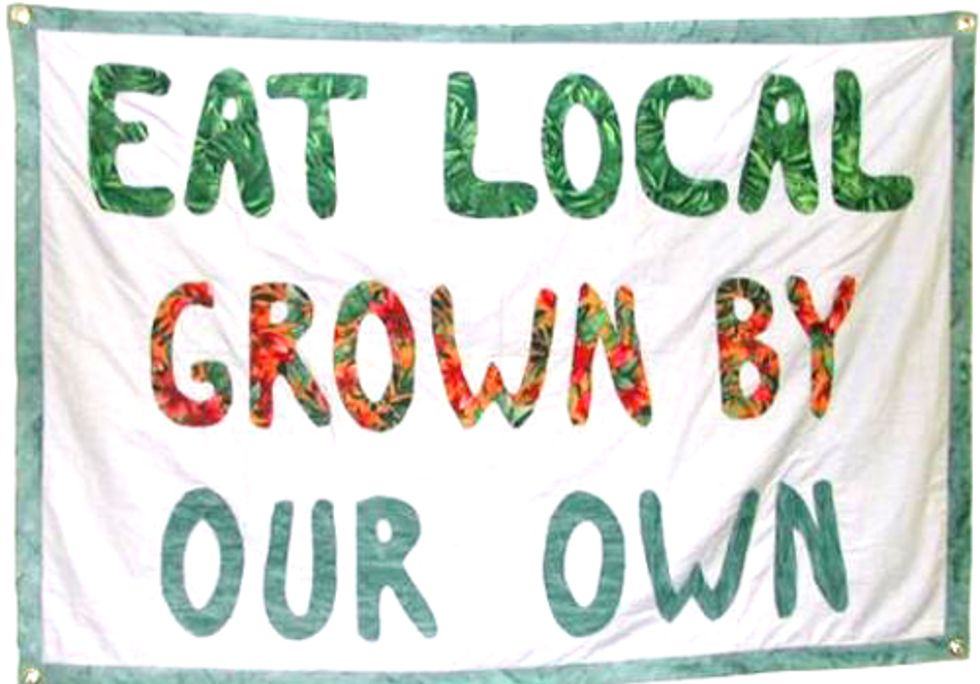 On Feb. 29 the U.S. Department of Agriculture (USDA) released a comprehensive report on its Know Your Farmer, Know Your Food initiative, launched in 2009 to enhance coordination among federal programs that in various ways help to build local and regional farm and food systems.
"This is a very timely report," notes Helen Dombalis, policy associate with the National Sustainable Agriculture Coalition. "The ongoing revitalization of regional farm and food systems depends on the continuation of key 2008 Farm Bill programs whose funding expires later this year if Congress does not act."
The expiring farm bill programs range from Value-Added Producer Grants, which help farmers develop new products and markets while increasing their share of the consumer food dollar, to the Farmers Market Promotion Program, which helps create and expand venues for direct farmer-to-consumer sales of local foods.
Also up for farm bill funding renewal are the Rural Micro-Entrepreneur Assistance Program, National Organic Certification Cost Share Program, Beginning Farmer and Rancher Development Program, Outreach and Assistance for Socially Disadvantaged Farmers and Ranchers, Rural Energy for America Program, Organic Agriculture Research and Extension Initiative, and Specialty Crop Research Initiative.
"Congress should renew and expand funding for these innovative programs in the 2012 Farm Bill," says Dombalis. "Local and regional agriculture is a major new driver in the farm economy. There are very significant emerging market and business opportunities, but major research, infrastructure, and technical assistance gaps need to be filled to reap the full benefit. We need all of the existing farm bill tools available in the future to grow rural jobs and to increase new farming opportunities."
Several bills pending in Congress, including the Local Farms, Food, and Jobs Act and the Beginning Farmer and Rancher Opportunity Act, include provisions to renew funding for these vital programs and to ensure our federal agriculture policy meets the needs of local and regional producers. Both bills are aimed at inclusion in the 2012 Farm Bill and have the support of hundreds of farm, food, and rural organizations nationwide.
Report Contents and the Compass
Know Your Farmer, Know Your Food's primary goals revolve around better using federal resources to boost job creation through a modernization of local and regional farm and food economies. The report details a case study in northeastern Iowa where local food sales catapulted more than one thousand percent in just four years and another in Oklahoma where a group of producers are aggregating, labeling, and cooperatively marketing $70,000 worth of food a month statewide to create an extra income stream. Similar economic ripple effects to improve farm and rural income are found throughout the report.
Food access also plays prominently into the initiative's priorities, which include programs to localize food processing and distribution in ways that reach underserved communities. The USDA Farm to School team has helped spur programs that have increased students' fresh fruit and vegetable consumption by 25 to 84 percent, and Know Your Farmer has also coordinated research to support the development of new "food hubs" which facilitate growers' access to local markets and fair prices.
Along with the report, USDA is releasing an interactive mapping feature called the Know Your Farmer, Know Your Food Compass, which highlights accomplishments of USDA programs and success stories from across the country. The new Web-based tool will provide a visual, state-by-state display of projects and case studies that fall under the umbrella of the initiative.
The initiative does not have a budget of its own. Rather, it uses existing USDA programs and staff to better improve the Department's response to the burgeoning farmer and consumer interest in regional food systems.
Dombalis describes Know Your Farmer, Know Your Food as "government at its best. Programs and services serving local and regional producers are scattered across USDA's various agencies. The Know Your Farmer initiative helps drive vital coordination to improve program delivery."
Both the report and Compass are available on the USDA's website by clicking here.
For more information, click here.
—————
The National Sustainable Agriculture Coalition is a grassroots alliance that advocates for federal policy reform supporting the long-term social, economic, and environmental sustainability of agriculture, natural resources, and rural communities.
EcoWatch Daily Newsletter
The CDC has emphasized that washing hands with soap and water is one of the most effective ways to prevent the spread of COVID-19. Guido Mieth / Moment / Getty Images
The Centers for Disease Control has emphasized that washing hands with soap and water is one of the most effective measures we can take in preventing the spread of COVID-19. However, millions of Americans in some of the most vulnerable communities face the prospect of having their water shut off during the lockdowns, according to The Guardian.
A California newt (Taricha torosa) from Napa County, California, USA. Connor Long /
CC BY-SA 3.0
Aerial photos of the Sierra Nevada — the long mountain range stretching down the spine of California — showed rust-colored swathes following the state's record-breaking five-year drought that ended in 2016. The 100 million dead trees were one of the most visible examples of the ecological toll the drought had wrought.
Now, a few years later, we're starting to learn about how smaller, less noticeable species were affected.
Disinfectants and cleaners claiming to sanitize against the novel coronavirus have started to flood the market.
Natthawat / Moment / Getty Images
Disinfectants and cleaners claiming to sanitize against the novel coronavirus have started to flood the market, raising concerns for the U.S. Environmental Protection Agency (EPA), which threatened legal recourse against retailers selling unregistered products, according to The New York Times.
A customer packs groceries in reusable bags at a NYC supermarket on March 1, 2020. Eduardo Munoz Alvarez/Getty Images
The global coronavirus pandemic has thrown our daily routine into disarray. Billions are housebound, social contact is off-limits and an invisible virus makes up look at the outside world with suspicion. No surprise, then, that sustainability and the climate movement aren't exactly a priority for many these days.
Ingredients are displayed for the Old School Pinto Beans from the Decolonize Your Diet cookbook by Luz Calvo and Catriona Rueda Esquibel. Melissa Renwick / Toronto Star via Getty Images
By Molly Matthews Multedo
Livestock farming contributes to global warming, so eating less meat can be better for the climate.