This website uses cookies to ensure you get the best experience while browsing it. By clicking 'Got It' you're accepting these terms.
Living Oceans Society Condemns Northern Gateway Tar Sands Pipeline
Jul. 23, 2012 02:40PM EST
Energy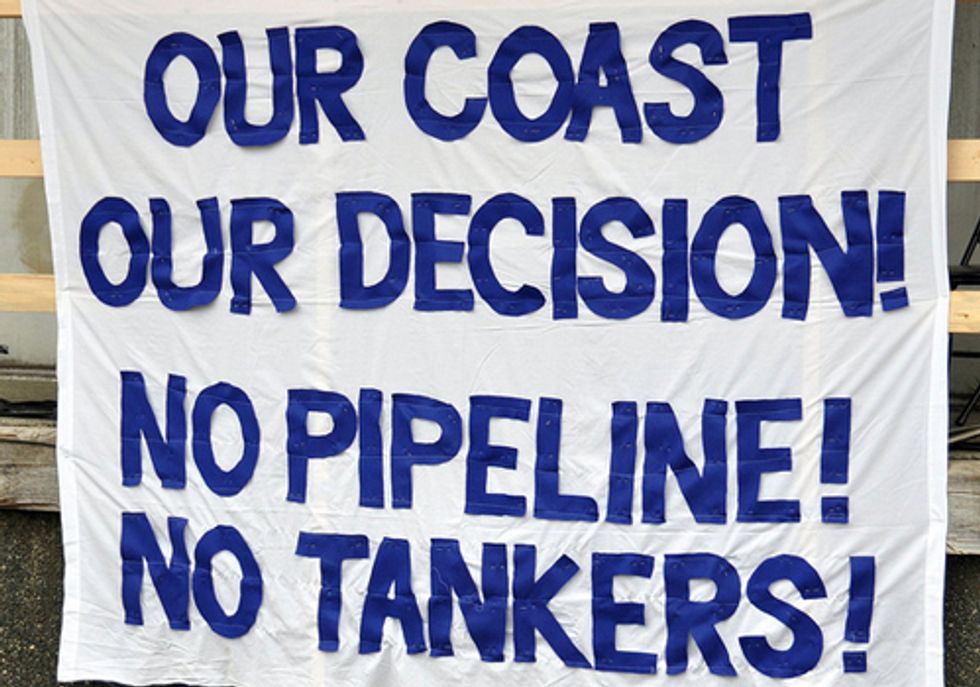 Living Oceans Society today condemned the Christy Clark government's long-awaited announcement of a position on the Enbridge Northern Gateway pipeline and tanker proposal. 
Terry Lake, environment minister of British Columbia, laid out these five requirements that new crude oil pipelines will have to meet before getting provincial approval, according to CBC News:
Successful completion of the environmental review process. In the case of Enbridge, that would mean a recommendation by the National Energy Board Joint Review Panel that the project proceed.
World-leading marine oil-spill response, prevention and recovery systems for B.C.'s coastline and ocean to manage and mitigate the risks and costs of heavy oil pipelines and shipments.
World-leading practices for land oil-spill prevention, response and recovery systems to manage and mitigate the risks and costs of heavy oil pipelines.
Legal requirements regarding aboriginal and treaty rights must be addressed, and First Nations provided with the opportunities, information and resources necessary to participate in and benefit from a heavy-oil project.
British Columbia must receive a fair share of the fiscal and economic benefits of a proposed heavy oil project that reflects the level, degree and nature of the risk borne by the province, the environment and taxpayers.
"World-leading marine oil spill response and recovery systems will do nothing for us in the event of a spill of tarsands bitumen," said Karen Wristen, Living Oceans' executive director. "First, Enbridge needs to establish to the satisfaction of British Columbians that there exists any technology that could clean up such a spill. When diluted bitumen is spilled into water, much of it sinks to the bottom where conventional spill response technology is simply useless."
Diluted bitumen, or dilbit, contains a much higher proportion of heavy asphaltenes and resins than conventional oil. These components do not float on water and are highly resistant to dispersant chemicals.
"The rest of the components of dilbit may float for some time, giving off a toxic cloud of benzene, toluene and hydrogen sulphide that would make oil spill response hazardous," Wristen said. "By the time people could actually get close enough to deploy any kind of surface-cleaning technology, any oil remaining on the surface would be widely dispersed by the action of currents, wind and waves."
Once the heavier components of the dilbit sink to the ocean floor, it is unknown how long they will persist. The bacteria that degrade conventional oils live on the surface of the water. It is expected that the tar-like goo would smother life on the ocean floor wherever it lands.
"The Kalamazoo River spill in July, 2010 gave us clear evidence that the transportation of dilbit is a dangerous experiment that we don't know how to control," said Wristen.  "If a spill were to happen in sensitive near-shore environments, such as the Douglas Channel route into Kitimat, it would impact the entire local ecosystem for decades, perhaps centuries, to come.
Living Oceans has been calling for the Province of British Columbia to withdraw from the federal Joint Review Panel process and conduct an assessment of the real risks for British Columbia, including the risk of increased supertanker traffic in pristine and sensitive North Coast regions.
Visit EcoWatch's ENERGY page for more related news on this topic.
EcoWatch Daily Newsletter
Pexels
By Tim Lydon
Climate-related disasters are on the rise, and carbon emissions are soaring. Parents today face the unprecedented challenge of raising children somehow prepared for a planetary emergency that may last their lifetimes. Few guidebooks are on the shelves for this one, yet, but experts do have advice. And in a bit of happy news, it includes strategies already widely recognized as good for kids.
Pexels
Be it Nina Simone and James Brown for civil rights, Joni Mitchell and Marvin Gaye for the environment, or Jackson Browne and Buffalo Springfield for nuclear disarmament, musicians have long helped push social movements into the limelight.
Yulia Lisitsa / iStock / Getty Images Plus
Collagen is the most abundant protein in your body.
It is the major component of connective tissues that make up several body parts, including tendons, ligaments, skin, and muscles.
Greenpeace activists unfurl banners after building a wood and card 'oil pipeline' outside the Canadian High Commission, Canada House, to protest against the Trudeau government's plans to build an oil pipeline in British Colombia on April 18, 2018 in London. Chris J Ratcliffe / Getty Images
By Jessica Corbett
In an open letter to Canadian Prime Minister Justin Trudeau and Deputy Prime Minister Chrystia Freeland, 42 Nobel laureates implored the federal government to "act with the moral clarity required" to tackle the global climate crisis and stop Teck Resources' proposed Frontier tar sands mine.
Mapping Urban Heat through Portland State University /
video
Concrete and asphalt absorb the sun's energy. So when a heat wave strikes, city neighborhoods with few trees and lots of black pavement can get hotter than other areas — a lot hotter.