Live From New York, It's Donald Trump and ... Larry David
Nov. 08, 2015 10:55AM EST
Politics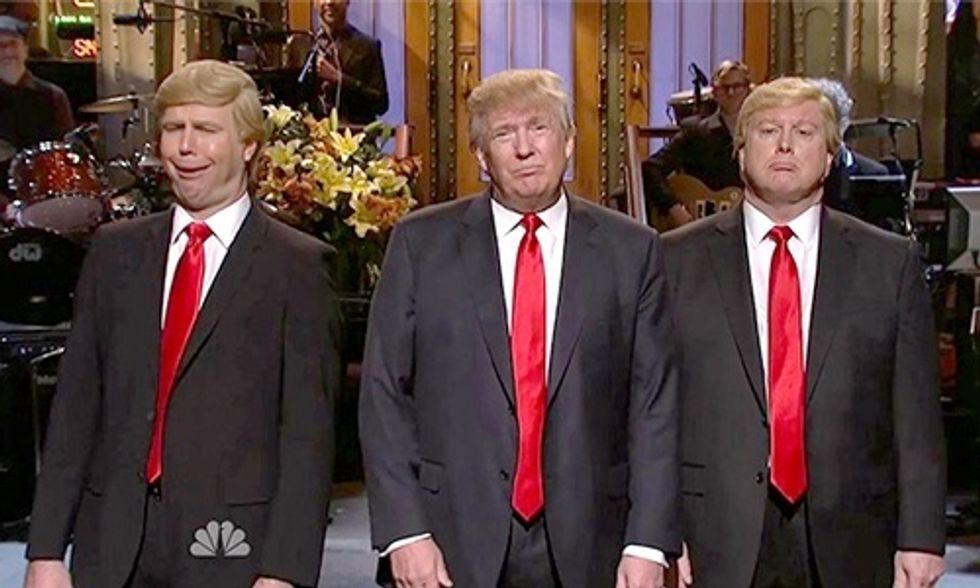 Donald Trump is now the first presidential front-runner to ever host Saturday Night Live (SNL). "A lot of greats have hosted this show, including me in 2004," Trump said as he opened the show while flanked by two SNL Trump imitators. But, before he could even finish his introduction, someone could be heard screaming, "You're a racist!"
The heckler turned out to be Larry David, who appeared as Bernie Sanders on SNL a couple weeks ago in an opening skit on the reenactment of the Democratic debate. Trump, once realizing it was Larry David, said, "What are you doing Larry?"
David replied, "I heard if I yelled that they'd give me $5,000."
"As a businessman I can respect that," Trump conceded.
Watch here:
Larry David couldn't miss this opportunity. #SNL https://t.co/CQ3y2BxUtK

— Saturday Night Live - SNL (@Saturday Night Live - SNL)1446961914.0
David was referring to a Latino group that had offered a $5,000 "bounty" to anyone in the audience who would yell "Trump is a racist" during the NBC broadcast.
The group, DeportRacism.com, said that it would give the money to David: "We are excited to reward the Larry David with $5,000 cash for 'standing up' to Donald Trump on Saturday Night Live and speaking the truth about his anti-Latino racism, even though he was joking."
After the opening skit, Trump then starred in a sketch set in the oval office two years into his first term as president. Watch here:
All this happened while demonstrators yelled outside NBC's Manhattan studios protesting Trump's immigration policies. On Wednesday, the National Council of La Raza, the largest national Latino civil rights and advocacy organization in the country, delivered more than half a million signatures to NBC urging them to #DumpTrump because#RacismIsntFunny.
YOU MIGHT ALSO LIKE
Obama Mocks GOP Presidential Candidates as Climate Deniers and Debate Whiners
Stephen Colbert's Hilarious Takedown of the GOP Debate
Watch This Alarming Video of Ted Cruz Attacking Climate Change as a Religion
Why Donald Trump and Bernie Sanders Are Rock Stars Among the Working Class
EcoWatch Daily Newsletter