This website uses cookies to ensure you get the best experience while browsing it. By clicking 'Got It' you're accepting these terms.


The best of EcoWatch, right in your inbox. Sign up for our email newsletter!
Lisa Jackson's Departure and the Irrelevance of the EPA to the Obama Team
Jan. 04, 2013 01:44PM EST
Climate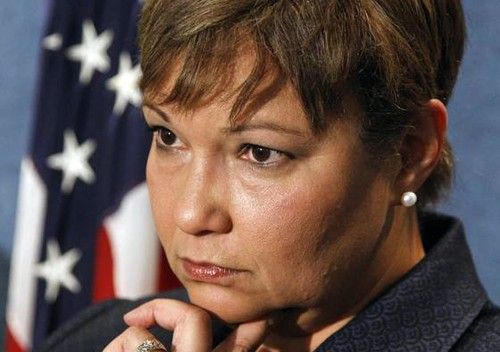 U.S. EPA administrator Lisa Jackson
U.S. EPA administrator Lisa Jackson's imminent departure from her position was a non-event in Washington D.C. in much the same way that the EPA has been an afterthought on the American political scene for at least a generation. I am far from an objective observer of the EPA. I worked for the agency in the late 1970s and early 1980s and worked as a consultant to the EPA for many years since then. It is a great agency filled with talented and dedicated people, but as Administrator Jackson's departure indicates, it is not a player in the power equation in the Obama administration.
While mayors such as Mike Bloomberg think of sustainability as a key element of New York's economic development and act as if they take it seriously, the Obama team is still trading off economic growth against environmental protection. They talk about sustainability, but do not act as if it is a priority. The EPA is still about "end of the pipeline" command and control regulation to make pollution illegal. It is not about figuring out how to make this planet productive enough to support all of us without self-destructing.
Like many lawyers, I assume the president and many of his closest advisors do not understand much about economics and probably even less about sustainability science. The economic policies of this administration have been both conventional and unimaginative. There has been no effort to integrate sustainable resource utilization and technological development into America's economic strategy. "Green jobs" has been a public relations ploy rather than an economic strategy.
Lisa Jackson was an excellent EPA administrator, and she remains a capable environmental professional. She pushed forward on climate change regulation under the Clean Air Act, brought about improved fuel efficiency standards and was an aggressive advocate for a clean environment. But the problem is that the EPA's approach to the environment is embedded in the environment-economic growth trade off. When the White House and the media (not to mention the House Republicans) think of the EPA, they think of it as the anti-growth, eat-your-spinach, don't use that plastic bag, Department of Things We Aren't Allowed to Do. Of course everyone knows that toxic air, water and land must be avoided. And no one wants to end up with the orange air they often have in China these days. So, yes, we have to follow the rules even if they cost us jobs and wealth, because we have to eat our spinach if we want to grow up big and strong.
The sustainability perspective turns all this on its head. The idea, based in part on an engineering field called industrial ecology, is to manufacture goods without emitting pollutants—through the use of closed systems that ensure that all resources end up in some form of production. Sustainability does not trade off environment and wealth, it is built on the premise that the environment is a major source of our wealth. Careful use of natural resources makes a company more efficient and more profitable. Wasting energy and water does not add to a company's profits, market share or return on equity. Walmart requires its vendors to demonstrate sustainability to keep costs down along with environmental impacts. When New York City plants a million trees, it reduces air pollution and global warming, but it also makes the city a more attractive place to live and lifts housing values and tax revenues. When HP collects your toner cartridge and re-manufactures it, it makes rather than loses money on the exchange. Much of New York City's water is filtered by our ecosystem rather than a multi-billion dollar filtration plant.
The paradigm that the EPA operates under assumes inefficient and polluting manufacturing as a given, and then designs retrofits to make sure that the pollution is either minimized or directed away from people. That policy approach made sense in the 20th century and it worked spectacularly well. Until the EPA was created, our pollution levels were rising at a faster rate than GDP growth. By 1980 that had shifted. Our GDP continued to grow, but our air, water and land were getting cleaner.
While the tourniquet stopped the bleeding, it did little to cure the disease. Pollution was exported to developing countries as a global economy and world-wide communication and transport system was put into place. Population, urbanization and economic development grew dramatically as nations such as China, India and Brazil became major economic powers. The issue of resource depletion and destruction moved from the fringes of world politics to the center—except here in the U.S.
This country, in some ways symbolized by the EPA itself, seems stuck in a time warp. In our political culture and media the commies are still fighting the capitalists and the greens are still fighting the growth and jobs crowd. Meanwhile, the Chinese communists are turning into global capitalists, buying up companies all over the world. While America whines about taxes, China builds the world's longest bullet train. More importantly, the emerging Chinese elite understand that for economic development to be sustainable, it must be accomplished without destroying the air, land and water. And it requires a partnership between the public and private sectors.
Here in the U.S. we do not seem to be able to make the leap from environmental protection to environmental and economic sustainability. So Lisa Jackson and her agency do not have a seat at the economic policy table. Her successor won't be invited to dine at the adult table either.
What should we do? Let's try a sustainability strategy. The EPA, parts of the National Science Foundation, and parts of the Departments of Energy, Interior and Agriculture need to be integrated into a single Department or a White House directed Sustainability Task Force. The goal of the new Department or Task Force would be to achieve a rapid transition to a green economy. We need an all hands, well financed effort focused on basic research, infrastructure investment, along with rigorous rules governing resource development, use and pollution. The nation's economic strategy should be built on the transition to a green economy, not undertaken as if the issue can be avoided or ignored.
I would be more than a little surprised to see an idea like this emerge from the ongoing horror movie now playing in our nation's capital. But it's time to move past just protecting the environment. We must protect the environment, because if we don't have clean air, water and food we will get sick and die. But we must also learn to use this planet more effectively for the well-being of all. America has no unit of government focused on integrating environmental protection with economic development. It's time to build one.
Visit EcoWatch's CLEAN AIR ACT and CLEAN WATER ACT pages for more related news on this topic.
-------
Steven Cohen is the executive director of Columbia University's Earth Institute and a Professor in the Practice of Public Affairs at Columbia University's School of International and Public Affairs. He is also Director of the Master of Public Administration Program in Environmental Science and Policy at Columbia University's School of International and Public Affairs and the Director of the Masters of Science in Sustainability Management at Columbia University's School of Continuing Education.
EcoWatch Daily Newsletter
Tim P. Whitby / 21st Century Fox / Getty Images
The beauty products we put on our skin can have important consequences for our health. Just this March, the U.S. Food and Drug Administration (FDA) warned that some Claire's cosmetics had tested positive for asbestos. But the FDA could only issue a warning, not a recall, because current law does not empower the agency to do so.
Michelle Pfeiffer wants to change that.
The actress and Environmental Working Group (EWG) board member was spotted on Capitol Hill Thursday lobbying lawmakers on behalf of a bill that would increase oversight of the cosmetics industry, The Washington Post reported.
By Collin Rees
We know that people power can stop dangerous fossil fuel projects like the proposed Line 3 tar sands oil pipeline in Minnesota, because we've proved it over and over again — and recently we've had two more big wins.

Scientists released a study showing that a million species are at risk for extinction, but it was largely ignored by the corporate news media. Danny Perez Photography / Flickr / CC
By Julia Conley
Scientists at the United Nations' intergovernmental body focusing on biodiversity sounded alarms earlier this month with its report on the looming potential extinction of one million species — but few heard their calls, according to a German newspaper report.
DoneGood
By Cullen Schwarz
Ethical shopping is a somewhat new phenomenon. We're far more familiar with the "tried and tested" methods of doing good, like donating our money or time.
Pixabay
Summer is fast approaching, which means it's time to stock up on sunscreen to ward off the harmful effects of sun exposure. Not all sunscreens are created equally, however.
Mark Wallheiser / Getty Images
The climate crisis is a major concern for American voters with nearly 40 percent reporting the issue will help determine how they cast their ballots in the upcoming 2020 presidential election, according to a report compiled by the Yale Program on Climate Change Communication.
Of more than 1,000 registered voters surveyed on global warming, climate and energy policies, as well as personal and collective action, 38 percent said that a candidate's position on climate change is "very important" when it comes to determining who will win their vote. Overall, democratic candidates are under more pressure to provide green solutions as part of their campaign promises with 64 percent of Democrat voters saying they prioritize the issue compared with just 34 percent of Independents and 12 percent of Republicans.
Flooding in Winfield, Missouri this month. Jonathan Rehg / Getty Images
President Donald Trump has agreed to sign a $19.1 billion disaster relief bill that will help Americans still recovering from the flooding, hurricanes and wildfires that have devastated parts of the country in the past two years. Senate Republicans said they struck a deal with the president to approve the measure, despite the fact that it did not include the funding he wanted for the U.S.-Mexican border, CNN reported.
"The U.S. Senate has just approved a 19 Billion Dollar Disaster Relief Bill, with my total approval. Great!" the president tweeted Thursday.
Reed Hoffmann / Getty Images
Violent tornadoes tore through Missouri Wednesday night, killing three and causing "extensive damage" to the state's capital of Jefferson City, The New York Times reported.
"There was a lot of devastation throughout the state," Governor Mike Parson said at a Thursday morning press conference, as NPR reported. "We were very fortunate last night that we didn't have more injuries than what we had, and we didn't have more fatalities across the state. But three is too many."