Linking Investors to Renewable Energy Opportunities in Emerging Markets Is Key to COP21 Success
By Peyton Fleming
Some of the ingredients for catalyzing clean energy investments in Asia, Africa and other emerging markets have their own unique nomenclature—"blend 2.0," "de-risking" and "national investment catalogues." Yet there is a more straightforward recipe: A mix of national clean energy policies with the needs of institutional investors looking for opportunities that are safe and relatively profitable.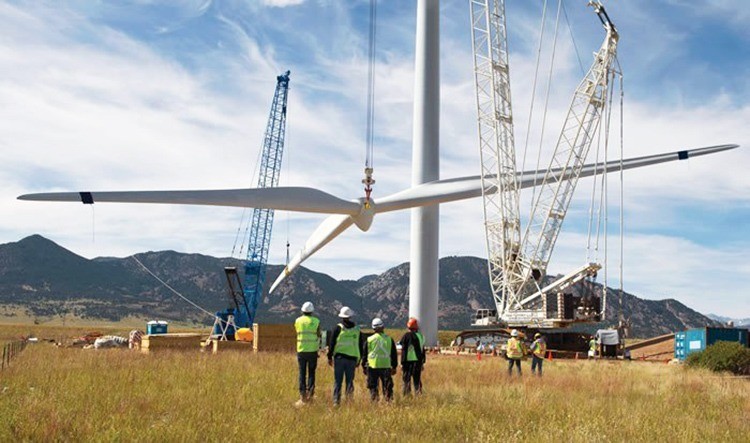 To date, creating this relatively simple blend has been largely elusive. While clean energy investments in developing countries are growing at a rapid clip, it has been done with minimal help from pension funds, insurers and other institutional investors who manage enormous amounts of capital—tens of trillions of dollars among U.S. institutional investors alone.
But the momentum could be changing as clean energy environments are ripening worldwide.
On the heels of another year of record high temperatures and a historic global climate agreement in Paris, investors are opening their eyes to the urgency of shifting significantly more capital to clean energy in developed and developing countries. Developing countries, whether in Asia, Africa or Latin America, are especially in need of capital because their economies, populations and overall carbon footprints are growing far more quickly compared to Europe, the U.S. and other industrialized countries.
Barring major changes, energy-related pollution in developing countries will be more than double that from developed countries by 2040, according to the U.S. Energy Information Administration. The fact that these countries are also working feverishly to provide electricity to the more than one billion people who have no access to power today further exacerbates the challenge.
"If you don't have access to energy, you're not going to see economic growth," said Rachel Kyte, CEO of Sustainable Energy for All, speaking to 500 global investors at the Investor Summit on Climate Risk: Advancing the Clean Trillion, last month at the United Nations. "This has to be a just energy transition where everyone can imagine they will prosper."
For institutional investors, the opportunities are especially enormous after the recent climate accord in Paris, which aims to limit average global temperature rise to well below 2 degrees Celsius. The linchpin of the agreement is the carbon reducing commitments of 187 countries and their pledge to ratchet up those efforts in the years ahead.
But which of these countries have the necessary policy frameworks in place that will induce institutional investors to open their wallets? Is India truly ready to attract the sizeable investment flows it will need to become a solar super power by 2022? To what extent are Sub-Sahara African countries open for business to ever-cheaper wind and solar power over costly, high-polluting diesel generators?
Investors and other speakers at last month's summit, organized by Ceres and the United Nations Foundation, did not mince their words in answering these questions.
For all of Prime Minister Narendra Modi's enthusiasm about developing a mind-boggling 100,000 megawatts of solar by 2022, India's clean energy investment environment faces key hurdles, the biggest being exorbitant capital costs and high currency risks.
"In India, the costs of financing are at least twice as high as they are in the U.S. That means the power is twice as expensive in the places that can least afford it," Dr. Ion Yadigaroglu, partner and managing principal at the Capricorn Investment Group, said.
Still, India is working hard to open its doors. Uday Khemka, vice chairman of the SUN Group, outlined government efforts to "de-bottleneck" investment barriers, citing transparent bidding processes for projects, the use of partial credit guarantees and opening up large swaths of land for "plug-and-play solar parks." Plummeting solar and wind power costs are helping enormously, too, he said.
While India's changes are encouraging, its neighbor, China, "is the rock star of clean energy investment," concluded Bloomberg New Energy Finance (BNEF) founder Michael Liebreich. China was the dominant leader of BNEF's latest annual tally of global clean energy investments, accounting for $110 billion of a record $329 billion in global investments in 2015. The reasons are multifold, including clear, long-term government policies, a relatively stable liquid currency and a wealth of government-controlled sovereign funds to finance projects.
Yet, according to Dr. Guo Peiyuan, co-founder and general manager of SynTao Co., there are big opportunities for institutional investors, especially in green bonds. Dr. Guo said China's newly formed Green Finance Committee will require 2 to 4 trillion yuan of green financing every year ($325 billion to $625 billion), with only 15 percent being covered by the government, the rest by institutional investors. Green bonds will surely be a big part of this gargantuan effort. China's carbon emissions trading system, which is set to go nationwide in 2017, is another opportunity.
While China and India get most of the attention, investors should also be paying attention to smaller emerging markets.
Kyte praised Chile, South Africa and Morocco for putting the necessary policy frameworks in place to catalyze projects and attract capital. Each of these saw healthy double-digit jumps in clean energy investments last year, compared to 2014.
Island nations in the Caribbean are moving aggressively to attract investors for solar grids, geothermal and other clean energy projects. A few months ago, St. Kitts and Nevis signed a power purchase agreement to develop 10 megawatts of geothermal energy as an alternative to relying on costly, high-polluting diesel fuel. A second phase of the project will boost the facility's output to 150 megawatts. Other Caribbean islands are building solar grids for the same reason.
The 1,200 islands that make up the Maldives in the Indian Ocean are also putting strong renewable energy programs in place. Among those taking advantage is the Danish pension fund, Pension Danmark, which has invested $25 million in a project that will use solar power to turn salt water into freshwater.
"It's a small investment, but it's very scalable (for islands)," Pension Danmark Director Jens-Christian Stougaard said, which is also investing in a 300-megawatt wind farm in Kenya through the Danish Climate Investment Fund, which is focused entirely on climate investing in developing economies.
No doubt, there is a special sauce to tapping clean energy opportunities in emerging markets. In its simplest form, countries and institutional investors must be willing to work together.
"Having that local engagement, that local connection, is pivotal to have success," Stougaard said. "When we invest together with government entities, we have much better protection of regulatory and political risks."
YOU MIGHT ALSO LIKE
Kelly Slater: World's 'Best Man-Made Wave' Is Powered 100% by the Sun
World's Largest Offshore Wind Farm Will Power More Than 1 Million Homes
Morocco Flips Switch on First Phase of World's Largest Solar Plant
This School District Could Save Millions by Switching to 100% Solar
Will Rose / Greenpeace
Eleven peaceful activists from the Greenpeace ship Arctic Sunrise have taken to the water in inflatable boats with handheld banners to oppose the Statoil Songa Enabler oil rig, 275 km North off the Norwegian coast, in the Arctic Barents sea.
The banners say: "People Vs. Arctic Oil" and are directed at Statoil and the Norwegian government, which has opened a new, aggressive search for oil in the waters of the Barents Sea.
Keep reading...
Show less
Jul. 21, 2017 10:34AM EST
Dominion Pipeline Monitoring Coalition
The Federal Energy Regulatory Commission (FERC) paved the way Friday for the 600-mile, 42-inch fracked gas Atlantic Coast Pipeline to proceed when it issued the final environmental impact statement (FEIS). A joint project of utility giants Duke Energy and Dominion Energy, the Atlantic Coast Pipeline would move fracked gas from West Virginia into Virginia and North Carolina.
In April, the Sierra Club submitted more than 500 pages of legal and technical comments on FERC's draft EIS, which were joined by more than 18,000 individual comments detailing opposition to the project. The pipeline has been met with widespread opposition, with more than 1,000 people participating in public hearings across the three affected states. The Sierra Club recently requested that FERC issue a new environmental review document analyzing information that came in after or late in, the public comment process.
Keep reading...
Show less
Jul. 21, 2017 08:25AM EST
Greenpeace / PolluterWatch
By Jessica Corbett
"It's time Rex Tillerson step down or be removed," said Gigi Kellett of Corporate Accountability International, following an announcement on Thursday that ExxonMobil will pay $2 million for violating U.S. sanctions against Russian officials while the now-secretary of state was the company's CEO.
"ExxonMobil demonstrated reckless disregard for U.S. sanction requirements," according to enforcement filing released by the Treasury Department's Office of Foreign Assets Control (OFAC), which issued the penalty. Though the fine is reportedly the maximum penalty allowed, it's pittance to one of the world's most profitable and powerful corporations, which last year reported a profit of $7.8 billion.
Keep reading...
Show less
Jul. 21, 2017 11:15AM EST
New analysis from Amory B. Lovins debunks the notion that highly unprofitable, economically distressed nuclear plants should be further subsi­dized to meet financial, security, reliability and climate goals. The analysis, which will appear shortly in The Electricity Journal, shows that closing costly-to-run nuclear plants and reinvesting their saved operating costs in energy efficiency provides cheaper elec­tricity, increases grid reliability and security, reduces more carbon, and preserves (not distorts) market integrity—all without subsidies.

Keep reading...
Show less
Jul. 21, 2017 08:44AM EST
Oil Change International / Twitter
By Christian Detisch and Seth Gladstone
In the wake of Senate Republicans' ever-deepening debacle over their flailing attempts to strip health insurance from 22 million people, Majority Leader Mitch McConnell is desperate to do something—anything—to show that he can get legislation passed. To this end, he's bypassing the standard committee review process to push a complex 850+ page energy bill straight to the full Senate floor. Perhaps not surprisingly, this legislation, the Energy and Natural Resources Act of 2017, would be a disaster for public health and our climate.
Keep reading...
Show less
Jul. 21, 2017 08:11AM EST
Rooftop solar panels on a beach house in southern Florida. TAI VIINIKKA / CC BY-NC-ND 2.0
A new law passed this week in South Miami will require all new homes built in the city to install solar panels. The measure, which was inspired by a proposal from a teenage climate activist, will go into effect in September.
The text of the ordinance details the climate impacts facing South Miami.
Keep reading...
Show less
Jul. 21, 2017 10:27AM EST
www.youtube.com
Keep reading...
Show less
Jul. 21, 2017 08:49AM EST
iStock
By Katherine Paul and Ronnie Cummins
A recent series of articles by a Washington Post reporter could have some consumers questioning the value of the U.S. Department of Agriculture's (USDA) organic seal. But are a few bad eggs representative of an entire industry?
Consumers are all for cracking down on the fraudulent few who, with the help of Big Food, big retail chains and questionable certifiers give organics a bad name. But they also want stronger standards, and better enforcement—not a plan to weaken standards to accommodate "Factory Farm Organic."
Keep reading...
Show less