This website uses cookies to ensure you get the best experience while browsing it. By clicking 'Got It' you're accepting these terms.
Light Rail Benefits Economy and Environment—Why Oppose It?
Nov. 15, 2013 02:56PM EST
Business
By Rob Perks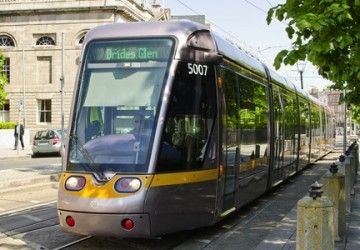 Photo courtesy of Shutterstock
I recently returned from a transportation conference in Raleigh, North Carolina on the economic benefits of building a light rail system to connect the Triangle region (Raleigh, Durham, Chapel Hill). The event—dubbed the "Transit Makes $ense" summit—was organized by the area's leading "good growth" advocacy group WakeUP Wake County.
The event featured more than 250 attendees, ranging from corporate executives and civic leaders to elected officials and planning experts. There was lots of press coverage leading up to the event and this great article that followed: Road Worrier: New urban workers want rail transit.

But in the wake of WakeUP's summit, the critics of the proposed light rail network connecting communities in the Triangle have started to have their say. Outside "experts" brought in by local transit opponents contend that while the roads are congested, Raleigh is just not crowded enough to warrant train travel.
Even more ridiculous, the local newspaper opined that the trend toward denser development and more compact communities means there may be less need to enhance the transportation system with rail or roads.
Let's untangle those two points, shall we? First, when it comes to population density the numbers don't lie. Raleigh is one of the fastest growing metropolitan areas not just in North Carolina but in the nation. Add the other sides of the Triangle—Chapel Hill and Durham—and it's easy to see why such a populated region suffers from heavy traffic.
Already, the voters of Durham and Orange (where Chapel Hill is) have passed ballot measures to raise taxes a modest amount to pay for expanding bus service and building a regional light rail system. But a couple of conservative Wake County commissioners are blocking a similar ballot measure from going up for a vote. (Why? Because they're afraid voters will pass it, of course!) Until or unless Raleigh gets on board, the light rail system can't happen because Wake County is the missing piece of the puzzle.
As for denser development somehow negating the need for transit, you really can't have one without the other. The point of walkable communities is to enable people to get around without having to drive everywhere. A light rail system would allow people living in such communities to be conveniently connected by rail, thereby lessening their reliance on roads to travel around the region. Moreover, light rail actually spurs that type of development. Folks in Raleigh need to look no further than Charlotte, where the light rail system that opened in 2007 has sparked a building boom of mixed-use development and $1.6 billion in economic impact all along the line.
What the naysayers in Raleigh need to realize is that public transportation is popular. Indeed, more Americans are getting on board with public transportation as the cost to own and operate a vehicle rises and American consumers look for ways to save money. Many also see a range of other benefits, from reducing congestion to improving quality of life. In fact, a new America THINKS survey from infrastructure firm HNTB Corporation found that:
three in four (76 percent) Americans are open to taking public transportation instead of driving (an increase from 69 percent in 2010, when HNTB last asked that question.)
nearly half (48 percent) say they would require an area to have good public transportation before they would consider moving there
more than 2 in 5 (46 percent) say a different area having a good public transportation system would make them more likely to move there
As Raleigh copes with growth, civic leaders and elected officials need to think hard about where they want their city to go and how they're going to get there. For instance, they could aspire to be like Philadelphia, with its robust transit system, where between 2005 and 2010 highway travel fell by 9.3 percent while regional rail ridership increased by more than 15 percent.
Or they could follow the path of Atlanta, the poster child of poor transportation planning—highlighted recently by the major league baseball franchise's decision to relocate its stadium far outside the center city. Talk about a monument to failed urban planning. To wit: "The Braves' new stadium...will be an inaccessible suburban theme park surrounded not by vibrant signs of city life but by sprawl—subdivisons, strip malls and SUV-choked interstates and access routes."
Having traveled quite frequently to Raleigh, it's quite clear to me that there's more than enough sprawl in the region. It's time to make the vision of transit for the Triangle a reality. An editorial today in the Raleigh News & Observer sums up the reason to get rail rolling in the region:
"What's needed is leadership with foresight, not hindsight...To argue against much more investment in transit is to demonstrate a reluctance to have faith in the future by investing in it."
All aboard!
This piece originally appeared on NRDC Switchboard.
Visit EcoWatch's TRANSPORTATION page for more related news on this topic.

EcoWatch Daily Newsletter
Artist's conception of solar islands in the open ocean. PNAS
Millions of solar panels clustered together to form an island could convert carbon dioxide in seawater into methanol, which can fuel airplanes and trucks, according to new research from Norway and Switzerland and published in the Proceedings of the National Academy of Sciences journal, PNAS, as NBC News reported. The floating islands could drastically reduce greenhouse gas emissions and dependence on fossil fuels.
Marcos Alves / Moment Open / Getty Images
More than 40 percent of insects could go extinct globally in the next few decades. So why did the U.S. Environmental Protection Agency (EPA) last week OK the 'emergency' use of the bee-killing pesticide sulfoxaflor on 13.9 million acres?
EcoWatch teamed up with Center for Biological Diversity via EcoWatch Live on Facebook to find out why. Environmental Health Director and Senior Attorney Lori Ann Burd explained how there is a loophole in the The Federal Insecticide, Fungicide, and Rodenticide Act under section 18, "that allows for entities and states to request emergency exemptions to spraying pesticides where they otherwise wouldn't be allowed to spray."
Simple swaps that cut down on kitchen trash.
Sponsored
By Kayla Robbins
Along with the bathroom, the kitchen is one of the most daunting areas to try and make zero waste.
View of downtown Miami, Florida from Hobie Island on Feb. 2, 2019.
Michael Muraz / Flickr
The Democratic candidates for president descended upon Miami for a two-night debate on Wednesday and Thursday. Any candidate hoping to carry the state will have to make the climate crisis central to their campaign, as The New York Times reported.
By Sharon Kelly
On Monday, the Wall Street Journal featured a profile of Scott Sheffield, CEO of Pioneer Natural Resources, whose company is known among investors for its emphasis on drawing oil and gas from the Permian basin in Texas using horizontal drilling and hydraulic fracturing, or fracking.
Pexels
By Craig K. Chandler
The federal government has available to it, should it choose to use them, a wide range of potential climate change management tools, going well beyond the traditional pollution control regulatory options. And, in some cases (not all), without new legislative authorization.
Denis Poroy / Getty Images
By Dan Gray
Processed foods, in their many delicious forms, are an American favorite.
But new research shows that despite increasing evidence on just how unhealthy processed foods are, Americans have continued to eat the products at the same rate.
By Sarah Steffen
With a profound understanding of their environmental surroundings, indigenous communities around the world are often cited as being pivotal to tackling climate change.