This website uses cookies to ensure you get the best experience while browsing it. By clicking 'Got It' you're accepting these terms.
Big Cities, Bright Lights: Ranking the Worst Light Pollution on Earth
Jun. 23, 2018 08:00AM EST
Popular
Chicago skyline on April 20, 2017.
Chris Favero / CC BY-SA 2.0
By Dipika Kadaba
The amount of artificial lighting is steadily increasing every year around the planet. It's a cause for celebration in remote villages in Africa and the Indian sub-continent that recently gained access to electricity for the first time, but it is also harming the health and well-being of residents of megacities elsewhere that continue to get bigger and brighter every year.
Health impacts of this artificial illumination after daylight hours range from depression to cancer, including a range of sleep disorders.
---
A less tangible effect: 80 percent of people on Earth have lost their view of the natural night sky due to the overpowering glow of artificial lights.
The Revelator analyzed light pollution levels around the world, revealing the planet's worst affected cities as well as the most light-polluted metropolitan areas, where development is mixed and diffused over massive distances. The areas on our top 10 lists are all well above the global urban average, which you'd find in major American cities like Pittsburgh or Raleigh.
The results on the lists may surprise you. The brightest cities have large populations, of course, but in many areas lighting is also geographically or culturally influenced. For example, cities in northern latitudes, where the sun shines less, or in arid countries, where hot daytime sun inspires more evening activity, are often brightly lit. This means they can outshine the usual light-pollution suspects like New York and Tokyo.
Top 10 Brightest Metropolitan Areas Compared to the Global Urban Average
10. Miami, USA, 2.6 times brighter
9. Denver-Aurora, USA, 2.7 times brighter
8. Mexico City, Mexico, 2.8 times brighter
7. Detroit, USA, 2.9 times brighter
6. Buenos Aires, Argentina, 3.5 times brighter
5. Toronto, Canada, 3.6 times brighter
4. Chicago, USA, 4.5 times brighter
3. Montréal, Canada, 4.8 times brighter
2. Riyadh, Saudi Arabia, 6.7 times brighter
1. Moscow, Russia, 8.1 times brighter
Top 10 Brightest Cities Compared to the Global Urban Average
10. Tangier, Morocco, 5.3 times brighter
9. Helsinki, Finland, 5.9 times brighter
8. Medina, Saudi Arabia, 6.0 times brighter
7. Kazan, Russia, 6.1 times brighter
6. Edmonton, Canada, 6.5 times brighter
5. Calgary, Canada, 6.6 times brighter
4. Kuwait City, Kuwait, 7.0 times brighter
3. Chelyabinsk, Russia, 7.1 times brighter
2. Mecca, Saudi Arabia, 7.4 times brighter
1. Saint Petersburg, Russia, 8.1 times brighter
Light pollution isn't exclusive to the places on these lists. The problem is worldwide. Explore light pollution in this map of the world's highest populated urban areas and see how they compared to the global urban average.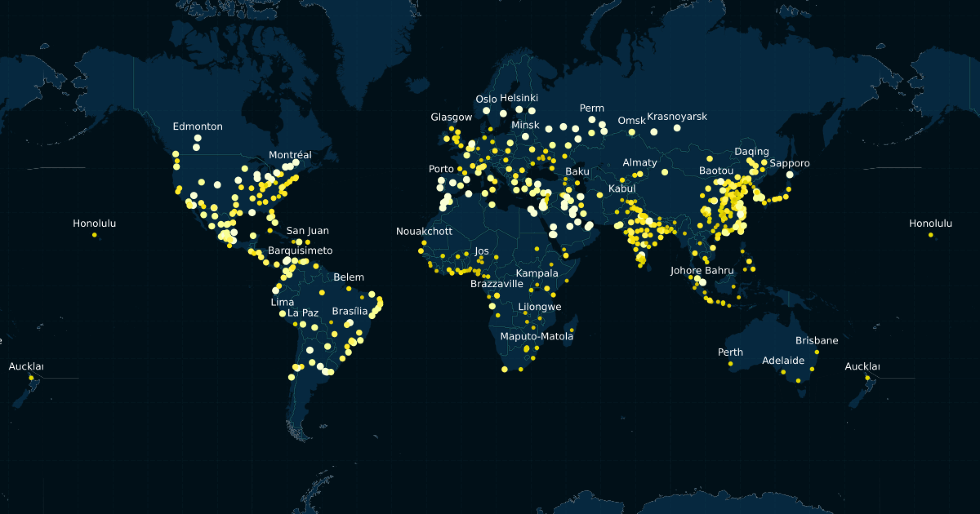 dipika.carto.com
Reposted with permission from our media associate The Revelator.
From Your Site Articles
Related Articles Around the Web
EcoWatch Daily Newsletter
Pixabay
Spinach is a true nutritional powerhouse, as it's rich in vitamins, minerals, and antioxidants.
Pexels
By Jeff Turrentine
From day to day, our public health infrastructure — the people and systems we've put in place to keep populations, as opposed to individuals, healthy — largely goes unnoticed. That's because when it's working well, its success takes the form of utter normalcy.
By Eoin Higgins
A viral video showing cell phone data collected by location accuracy company X-Mode from spring break partiers potentially spreading the coronavirus around the U.S. has brought up questions of digital privacy even as it shows convincingly the importance of staying home to defeat the disease.
Aerial shot top view Garbage trucks unload garbage to a recycle in the vicinity of the city of Bangkok, Thailand. bugto / Moment / Getty Images
German researchers have identified a strain of bacterium that not only breaks down toxic plastic, but also uses it as food to fuel the process, according to The Guardian.
The Environmental Protection Agency (EPA) issued a policy memo yesterday that is an expansive relaxation of legally mandated regulations on polluting industries, saying that industries may have trouble adhering to the regulations while they are short-staffed during the coronavirus global pandemic, according to the AP.