This website uses cookies to ensure you get the best experience while browsing it. By clicking 'Got It' you're accepting these terms.
Big Cities, Bright Lights: Ranking the Worst Light Pollution on Earth
Jun. 23, 2018 07:00AM EST
Popular
Chicago skyline on April 20, 2017.
Chris Favero / CC BY-SA 2.0
By Dipika Kadaba
The amount of artificial lighting is steadily increasing every year around the planet. It's a cause for celebration in remote villages in Africa and the Indian sub-continent that recently gained access to electricity for the first time, but it is also harming the health and well-being of residents of megacities elsewhere that continue to get bigger and brighter every year.
Health impacts of this artificial illumination after daylight hours range from depression to cancer, including a range of sleep disorders.
---
A less tangible effect: 80 percent of people on Earth have lost their view of the natural night sky due to the overpowering glow of artificial lights.
The Revelator analyzed light pollution levels around the world, revealing the planet's worst affected cities as well as the most light-polluted metropolitan areas, where development is mixed and diffused over massive distances. The areas on our top 10 lists are all well above the global urban average, which you'd find in major American cities like Pittsburgh or Raleigh.
The results on the lists may surprise you. The brightest cities have large populations, of course, but in many areas lighting is also geographically or culturally influenced. For example, cities in northern latitudes, where the sun shines less, or in arid countries, where hot daytime sun inspires more evening activity, are often brightly lit. This means they can outshine the usual light-pollution suspects like New York and Tokyo.
Top 10 Brightest Metropolitan Areas Compared to the Global Urban Average
10. Miami, USA, 2.6 times brighter
9. Denver-Aurora, USA, 2.7 times brighter
8. Mexico City, Mexico, 2.8 times brighter
7. Detroit, USA, 2.9 times brighter
6. Buenos Aires, Argentina, 3.5 times brighter
5. Toronto, Canada, 3.6 times brighter
4. Chicago, USA, 4.5 times brighter
3. Montréal, Canada, 4.8 times brighter
2. Riyadh, Saudi Arabia, 6.7 times brighter
1. Moscow, Russia, 8.1 times brighter
Top 10 Brightest Cities Compared to the Global Urban Average
10. Tangier, Morocco, 5.3 times brighter
9. Helsinki, Finland, 5.9 times brighter
8. Medina, Saudi Arabia, 6.0 times brighter
7. Kazan, Russia, 6.1 times brighter
6. Edmonton, Canada, 6.5 times brighter
5. Calgary, Canada, 6.6 times brighter
4. Kuwait City, Kuwait, 7.0 times brighter
3. Chelyabinsk, Russia, 7.1 times brighter
2. Mecca, Saudi Arabia, 7.4 times brighter
1. Saint Petersburg, Russia, 8.1 times brighter
Light pollution isn't exclusive to the places on these lists. The problem is worldwide. Explore light pollution in this map of the world's highest populated urban areas and see how they compared to the global urban average.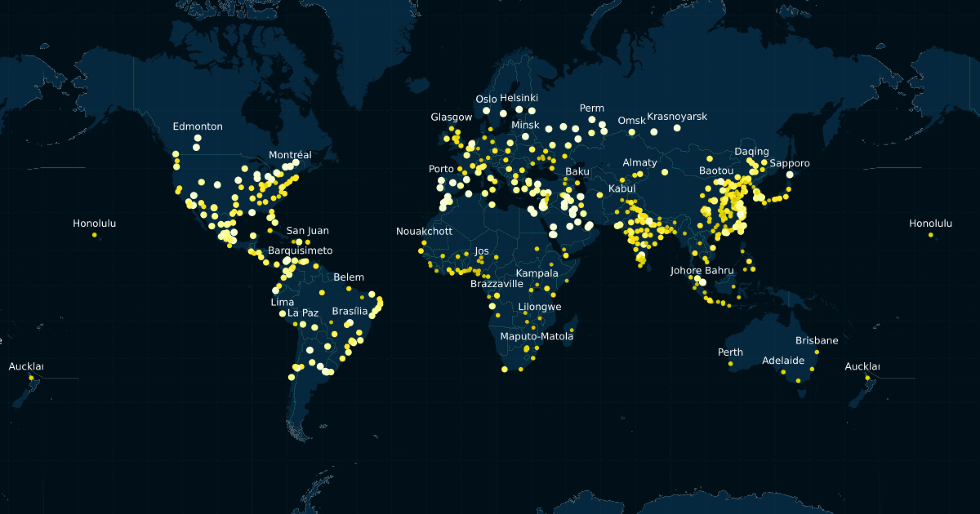 dipika.carto.com
Reposted with permission from our media associate The Revelator.
From Your Site Articles
Related Articles Around the Web
EcoWatch Daily Newsletter
By Stuart Braun
A year after activist Greta Thunberg first stood in the rain outside the Swedish parliament with her now iconic "Skolstrejk för klimatet" — school strike for the climate — placard, the movement she spawned has set the tone for environmental protest action around the world.
Bruno Vincent / Staff / Getty Images
Toy maker Hasbro wants to play in the eco-packaging game. The board game giant will ditch its plastic packaging by 2022. The move means that games like Monopoly, Scrabble and Operation will no longer have shrink wrap, window sheets, plastic bags or elastic bands, as the Associated Press reported.
Vaping impaired the circulatory systems of people in a new study. bulentumut / iStock / Getty Images Plus
A man spreads pesticides on a plantation of vegetables in Rio de Janeiro Brazil. Ze Martinusso / Moment Open / Getty Images
By Jessica Corbett
Pointing to the deaths of more than half a billion bees in Brazil over a period of just four months, beekeepers, experts and activists are raising concerns about the soaring number of new pesticides greenlighted for use by the Brazilian government since far-right President Jair Bolsonaro took office in January — and the threat that it poses to pollinators, people and the planet.
SHEALAH CRAIGHEAD
By Elliott Negin
On July 19, President Trump hosted Apollo 11 astronauts Buzz Aldrin and Michael Collins and their families, along with the family of their deceased colleague Neil Armstrong, at a White House event to commemorate the 50th anniversary of the first manned landing on the moon.
The study looked at three groups of diverse lizards from South America. Daniel Pincheira-Donoso
Cold-climate lizards that give live birth to their offspring are more likely to be driven to extinction than their egg-laying cousins as global temperatures continue to rise, new research suggests.
Sean Gallup / Getty Images
A stock photo of fire in the Amazon; a record number of fires have burned there this year. Brasil2 / E+ / Getty Images