This website uses cookies to ensure you get the best experience while browsing it. By clicking 'Got It' you're accepting these terms.
Let's Bury King C.O.N.G. at People's Climate March
Sep. 11, 2014 03:26PM EST
Insights + Opinion

Above all, the worldwide People's Climate March on Sept. 21 must bury King C.O.N.G.: Coal, Oil, Nukes and Gas.
Which also means abolishing corporate personhood and saving the internet.
The fossil/nuclear corporations have been given human rights but no human responsibilities. They're about to gut our most crucial means of communication.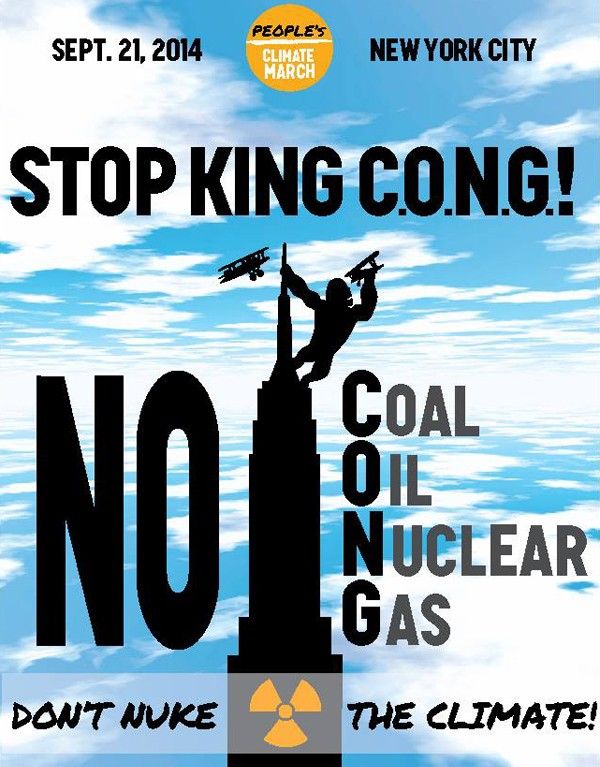 They're programmed to do just one thing: make money. If they can profit from killing us all, they will.
Ironically, we now have the technological power to get to Solartopia—a socially just, green-powered planet.
But our political, economic and industrial institutions answer to Big Money, not to us or the Earth.
On Sept. 21 some of us will carry to the UN a petition with more than 150,000 signatures, demanding that Fukushima be turned over to a global authority.
This petition was personally delivered to UN Secretary-General Ban Ki-Moon last Nov. 7. We've never gotten a response.
Meanwhile, Tokyo Electric Power makes huge profits from the "clean-up" at Fukushima.  It's turned much of the labor force over to organized crime.  And more than 300 tons of radioactive liquid still pour into the Pacific every day, while downwind children suffer a 40-times-normal thyroid cancer rate.
A powerful new insider report says another Fukushima could easily occur at California's Diablo Canyon, surrounded by FIVE known earthquake faults. Similar dangers plague other reactors worldwide.
Nuclear power makes global warming worse.
So do coal, oil and gas.
March organizer Bill McKibben says fracked gas is just as bad for global warming as coal. Oil is even worse.
But we're in the midst of a great revolution. Solartopian technologies—solar, wind, tidal, geothermal, ocean thermal, sustainable bio-fuels, mass transit, increased efficiency—are all plunging in price and soaring in efficiency. They can completely green-power our Earth. They can allow individuals and communities to control our energy supply, democratizing our society.
But they can't come without transforming the corporation.
As long as our chief economic engine has no mandate but to make money, dominates our political system, claims legal personhood and is not held accountable for the damage it does, our species is doomed.
Congress is now debating a constitutional amendment to strip corporations of their illegitimate, illegal personhood. This must happen to save our democracy and our eco-systems.
But the debate appears virtually nowhere in the corporate media ...
...Except for the internet, which the Federal Communications Commission may soon gut by killing net neutrality.
Without a free and open internet, and without ending corporate personhood, our efforts to stop King C.O.N.G. and save our ability to live on this planet will go nowhere.
So as we march to stop climate chaos, as we contemplate divestiture campaigns, as we demand a global take-over at Fukushima, as we work to win a Solartopian future ... we must see the whole picture.
The corporate beast that's killing us all draws its power from a lethal mutation with no basis in law or sanity.
Without a free and open internet to bring it down, our struggle to survive is in serious jeopardy.
We can win.
But to do so we must preserve net neutrality, transform the corporation and bury King C.O.N.G. in the Solartopian compost heap.
Harvey Wasserman edits www.nukefree.org and wrote SOLARTOPIA!  Our Green-Powered Earth, where King C.O.N.G. made its literary debut, at last brought to visual life by Gail Payne at www.nirs.org . 
YOU ALSO MIGHT LIKE
Thyroid Cancer in Young People Surge in Fukushima Since Nuclear Meltdown
The Slow Death of Nuclear Power and the Rise of Renewables
EcoWatch Daily Newsletter
Artist's conception of solar islands in the open ocean. PNAS
Millions of solar panels clustered together to form an island could convert carbon dioxide in seawater into methanol, which can fuel airplanes and trucks, according to new research from Norway and Switzerland and published in the Proceedings of the National Academy of Sciences journal, PNAS, as NBC News reported. The floating islands could drastically reduce greenhouse gas emissions and dependence on fossil fuels.
Marcos Alves / Moment Open / Getty Images
More than 40 percent of insects could go extinct globally in the next few decades. So why did the U.S. Environmental Protection Agency (EPA) last week OK the 'emergency' use of the bee-killing pesticide sulfoxaflor on 13.9 million acres?
EcoWatch teamed up with Center for Biological Diversity via EcoWatch Live on Facebook to find out why. Environmental Health Director and Senior Attorney Lori Ann Burd explained how there is a loophole in the The Federal Insecticide, Fungicide, and Rodenticide Act under section 18, "that allows for entities and states to request emergency exemptions to spraying pesticides where they otherwise wouldn't be allowed to spray."
Simple swaps that cut down on kitchen trash.
Sponsored
By Kayla Robbins
Along with the bathroom, the kitchen is one of the most daunting areas to try and make zero waste.
View of downtown Miami, Florida from Hobie Island on Feb. 2, 2019.
Michael Muraz / Flickr
The Democratic candidates for president descended upon Miami for a two-night debate on Wednesday and Thursday. Any candidate hoping to carry the state will have to make the climate crisis central to their campaign, as The New York Times reported.
By Sharon Kelly
On Monday, the Wall Street Journal featured a profile of Scott Sheffield, CEO of Pioneer Natural Resources, whose company is known among investors for its emphasis on drawing oil and gas from the Permian basin in Texas using horizontal drilling and hydraulic fracturing, or fracking.
Pexels
By Craig K. Chandler
The federal government has available to it, should it choose to use them, a wide range of potential climate change management tools, going well beyond the traditional pollution control regulatory options. And, in some cases (not all), without new legislative authorization.
Denis Poroy / Getty Images
By Dan Gray
Processed foods, in their many delicious forms, are an American favorite.
But new research shows that despite increasing evidence on just how unhealthy processed foods are, Americans have continued to eat the products at the same rate.
By Sarah Steffen
With a profound understanding of their environmental surroundings, indigenous communities around the world are often cited as being pivotal to tackling climate change.