This website uses cookies to ensure you get the best experience while browsing it. By clicking 'Got It' you're accepting these terms.
Leonardo DiCaprio: The World Is Now Watching
Apr. 22, 2016 11:21AM EST
Climate
Leonardo DiCaprio's address to the United Nations at the Paris climate agreement signing ceremony in New York City on April 22.
Thank you, Mr. Secretary General, for the honor to address this body once more. And thanks to the distinguished climate leaders assembled here today who are ready to take action.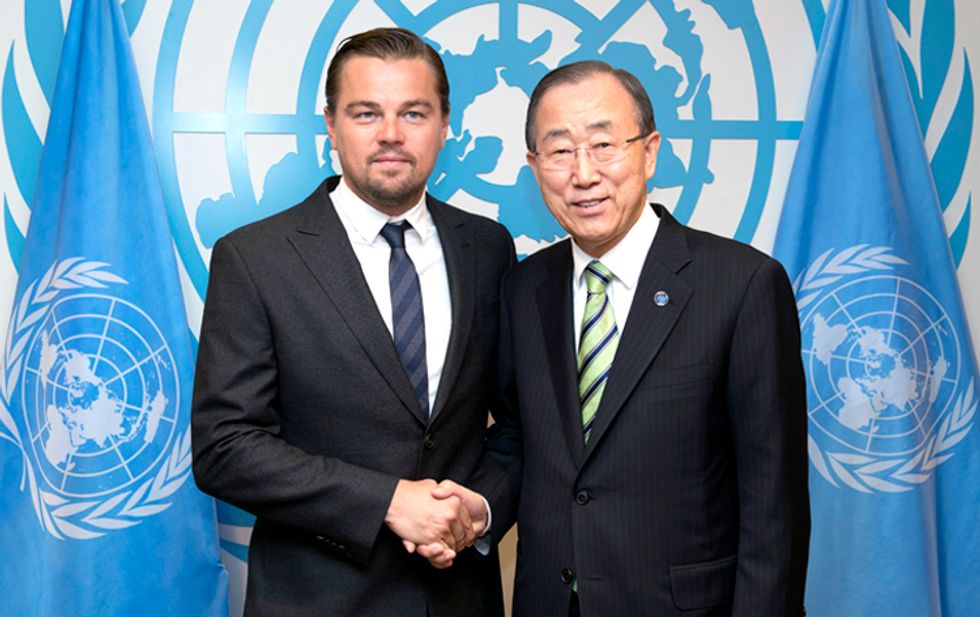 President Abraham Lincoln was also thinking of bold action 150 years ago when he said:
"The dogmas of the quiet past are inadequate to the stormy present. As our case is new so we must think anew and act anew. We must disenthrall ourselves and then we shall save our country."
He was speaking before the U.S. Congress to confront the defining issue of his time—slavery.
Everyone knew it had to end but no one had the political will to stop it. Remarkably, his words ring as true today when applied to the defining crisis of our time— climate change.
As a UN Messenger of Peace, I have been traveling all over the world for the last two years documenting how this crisis is changing the natural balance of our planet. I have seen cities like Beijing choked by industrial pollution. Ancient Boreal forests in Canada that have been clear cut and rainforests in Indonesia that have been incinerated. In India I met farmers whose crops have literally been washed away by historic flooding. In America I have witnessed unprecedented droughts in California and sea level rise flooding the streets of Miami. In Greenland and in the Arctic I was astonished to see that ancient glaciers are rapidly disappearing well ahead of scientific predictions. All that I have seen and learned on this journey has terrified me.
There is no doubt in the world's scientific community that this a direct result of human activity and that the effects of climate change will become astronomically worse in the future.
I do not need to throw statistics at you. You know them better than I do, and more importantly, you know what will happen if this scourge is left unchecked. You know that climate change is happening faster than even the most pessimistic of scientists warned us decades ago. It has become a runaway freight train bringing with it an impending disaster for all living things.
Now think about the shame that each of us will carry when our children and grandchildren look back and realize that we had the means of stopping this devastation, but simply lacked the political will to do so.
Yes, we have achieved the Paris agreement. More countries have come together to sign this agreement today than for any other cause in the history of humankind—and that is a reason for hope—but unfortunately the evidence shows us that it will not be enough.
Our planet cannot be saved unless we leave fossil fuels in the ground where they belong. An upheaval and massive change is required, now. One that leads to a new collective consciousness. A new collective evolution of the human race, inspired and enabled by a sense of urgency from all of you.
We all know that reversing the course of climate change will not be easy, but the tools are in our hands—if we apply them before it is too late.
Renewable energy, clean fuels and putting a price on carbon pollution are beginning to turn the tide. This transition is not only the right thing for our world, but it also makes clear economic sense, and is possible within our lifetime.
But it is now upon you to do what great leaders have always done: to lead, inspire and empower as President Lincoln did in his time.
We can congratulate each other today, but it will mean nothing if you return to your countries and fail to push beyond the promises of this historic agreement. Now is the time for bold unprecedented action.
My friends, look at the delegates around you. It is time to ask each other—which side of history will you be on?
As a citizen of our planet who has witnessed so much on this journey I thank you for all you have done to lay the foundation of a solution to this crisis, but after 21 years of debates and conferences it is time to declare no more talk. No more excuses. No more 10-year studies. No more allowing the fossil fuel companies to manipulate and dictate the science and policies that effect our future. This is the only body that can do what is needed. You, sitting in this very hall.
The world is now watching. You will either be lauded by future generations, or vilified by them.
Lincoln's words still resonate to all of us here today:
"We will be remembered in spite of ourselves. The fiery trial through which we pass will light us down, in honor or dishonor, to the last generation... We shall nobly save, or meanly lose, the last best hope of Earth."
That is our charge now—you are the last best hope of Earth. We ask you to protect it. Or we—and all living things we cherish—are history.
Thank you.
YOU MIGHT ALSO LIKE
Scientists Share Why Keeping Warming Under 1.5 Degrees Celsius Is Crucial
Celebrating John Muir's Incessant Study That Saved Yosemite National Park
Scientists Confirm: 93% of Great Barrier Reef Now Bleached
Bill Nye vs. Sarah Palin on Climate Change: Who Do You Believe?
EcoWatch Daily Newsletter
A Starbucks barista prepares a drink at a Starbucks Coffee Shop location in New York. Ramin Talaie / Corbis via Getty Images
By Cathy Cassata
Are you getting your fill of Starbucks' new Almondmilk Honey Flat White, Oatmilk Honey Latte, and Coconutmilk Latte, but wondering just how healthy they are?
By Sharon Kelly
Back in April last year, the Trump administration's Environmental Protection Agency decided it was "not necessary" to update the rules for toxic waste from oil and gas wells. Torrents of wastewater flow daily from the nation's 1.5 million active oil and gas wells and the agency's own research has warned it may pose risks to the country's drinking water supplies.
Swedish climate activist Greta Thunberg takes part in a "Friday for Future" youth demonstration in a street of Davos on Jan. 24, 2020 on the sideline of the World Economic Forum annual meeting. FABRICE COFFRINI / AFP via Getty Images
Treasury Secretary Steven Mnuchin pretended not to know who Greta Thunberg is, and then he told her to get a degree in economics before giving world leaders advice, as The Guardian reported.
The Visible Infrared Imaging Radiometer Suite on the Suomi NPP satellite acquired this image of forest fire smoke hovering over North America on Aug. 15, 2018. NASA Earth Observatory
New York City isn't known for having the cleanest air, but researchers traced recent air pollution spikes there to two surprising sources — fires hundreds of miles away in Canada and the southeastern U.S.
If temperatures continue to rise, the world is at risk from global
sea-level rise
, which will flood many coastal cities as seen above in Bangladesh. NurPhoto / Contributor / Getty Images
The mounting climate emergency may spur the next global financial crisis and the world's central banks are woefully ill equipped to handle the consequences, according to a new book-length report by the Bank for International Settlements (BIS), as S&P Global reported. Located in Basel, Switzerland, the BIS is an umbrella organization for the world's central banks.