Leonardo DiCaprio Pledges to Divest From Fossil Fuels as Movement Grows 50-Fold in One Year
The global movement to divest from fossil fuels and invest in renewable energy has exploded, topping at $2.6 trillion and growing 50-fold in just one year, according to a new analysis released today.
To date, 430 institutions and 2,040 individuals have pledged to divest from fossil fuels from governments and investors in 43 countries and multiple sectors, including pension funds, health, education, philanthropy, faith, entertainment, climate justice and municipalities, the report from Arabella Advisors found.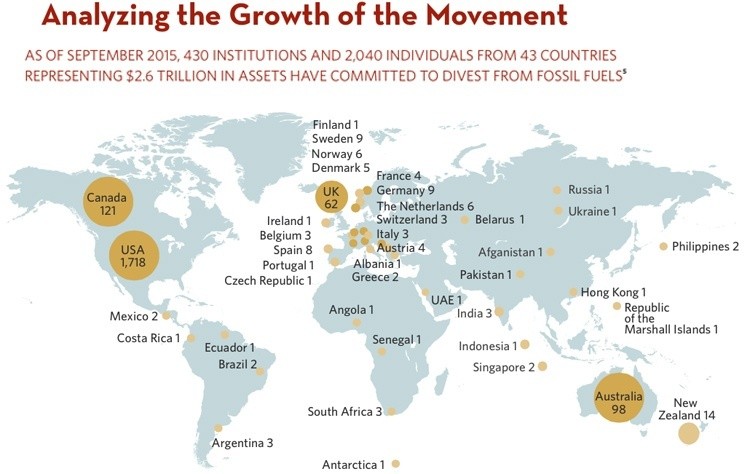 The California Public Employees' Retirement System, the Norway Pension Fund, the Canadian Medical Association, the World Council of Churches, the University of California system, Leonardo DiCaprio and the Leonardo DiCaprio Foundation have all made recent commitments to divest from fossil fuels.
"Climate change is severely impacting the health of our planet and all of its inhabitants, and we must transition to a clean energy economy that does not rely on fossil fuels, the main driver of this global problem," said actor and environmentalist Leonardo DiCaprio, who announced his commitment today.
"After looking into the growing movement to divest from fossil fuels and invest in climate solutions, I was convinced to make the pledge on behalf of myself and the Leonardo DiCaprio Foundation. Now is the time to divest and invest to let our world leaders know that we, as individuals and institutions, are taking action to address climate change, and we expect them to do their part this December in Paris at the U.N. climate talks."
Today's report measured the global growth of the fossil fuel divestment and clean energy investment movement, finding that:
Pledges have spread to sectors not traditionally associated with divestment, including pension

funds and private companies.

Climate risk to investment portfolios is helping drive the exponential growth of divestment.
While historically focused in the United States, the divestment movement now spans the globe.
Thanks to increasing commitments to invest and a proliferation of fossil free products, more capital is flowing toward climate solutions.
The faith community is making a strong case for the moral responsibility to act on climate and to provide clean energy access to the world's poor, bolstering the divestment movement.
University commitments have nearly tripled in the past year.
Divestment by state and local governments worldwide is also growing.
Foundation pledges have grown rapidly.
"The Arabella Report shows that more and more investors are reducing their carbon risk today and diversifying their portfolios with the goal to harness the upside in the sustainable clean growth industries of the future," said Thomas Van Dyck, managing director-financial advisor of SRI Wealth Management Group. "That underscores what I see every day as a financial advisor–that the demand for fossil-free investment products is increasing."
In a video statement at today's press conference in New York City where the findings of the report were unveiled, Christiana Figueres, executive secretary of the United Nations Framework Convention on Climate Change said, "Investing at scale in clean, efficient power offers one of the clearest, no regret choices ever presented to human progress."
Earlier this month, Citigroup released a report asking: given the economic, environmental and public health benefits of transitioning to a low-carbon future, why would you not take action on climate change? The report found that taking action to cut carbon pollution and slow global warming by investing in energy efficiency and renewable power generation would result in a positive return on investment, ultimately saving trillions of dollars.
"This shift in investment flows is especially critical for underserved communities and people living in poverty, who are disproportionately affected by the negative impacts of climate change," said Rev. Lennox Yearwood, Jr., president and CEO of Hip Hop Caucus. "Climate change hits the poor first and worst. It is a racial and economic justice issue that must be addressed with solutions like the Divest-Invest movement to empower these communities, eliminate health disparities and drive the shift to a clean energy economy."
Today's report concludes that the divest-invest movement has reached new heights as world leaders will come together Nov. 30 - Dec. 11 at the UN climate negotiations in Paris. The report finds that the rapid growth of the divest-invest movement indicates the urgency many people are feeling to quickly transition toward a low-carbon economy and, based on growth trends over the past two years, momentum will likely continue to build regardless of the outcome at COP21 in Paris.
"If these numbers tell us anything, it's that the divestment movement is catching fire," said May Boeve, executive director of 350.org. "Since starting on the campuses of a few colleges in the U.S., this movement has struck a chord with people across the world who care about climate change, and convinced some of the largest and most influential institutions in the world to begin pulling their money out of climate destruction. That makes me hopeful for our future, and it's sending a clear message to world leaders as they head into Paris: It's time for them to follow suit, and divest our governments from fossil fuel companies too."
YOU MIGHT ALSO LIKE
96 Cities That Are Quitting Fossil Fuels and Moving Toward 100% Renewable Energy
Join National Day of Action Oct. 14 and Demand Leaders Tackle Climate Change
It's Official: Summer 2015 Hottest Ever in Recorded History
Koch Brothers: Apocalyptical Forces of Ignorance and Greed, Says RFK Jr.
A coalition of conservation groups and others announced Thursday that a historic number of comments and petitions of support have been submitted to the U.S. Department of the Interior in support of Bears Ears National Monument. Despite the entirely inadequate 15-day comment period ending on May 26, more than 685,000 comments in support of Bears Ears National Monument have been collected.
Keep reading...
Show less
Rink Glacier in western Greenland, with a meltwater lake visible center. NASA/OIB
Scientists have had their eyes on Greenland as its iconic glaciers have begun disappearing due to a warming climate. But, what they didn't expect to see was a whole new type of melting.
Keep reading...
Show less
Mountain View Fire
By Lena Moffitt
An oil tanker in Mead, Colorado exploded, killing one and injuring three on Thursday. Authorities are continuing to investigate the cause of the explosion.
Keep reading...
Show less
Banner created by Alliance for Climate Education
Keep reading...
Show less
Twenty-two GOP senators sent a letter Thursday urging Donald Trump to pull out of the Paris agreement. They argued remaining in the deal could "upend" the administration's ability "to fulfill its goal of rescinding the Clean Power Plan."
Keep reading...
Show less
By Cheryl Johncox
The Federal Energy Regulatory Commission (FERC) rejected on Thursday Energy Transfer Partners' request to resume horizontal directional drilling at two sites for its Rover fracked gas pipeline. This rejection comes after numerous leaks into Ohio's wetlands, and Clean Air and Clean Water act violations. FERC has halted the process at only eight locations of the 32 where drilling is taking place under Ohio's wetlands and streams.
Keep reading...
Show less
By Nadia Prupis
A majority of people in eight countries say they are ready to change their lifestyles if it would prevent climate catastrophe, a survey on global threats released Wednesday found.
Keep reading...
Show less
May. 25, 2017 01:55PM EST
Bill Maher is sick of billionaires' obsession with Mars, more like "Mars-a-Lago," he said.
In a new animation produced by ATTN:, the popular talk show host of Real Time, discusses the perils of our planet, including how "climate change is killing us."
Keep reading...
Show less