This website uses cookies to ensure you get the best experience while browsing it. By clicking 'Got It' you're accepting these terms.
Leonardo DiCaprio Joins Carbon Capture Technology Company to 'Bring About a More Sustainable Future for Our Planet'
Feb. 11, 2016 10:15AM EST
Business
Oscar-nominee and environmental philanthropist Leonardo DiCaprio has joined the newly-formed government and policy advisory board of Blue Planet, a prominent developer of carbon capture technology based in Los Gatos, California.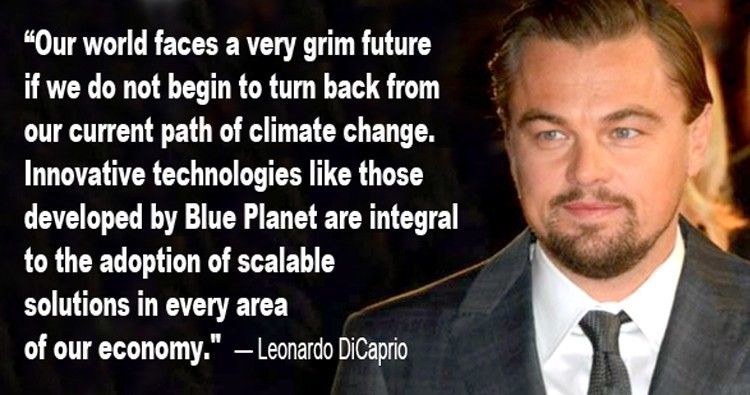 Blue Planet uses patented technology to capture industrial carbon dioxide emissions from power plants and factories and converts it into concrete for commercial and residential construction.
"Our world faces a very grim future if we do not begin to turn back from our current path of climate change," DiCaprio said in a statement about joining the advisory board. "Innovative technologies like those developed by Blue Planet are integral to the adoption of scalable solutions in every area of our economy."
"I am proud to help this incredible company bring about a more sustainable future for our planet," he added.
It's safe to say The Revenant star knows a thing or two about carbon capture. According to the announcement, DiCaprio made a personal investment in Blue Planet and produced last year's documentary film Biomimicry, which covered carbon capture technologies, including those developed by the company. Watch here (starts at 7:50):
Many experts believe that carbon capture may prove the only realistic and affordable way to dramatically reduce carbon emissions. The idea is to not only reduce the planet's CO2 footprint but to also create useful building materials.
Daniel Tangherlini, former administrator of the United States General Services Administration, and Durwood Zaelke, president of the Institute for Governance and Sustainable Development, have also joined the Blue Planet advisory board.
"Real sustainability and conservation are achieved by taking a waste product, particularly a harmful one, and putting it to productive, economic use," Tangherlini said. "Blue Planet's process does just that. It takes one of the most serious problems we face and turns it into materials we can use to rebuild our infrastructure."
Zaelke stated, "It's not possible to keep the Planet safe without aggressive carbon removal, nor to meet the goals of the Paris Agreement to ensure no net climate emissions by mid-century and maximum warming of 1.5° C above pre-Industrial levels."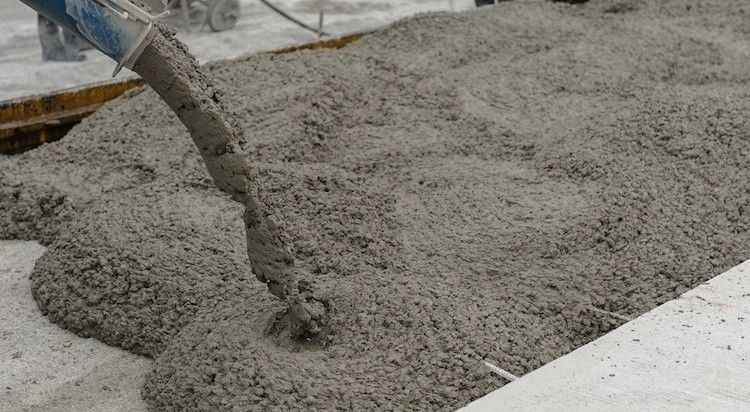 The company captures industrial carbon dioxide emissions from power plants and factories and transforms it into concrete materials. Photo credit: Blue Planet
Brent Constantz, Blue Planet's founder and CEO, said in a statement on the formation of the advisory board: "Bringing these leaders together to advise the company will guide our important initiatives with world governments. We encourage policies that promote carbon mitigation technology on a massive scale. We welcome the expertise, passion and unique platforms that Leo, Daniel and Durwood bring to the company. I look forward to working closely with them."
DiCaprio—who urges a "transition to a clean energy economy that does not rely on fossil fuels"—is a powerful advocate for environmental action. In September 2015, DiCaprio pledged to divest from fossil fuels as part of the Divest Invest Coalition, which encourages business leaders to divest from fossil fuels and in businesses that contribute to climate change and to invest in environmentally conscious companies instead.
He declared that "climate change is severely impacting the health of our planet and all of its inhabitants, and we must transition to a clean energy economy that does not rely on fossil fuels, the main driver of this global problem."
The UN Messenger of Peace played an active role at the Paris climate talks, urging mayors and governors to "commit to no less than 100 percent renewable energy as soon as possible" and he also sits on the advisory board for Powerhive, an energy provider that supplies "affordable, reliable and productive solar electricity to rural communities in the developing world."
YOU MIGHT ALSO LIKE 
Supreme Court Deals Blow to EPA's Clean Power Plan, Obama Vows to Fight
'World's Largest Skating Rink' Provides Carbon-Free Commute
From Hottest Place on Earth in Australia to LA and Ontario's Winter Heat Waves, 2016 Already on Track to Be Hottest Year Ever Recorded
Gruesome Tumors on Sea Turtles Linked to Climate Change and Pollution
EcoWatch Daily Newsletter
Trump speaks to contractors at the Shell Chemicals Petrochemical Complex on Aug. 13 in Monaca, Pennsylvania. Jeff Swensen / Getty Images
Thousands of union members at a multibillion dollar petrochemical plant outside of Pittsburgh were given a choice last week: Stand and wait for a speech by Donald Trump or take the day off without pay.
By Simon Mui
States across the country are stepping up to make clean cars cheaper and easier to find. Colorado's Air Quality Control Commission (AQCC) voted Friday to adopt a Zero Emission Vehicle (ZEV) program that will increase the availability of electric vehicles in the state, improve air quality and increase transportation affordability.
Aerial view of lava flows from the eruption of volcano Kilauea on Hawaii, May 2018. Frizi / iStock / Getty Images
Hawaii's Kilauea volcano could be gearing up for an eruption after a pond of water was discovered inside its summit crater for the first time in recorded history, according to the AP.
An internally displaced woman flees from drought in Dollow, Somalia. Zohra Bensemra / Reuters
By Annemieke Tsike-Sossah
World Humanitarian Day offers an opportunity to take stock of where the world stands on addressing humanitarian issues and highlight lessons for how to improve in the future. Here are five ways we all can commit to driving positive change for the world.
A view from the top of Ok volcano in Iceland, where the Okjokull glacier used to be located. Drepicter / Getty Images Plus
Officials, activists and scientists gathered in Iceland Sunday for the funeral of the nation's first glacier to fall victim to the climate crisis.
picture-alliance / Xinhua / Then Chih Wey
Some 183 nations are set to discuss possibly loosening elephant and ivory exports at the World Wildlife Conference on trade in endangered species, known as CITES, which is meeting in Geneva, Switzerland.
This picture taken on May 23 shows Marium swimming in the waters in southern Thailand. SIRACHAI ARUNRUGSTICHAI / AFP / Getty Images
Marium, an 8-month-old dugong who became an internet sensation in Thailand this spring, died after ingesting plastic, officials announced Saturday.