Legislators Expose Misinformation About Fracking
Apr. 08, 2012 06:20PM EST
Energy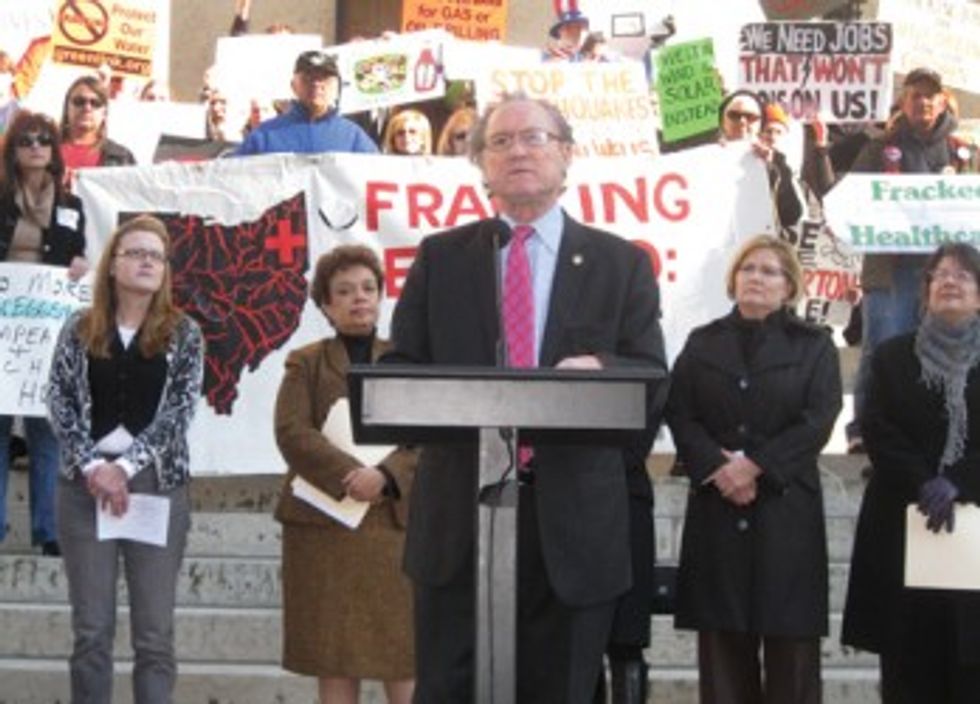 Bob Hagan (D-youngstown), Ohio House of representatives
On March 9 the Ohio Department of Natural Resources officially acknowledged what thousands of Mahoning Valley residents already knew: that pumping hundreds of thousands of gallons of poisonous fracking fluid into the ground under immense pressure caused the unprecedented series of earthquakes that began rocking the Youngstown area last year.
The fact is the only people who refused to admit that a brine injection well wasn't the source of the quakes were some folks at Ohio Department of Natural Resources (ODNR) and people from the energy companies that are fracking the living daylights out of Ohio and neighboring states.
Just to refresh your memory, here's what a spokesman for the company that operates the now infamous injection well said when the site came under scrutiny: "There's been a lot of rampant speculation that there's been a link between my client's activity and this seismic activity." It turns out that the "rampant speculation" was absolute fact. So absolute that the ODNR has formulated a set of tough regulations that should make the brine injection process safer and those who engage in it more accountable.
The dustup over the earthquakes in the Mahoning Valley taught me two important lessons: First, that the huge multi-national energy companies engaged in fracking will lie through their teeth about the environmental effects of the process, its economic benefits, and the negative impact regulation and taxation will have on the industry unless and until someone stops them.
Second, that someone needs to stop them. That's why Ohio House and Senate members from across the state recently formed the Responsible Shale Environment Development Caucus (RSED). RSED will not only introduce and fight for reasonable legislation related to the exploding fracking industry, we also plan to serve as an active and aggressive truth squad committed to refuting the misinformation that is often disseminated by the energy giants and their public relations flacks.
Not surprisingly, we had to begin working right away. That's because Terry Fleming, President of the Ohio Petroleum Council said, after learning that Gov. John Kasich favored increasing taxes on the gas being fracked, "Recent industry investments in Ohio are based on a tax and regulatory structure that was just put in place in 2010. Any change to that structure could drive away investment from the state, and send local jobs with them."
To put it succinctly, he's full of it. The truth is, recent industry investments in the state are based on one thing: there's hundreds of billions of dollars worth of gas and oil underground and they're going to make huge profits fracking, processing and selling it. That's the reason they've invested here and that's the reason they're going to continue to do so—even if the industry is regulated and taxed appropriately.
Just how full of it Fleming really is was made clear when Chesapeake Energy Corp., the largest fracker in the state, announced in March that it will build $900 million in oil and gas processing plants in Ohio's Columbiana and Harrison counties over the next five years.  That news made Fleming's disinvestment statement one of the biggest idle threats—or biggest lies—of all time.
So when you hear the industry or those in the media and in government who gladly carry its water—or poisonous fracking fluid—say that regulation and taxation will hurt the industry and kill jobs, look down and remember this: there's billions and billions of dollars floating around under your feet and the energy companies are never going to walk away from that kind of money. And that's no lie.
EcoWatch Daily Newsletter
Recent Stories from EcoWatch