This website uses cookies to ensure you get the best experience while browsing it. By clicking 'Got It' you're accepting these terms.
Legislation Could Force Nebraska Landowners to Poison Wildlife
Feb. 14, 2012 08:35AM EST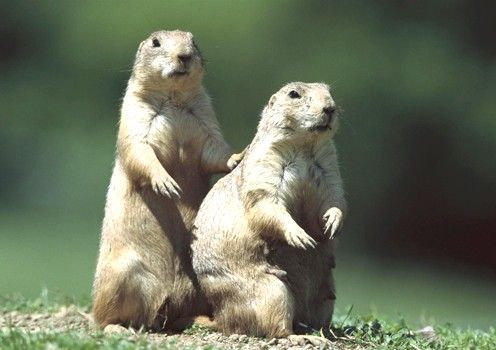 A bill racing through the Nebraska legislature could give Nebraska counties the authority to require landowners to poison wildlife on their property.
The "Black-tailed Prairie Dog Management Act" (LB 473) would give Nebraska counties the power to control prairie dogs on private and other non-federal public land. Counties could require landowners to poison prairie dogs. Counties would also have the authority to enter private land without permission to search for and poison prairie dogs, and then charge the landowner for the costs of extermination. A county could also require Nebraska Game & Parks to poison prairie dogs on parks or wildlife management areas.
"Managing wildlife is a state responsibility," said Duane Hovorka, Nebraska Wildlife Federation executive director. "County boards are not wildlife experts, and giving them broad authority to run roughshod over private property and public lands to exterminate wildlife makes no sense," he said.  "Landowners already have all the tools they need to manage prairie dogs on their land."
As of Feb. 8, the Nebraska Unicameral Legislature has held two votes on the bill and no legislator has voted against it.
A similar law in Kansas has led to legal battles over private property rights. Logan County, Kansas, attempted to invoke Kansas Statute 80-1202, passed in 1901, to force extermination of prairie dogs on the private Haverfield/Barnhardt/Blank Complex, home to the largest colony of black-tailed prairie dogs in the state and a reintroduction site for the black-footed ferret. The private landowner sued in state court to bar the county from trespassing on his property, and prevailed when the court ruled that the county would be violating the Endangered Species Act.
"This is 2012, not 1901," said Taylor Jones, endangered species advocate for WildEarth Guardians. "The legislature should be looking to the future and supporting grassland conservation, not mandating prairie dog poisoning." Nebraska's management of prairie dogs earned an 'F' in the Report from the Burrow, an annual report card on prairie dog management published by WildEarth Guardians. Nebraska's failing grade was based on the introduction of this bill, and lack of regulations protecting prairie dogs or proactive conservation measures (the full report is available by clicking here).
Prairie dogs are keystone species that support at least 150 other grassland creatures. Poisoning prairie dogs also impacts burrowing owls, hawks, eagles, badgers, and a host of other wildlife. Black-tailed prairie dogs have been reduced to approximately 1 percent of their historic range throughout the West and about 2 percent of their historic range in Nebraska.
"Poisoning has been unabated during the last nine years in Nebraska," said Buffalo Bruce, staff ecologist at the Western Nebraska Resource Council. "It is inconceivable to create an avenue to destroy the prairie's health further. This proposed statute has no protocol for showing the damage that prairie dogs allegedly do. Many other species are documented to cause more damage to pastures and property than prairie dogs in Nebraska, such as cedar trees and leafy spurge, both of which 'invade' from the neighbors' property. Absolutely nothing is logical relating to LB 473."
For more information, click here.
EcoWatch Daily Newsletter
A vegan diet can improve your health, but experts say it's important to keep track of nutrients and protein. Getty Images
By Dan Gray
Research shows that 16 weeks of a vegan diet can boost the gut microbiome, helping with weight loss and overall health.
A healthy microbiome is a diverse microbiome. A plant-based diet is the best way to achieve this.
It isn't necessary to opt for a strictly vegan diet, but it's beneficial to limit meat intake.
New research shows that following a vegan diet for about 4 months can boost your gut microbiome. In turn, that can lead to improvements in body weight and blood sugar management.
Students gathered at the National Mall in Washington DC, Sept. 20. NRDC
By Jeff Turrentine
Nearly 20 years have passed since the journalist Malcolm Gladwell popularized the term tipping point, in his best-selling book of the same name. The phrase denotes the moment that a certain idea, behavior, or practice catches on exponentially and gains widespread currency throughout a culture. Having transcended its roots in sociological theory, the tipping point is now part of our everyday vernacular. We use it in scientific contexts to describe, for instance, the climatological point of no return that we'll hit if we allow average global temperatures to rise more than 2 degrees Celsius above preindustrial levels. But we also use it to describe everything from resistance movements to the disenchantment of hockey fans when their team is on a losing streak.
samael334 / iStock / Getty Images
Berries are small, soft, round fruit of various colors — mainly blue, red, or purple.
A glacier is seen in the Kenai Mountains on Sept. 6, near Primrose, Alaska. Scientists from the U.S. Geological Survey have been studying the glaciers in the area since 1966 and their studies show that the warming climate has resulted in sustained glacial mass loss as melting outpaced the accumulation of new snow and ice. Joe Raedle / Getty Images
By Mark Mancini
On Aug. 18, Iceland held a funeral for the first glacier lost to climate change. The deceased party was Okjökull, a historic body of ice that covered 14.6 square miles (38 square kilometers) in the Icelandic Highlands at the turn of the 20th century. But its glory days are long gone. In 2014, having dwindled to less than 1/15 its former size, Okjökull lost its status as an official glacier.
Members of Chicago Democratic Socialists of America table at the Logan Square Farmers Market on Aug. 18. Alex Schwartz
By Alex Schwartz
Among the many vendors at the Logan Square Farmers Market on Aug. 18 sat three young people peddling neither organic vegetables, gourmet cheese nor handmade crafts. Instead, they offered liberation from capitalism.
Hackney primary school students went to the Town Hall on May 24 in London after school to protest about the climate emergency. Jenny Matthews / In Pictures / Getty Images
Bird watching in the U.S. may be a lot harder than it once was, since bird populations are dropping off in droves, according to a new study.