Legalization of Industrial Hemp in America Is a No-Brainer, Says New Patagonia Film
May. 23, 2016 01:18PM EST
Business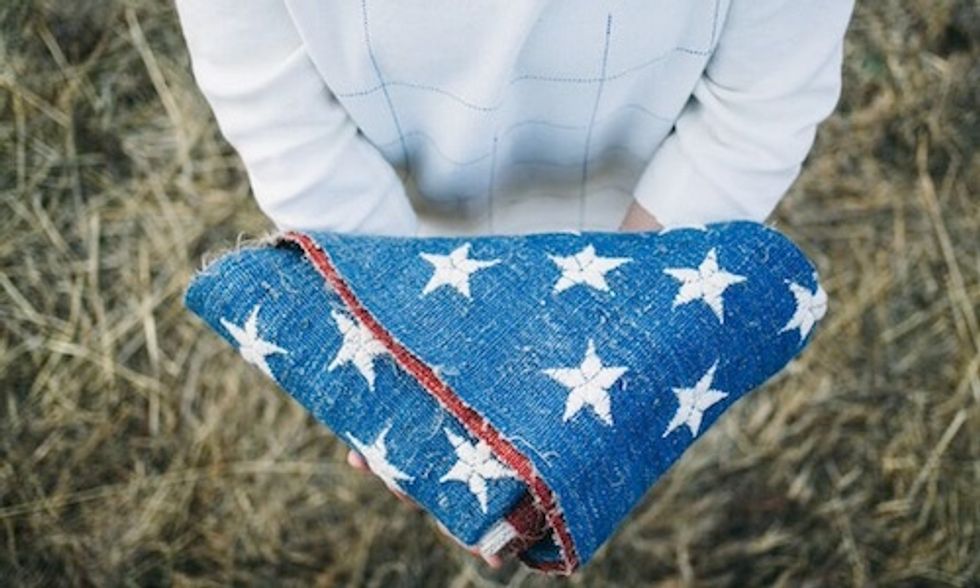 Outdoor clothing company Patagonia has released a new short film to advocate for the legalization of industrial hemp in the U.S.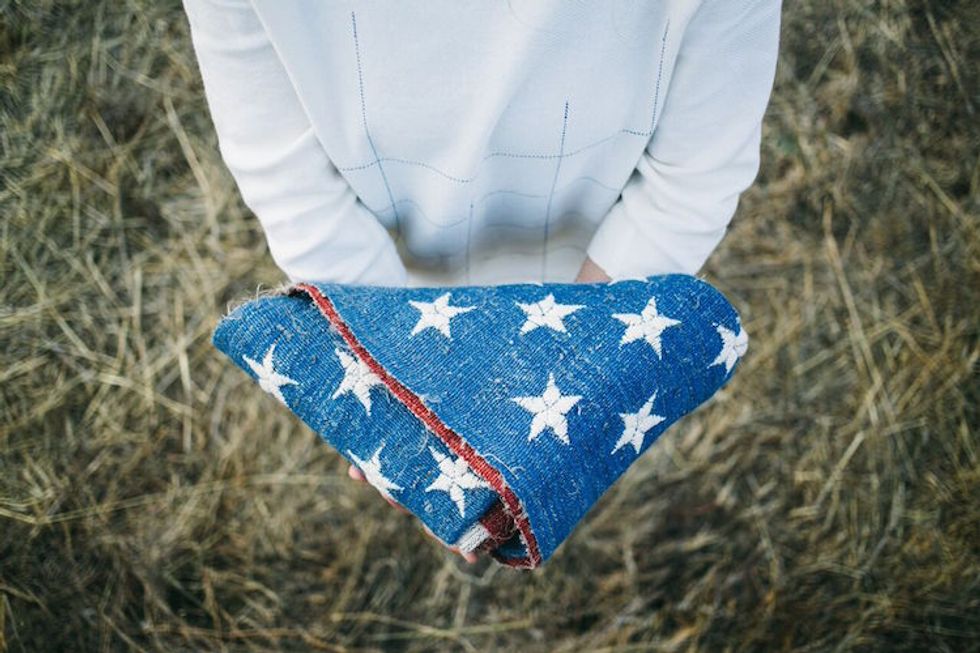 An American flag made of hemp grown from The Growing Warrior's eastern Kentucky farm. Photo credit: Donnie Hedden
The multipurpose plant, which has been used for centuries to make rope, textiles, foods, personal care products and more, became a controversial substance in 1937 due to the "Marihuana Tax Act," which basically lumped hemp with marijuana and made it illegal to grow even though the former has no psychoactive properties. Hemp is listed as a federal Schedule 1 drug in the Controlled Substances Act.
However, there are plenty of reasons why industrial hemp should be legalized, from its substantial health benefits to its potential to lower the environmental impacts of textile production. Also this: In 2016 alone, the U.S. will import an estimated $500 million in products made from the cash crop.
The film, Harvesting Liberty, follows Kentucky farmer and military veteran Michael Lewis and his Growing Warriors team, who are known to be the first private citizens to grow industrial hemp on U.S. soil in more than 70 years, thanks to the 2014 federal Farm Bill, which contained an amendment to legalize hemp production for research purposes. The bill also allows states that already legalized the crop to cultivate hemp within the parameters of state agriculture departments and research institutions.
"When you think about the type of industry that typically takes place in central Appalachia, you're looking at coal and manufacturing and those are both very extractive industries. I mean they pull things out without giving back," Lewis says in the film. "Industrial hemp is a community-building industry. It's not a, let's-come-in-and-take-what-we-can-get-and-leave, type of industry."
The 12-minute film was directed by farmer/surfer/environmentalist Dan Malloy and produced in partnership with Fibershed and the Growing Warriors, who are trying to reintroduce industrial hemp in Kentucky and eventually nationwide.
Rebecca Burgess, the executive director of Fibershed, explains in the video that a grant from Patagonia allowed the Growing Warriors to build their own machine by hand to process the hemp they grow on their Kentucky farm. She pointed out that because hemp infrastructure doesn't exist in the country, they couldn't do it any other way.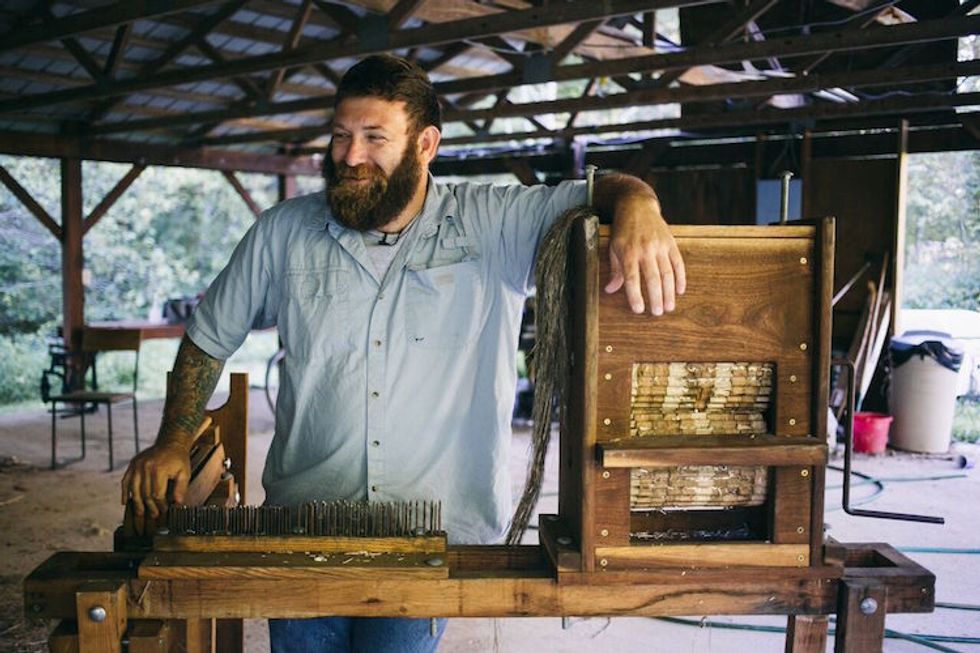 U.S. veteran and Growing Warriors director Michael Lewis with his hand-made hemp processing machine. Photo credit: Donnie Hedden
Patagonia, which already sells a variety of products made from imported hemp fabric from China, is in support of domestically grown hemp. The eco-friendly brand says on its website that the material is ideal for many reasons:
Hemp is a natural fiber that's cultivated with low impact on the environment. It requires no pesticides, synthetic fertilizers or GMO seeds. Cultivation of hemp improves soil health by replenishing vital nutrients and preventing erosion. It's one of the most durable natural fibers on the planet and results in fabric with wonderful drape that's comparable to linen.
"Patagonia is interested in expanding the use of hemp in its lines, but rather than buying hemp from China, the company would like to see the domestic hemp industry grow and flourish—both for the sake of the U.S. economy and for the sake of the outdoor industry," Patagonia said in a statement.
Patagonia says it supports a simple, commonsense measure to clarify that industrial hemp is not marijuana under the Controlled Substances Act.
Harvesting Liberty highlights the immense potential industrial hemp holds for families.
"Industrial hemp is a cornerstone for financial and resource stability on a family farm," Lewis said. "I can only imagine what wonders we will see when every american farmer has the opportunity to grow this amazing crop."
"I don't think there's anything more direct, more empowering or more exciting that you could do for someone in modern society than to help them reconnect with the land in the way that our ancestors once did; American Hemp could offer that," Burgess said.
This July 4, a petition will be delivered to Congress urging them to pass the Industrial Hemp Farming Act, or HR 525 and S 134, which would amend the Controlled Substances Act to exclude industrial hemp from the definition of marijuana, thus allowing it to grow freely.
The petition can be found here. Watch Harvesting Liberty below:
YOU MIGHT ALSO LIKE
Facebook, Microsoft Give Wind and Solar Energy a Big Boost
World's Largest Fashion Sustainability Summit to Drive Responsible Innovation
Will America's Love for Cheap Clothing Doom the Sustainable Fashion Movement?
Leonardo DiCaprio Invests in Runa, Donates All His Shares to Ecuadorian Farmers
EcoWatch Daily Newsletter