This website uses cookies to ensure you get the best experience while browsing it. By clicking 'Got It' you're accepting these terms.
Legacies of the Fukushima Nuclear Disaster
Feb. 29, 2012 08:46PM EST
Energy
By Laura Kenyon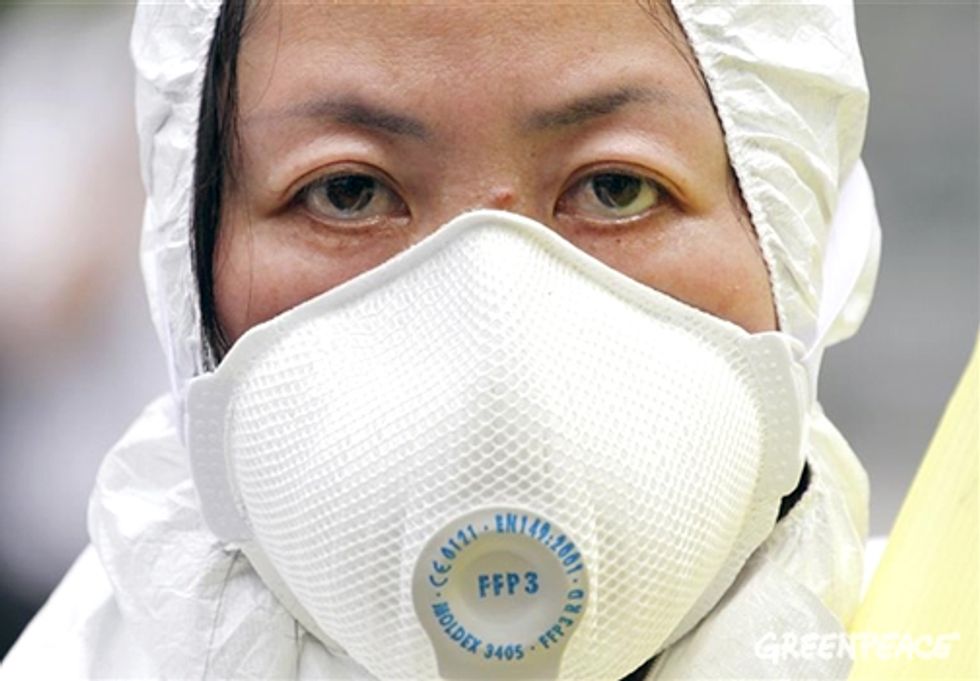 Last year the Fukushima nuclear disaster forced 150,000 Japanese citizens to flee their homes. Now it's time to take a look at its legacy and take an opportunity to stand in solidarity with the people who continue to suffer the impacts. We're calling for a nuclear free, renewable future and asking you to join us in sending messages of support and hope to Japan.
The silence and contamination left behind by the Fukushima disaster have been captured in the online photographic exhibit Shadowlands by photographer Robert Knoth. Robert's haunting photographs of empty villages, deserted schoolyards, and abandoned farmlands not only act as a chilling reminder to us of the costs of nuclear energy, but an impetus to continue demanding a future free from nuclear risk. We also bring the stories of several people whose lives have been seriously disrupted, some of whom live with constant worry about how their children's health has been affected by radiation.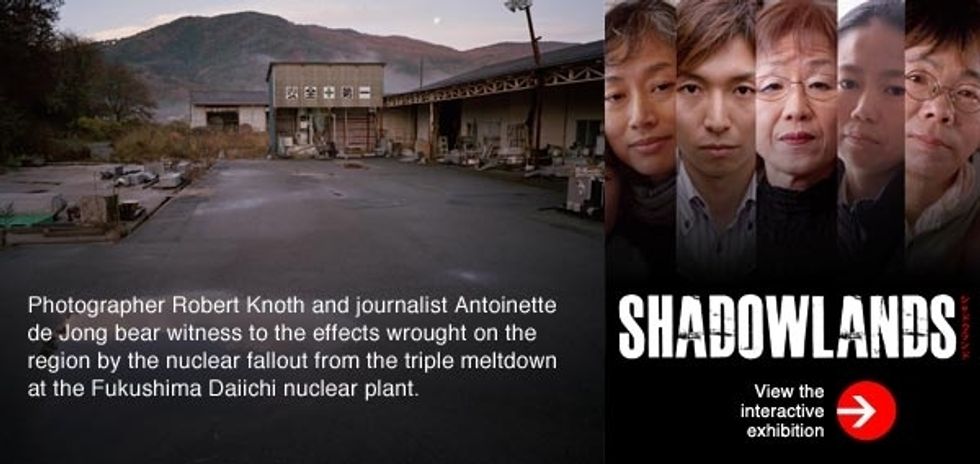 "For me the exhibition is about the loss of beauty and loss of tradition. Both are kept in high regard in Japan. For around 2000 years the villages now evacuated have been inhabited. With great precision and care people have been adjusting themselves and the landscape into an almost perfect blend. You can see their respect for nature and their environment in the way they build and paint their houses, their gardens and the way the farmers are growing their crops or keep their cattle. Everything deeply rooted within their culture and nature itself. And carefully preserved for centuries. Fukushima made a dramatic impact into the lives and environment of the people living there." –  Quote from photographer Robert Knoth
The nuclear disaster at the Fukushima Daiichi plant that began unfolding on March 11, 2011 is the biggest since the Chernobyl disaster of 1986. The disaster was not simply the result of the earthquake and tsunami hitting the east coast of Japan, but due to the failure of Japanese authorities to protect people. For example their withholding from the Japanese public of full information on radiation levels. The kind of failures we have seen in Japan are possible everywhere there are reactors and there is no such thing as a safe nuclear reactor.
Radiation expert Rianne Teule, who has worked as Greenpeace nuclear campaigner for ten years, has personally seen the impacts of the Chernobyl disaster, so after hearing about the situation at Fukushima her first thoughts were for the people living nearby. "I knew the risks the population was exposed to, and how disruptive and long-lasting the consequences of a nuclear accident could be." A year later, 150,000 Japanese people in total have been displaced from their homes by the Fukushima disaster—some may never be able to return.
Rianne made several trips to Fukushima following March 11, to conduct on-the-ground radiation testing, and and to conduct radiation monitoring and provide information to local people, and says that what she witnessed was 'surreal.' Not only had people's lives been completely disrupted, but the disaster then struck the most vital of necessities: radiation measurements of food supplies began to show contamination. "The most disturbing thing for me was the lack of information provided to the people being affected, they often had no idea of the radiation risks they were exposed to."
"The Fukushima disaster shows that nuclear power is inherently unsafe. The 'clean and safe' nuclear energy that the industry talks about is a myth. A disaster like this can happen again and the impacts are devastating. More than 150,000 people had to abandon their homes, lost their livelihoods and many of them will never return."
Today, she is sending her own message of solidarity to the people of Japan:
"My thoughts are with you. I truly hope that your suffering will not go unnoticed, and that it will act as a wake up call for the rest of the world. I pray that the Fukushima disaster will contribute to speeding up the Energy [R]evolution and help push the world into a truly clean energy future."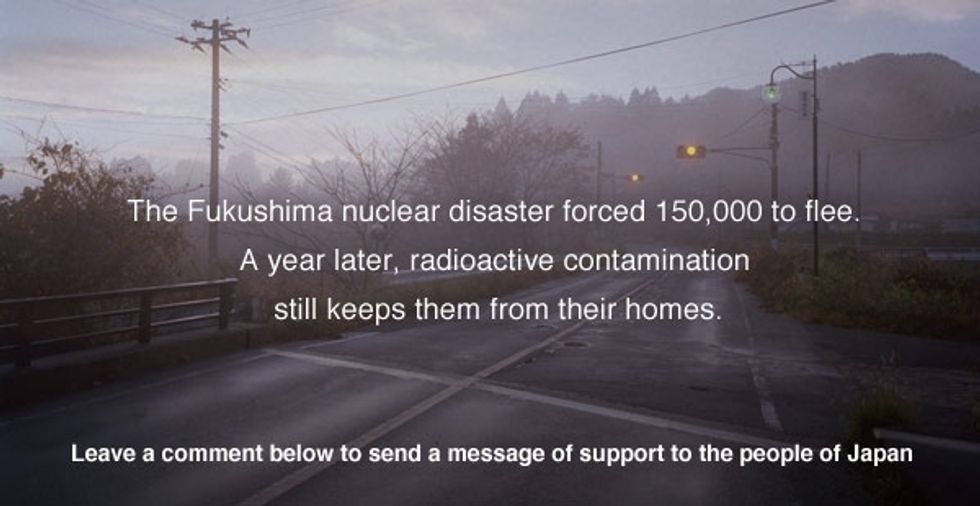 EcoWatch Daily Newsletter
California Gov. Gavin Newsom speaking with attendees at the 2019 California Democratic Party State Convention at the George R. Moscone Convention Center in San Francisco.
Gage Skidmore
/ Flickr /
CC BY-SA 2.0
California Gov. Gavin Newsom imposed new restrictions on oil exploration in his state yesterday by putting a moratorium on hundreds hydraulic fracturing permits until the projects are reviewed by independent scientists, as the AP reported.
The endangered Houston toad. Courtesy of U.S. Fish and Wildlife Service
While the planet continues to heat up, almost every single one of the 459 species listed as endangered in the U.S. will struggle as the climate crisis intensifies, according to new research published in the journal Nature Climate Change.
"This singular scientific achievement was accomplished at Heliogen's commercial facility in Lancaster, California."
Heliogen
A startup backed by Bill Gates unveiled a breakthrough solar technology Tuesday that could free heavy industry from fossil fuels.
Rhodiola rosea is an adaptogenic herb that can help with chronic fatigue and stress-related burnout. Tero Laakso / Flickr
By Gavin Van De Walle, MS, RD
While everyone has specific life stressors, factors related to job pressure, money, health, and relationships tend to be the most common.
Stress can be acute or chronic and lead to fatigue, headaches, upset stomach, nervousness, and irritability or anger.
A video shows a woman rescuing a koala from Australia's wildfires.
VOA News / YouTube screenshot
More than 350 koalas may have died in the wildfires raging near the Australian town of Port Macquarie in New South Wales, but one got a chance at survival after a woman risked her life to carry him to safety.