This website uses cookies to ensure you get the best experience while browsing it. By clicking 'Got It' you're accepting these terms.
Leave Fossil Fuels Untapped to Prevent Catastrophic Climate Change, Study Urges
Jan. 08, 2015 10:14AM EST
Climate
The sheer scale of the fossil fuel reserves that will need to be left unexploited for decades if world leaders sign up to a radical climate agreement is revealed in a study by a team of British scientists.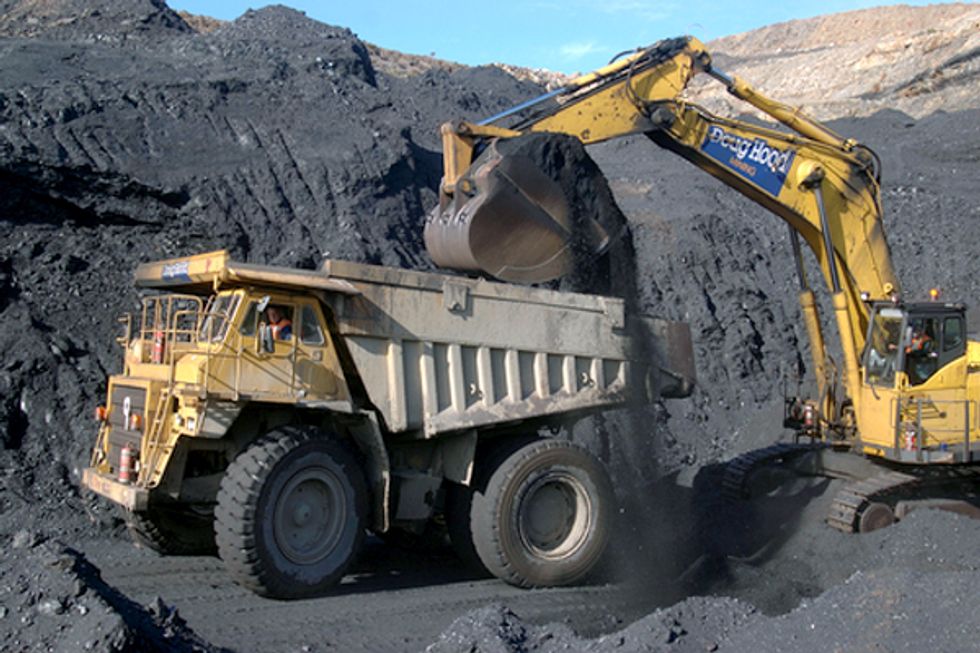 Lakeview Images
/
Shutterstock.com
It shows that almost all the huge coal reserves in China, Russia and the U.S. should remain unused, along with more than 260 billion barrels of oil reserves in the Middle East—the equivalent of Saudi Arabia's total oil reserves. The Middle East would also need to leave more than 60 percent of its gas reserves in the ground.
The team from University College London's Institute for Sustainable Resources (ISR) says that, in total, a third of global oil reserves, half of the world's gas and more than 80 percent of its coal reserves should be left untouched for the next 35 years.
Realistic Program
This is the amount of fossil fuel, they estimate, that the world must forego until 2050 if governments agree on a realistic programme to ensure that global warming does not exceed the 2°C increase over pre-industrial levels agreed by policy makers.
The authors of the report, which is published in the journal Nature, say some reserves could be used after 2050, so long as this kept emissions within the CO2 budget, which would be only about half the amount the world can afford to use between now and 2050.
They say a factor that might help in the use of fossil fuels is that carbon capture and storage (CCS) is expected to be much more widely deployable by mid-century, assuming it to be a mature technology by then.
The study, funded by the UK Energy Research Centre, concluded that the development of resources in the Arctic and any increase in unconventional oil—oil of a poor quality that is hard to extract—are also "inconsistent with efforts to limit climate change."
For the study, the scientists first developed an innovative method for estimating the quantities, locations and nature of the world's oil, gas and coal reserves and resources. They then used an integrated assessment model to explore which of these, along with low-carbon energy sources, should be used up to 2050 to meet the world's energy needs.
The model, which uses an internationally-recognized modeling framework, provides what the authors describe as "a world-leading representation of the long-term production dynamics and resource potential of fossil fuels."
The lead author, Dr Christophe McGlade, research associate at the ISR, said: "We've now got tangible figures of the quantities and locations of fossil fuels that should remain unused in trying to keep within the 2°C temperature limit.
"Policy makers must realize that their instincts to completely use the fossil fuels within their countries are wholly incompatible with their commitments to the 2°C goal. If they go ahead with developing their own resources, they must be asked which reserves elsewhere should remain unburnt in order for the carbon budget not to be exceeded."
The prospects for an amicable discussion between China, Russia, the U.S. and the Middle East on how to share the pain of leaving these reserves unexploited will demand exceptional diplomacy from all parties.
The report's co-author, Paul Ekins, the ISR's director and professor of resources and environmental policy,  said: "Companies spent over $670 billion (£430 billion) last year searching for and developing new fossil fuel resources."
Aggregate Production
"They will need to rethink such substantial budgets if policies are implemented to support the 2°C limit, especially as new discoveries cannot lead to increased aggregate production.
"Investors in these companies should also question spending such budgets. The greater global attention to climate policy means that fossil fuel companies are becoming increasingly risky for investors in terms of the delivery of long-term returns. I would expect prudent investors in energy to shift increasingly towards low-carbon energy sources."
After years of halting progress towards an effective international agreement to limit fossil fuel emissions so as to stay within the 2°C temperature threshold, hopes are cautiously rising that the UN climate talks to be held in Paris at the end of 2015 may finally succeed where so many have failed.
But reaching agreement will be only the first step: effective enforcement may prove an even bigger problem.
YOU MIGHT ALSO LIKE
11 Earthquakes Rock Texas Fracking Heartland in 24 Hours
Caribbean Island Says Goodbye Fossil Fuels, Hello 100% Renewable Electricity
EcoWatch Daily Newsletter
Investing in grid infrastructure would enable utilities to incorporate modern technology, making the grid more resilient and flexible. STRATMAN2 / FLICKR
By Elliott Negin
The Royal Swedish Academy of Sciences' recent decision to award the 2019 Nobel Prize in Chemistry to scientists who developed rechargeable lithium-ion batteries reminded the world just how transformative they have been. Without them, we wouldn't have smartphones or electric cars. But it's their potential to store electricity generated by the sun and the wind at their peak that promises to be even more revolutionary, reducing our dependence on fossil fuels and protecting the planet from the worst consequences of climate change.
Two Javan rhinos deep in the forests of Ujung Kulon National Park, the species' last habitat on Earth. Sugeng Hendratno / WWF
The global population of the critically endangered Javan rhinoceros has increased to 72 after four new calves were spotted in the past several months.
A tiger looks out from its cage at a new resort and zoo in the eastern Lao town of Tha Bak on Dec. 5, 2018. Karl Ammann believes the "zoo" is really a front for selling tigers. Terrence McCoy / The Washington Post / Getty Images
Are tigers extinct in Laos?
That's the conclusion of a detailed new study that found no evidence wild tigers still exist in the country.
A group of scientists is warning that livestock production must not expand after 2030 for the world to stave off ecological disaster.
The largest wetland in Africa is in the South Sudan. George Steinmetz / Corbis Documentary / Getty Images Plus
Methane emissions are a far more powerful greenhouse gas than carbon dioxide – about 28 times more powerful. And they have been rising steadily since 2007. Now, a new study has pinpointed the African tropics as a hot spot responsible for one-third of the global methane surge, as Newsweek reported.